Tidio is a powerful yet simple to use live chat that helps businesses to grow. It has a dedicated plugin for Shopify users thanks to which the installation of the live chat takes only a moment. Since it's an out-of-the-box solution, no coding skills are required to start using it.
Powerful, not complex, and easy to install tool. What else is left to love? Forever free plan!
Tidio for Shopify: Live Chat Features
What features does this tool offer that made it so popular among Shopify merchants?
Let's introduce some of them and show you how they work and how they can help with your online business.
Collect Customer's Data with Pre-Chat Survey
Tidio Live Chat & Shopify integration allows your customer to provide you with their name, phone number, or an email address before the conversation even starts.
This valuable information can be used to personalize your messages using the customer's name (they love that!) and for lead generation purposes.
Handle a few conversations at the same time with Tidio. A single live chat agent can handle the crowd of customers storming your business. This helps you to save a lot of time and money.

And that's not all – you can use Canned Responses for even swifter customer service!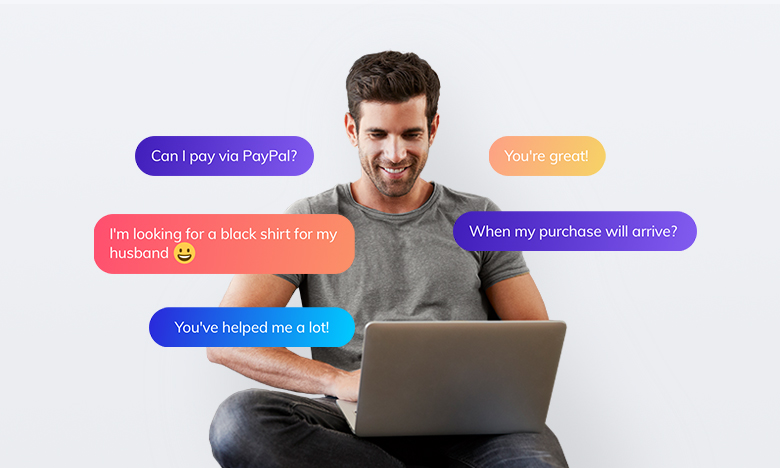 Engage Customers On-Site with Visitors List
Imagine you see that a customer visits the same product page for a few times. Maybe they've got some questions on the product or an issue with placing an order?
With Visitors List, you can start a conversation with that visitor, find out what dwells in their mind, and close the sale:
with Live Typing, you can observe what your customer types in before they even send the message.
With this feature, you'll be able to prepare your answer before the customer finishes typing, speeding up your customer service
On the lookout for an optimal live chat solution for your store? Read: The Best Live Chat Software List [14 Apps Reviewed]
Tidio for Shopify: Chatbot Features
Tidio Chatbots & Shopify easily connect together for various use cases to help eCommerce owners with boosting their sales.
Increase your conversion by up to ¼ with these chatbots features
Recover Abandoned Carts
As much as 75% of the online store's visitors abandon their shopping carts.
Use Abandoned Cart Chatbot to convert these visitors into customers:
It's up to you what you'd like to do with engaged customers. You can:
Ask them what happened to gather feedback,
Pull them into a conversation to close the sale,
Send a discount coupon, pushing them towards conversion.
It's personally one of my favourite chatbots. Shopify users love it, too!
Tip: Check out our 16+ FREE chatbot templates you can customize with 14 different chatbot triggers. Save abandoned carts, prevent customers from leaving your store, automate FAQ, and more.
Send Targeted Discounts (To New & Returning Visitors, or for Particular Products)
Discounts are a great way to push your visitors towards conversion.
Use Discount Chatbot to send coupons in various cases – to either new or returning visitors, or for particular products of your choosing:
Discount Chatbot helps to:
Encourage visitors to buy in your store,
Turn visitors into loyal customers.
Greet Your New & Returning Visitors
Welcoming your visitors is a great way of building a personal connection.
Have your chatbot greet any visitors automatically, pulling them into a conversation and giving you opportunities to convert them into customers: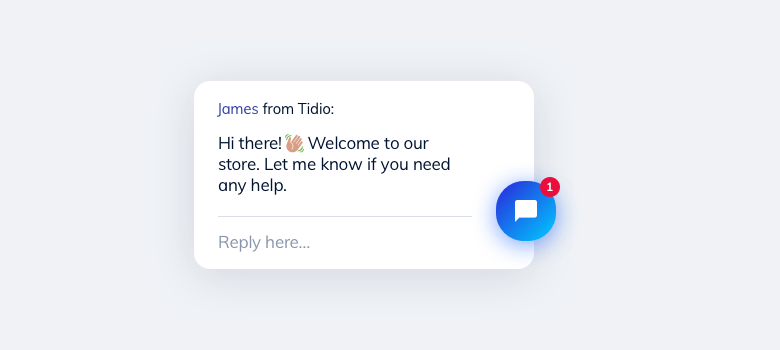 This type of chatbot helps to:
Increase the number of conversations in your store by up to 400%,
Leaves room for using your sales skills, discounts, etc. to make sure your customer won't leave without buying,
Build a personal connection with your customers.
Stop Visitors from Leaving the Store
No matter what's the reason for a user to leave your website, it's worth trying to stop them.
That's where Abandoned URL Chatbot helps:
Thanks to this chatbot, you can:
Engage every visitor who tries to leave your store,
Ask some questions or encourage them with a discount,
Collect feedback from a visitor to make the best out of your store in the future.
Stop a Visitor from Leaving a Form
Just like in the previous case, customers can leave while filling out a specific form (e.g. when setting up an account in your Shopify store).
It would be a shame to just let them go. Chatbot can stop a visitor when it notices that any type of form has been abandoned:
This chatbot:
Makes sure that your forms do what they are supposed to do,
Gets feedback on the form abandonment,
Generates leads you would have lost otherwise.
Engage a Visitor of a Specific Product
Having a highly profitable product in your Shopify store? Make sure that every type of customer who sees it gets proper customer service.
This chatbot engages every visitor of a product chosen by you, giving you an opportunity to proceed with sales options:

With this Shopify chatbot, you'll easily:
Boost your specific products' sales,
Make sure that every visitor that viewed a product got engaged,
Increase your Shopify conversion.
Inform That Live Chat Operators Are Busy
Customers expect a response rate below 10 minutes, and if they don't get it, they may move on to your competitors.
It doesn't have to be this way – a chatbot can inform your customer that all operators are busy: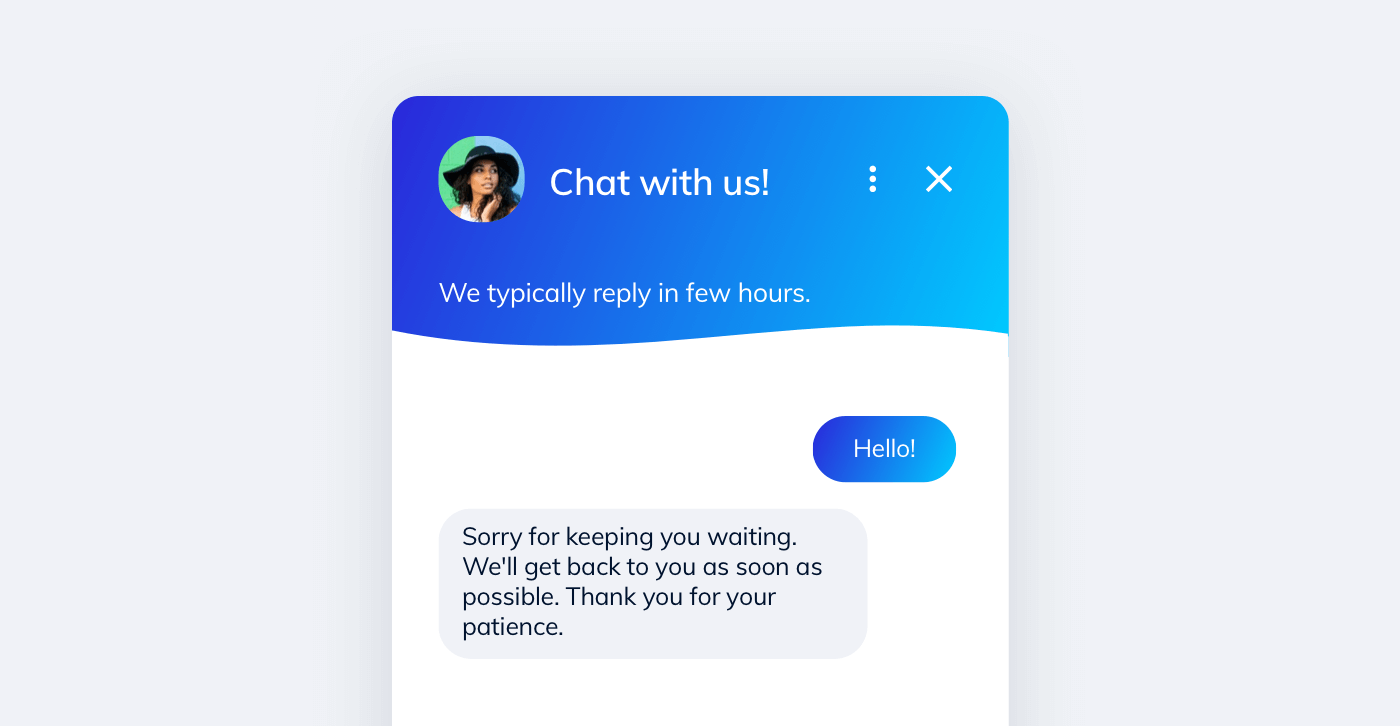 This Shopify chatbot helps you to:
Keep your customer assured that you're there and you care,
Have more time to take care of other issues,
Collect a lead when you really can't answer at the moment – a customer can leave their email to answer the query later!
Generate Leads When You're Offline
You can't be there 24/7 for your customers, but you can still give them an option to leave their contact data.
Thanks to this chatbot, you'll collect a lead – customers' information like name, mail, phone number and their query to answer it later.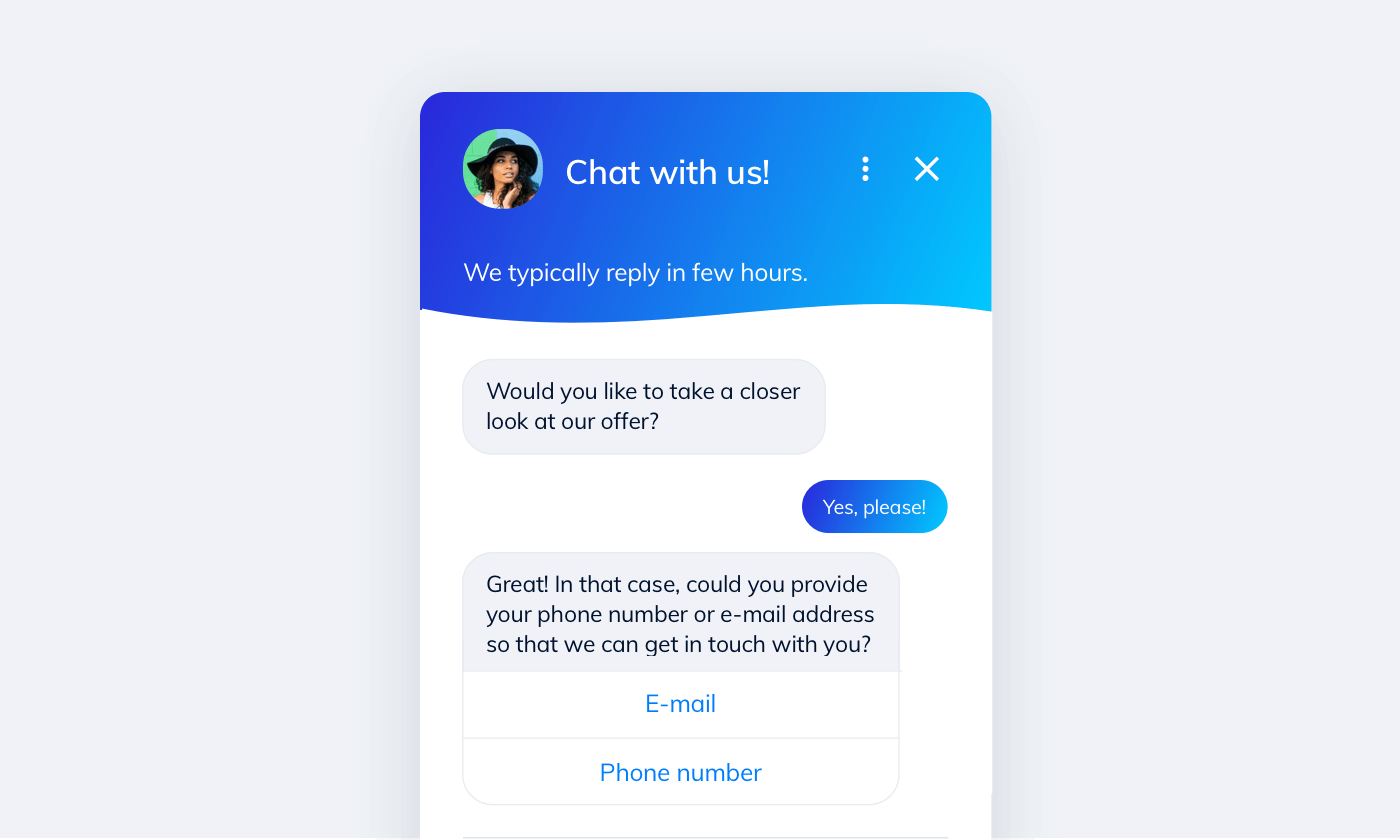 Inform About a Sale or Promotion
You're just having a super cool sale? Customers are getting ad-proof, and they may not be very excited to see another pack of emails and banners.
That's a great chance to inform customers about the sale with chatbots. You can add a discount coupon, too!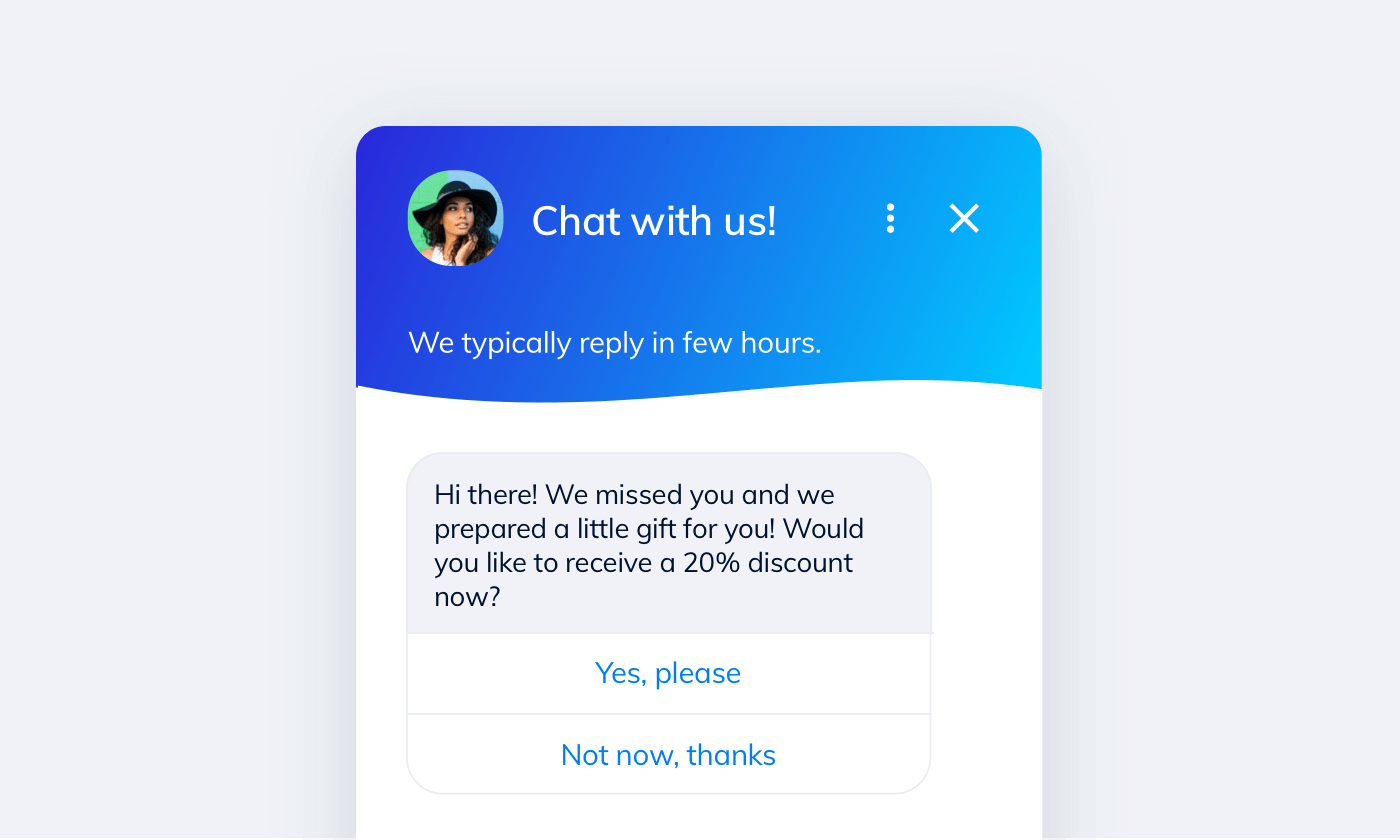 Thanks to this chatbot, you can:
Use an unconventional channel to inform your clients about a sale or a discount,
Make sure that customers see what you want them to,
Maximise your Shopify conversion.
Provide Delivery Status Information
Over 11.5% of customers' inquiries refer to delivery status.
Take this weight off your back with Delivery Tracking Chatbot, and provide your customers with the delivery information in seconds.

With this chatbot, you can:
Provide basic information about shipping status, based on customers' email address or an order number,
Handle simple queries and save a lot of time,
Have a chatbot switch a customer to a Shopify live chat operator in more advanced cases.
Quickly Answer Shipping Zones Questions
13% of eCommerce clients contact customer service to get answers on questions about shipping zones.
A chatbot can handle these simple conversations – it'll provide your customer with information on the possibility of delivery to a specific area:
With this chatbot:
Your customer receives an instant reply,
An answer is available 24/7,
You save lots and lots of time – queries are handled automatically.
Inform About Product Availability
10.6% of eCommerce customers ask questions about product availability using Shopify live chat.
Thanks to the Product Availability Chatbot, your customer can get an answer to this type of question in no time:
Thanks to this chatbot:
You don't have to answer these simple questions; it happens automatically,
A customer gets an instant reply 24/7,
If the product isn't available a chatbot asks a customer for their email address to collect a lead.
Handle Return Queries in No Time
Questions on a Return Policy are one of the most common among eCommerce customers.
Return query chatbot script examples show you how to take some work off your customer service and handle return queries automatically, saving a lot of time:

This Shopify chatbot will automatically deliver:
Link to your Return Policy,
Information about the amount of time that a customer has to return an item,
A postal address for a customer's return.
Adding Tidio to Your Shopify Store
You can easily put to action all of the ideas and solutions described above. Our live chat and automation chatbots can be quickly integrated with your Shopify store. Boost the quality of your customer experience and their level of satisfaction in no time.
Tidio can be installed with Shopify App Store or added directly from your Shopify Apps Panel. Try it out for free!