Imagine: you're the owner of an online store, and every click on the "add to cart" button is like music to your ears.
But—
How do you turn those clicks into conversions? What are the global add-to-cart conversion trends? And what is a good add-to-cart conversion rate?
That's where our compilation of add-to-cart conversion rate statistics comes in. Join us as we explore the numbers, trends, and insights that can transform casual users into devoted customers.
Let's dive right in.
In this article:
Find out more about growing an online store from these pieces:
Starting from the basics—
What is add-to-cart rate?
Essentially, an add-to-cart rate is the percentage of website visitors who add at least one product to their shopping cart while visiting your online store. An add-to-cart conversion rate is the percentage of people with at least one product in the cart who completed the checkout process. It's one of the most important metrics to track since it serves as a valuable indicator of your business health.
Among other things, it can give you insights into the success of your product selection, website usability, marketing campaigns, and customer support.
For instance, if you just conducted a marketing campaign, but there is no increase (or, even worse, a decrease) in add-to-cart conversion rates, it can indicate that you should do something differently. So, it's important to be aware of and track this metric as it can highlight loopholes in your strategy and help you fix them.
Of course, in order to make this metric work in your favor, it's important to calculate it correctly.
Let's see how to get it right.
How to calculate add-to-cart conversion rate?
The first essential step is to determine a given time period. Then, you should divide the "total number of successful purchases" by the "number of opened shopping carts" during that time frame. Next, the product must be multiplied by 100, which would be your cart conversion rate.
Add-to-cart conversion rate formula is pretty simple, but gives you a lot of insights and control over your customer behavior.
However—
How do you know that your add-to-cart conversion rate is good? What numbers indicate that you are going in the right direction with your conversions?
What is a good add-to-cart rate?
The optimal add-to-cart conversion rate depends on many factors like your industry, sector, location, and more. As of September 2023, the average add-to-cart rate across all industries is around 7%, while the average add-to-cart conversion rate is approximately 8%. A good add-to-cart rate would be anything between 8-10%, and a desirable one is generally considered to be 9-11%.
Achieving these numbers is possible when your decisions are based on industry-wide data—it allows you to learn from others and make smarter decisions.
Let's move to the freshest add-to-cart conversion rate statistics to see the big picture.
Add-to-cart conversion rate statistics: overview
Add-to-cart conversion rates are often overlooked in favor of tracking add-to-cart and cart abandonment rates. However, if you are not paying attention to them, you are missing out since it can signal whether certain business strategies are working or not. Tracking cart conversions can bring you plenty of insights to further use in your favor.
So, what's the current state of add-to-cart conversions? And how can you use this data?
We got you covered. After searching high and low for the most up-to-date cart conversion data, here are our main findings: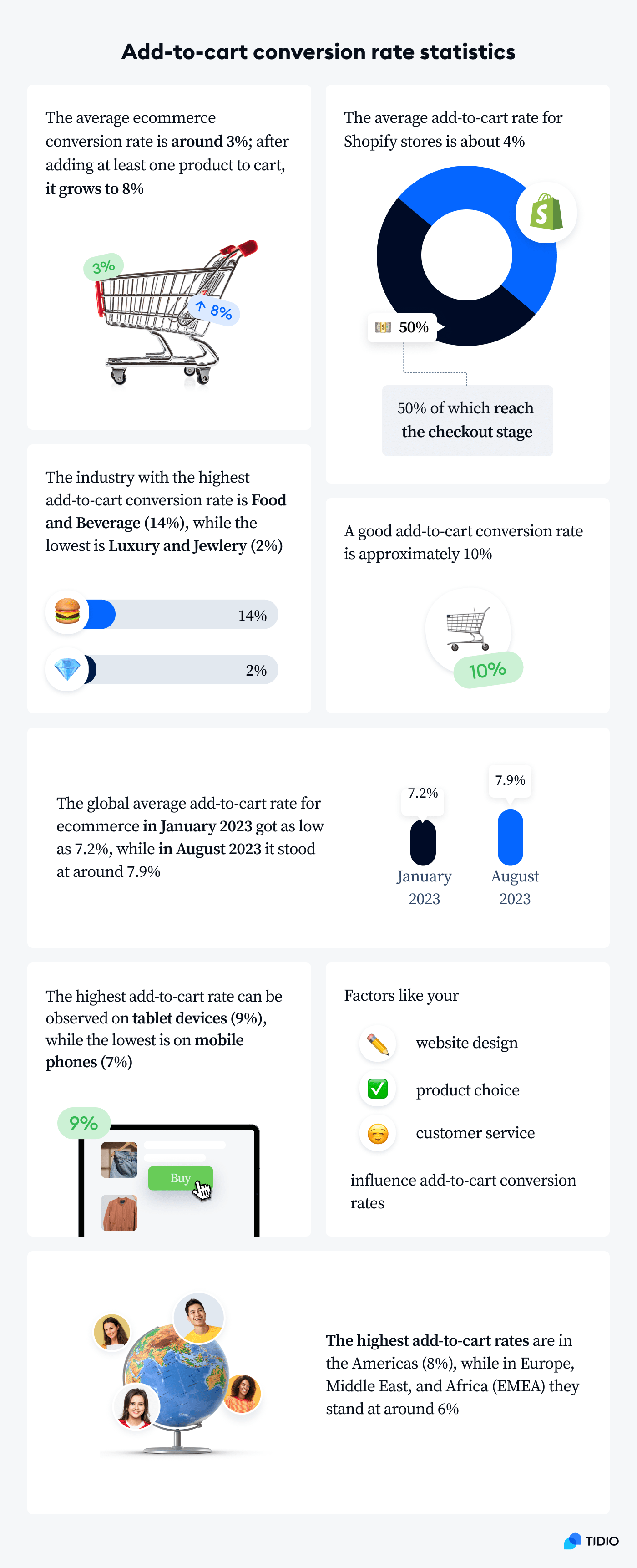 Let's dive deeper into the stats now.
1. The typical conversion rate for ecommerce hovers at approximately 3%. However, once a customer has added at least one product to their cart, this rate increases to 8%

As you can see, the standard ecommerce conversion rate across the industry is rather low, averaging at about 3%. This proves how crucial it is to fight for customers' initial interest and the potential of turning browsing into purchasing.
However, once a product is added to the cart, the fight is not over. The average add-to-cart conversion rate stands at about 8%, meaning that the absolute majority of carts are abandoned.
Such rather worrisome statistics highlight the necessity of optimizing the cart experience and employing conversion optimization strategies. In addition, it's crucial to offer exceptional customer service at all stages of the buying process in order to increase add-to-cart and add-to-cart conversion rates.
2. The Food & Beverage sector boasts the highest add-to-cart conversion rate at 14%, while the Luxury & Jewelry industry lags behind at just 2%
Add-to-cart conversion rates are dependent on many factors like seasonality, target audience, geographical location, marketing efforts, and many others. One of the most significant factors that influence add-to-cart conversion rates is the industry in which your online store operates.
Based on the most recent data from August 2023, the Food & Beverage industry stands out with the highest conversion rate, coming in at an impressive 14%. This figure significantly surpasses the average cart conversion rate across all industries, which currently stands at about 7-8%. Remarkably, the food and beverage sector is the only ecommerce industry boasting a conversion rate higher than 10%.
The second best-performing industry when it comes to add-to-cart conversions is Beauty & Personal care, with shopping cart conversion rates of about 9%. Meanwhile, the Pet care & Veterinary services industry and the Home & Furniture sector exhibited lower conversion rates of 6% and 4%, respectively. Among all these sectors, the Luxury & Jewelry industry stood out with the lowest add-to-cart rates, registering at just 2.7%.
3. Shopify stores, on average, maintain an add-to-cart rate of about 4%, with half of these shoppers proceeding to the checkout stage
When it comes to ecommerce platforms, Shopify, one of the biggest ones, has an add-to-cart rate of around 4%, which is fairly average. The conversion rate is around half of that number, hence, about 2%.
The average add-to-cart conversion rate for Shopify stores typically falls in the range of 10% to 20%. However, it's important to note that this is a general benchmark, and actual conversion rates can be higher or lower based on specific circumstances. These can be the industry, product type, shipping policies, customer support, seasonality, and more.
4. In January 2023, the global average add-to-cart rate for ecommerce dipped as low as 7.2%, while in August 2023, it stood at approximately 7.9%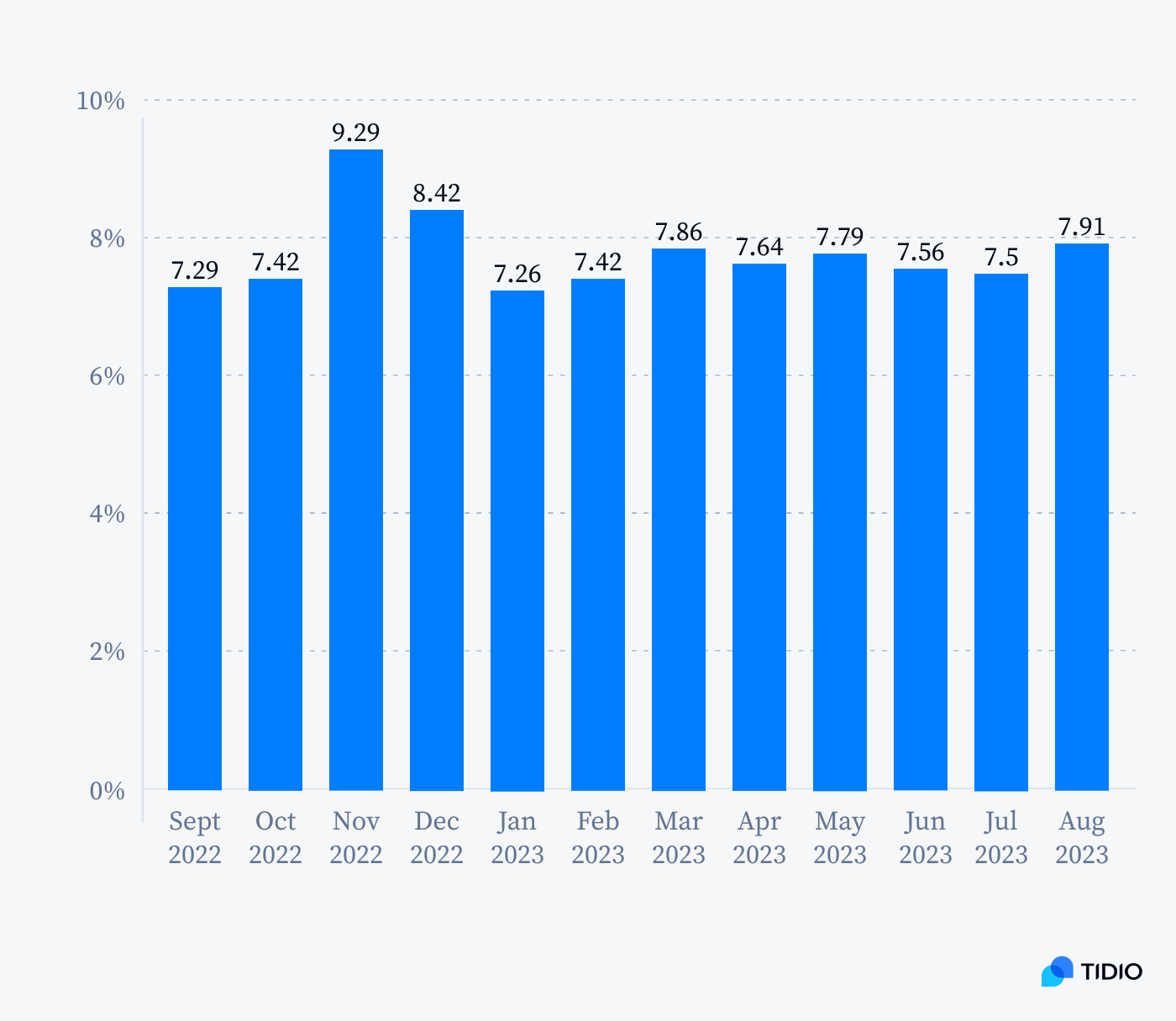 Seasonality affects many metrics when it comes to ecommerce, and add-to-cart rates together with add to cart conversions are not an exception. For example, August 2023 showed global add-to-cart rates at about 7.9%. So, for every 100 visits to online stores that month, almost 8 resulted in users adding at least one item to their shopping carts.
If we take the time period between September 2022 and August 2023, the months with the highest add-to-cart rates are November 2022 and December 2022, reaching as high as 9.3% and 8.4%, respectively.
And it makes sense—the end-of-the-year period is one of the best for online shopping. The lowest rates during this period were observed in January 2023—only 7.2%. The period right after the winter holidays is notably less successful for online merchants of all kinds.
5. Several factors, including your website design, checkout process, and customer service, can significantly impact add-to-cart conversion rates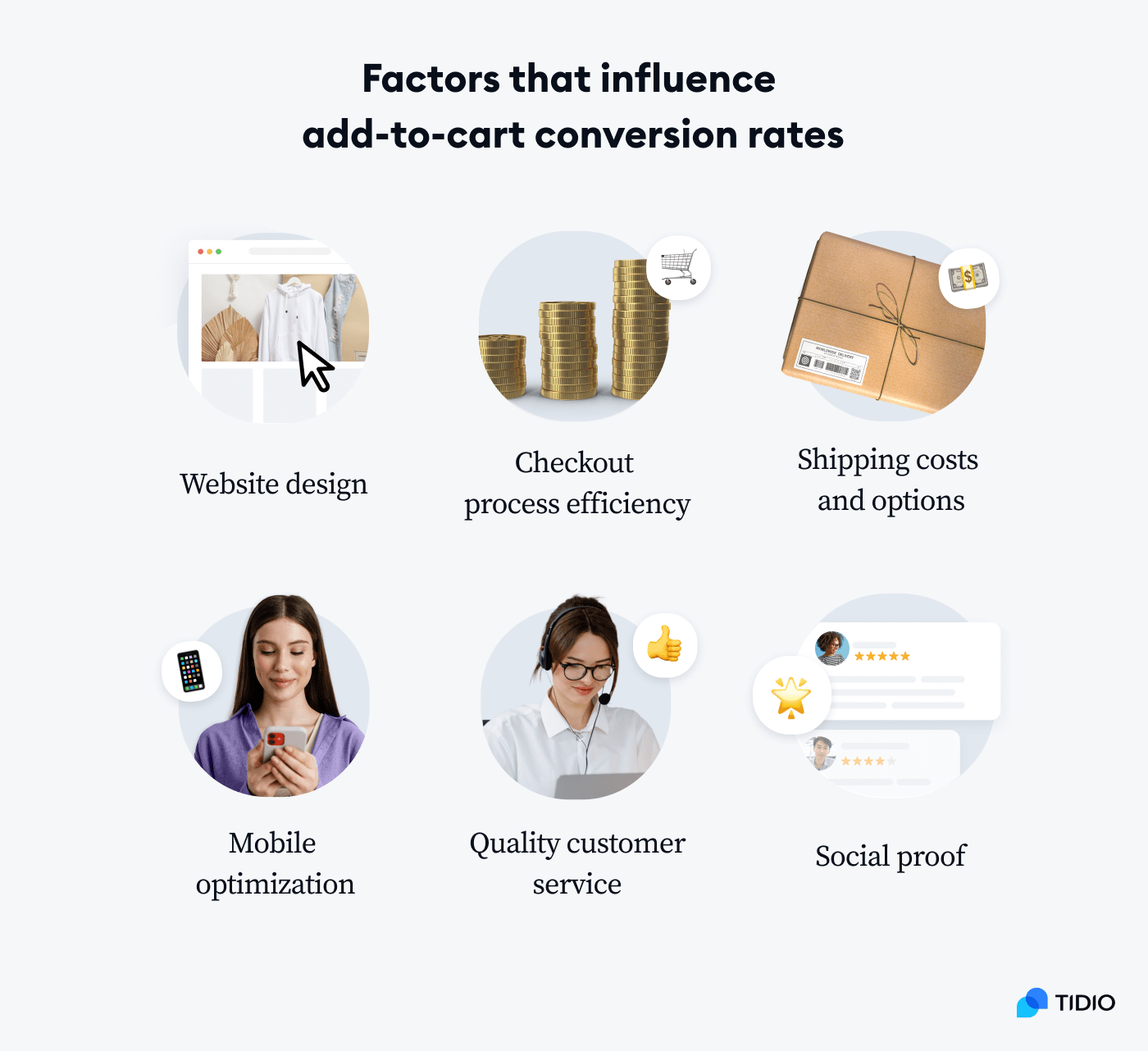 The success of an ecommerce business hinges on a multitude of factors. Here are some of the main components you can influence that can significantly impact add-to-cart conversion rates: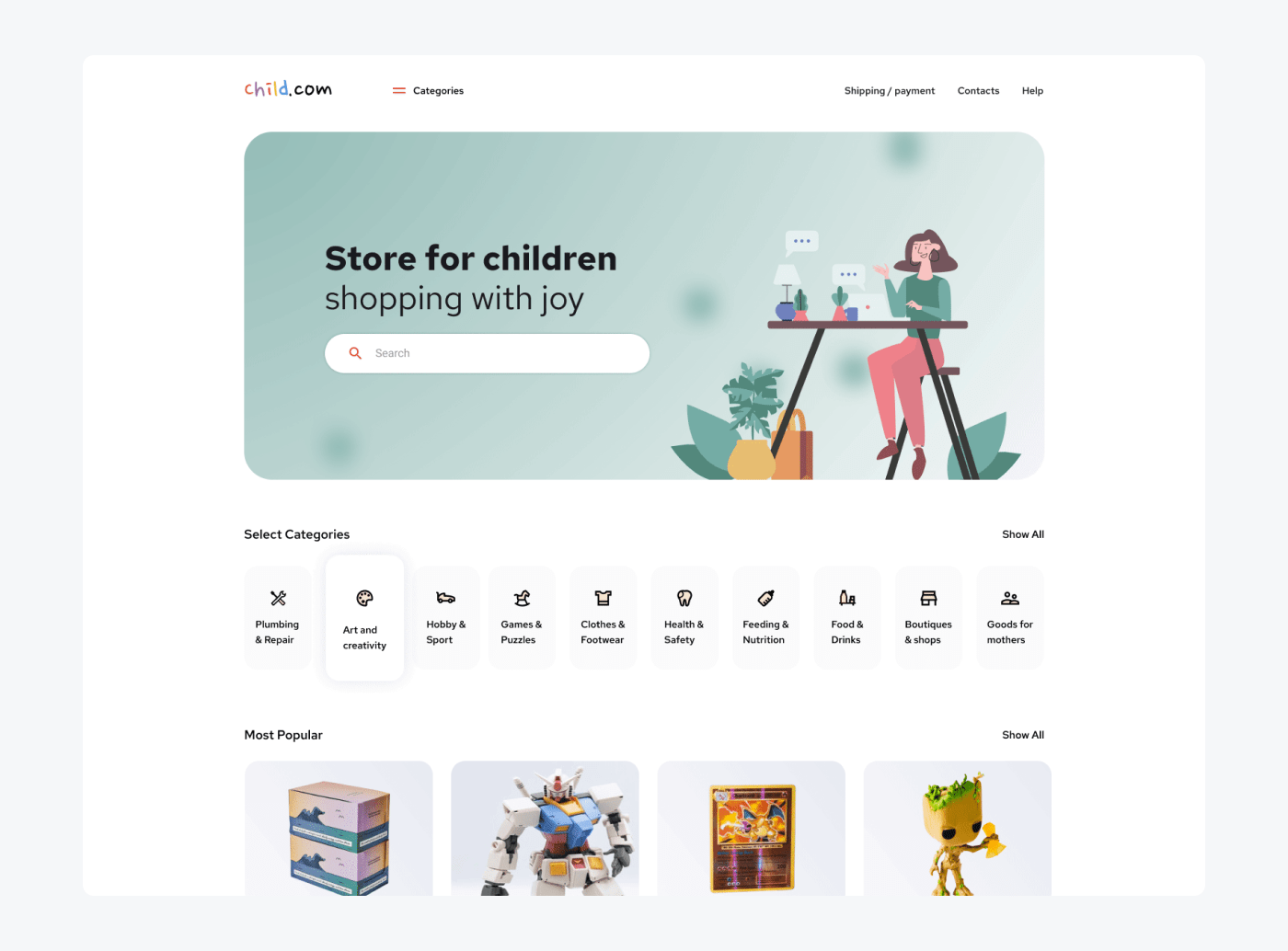 A visually appealing, user-friendly, and responsive ecommerce website design can attract and engage visitors. A clutter-free layout, high-quality product images, and intuitive navigation together with a clear product description contribute to a positive user experience, encouraging visitors to add products to their carts and complete the checkout process. Pay attention to your site's SEO, FAQ pages, social proof displays, and shortcuts like an add-to-cart button or call-to-action.
Efficient checkout process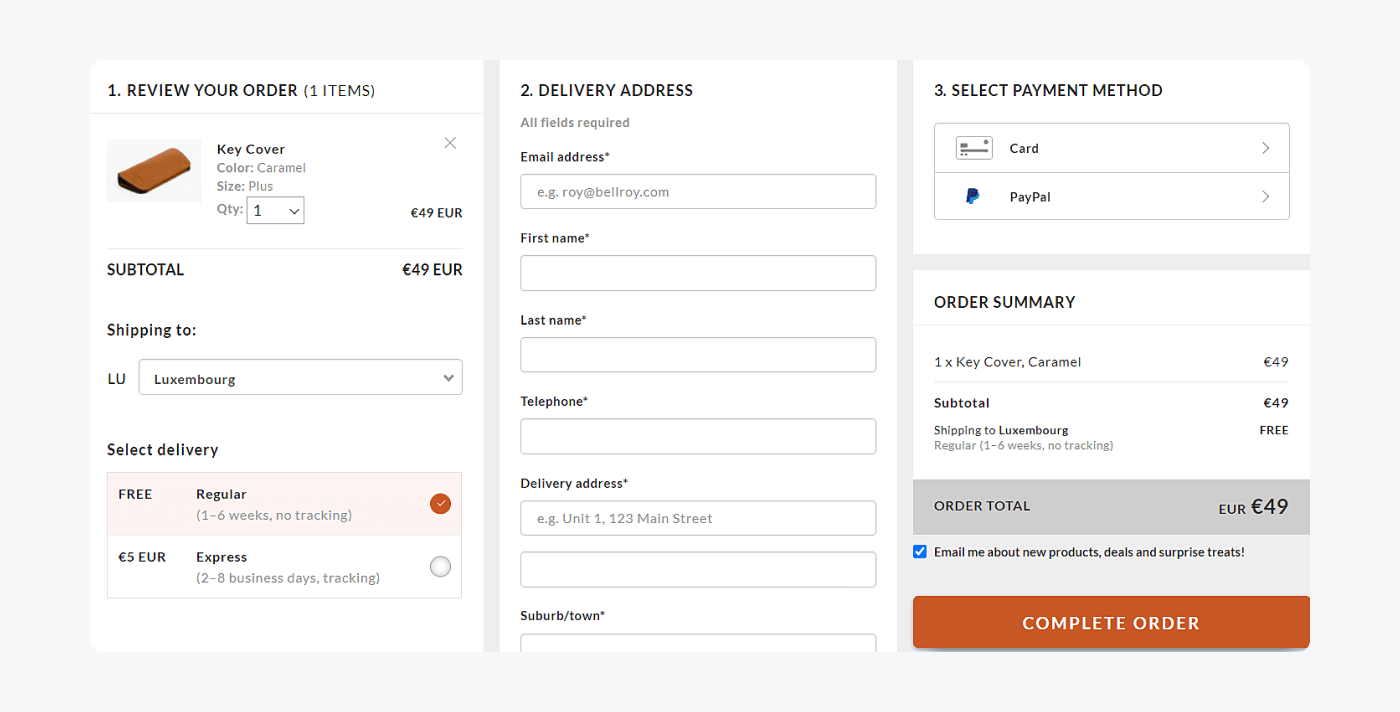 A simple, transparent, and secure checkout process is crucial. Lengthy or complicated forms, unexpected fees, or complex payment options can deter customers from completing their purchases, which lowers add-to-cart conversion rates.
Shipping costs and options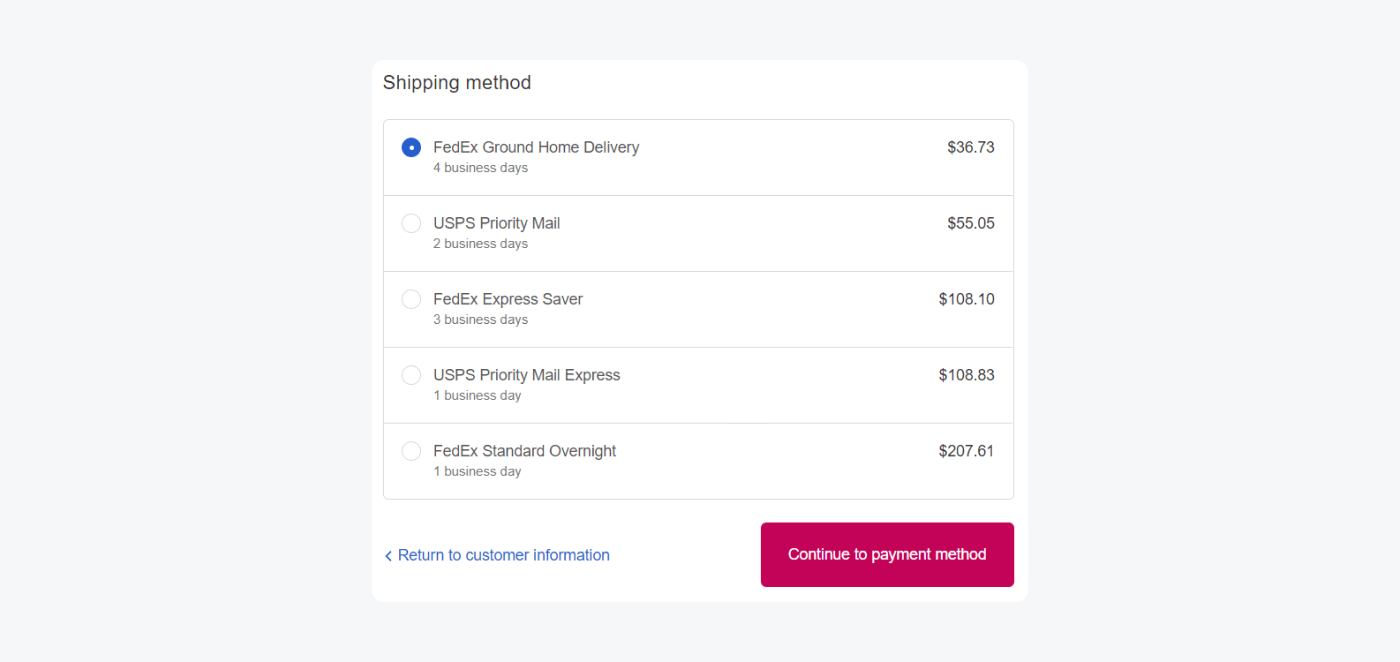 Transparent shipping costs and various shipping options (e.g., express, standard, free) can influence buying decisions. High or unclear shipping costs can lead to cart abandonment. So, make sure to provide all this information to customers as clearly as possible, and in a way that's easy to find (i.e., directly on the cart page).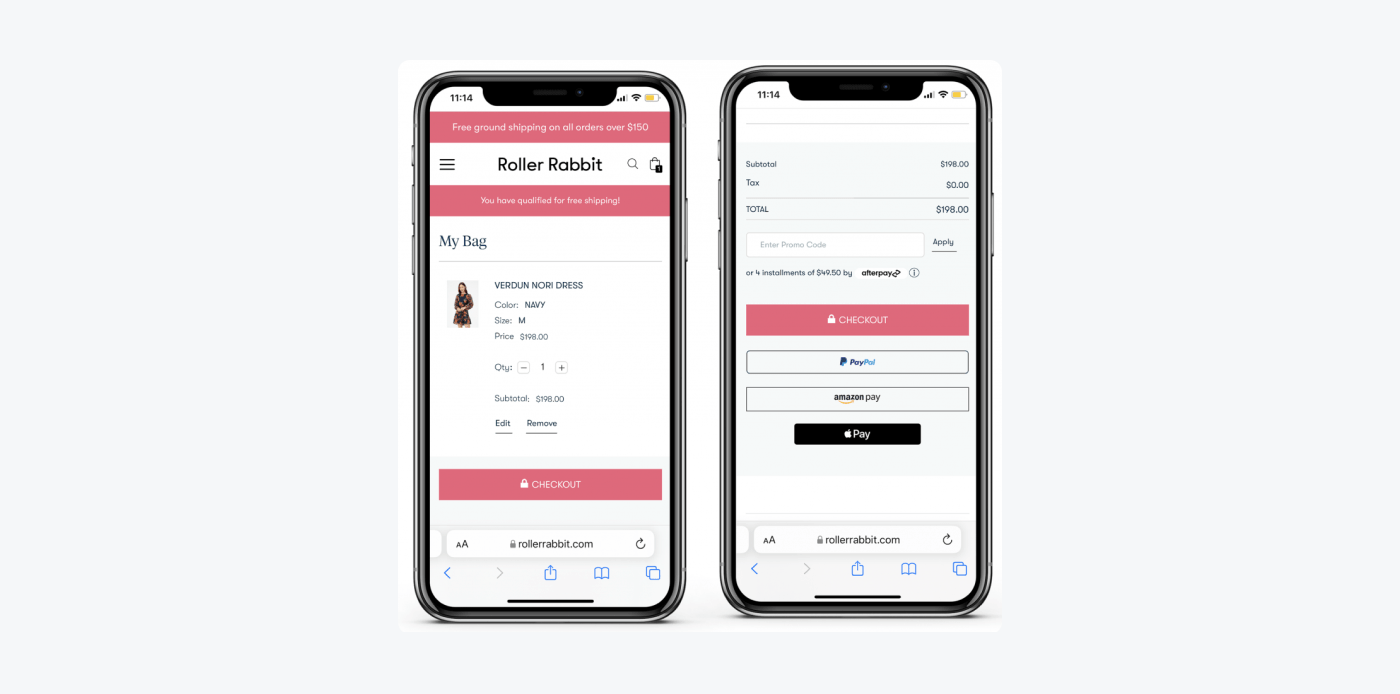 With the increasing use of mobile devices for online shopping, ensuring a mobile-responsive design and a seamless mobile checkout experience is essential. There are around 187 million active mobile shoppers in the US alone, hence, it's a crucial point to pay attention to.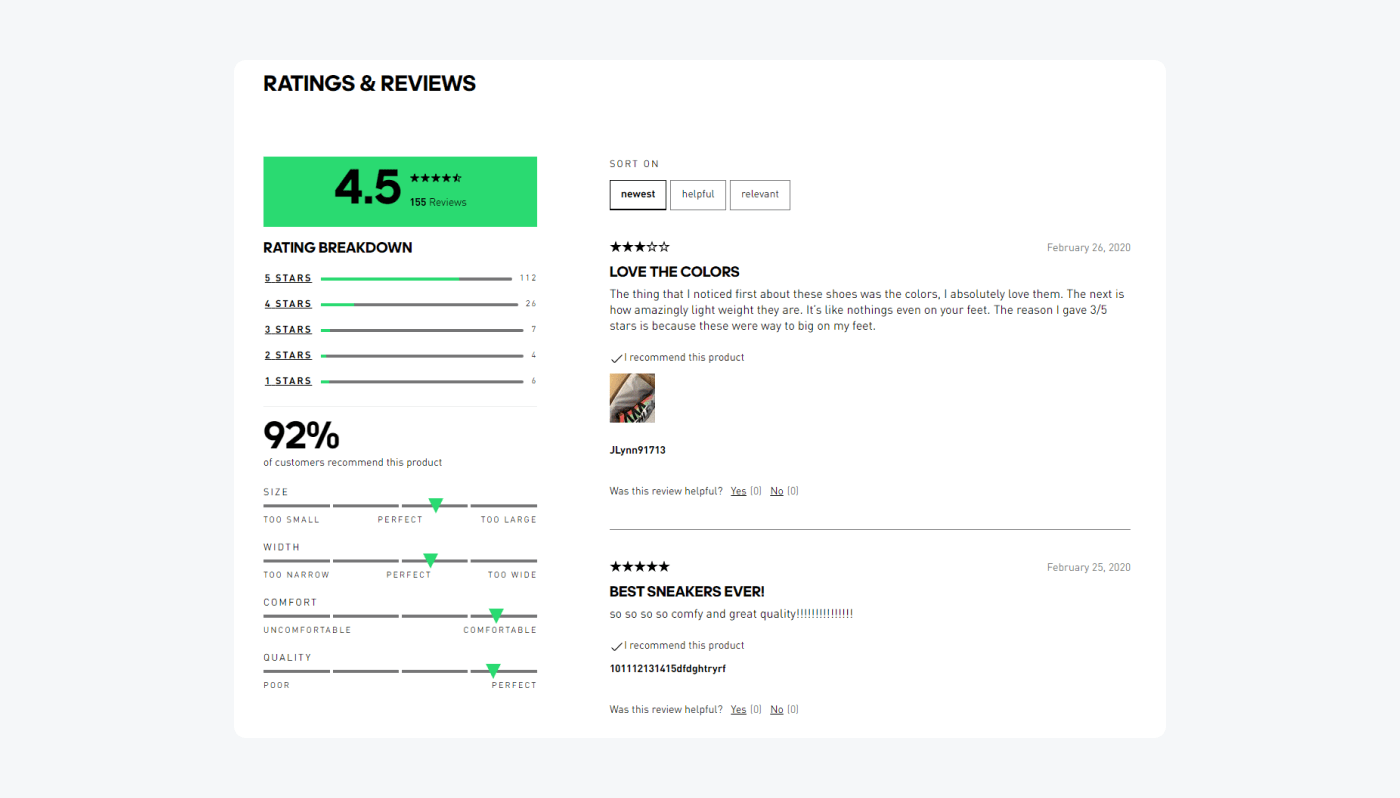 Social proof and its visibility are crucial when it comes to conversions. Make sure customer reviews and feedback are visible on your site and social media so that customers can turn to it at every stage of their customer journey. Use testimonials in your digital marketing efforts, landing pages, and other web pages related to your store.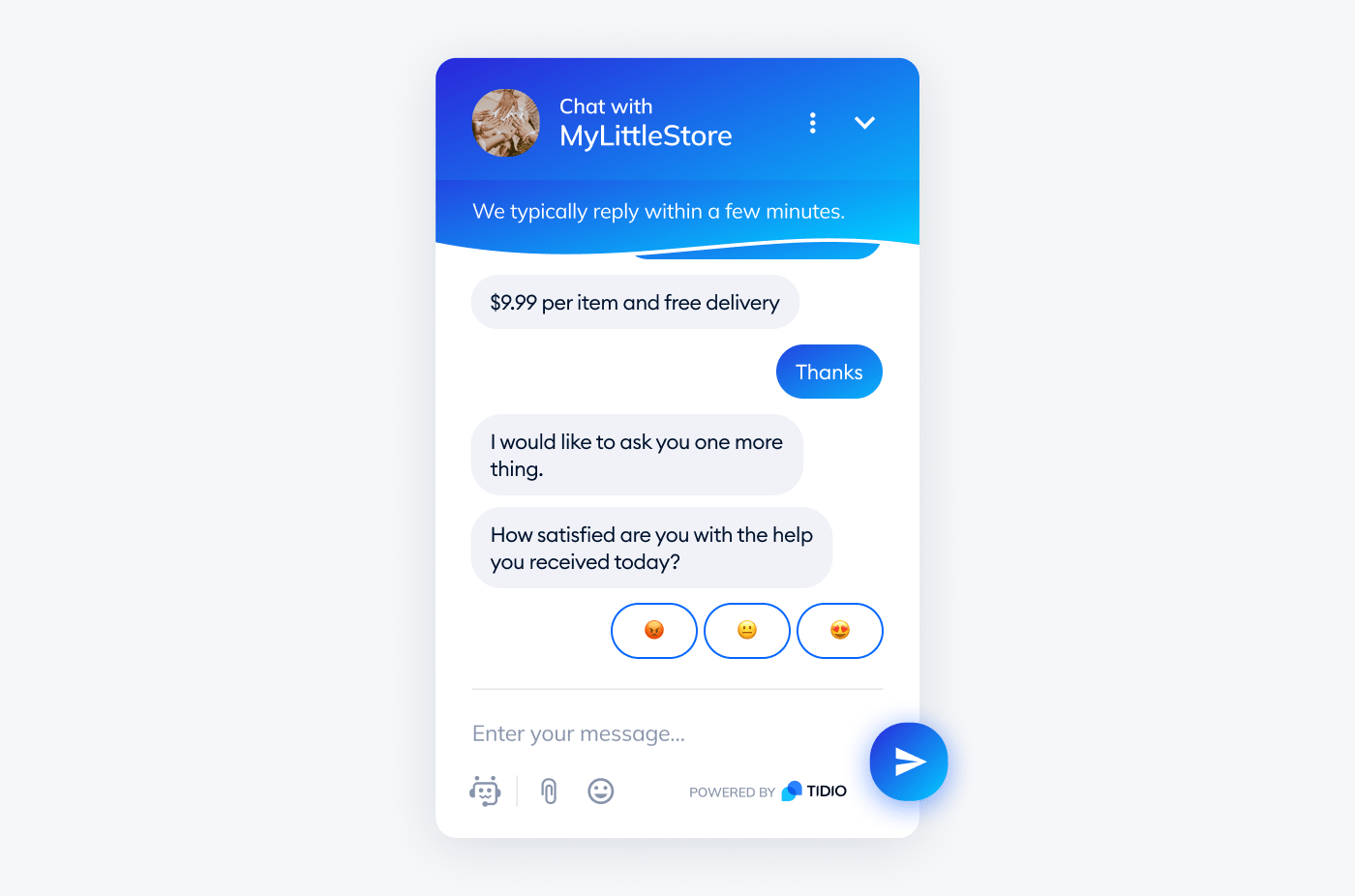 Offering accessible customer support options and impeccable customer service can drastically increase add-to-cart conversion rates. Personalized attention, incentives, and fast and smooth communication through a live chat or different chatbot types can boost customer satisfaction and give an extra push to complete the checkout process.
You can't influence all factors that lead to high add-to-cart conversion rates like seasonality, your competitors' actions, or consumer behavior. However, you do have the influence over how your website functions and how you communicate with your customers. It means that you can start taking action right now.
6. Tablet devices exhibit the highest add-to-cart rate at 9%, while mobile phones show the lowest at 7%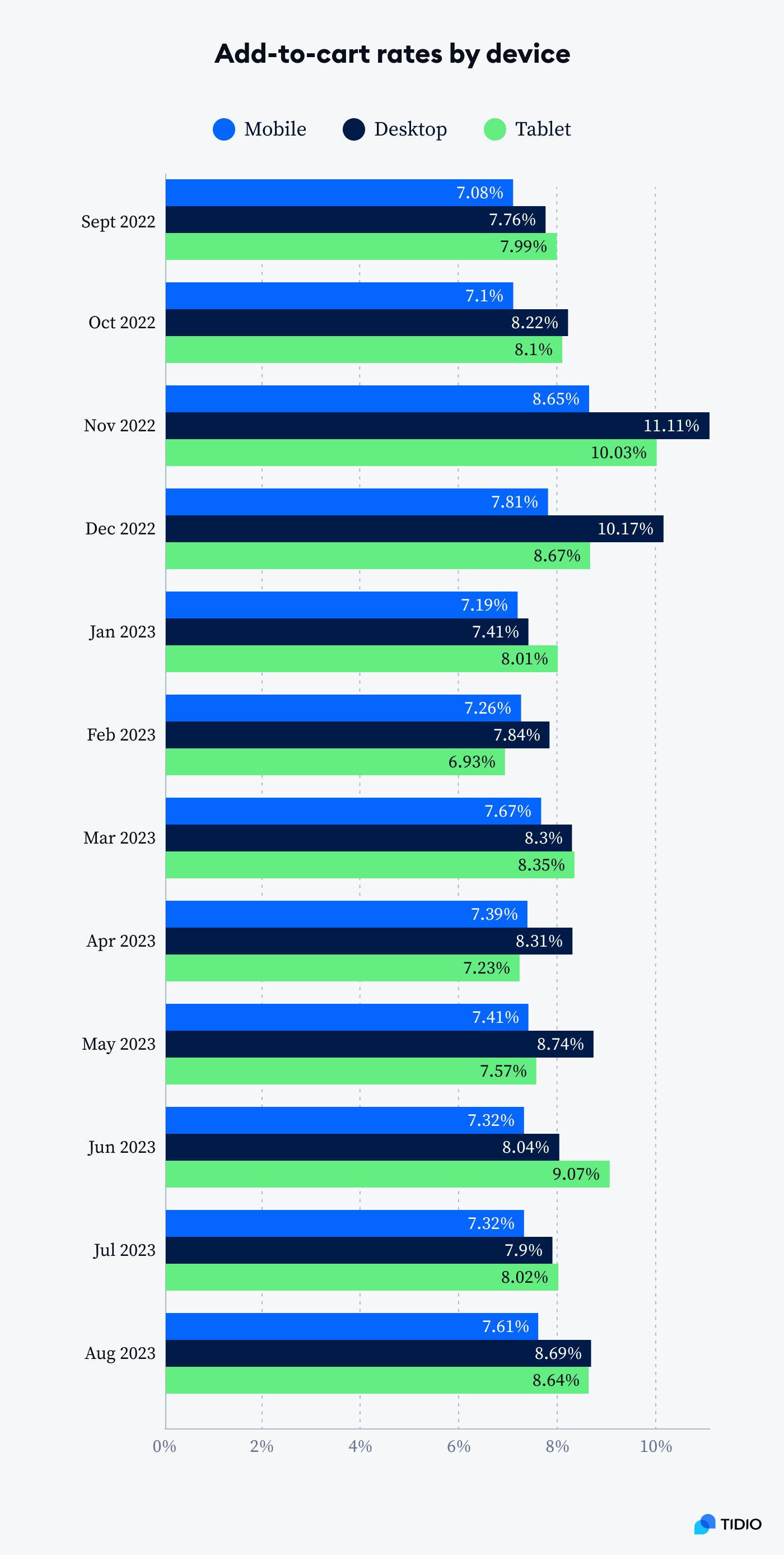 Another interesting factor that influences add-to-cart rates is the device the customer is shopping on. Recently, the highest add-to-cart rates have been observed on tablet devices, standing at almost 9%.
At the same time, add-to-cart rates are much lower on desktop and mobile devices, 7.90% and 7.30% respectively. However, this is also heavily dependent on seasonality. For instance, during Black Friday 2022, add-to-cart rates on mobile phones reached an impressive 18%, while desktop ones were at about 13%.
Such statistics once again prove the importance of keeping your ecommerce site as well as your customer support and marketing efforts optimized for all types of devices. Even if customers do add something to carts, the ill-optimized checkout experience might cause them to go to your competitor, which will significantly lower your add-to-cart conversion rates.
7. A desirable add-to-cart conversion rate typically hovers around 10%
While the average rate for adding a product to a cart is about 7%, a desirable one would be around 10%. This percentage represents a healthy balance between user engagement and effective conversion tactics.
When around 10% of website visitors add products to their shopping carts, it suggests that your website is successfully attracting and engaging potential customers, which, in turn, allows for high add-to-cart conversion rates.
While some businesses may achieve higher or lower rates, aiming for the benchmark of 10% provides a solid foundation for optimizing customer experience, refining product offerings, and implementing effective marketing strategies to ultimately drive higher conversion rates and boost revenue.
8. The Americas lead in add-to-cart rates with 8%, whereas in Europe, the Middle East, and Africa (EMEA), the rates are approximately 6%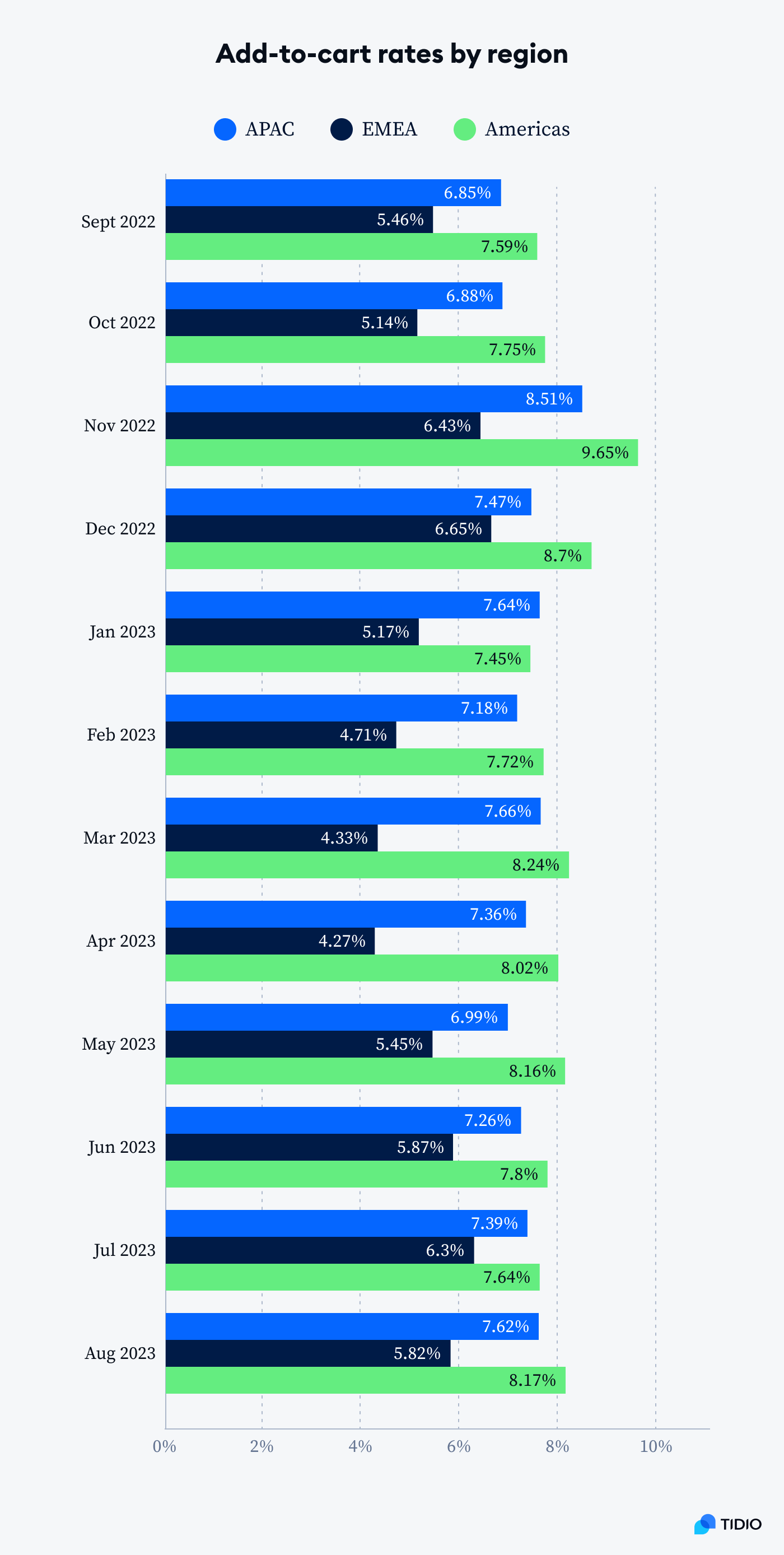 Going back to the factors that influence add-to-cart conversion rates, the one with quite a big impact is definitely geography. Different parts of the world shop differently, which is reflected in add-to-cart rates breakdown by region.
For example, in August 2023, the Americas showed an average add-to-cart rate of around 8%. At the same time, the EMEA region (Europe, Middle East, Africa) scored only 5%, while Asia-Pacific stood at about 7%. It's crucial to keep in mind that different parts of the world also perform differently depending on seasonality—national holidays and big events of any kind all influence add-to-cart and add-to-cart conversion rates.
As you can see, the data is quite interesting. But how can you optimize your own business for higher add-to-cart conversions?
Below are some things to keep in mind.
How to increase add-to-cart conversion rates
Even if your add-to-cart rates are quite good, you might still struggle to reach a desirable add-to-cart conversion rate. Carts get abandoned and forgotten, users close your website, and the products never end up being bought…
Here are some tips that will help you improve the situation, refine customer experience, and enhance conversions.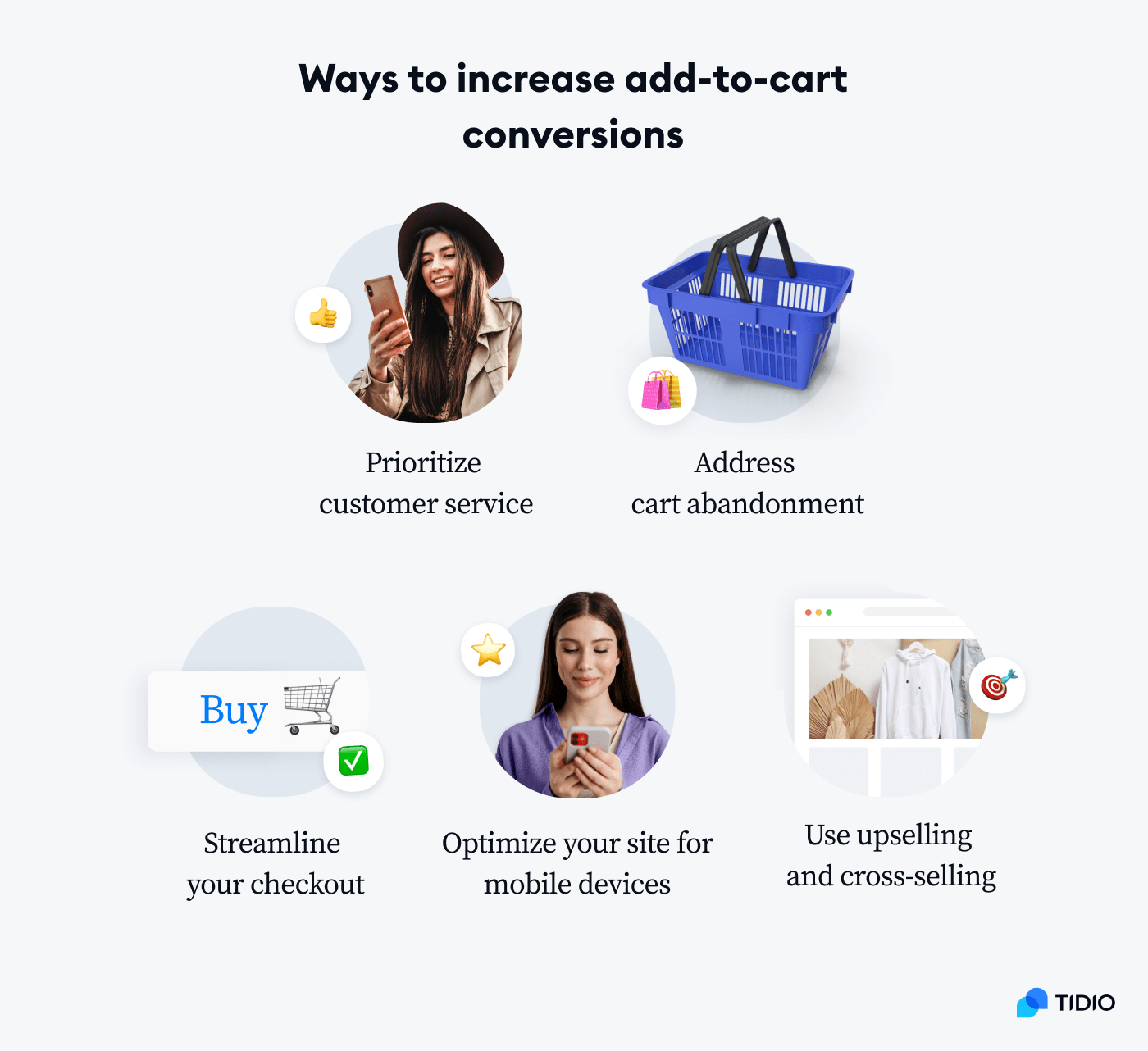 1. Focus on your customer service
This is probably the most important thing you can start doing in order to improve your add-to-cart conversion rates. Quality customer service plays a crucial role in influencing add-to-cart conversions. It builds trust and credibility, helps customers clarify product information, and handles their concerns. Also, it can assist them with checkout, offer a personalized experience, boost customer loyalty, and more.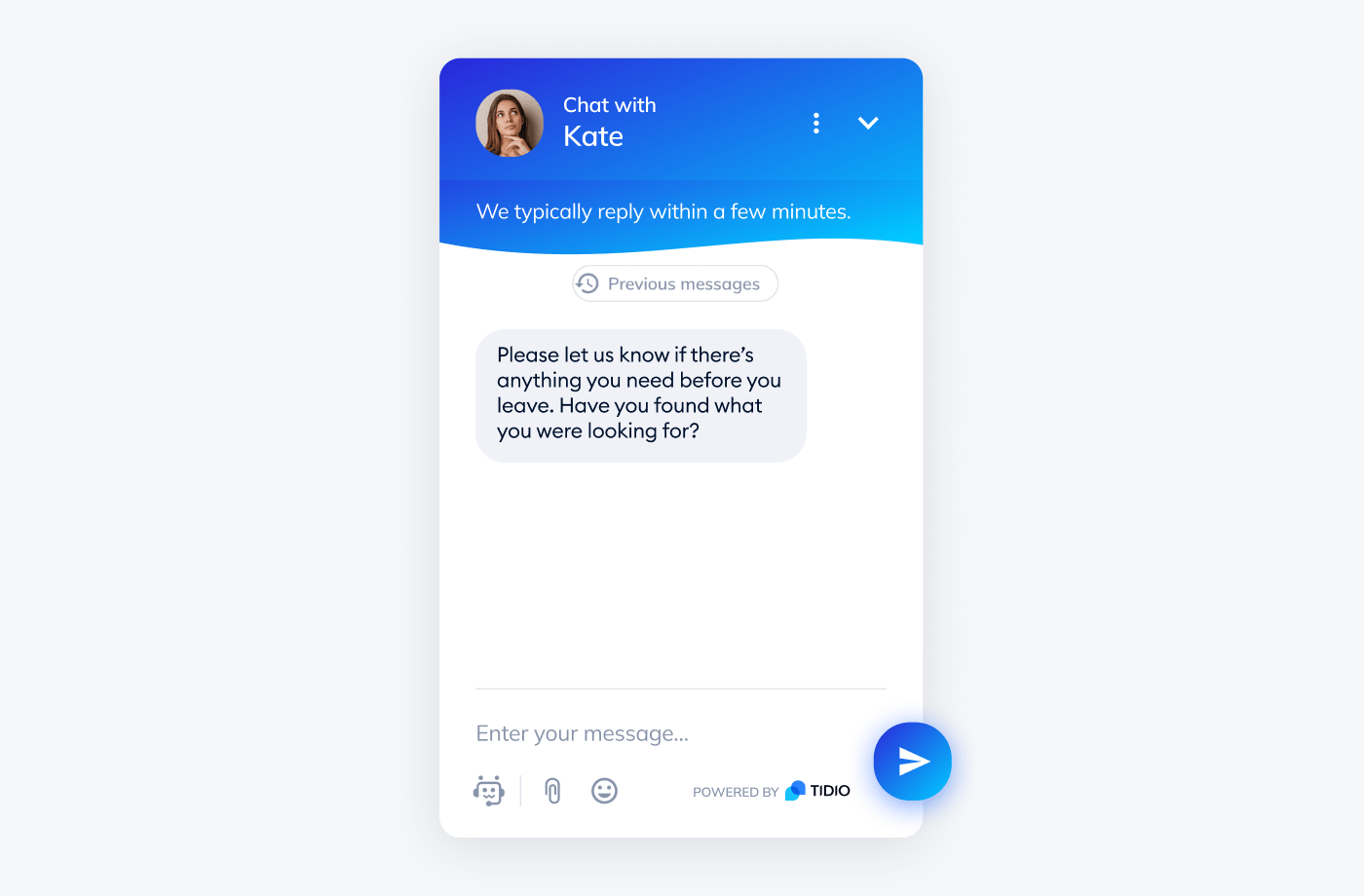 The good news is that achieving great customer service shouldn't be a complicated and costly experience. There are plenty of tools ranging from live chat solutions to bots operating on templates to completely autonomous AI chatbots that can help you communicate with customers. Installing a dedicated customer support tool will help you save time and finances as well as improve customer experience and, ultimately, boost conversions and revenue.
Read more: Find out how the AI-powered chatbot, Lyro, can take care of up to 60% of customer requests.
2. Address cart abandonment
If you own an online store, you know the pain of abandoned carts. Unfortunately, up to 86% of carts globally are abandoned, which directly affects your conversion rates and revenue.
How do you address the issue?
Make sure you have different processes in place that will help recover abandoned carts. These include sending email reminders with incentives like free shipping or discounts, offering a guest checkout option to reduce friction for first-time customers, and making sure there is an on-page chat widget that will remind customers that there is still something in their carts. Implementing cart recovery strategies drastically reduces the number of abandoned carts and helps to keep add-to-cart conversions high.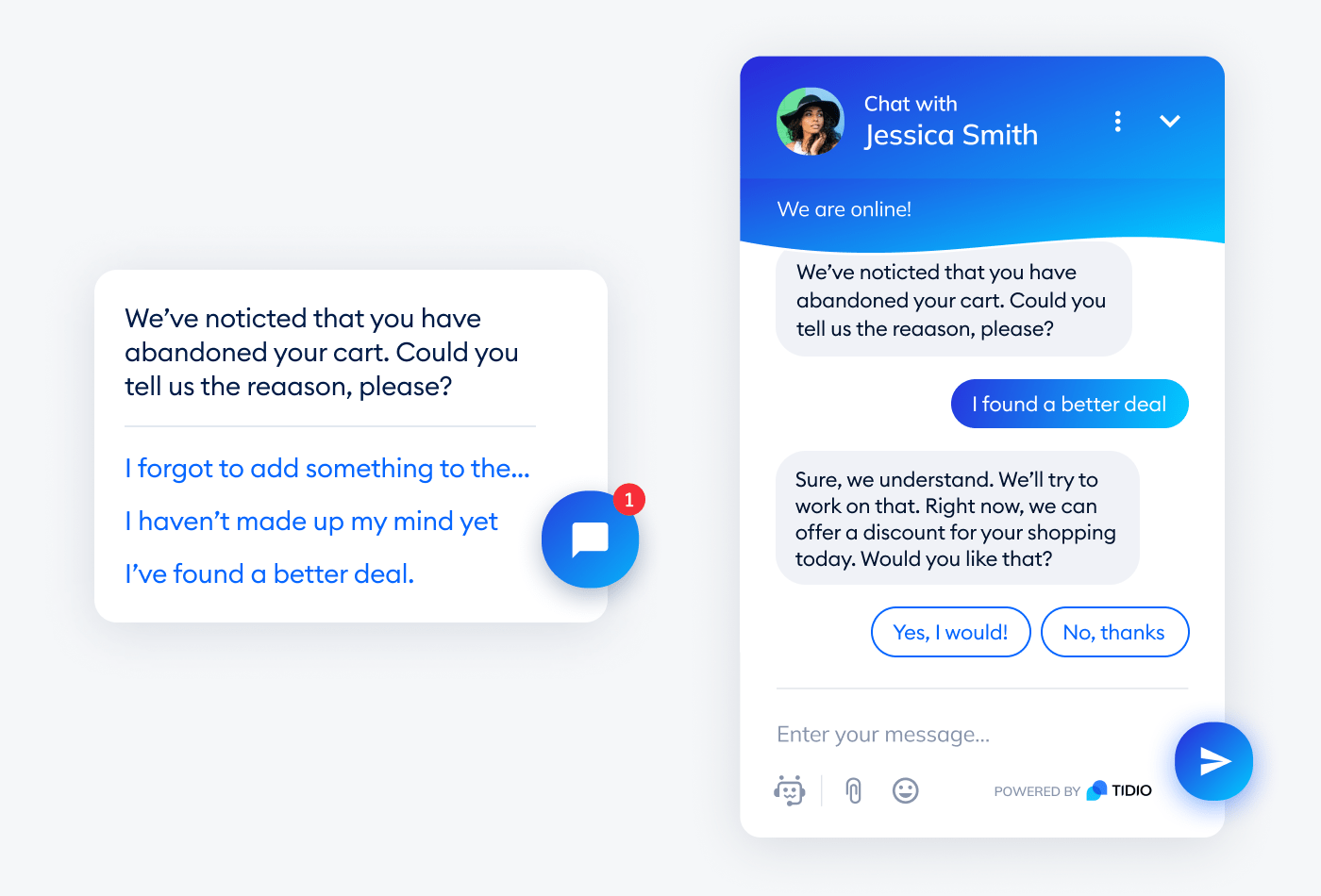 Read more: Check out our study on cart abandonment statistics.
3. Streamline your checkout process
Streamlining the checkout process is paramount in enhancing the user experience and boosting conversion rates for online stores of any kind. A seamless and efficient checkout process minimizes friction and reduces the likelihood of cart abandonment.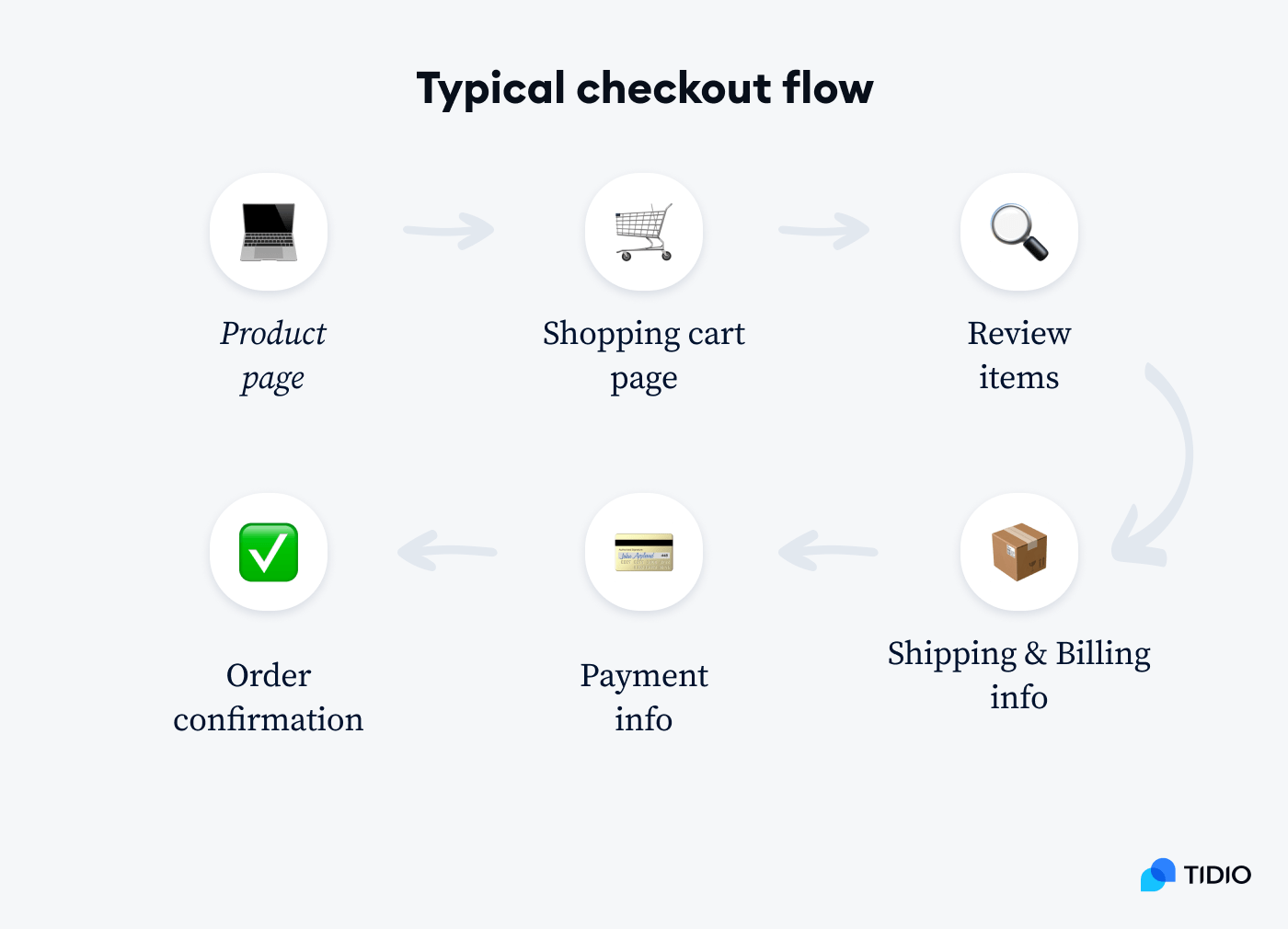 By simplifying steps, offering guest checkout options, and minimizing data entry requirements, businesses can make it effortless for customers to complete their purchases. Additionally, displaying clear information about shipping costs, pricing, delivery times, and payment options upfront builds transparency and trust. An optimized checkout process not only saves customers time and effort but also reinforces their confidence in making a purchase, ultimately leading to higher conversion rates and improved overall business performance.
4. Optimize your website for mobile devices
As we already discovered, mobile devices like phones and tablets have generally higher add-to-cart rates than desktop tools. It means that if you make an effort to optimize your checkout process, those devices will also have higher add-to-cart conversion rates.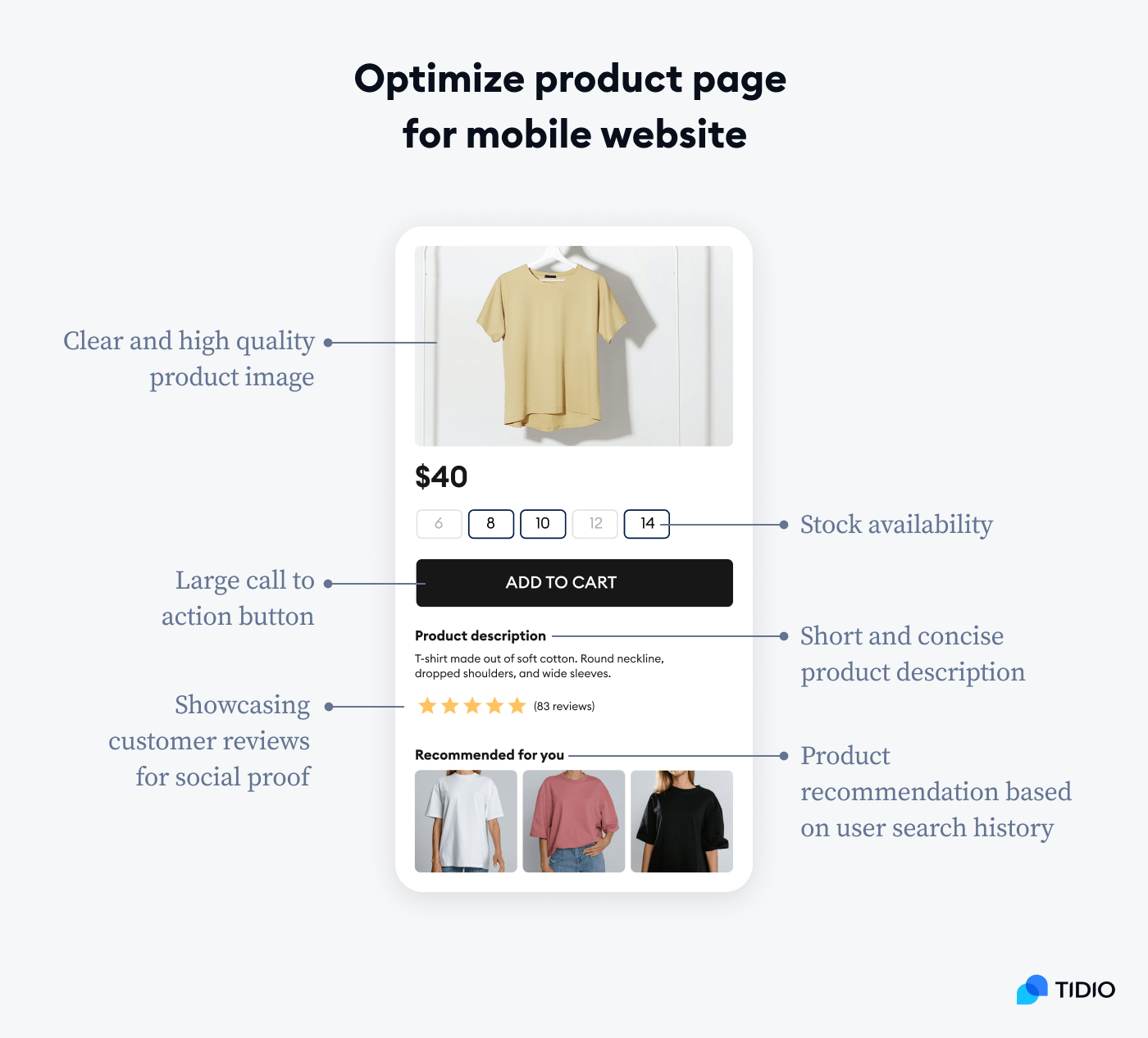 It's worth highlighting that enhancing checkout design alone can lead to a remarkable increase of more than 35% in conversion rates for the typical ecommerce website. Therefore, in addition to ensuring the mobile-friendliness of every product page and checkout, adopting a straightforward, intuitive, and user-centric design approach is the recommended path to follow.
5. Use upselling and cross-selling tactics
Providing suggestions for complementary or premium products is a well-established strategy to boost your conversion rates for items added to the shopping cart. This practice is commonly known as upselling and cross-selling.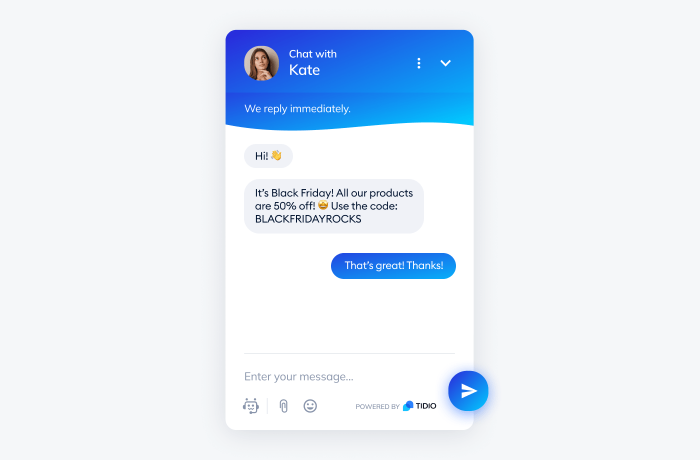 You can establish an automated chatbot system to suggest additional products to customers when they are in the process of making a purchase or selecting an item. Consider offering either a higher-value product or one with enhanced benefits.
For instance, Amazon effectively employed this approach, utilizing collaborative filtering techniques to generate a remarkable 35% of its sales through product recommendations. As long as the recommendations are relevant and feasible, this sales strategy can significantly enhance your add-to-cart conversion rate.
Read more: Discover how to install Tidio chatbots to your website in our guide.
As you can see, there are definitely tried and tested ways to increase your add-to-cart conversion rates. Let's sum up everything we've learned so far.
Add-to-cart rate statistics: key takeaway
No doubt, add-to-cart conversion rates heavily influence the success of your online store. It's a metric that is quite easy to calculate, but complex to keep up with.
While add-to-cart conversions heavily depend on factors like product type, seasonality, geography, and device, there are definitely plenty of things you can do to improve your conversions. Focusing on customer service and addressing abandoned carts, streamlining checkout processes, optimizing your website, and using upselling and cross-selling techniques can all help you reach above-average rates when it comes to cart conversions.
Notably, having an online store, it's crucial to stay up-to-date on current trends and tactics that work. However, if you manage to optimize your add-to-cart conversion rates, you can be confident that your business is loved by customers.
If you want to explore more add-to-cart and cart conversion data and content, be sure to check out the original sources below.
Sources: