Your website shouldn't be just a digital version of a brochure advertising your business.
It should be a platform for engaging customers.
And you can do it in real-time with live chat—one of the best customer communication channels.
But—
How effective are live chats?
As a company that provides one of the most popular live chat solutions, we decided to answer this question with some data-based insights.
Let's take a look at some interesting live chat statistics that will help you decide if live chat is right for you.
In this article:
If you are interested in other reports, you can also check out:
Top live chat benchmarks for 2023
Every month, Tidio powers over 2,000,000 live chat conversations. Our data specialists managed to dig up some interesting live chat statistics. These stats gave us some eye-opening insights into the usage of the chat.
Here are our key findings: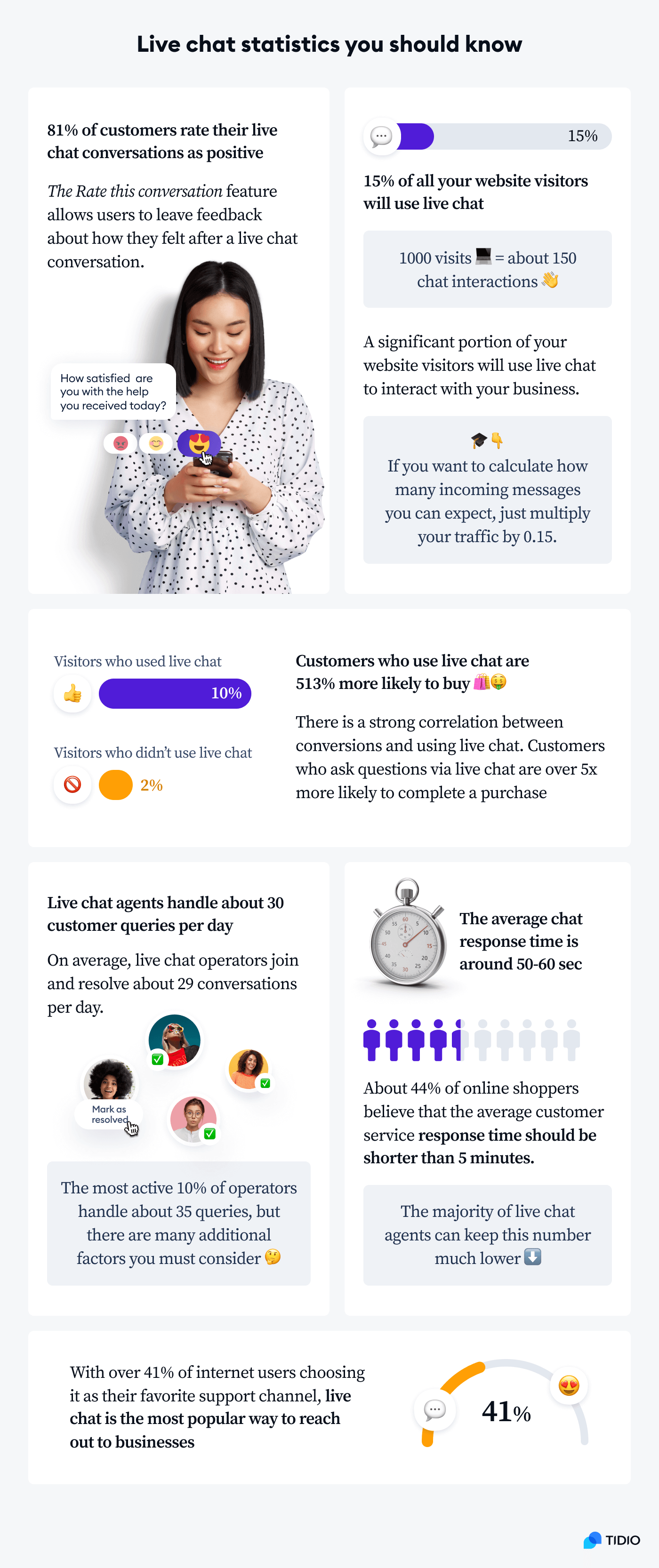 In order to offer a complete picture and a broader perspective, we have also collected findings from 3rd party reports and studies.
Here are some of the most important live chat and call center benchmark statistics for 2023.
Customer service channel preference statistics
Many business owners are still on the fence about whether to add live chat to their website. The latest statistics might help sway things in favor of this channel. As recent study shows, over 41% of customers prefer using live chat when compared to other customer service channels.
1. How many customers prefer real-time customer service?
About 41% of customers say they prefer real-time customer service via live chat over other methods, such as email or phone support. This number is only expected to grow in the coming years.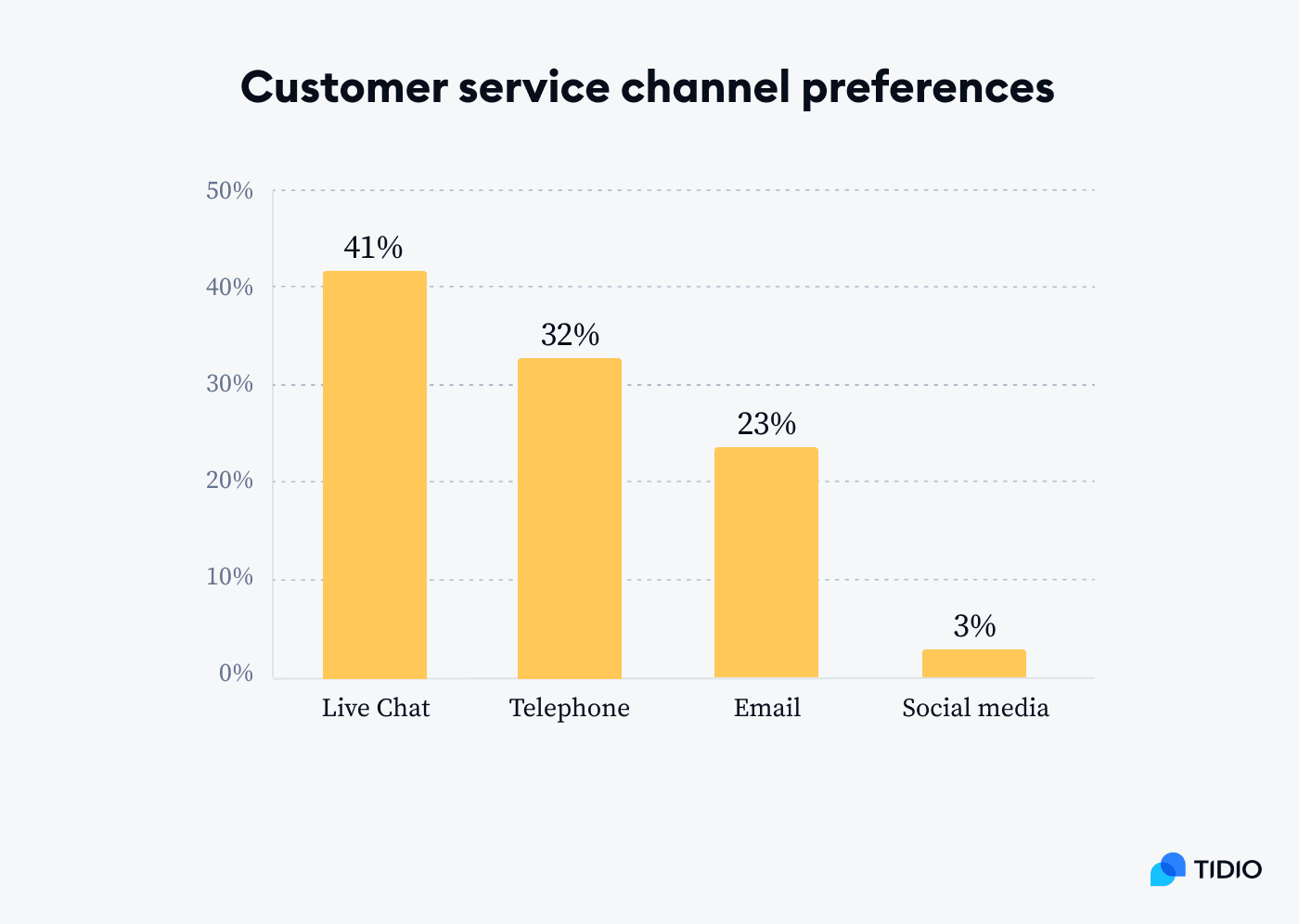 2. Do customers like live chat?
About 60% of customers say they are more likely to return to a website that offers live chat, and over 63% are more likely to purchase from websites with live chat widgets. On top of that, 38% of customers are ready to make a purchase after a nice chat session.
(Source: Software Advice)
Delivering high-quality live chat experiences helps to build customer loyalty across different stages of the buyer journey. Live chat users appreciate the immediacy of this channel—it cannot be matched by email support or even phone calls.
3. Do people prefer live chat to phone customer service?
According to a study done by comm100, 73% of customers feel more comfortable communicating with customer service via live chat than email (61%) or traditional phone support (44%). Furthermore, when asked what frustrates them the most about phone customer service, 61% of respondents said being placed on hold was their top grievance.
(Source: invesp)
4. What is the average satisfaction rate for live chat as a customer service channel?

Based on our data from the past year, 87% of live chat conversations receive a positive customer satisfaction (CSAT) rating.
This number is almost exactly the same as the average satisfaction rating for live chat as a customer service channel (88%) according to a recent report by the American Customer Satisfaction Index (ACSI).
(Source: Tidio)
5. What demographic groups use live chat?
A report by Microsoft on the current state of global customer service shows that the younger generation of customers is more inclined to use live chat and social media than others. In fact, digital shoppers aged 18 to 34 years were 21% more likely to choose live chat as their favorite support channel than those aged 35 to 54 years.
Social media messaging and live chat are the fastest-growing channels for connecting with businesses.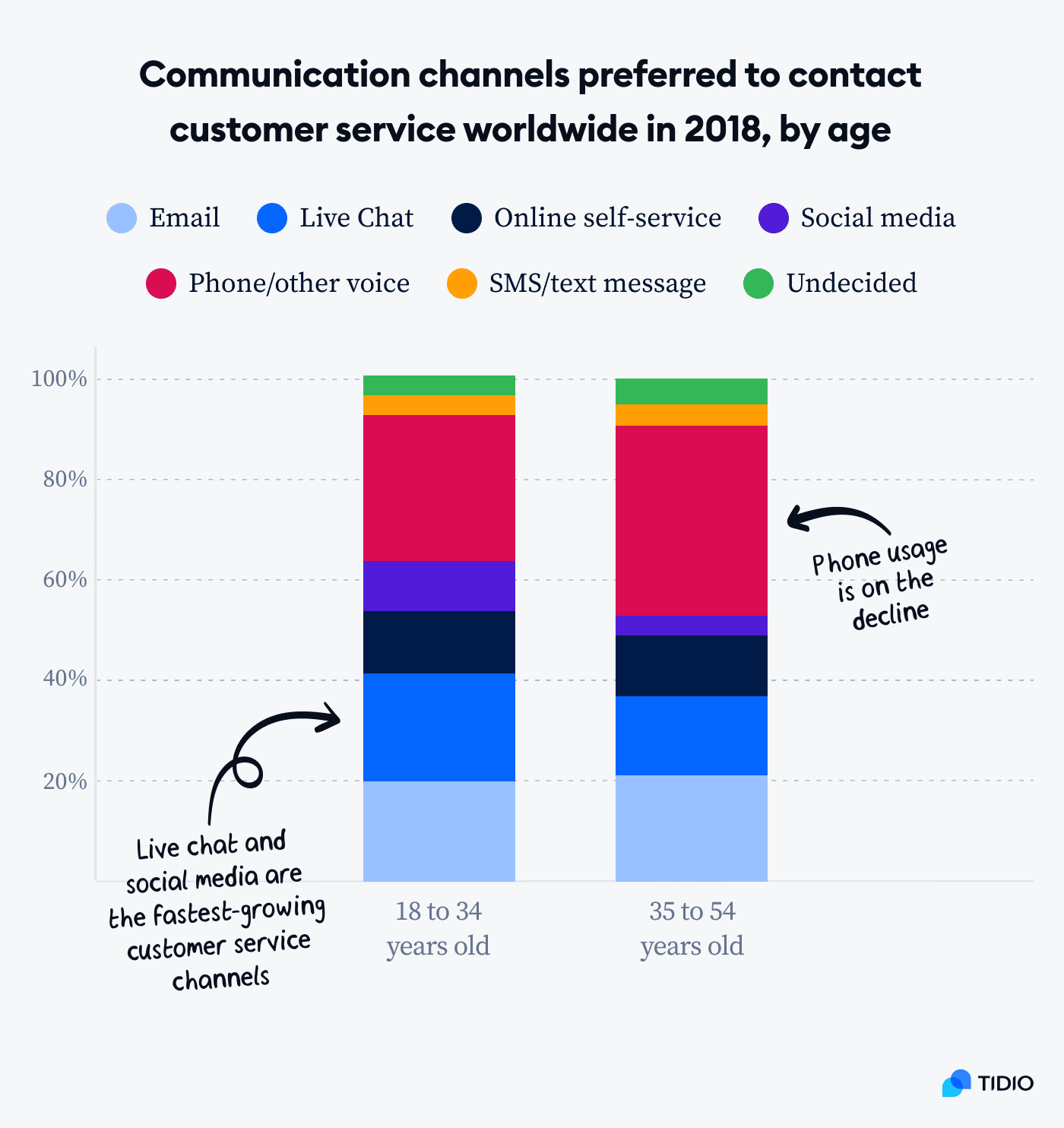 Another study by Software Advice confirms this trend. The youngest customer segment uses live chat on a regular basis. But there are still some Gen Z and Millennials who have never tried chatting for business communication.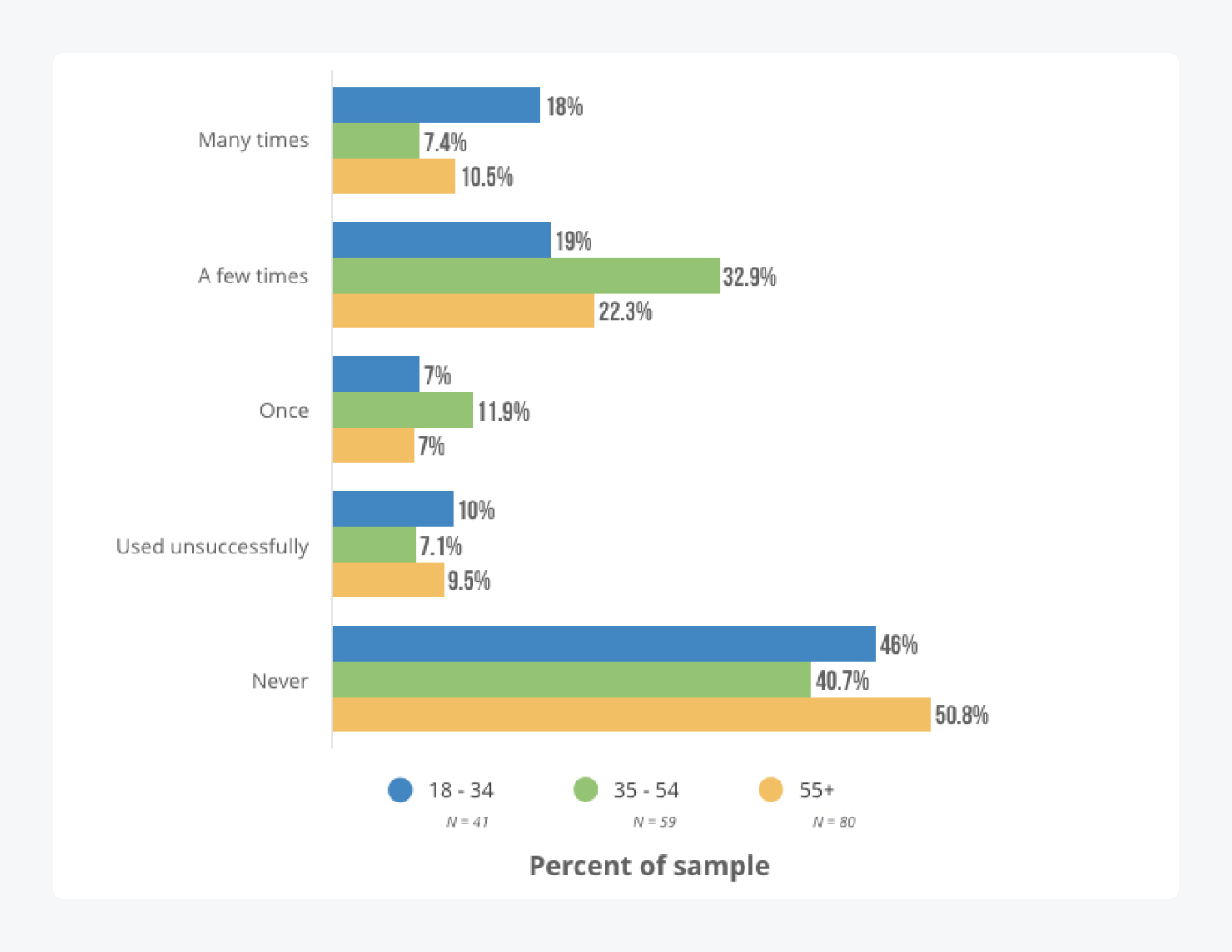 6. What percentage of website visitors use live chat?
About 15% of all visitors join live chat conversations. This ratio was calculated by comparing the number of live chat widget impressions (how many people saw the live chat icon) and the number of chats that were initiated on almost 300,000 websites within the last year.
(Source: Tidio)
Live chat trends and statistics for ecommerce and online businesses
If you own or operate an online business, then you know that live chat is a powerful tool for customer support teams. But what is the current live chat market state and how effective is live chat for ecommerce and customer service scenarios?
Let's take a look at some of the most fascinating live chat statistics for business owners.
7. What is the percentage of companies with live chat support?
The percentage of companies with live chat support has been steadily increasing over the past few years. Live chat usage distribution in the top 1 million sites on the internet shows that there are over 179,934 installations of chat widgets on popular websites. This means that about 18% of the most popular websites use live chat.
(Source: BuiltWith)
8. How many websites use live chat?
According to reports from BuiltWith, there are over 5,300,000 websites that utilize some sort of online chat technology. The live chat adoption rate is quite fast and, as of 2022, around 85% of businesses want to implement live chat options on their website.
(Source: Software Advice)
9. How many ecommerce businesses offer store chat for customers?
Currently, Shopify is one of the most popular, and probably the best, ecommerce platforms out there. There are over 4,400,000 Shopify stores. But a quick visit to the Shopify App Store reveals that the number of Shopify live chat plugin reviews is not too impressive compared to the number of stores. This means that, for now, there aren't too many stores that implemented a live chat app.
Based on a standard review/plugin installation ratio of 2%, we can estimate that there are no more than 730,650 live chat plugins installed. It means that only about 6% of Shopify stores offer live chat for their customers. This number could be extrapolated to the whole ecommerce sector.
(Source:Tidio)
10. What is the live chat software market size?
According to a report by Allied Market Research, the global live chat software market is expected to reach $1.7 billion by 2030. The report cites the growing trend of digitalization and the need for businesses to provide engaging customer experiences as key drivers of market growth. The live chat technology market is expected to grow at a Compound Annual Growth Rate (CAGR) of 8.8% year over year throughout the next decade.
(Source: Allied Market Research)
11. What is the current market share of live chat technologies?
Some of the most popular live chat software providers include Tawk.to (21.8% of the market), Facebook Chat Plugin (17.7%), Zendesk Chat (8.5%), Tidio (7.7%), and LiveChat (6.02%). These platforms offer a variety of tools and can be integrated with other apps. They also offer pricing plans with premium live chat features that suit the needs of businesses of all sizes.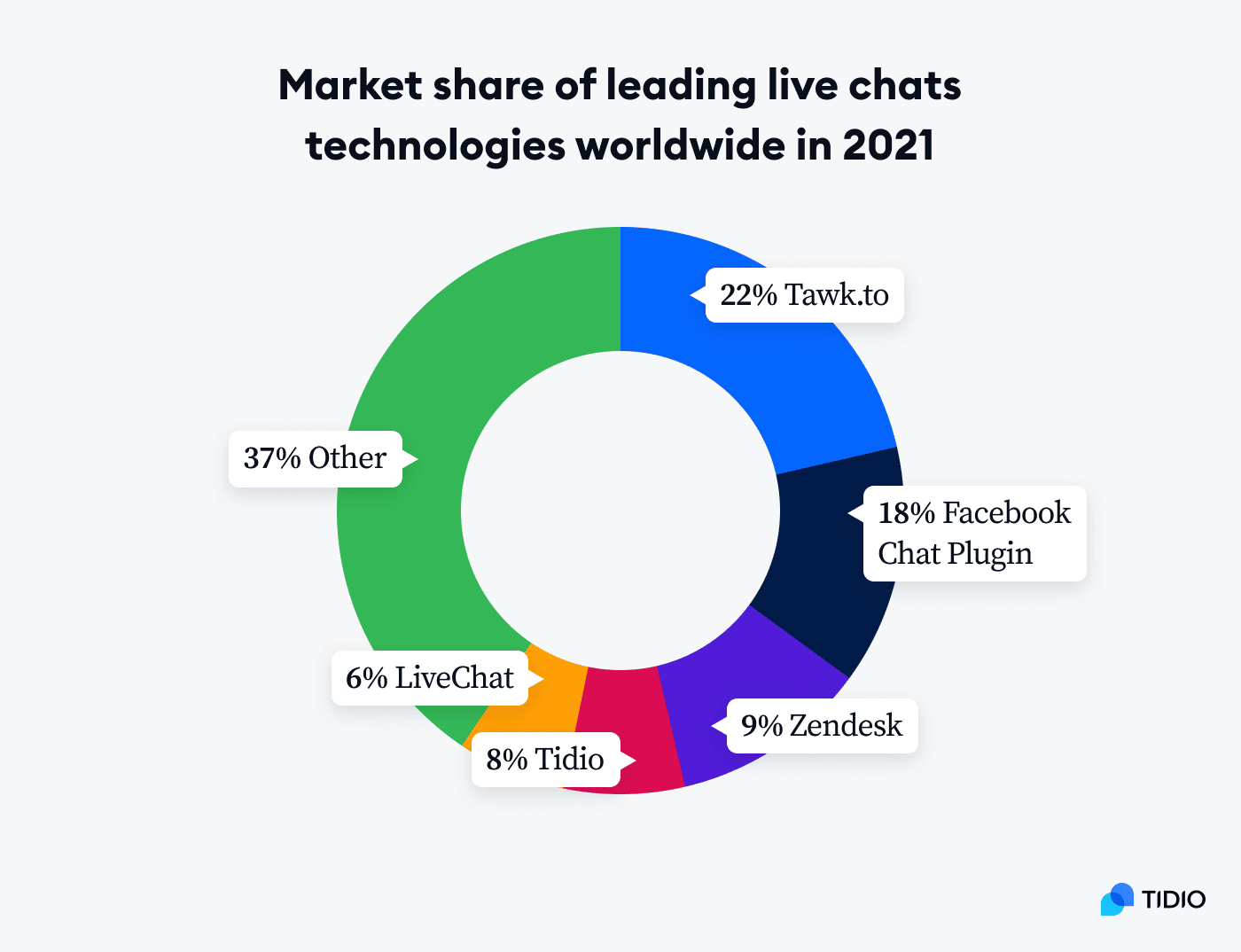 12. What are some of the immediate results businesses found from using instant messaging and live chat?
Some businesses found that they increased sales, while others found that they were able to reduce the amount of time it took to resolve customer issues. There are numerous live chat benefits, but ultimately, over 44% of online consumers say that having questions answered by a live person during an online purchase is one of the most important features a website can offer.
(Source: Forrester)
How effective are live chats?
Measuring the effectiveness of any new technology is a difficult task. But numerous case studies show that live chat can have a significant impact on a company's bottom line. Many businesses report impressive ROIs and increased customer satisfaction rates. Companies that offer live chat see a significant increase in average order value, revenue per chat hour, and conversion rates.
Read more: Check out some of the most relevant customer service statistics and trends.
13. Are live chats effective?
According to a study by Forrester, live chat interactions result in a 10% increase in average order value. About 62% of companies see improved customer support via online chats as a driver of sales. And 63% think that delivering real-time support increases brand loyalty.
(Source: SAP Customer Experience)
14. Can live chat be used for lead generation?
The answer is a resounding yes! In fact, live chat can be an extremely effective lead generation tool if used correctly. If you use automated welcome messages and chatbots you can generate leads around the clock. Live chat automated with bots can convert about 4% of your website visitors into leads. And if you use a pre-chat survey, the number can be even higher.
(Source: Tidio)
Read more: Collect Leads with Tidio's Pre-Chat Survey
15. Does live chat increase conversions?
According to live chat conversion statistics, online store visitors who use live chat are 513% more likely to become customers. However, this correlation is difficult to directly translate into a measurable conversion rate boost.
Nevertheless, live chat can help you build trust and confidence in your website and the products that you offer. According to one of our studies, the lack of a live chat widget and real-time support makes online stores almost 2x less trustworthy.
In addition, live chat also allows customers to ask for recommendations or advice from a human agent, which can further increase the likelihood of them making a purchase.
(Source: Tidio)
Some tools let you track your live chat sales with ecommerce integrations. For example, Tidio can be connected to your main Shopify admin panel. You can track Shopify conversions in Tidio to find the connection between the stats on live chat usage and completed purchases.
16. What is the ROI for live chat customer support?
Businesses tend to see a positive ROI from implementing live chat customer support. Especially when it comes to proactive sales conversations led by chat. Many of them report a 305% ROI resulting from proactive sales chats. The exact amount of ROI will vary depending on the industry and company size, but live chat is generally an effective and efficient way to offer customer support.
(Source: The Ecommerce Expert)
17. How do businesses maximize live chat ROI?
Using automation and canned responses is an effective way to increase your chat rate. About 58% of businesses boost live chat with chatbots to deliver faster replies and around 43% use FAQ bots to provide answers to repetitive questions. It's also a good idea to integrate your live chat with Facebook and Instagram to deliver omnichannel support.
(Source: Tidio)
Live chat performance statistics
You can't improve what you don't measure.
This is a popular saying in the business world that emphasizes the importance of data and metrics in driving improvement. Without reliable data, it is difficult to identify areas that need adjusting or to gauge the impact of any changes that are made.
Here are some live chat stats and metrics that you should pay close attention to.
18. How many chats can an agent handle per day?
The answer to this question depends on a number of factors, including the agent's ability, the complexity of the chats, and the number of breaks the agent takes. However, a general guideline is that an agent should be able to handle between 30 and 50 chats per day. The average number of conversations per day among tens of thousands of operators using Tidio is 29.
(Source: Tidio)
19. What is the average live chat typing speed?
On average, a person can type around 40 words per minute (hereinafter referred to as WPM). Professionals are somewhere between, say, 60 and 70. Although typing faster than 40-60 WPM helps in handling complex queries, it's more like a nice to have rather than necessary skill. Live chat reps also use chatbots, pre-written live chat scripts, and canned responses to increase their response time. So, at the end of the day, you don't need to be a stenographer to be an effective live chat agent.
Still, if you want to practice or test your skills, you can take our typing speed test.
(Source: LiveAgent)
20. What is the industry standard for chat response time?
There is no specific industry standard for chat response time, but the majority of online customers expect an immediate reply. That's why most companies aim to respond to client queries as quickly as possible. In most cases, businesses have target response times of under one minute for chat support.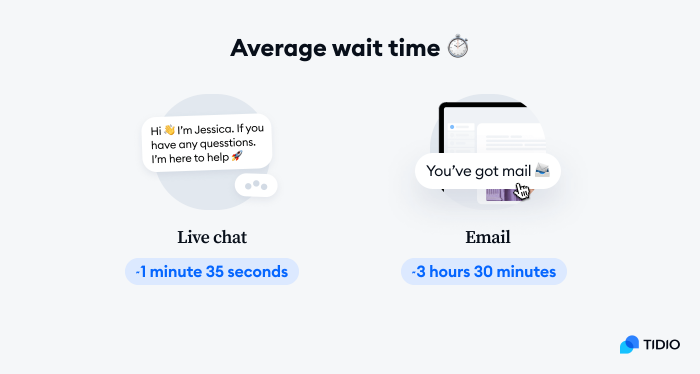 Our live chat tool data shows that the average live chat response time is 1 minute and 35 seconds. This is a huge improvement over the median wait time for email which is usually counted in hours if not days. According to a report by EmailAnalytics, it usually takes support agents about 3 hours and 30 minutes to respond to an email.
(Source: Tidio)
21. What is the average live chat concurrency?
The average live chat concurrency should be around 1-3%. This means that during any given time period, 1-3% of your website's visitors should be engaging in a live chat session. Many live chat tools provide real-time visitor monitoring to see how many people are browsing your page and who they are.
(Source: Zendesk)
22. How do you forecast chat volume?
Forecasting your chat volume is a complex process. It includes understanding the historical chat patterns of your business, as well as monitoring changes in customer behavior. Many unpredictable events such as spikes in web traffic or contact center calls may affect your chat volume. However, you can expect that about 15% of all visitors are going to interact with your live chat widget at some point of their visit.
(Source: Tidio)
23. What is the standard service level for a call center?
Some common standards that are often used as benchmarks for call center performance include the average speed of answer, average handle time (chat duration), and chat abandonment rate. For call centers, these are respectively 30 seconds, 7 minutes, and 10%.
(Source: Sisense)
24. What is the most important agent KPI in live chat service?
The most important agent KPI in live chat service is customer satisfaction. It can be measured in a number of ways, but some common metrics include Net Promoter Score (NPS) and customer satisfaction surveys. You know that you are doing an excellent job if you have an NPS of +50 or higher and a CSAT of +75.
Live chat service providers should aim to constantly improve customer satisfaction scores in order to ensure that their service is valuable to end users. However, working as a support agent requires compromises, and you rarely have time to keep every client fully taken care of. At the end of the day, it's also important to know how many clients you can handle on a regular basis while maintaining top-quality customer service.
(Source: HubSpot)
Other live chat metrics that are worth measuring ☝️
These live chat metrics can be used to help you troubleshoot issues with your live chat system, or to simply keep track of how well your team is performing over time.
The number of chats. The number of total live chats that have been initiated through your live chat. It tells you how popular your live chat is among your customers.
The number of chats completed. The number of chats that have been completed through your live chat and resolved. This number can be used to determine how effective your live chat agents are, and how well they are able to resolve customer issues.
Abandoned chats. The number of chats that have been abandoned during the conversation because of excessive wait time
Chat transfers. This is the number of chats that have been transferred to different operators.
Conclusion
The numbers don't lie—the live chat adoption rate is extremely high, and an increasing number of websites use this customer communication channel. In the past, live chat was treated as a tool for post-purchase messaging, but it turned out to be a great way to drive sales too.
Live chat provides a much better customer experience than email or phone support. It's faster, more convenient, and more likely to result in satisfied customers who complete their purchases. It increases both satisfaction levels and customer retention.
If you're not using live chat on your website now is the time to start.
Sources