Here's the bitter truth:
Even if your product or service is beyond compare, your customers will start to trickle away—
If you ignore the importance of customer service.
In fact, a recent Microsoft study found that 90% of Americans say customer service is vital when choosing a brand.
In practice, this means they'll go to your competition if they feel neglected.
But—
If you approach your customer service initiatives with all the care and attention they deserve, your company will gain a competitive advantage over the other businesses in your sector.
Here are the ten reasons why customer service is important for any company:
Click on any of the points above to jump to the section that interests you or scroll down and explore the importance of customer service one by one.
Okay, let's start with the basics—
In short, why is good customer service so important?
Customer service is important for your company because it helps with customer retention and increases the customer lifetime value from each shopper. Your business can decrease customer acquisition costs, and increase the number of loyal customers who refer their close ones by providing excellent customer service. This can also help you gain more testimonials, reviews, and case studies that increase your brand's trustworthiness.
These are just a few advantages of why customer service matters so much. Let's have a look at ten reasons why your support team should provide exceptional customer service—
1. Decrease acquisition costs
Consider this—
Acquiring new customers is costly. Keeping the current ones much less so. One of the main factors pushing customers to churn from you is lousy customer service.
Do you see the connection already?
Good.
Now let's back it up with some facts.
First off, if you don't know how much it costs you to attract new customers, calculate your customer acquisition cost straight after reading this article. Knowing the price you pay to attract a new buyer will help set the right perspective.
Now, look at these numbers—
Increasing customer retention by 5% produces more than a 25% increase in profit.
It stands to reason that focusing on retaining your current customers does pay off.
How to keep them from running away from you?
Well, since positive experience with customer service is important to a whopping 96% of customers in the context of their brand loyalty, the answer is pretty obvious, isn't it?
And that's the first reason why customer service is so important.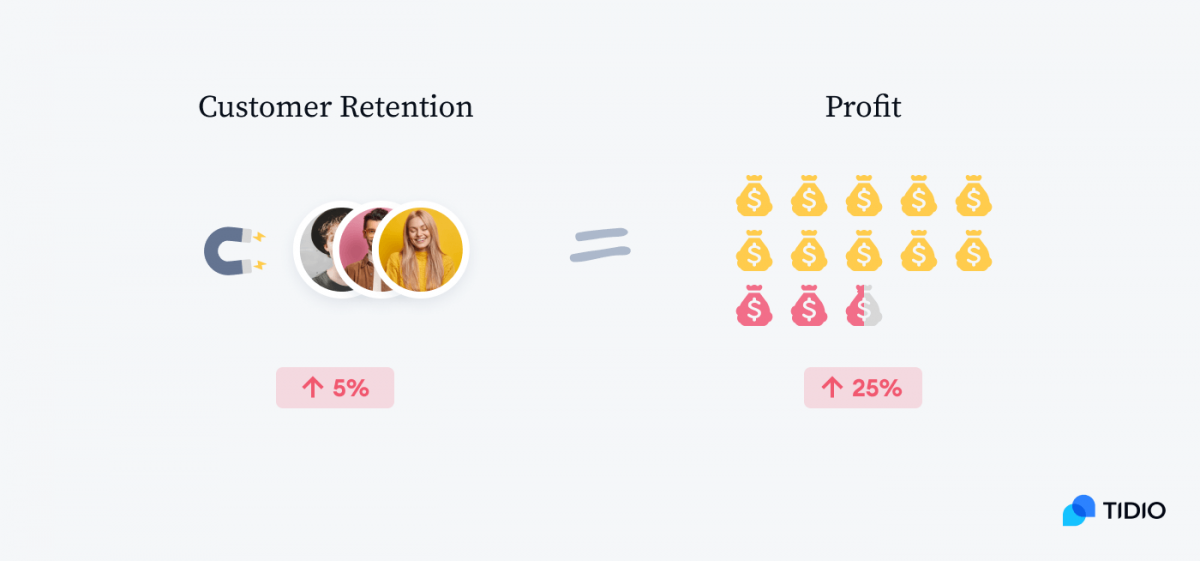 2. Boost your profit
Seriously.
What's most interesting, though, is how this connection works.
Let's say your small business offers great products and super cool premium deals but… your customers only get the bare minimum from your otherwise ridiculously attractive offer.
What's the problem?
Well, you should ask yourself if you meet your customers' expectations when it comes to the service provided by your front-line support reps.
Recent research has shown that satisfied customers spend more with a company. As simple as this.
The study compared the spendings of customers who had the best experience and those who had the poorest experience with a brand. The numbers reveal that the happy customers spend 140% more than the unhappy ones.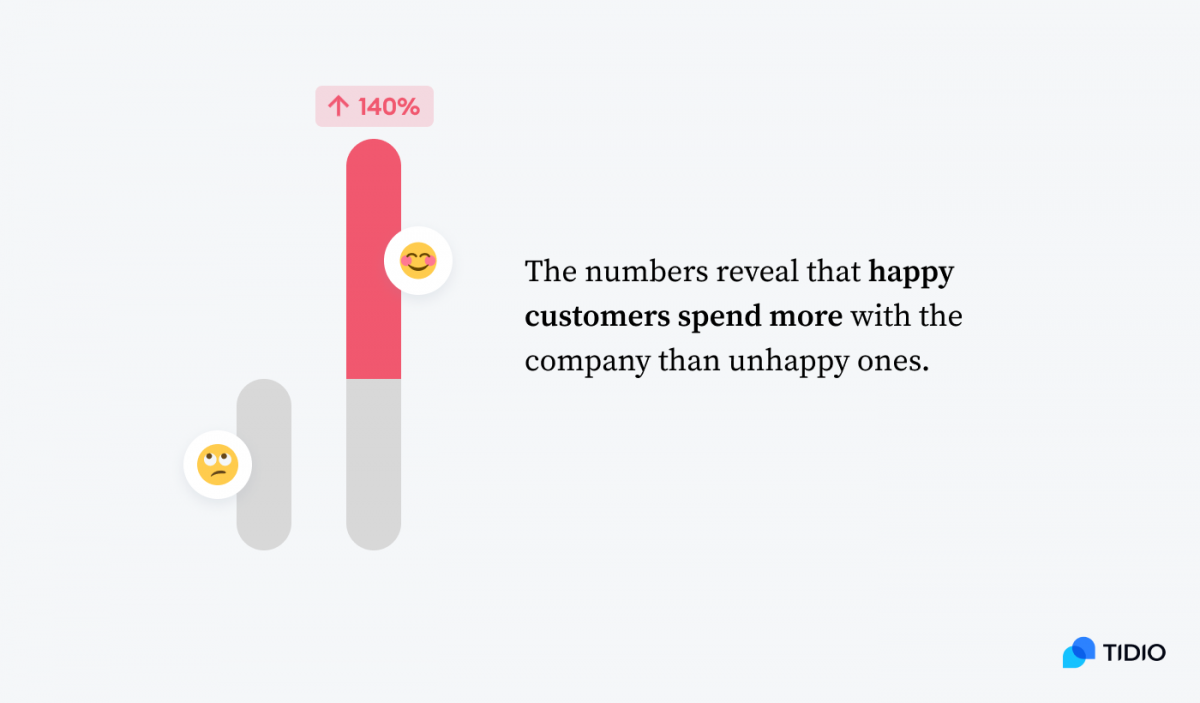 But there is more—
Satisfied customers are 13% more likely to purchase premium products.
And that's our reason two.
By the way, we ran our own study to define the ideal customer experience, so if you're wondering what your customers are looking for be sure to give it a read.
3. Increase the customer lifetime value
Sounds technical? Not to worry.
Here's what it means—
Customer lifetime value is the total amount that a single customer will spend with your business throughout their relationship with you.
We've already mentioned that retaining customers can be quite profitable.
Here's another piece of evidence to prove this:
Repeat customers spend on average 67% more than first-time buyers.

In other words, delivering outstanding customer service is important to increase customer loyalty and get shoppers to hang around your company for a long time. Once they do, they'll spend more money and your CLV metric will go up as well.
And why so much fuss about CLV? Some believe it's one of the most important metrics for company valuation. If you ever want to sell yours.
That's the third reason why customer service is important.
4. Improve the company's image
It's no secret—
People's opinions about your business affect how the public sees your company.
And it's pretty obvious too, right?
But did you know a brand image can also affect the morale of your employees which in turn can affect their performance which may lead to bad customer service which can lead to poor opinions?
We've come full circle.
Happy employees are more productive, and they are more likely to go above and beyond for your company. So, when a shopper contacts your business, a happy customer service representative will be more engaged in solving the client's problem.
Here's where the danger lurks:
Public opinion can affect how your employees feel about your company and, therefore, their performance at work. In fact, your employees are 15 times more likely to be happy at work and 10 times more likely to perform intensely at work if the public believes your company is a cool organization.
To recap, customer service is important for your customers to spread the good word about you. But top customer care can only be delivered by happy employees. And your employees' happiness depends on how the outside world perceives your company.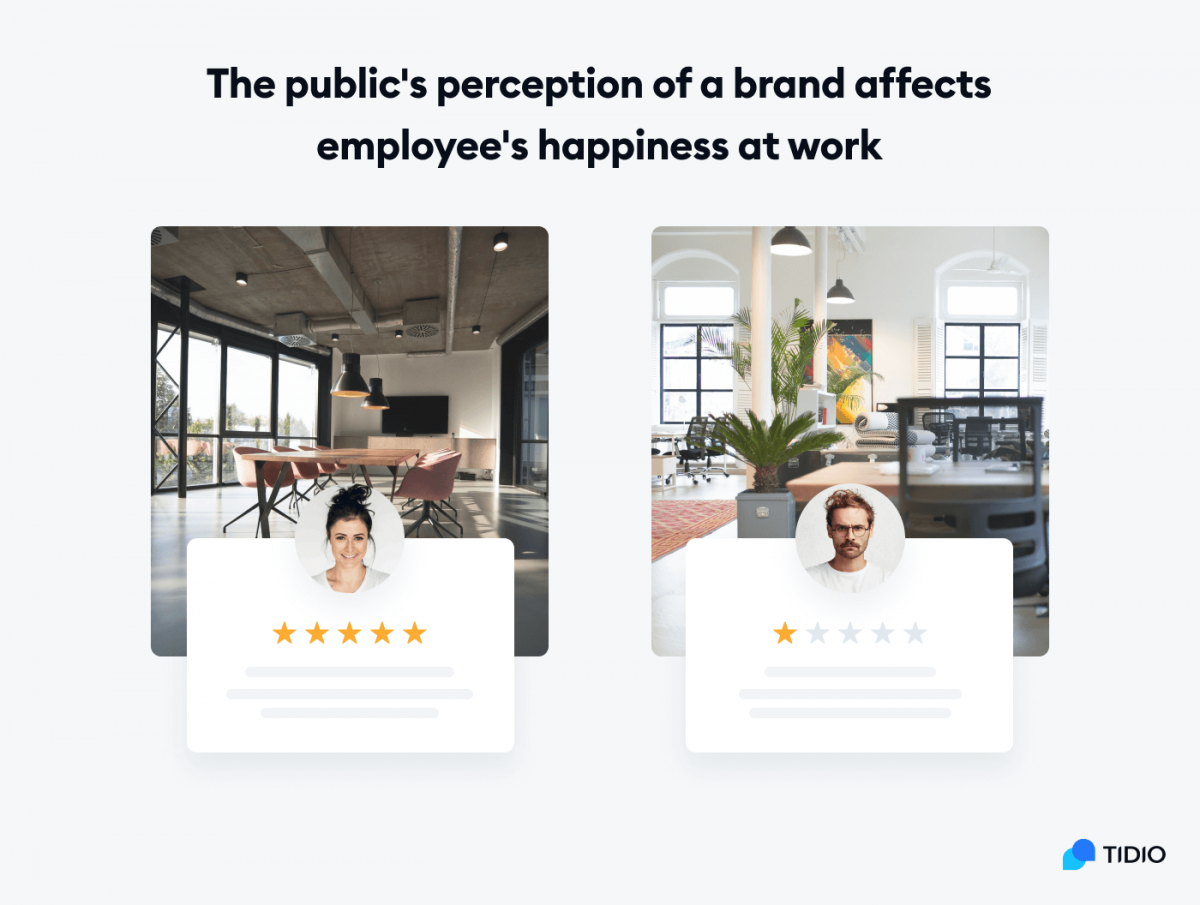 5. Build trust and reputation
Trust is a powerful factor in your relationship with a customer.
How important is it?
About 88% of U.S. customers say that how much they trust a company affects how willing they are to share their data.
This is particularly important for SaaS companies that ask website visitors to leave their email addresses. And for companies that want to rely on referral advertising.
In both cases, trust is of the essence.
So, how do you get people talking positively about your brand and start trusting you?
Great customer service.
Your existing customers will trust you and recommend you if your company listens to them and acts upon what they're saying. Your clients need to feel valued and be able to openly speak to your customer service team, knowing that you'll help them out. This will increase the reputation of your company and, in turn, bring more customers to your doors.
Research shows that 83% of satisfied customers are willing to recommend the company to others. On top of that, referred customers spend about 16% more than those acquired in any other way.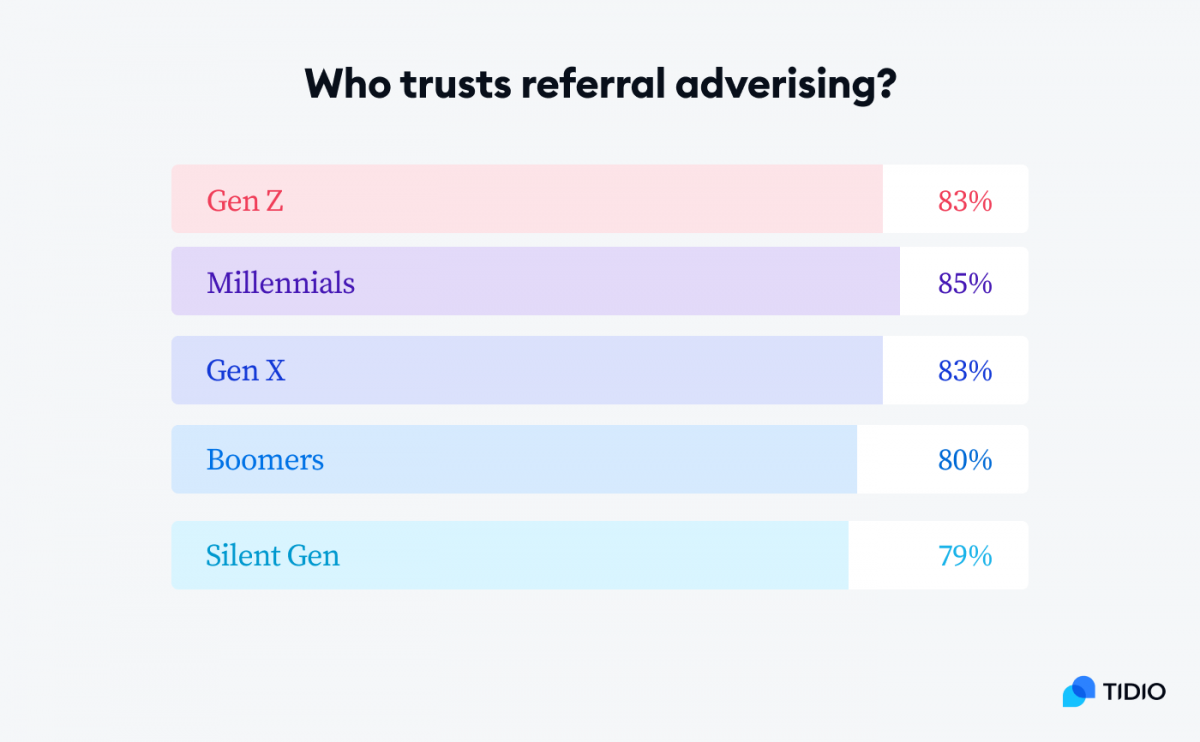 6. Promote word of mouth advertising
What are your customers saying about your company? Are they referring friends and family to you? Are they quiet and neutral?
Or are they sharing their unpleasant experience on online review panels and social media?
If the last is true, you need to rethink your approach, provide customer service training, and implement some of the best customer service practices as soon as possible.
Why?
Well, word of mouth is powerful and referrals are a great way to attract new customers. People are social animals and they will listen to the opinions of others and base their expectations on what they're told.
But how important is a great call center experience for word-of-mouth advertising?
A study found that 88% of customers read online reviews to determine the quality of your business. In other words, almost 9 out of 10 customers will read online reviews before doing business with you.
And by now you should realize how important customer service is for getting positive online reviews.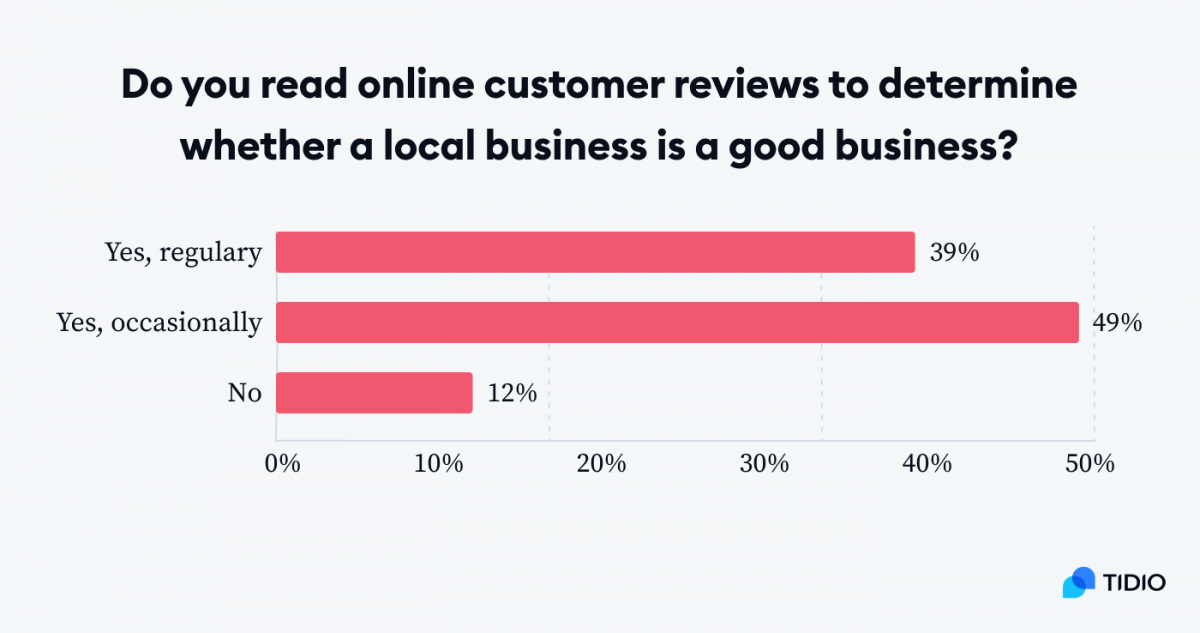 7. Encourage brand loyalty
When you provide quality customer service, you automatically encourage your clients to stay with you.
If you manage to do so, that's already a win.
Have in mind that many business owners don't put enough attention into providing better customer service than their competitors. And there is a price to pay.
About 96% of people will switch to a different company after 3 (or fewer) disappointing experiences. So, make sure that they are switching to you and not from you.
How to do this?
The key to loyalty is providing a pleasant experience for your clients at each interaction.
We've already shown you that loyal customers spend more than first-time buyers. But they're also more likely to try your new products when they come out.
Such customers are your free brand ambassadors and promoters.
That's why it's so vital to realize the importance of the role your customer service plays to keep them. And gain new ones.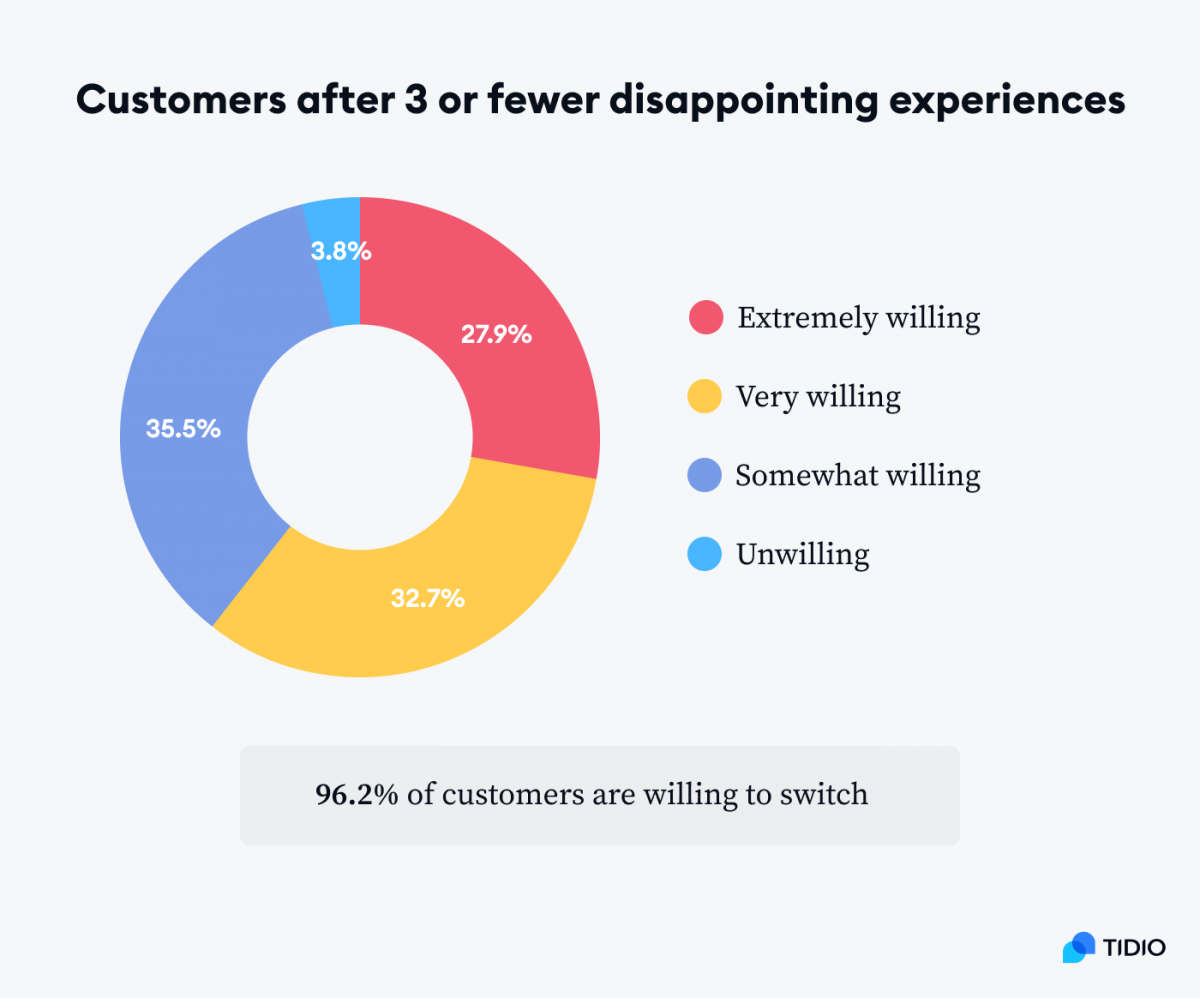 8. Find growth opportunities
Here's the thing—
Proactive customer support agents will not be waiting for issues to arise. By talking to customers, they will know in advance where the next issue may appear.
And by pairing up customer service with, say, product and engineering teams you'll be able to grow in the direction pointed out by your customers before they even ask for it.
That's why amazing customer service is important for growth.
Just look at Apple and Amazon.
These brands' successes are closely related to the excellent customer service they provide. That's how Amazon and Apple often exceed people's expectations by constantly improving their customer experience.
Even when they don't yet know it, customers want something better, and your desire to delight customers will drive you to invent on their behalf.
Customers are always dissatisfied even if they don't know it yet. That's why you need to provide them something better without them asking for it.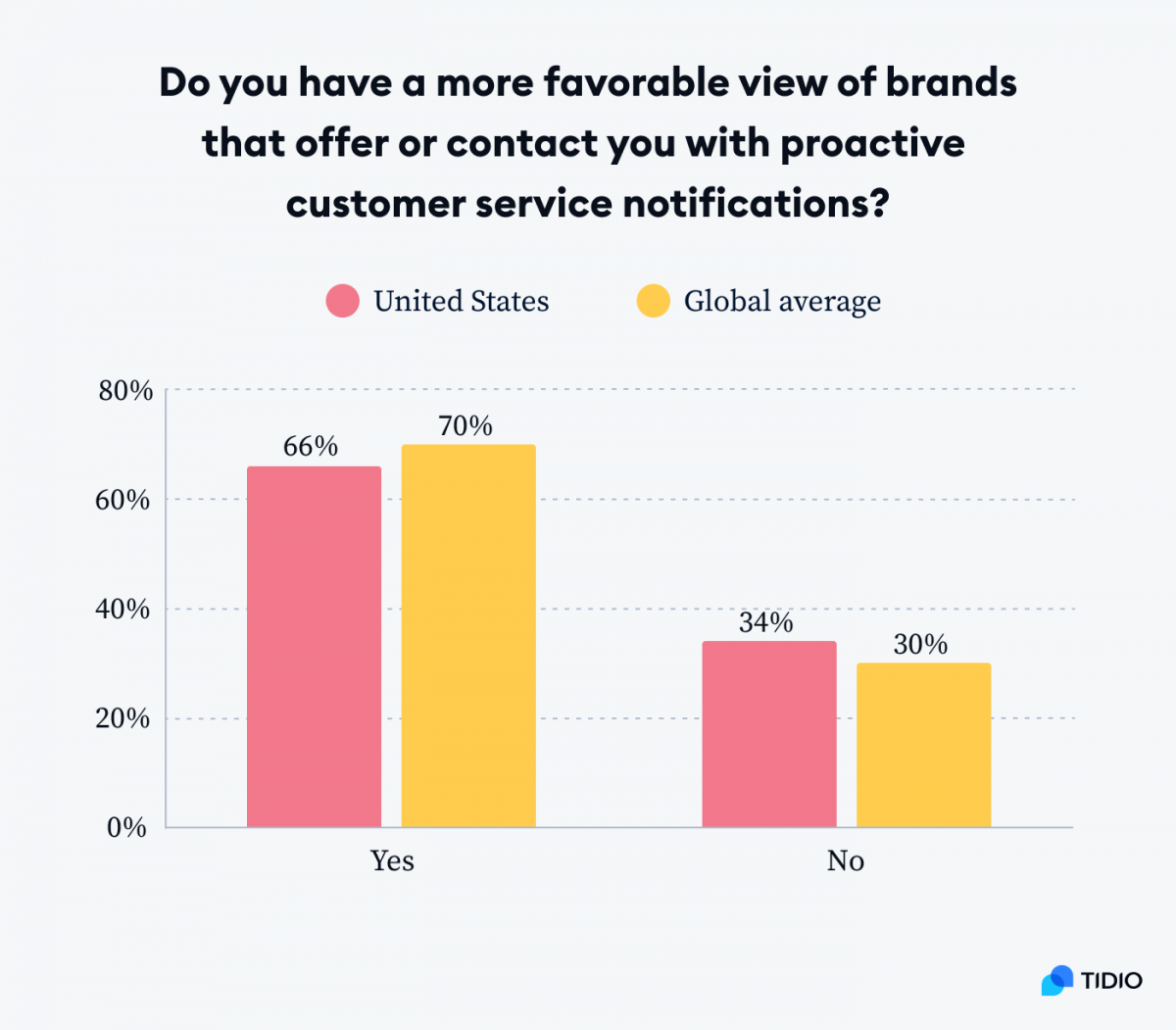 9. Get an advantage over competitors
The moment you emphasize your customer service is key and make sure it is spot on, you're already ahead of your competitors.
That's because not everyone does it, and even fewer people do it well.
Just look at this—
As many as 80% of companies believe they provide superior customer service. But only 8% of their customers agree with this.
This is called the delivery gap.
Now, that's actually good news for you!
You have a big room to play in. But, you need to actively listen to your customers and know what they expect from your company. Only then will you be able to exceed their expectations and create outstanding customer service.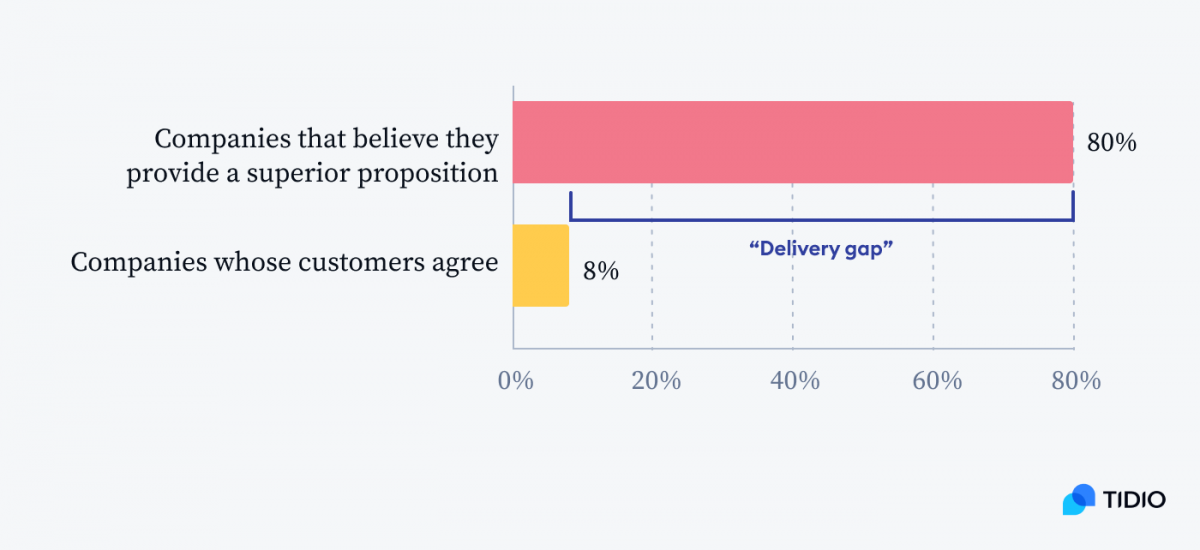 10. Define and stay focused on what's important to your customers
Thinking about what your customers want may be distracting.
Instead of thinking, ask them and listen intently. This will provide you with a great idea of what to focus on to please your clients.
How?
Create a customer satisfaction survey, for example.
This way you can eliminate the guesswork and make sure the customer service and experience you try to deliver are built around your real customers' expectations.
You know, you may think your customers want one thing and you'll keep delivering this in the hope of building the best customer service experience. But they may not be really paying any attention because they want something completely different.
After you've done your research, you can start improving your company and focusing on what really matters.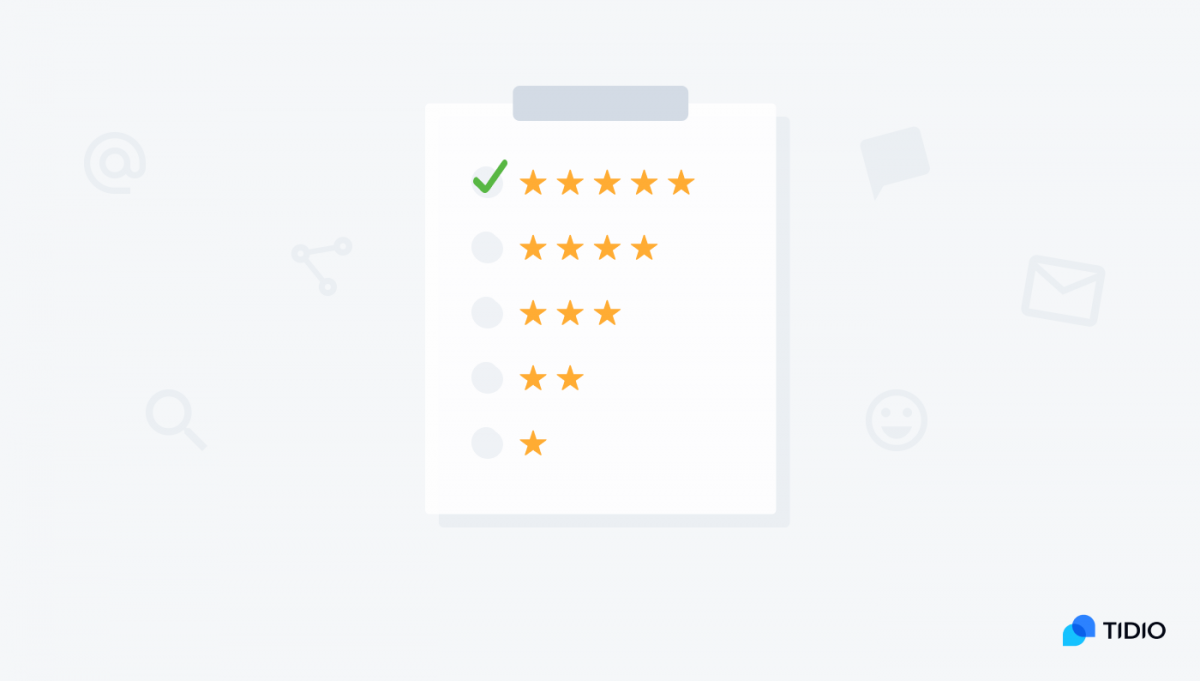 Now, have a look at this video for a cool animated explanation of the importance of customer service.
Ways to improve customer service
Finally, let's have a quick look at how to start improving customer service in your company.
First of all, train your staff and make sure they are happy at work. This is critical because it shapes all of your relations with clients.
Remember when we spoke about the customer delivery gap?
Bain & Company suggested 6 steps to close it and acknowledge the importance of effective consumer relations.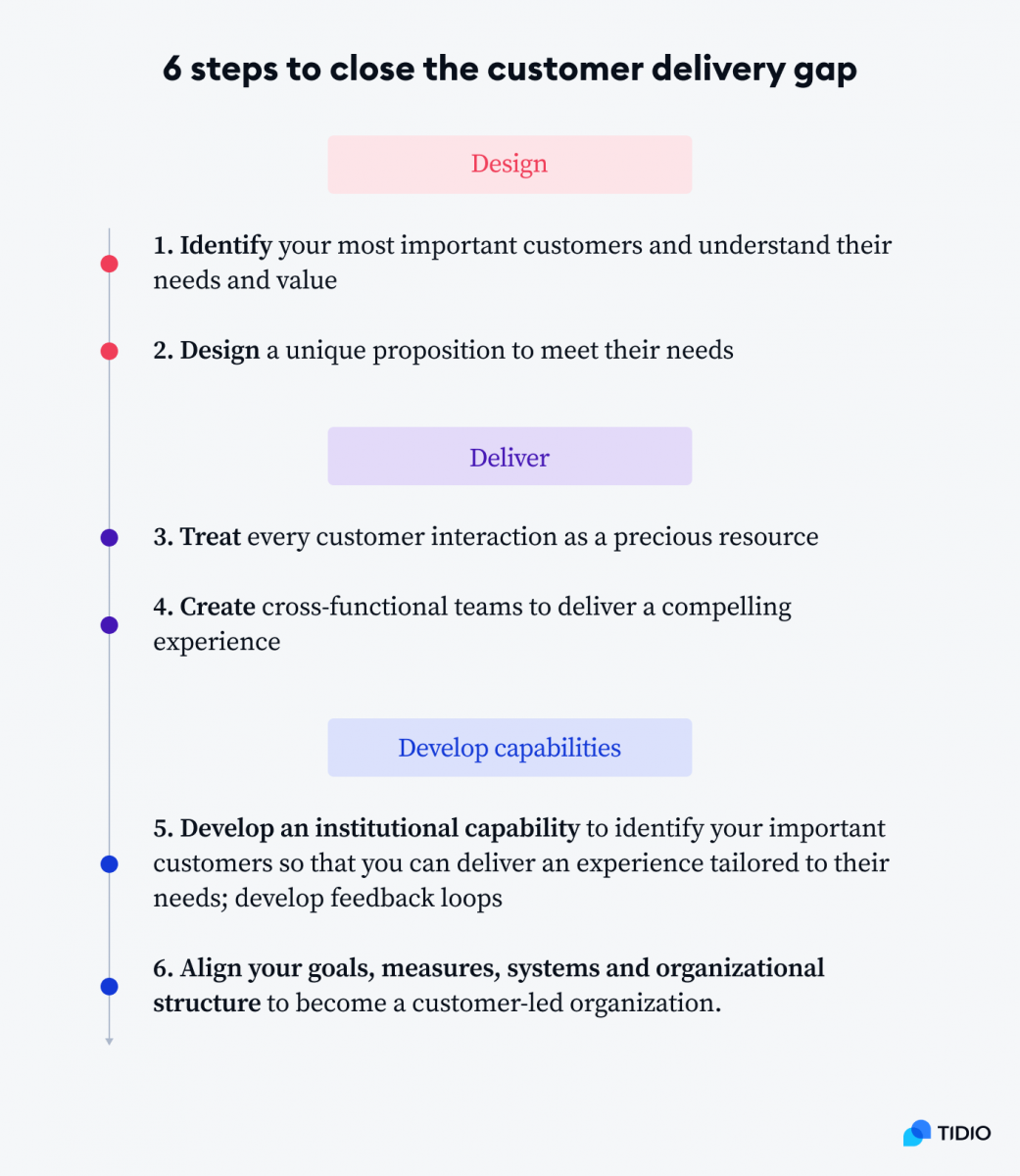 These 6 steps to follow are:
1. Identify your customers and understand their needs
When designing your approach, make sure you know who your most important customers are, what values they believe in, and what their customer needs are. Divide your customer base into segments to personalize your targeted offers.
2. Design a unique proposal that meets their needs
Focus on the importance of customer satisfaction. Recognize that customers interact with different teams in your organization and focus on their entire experience. Take into account all the touchpoints your customers go through during their buying experience. To be able to turn shoppers into loyal customers, make sure your clients' experience is flawless at all times they interact with your business. Consider purchase, customer support, billing, and potential upgrades. Plan for the value proposition and all the steps required to deliver it to the segments of your client base.
3. Treat every interaction with customers as a resource
CRM systems and self-service software can help you assess what your customers might think of your business. But remember that what matters is what your clients tell others. Use surveys on customer satisfaction, ask them how likely they are to recommend your brand or look out for reviews online to truly listen to your shoppers.
4. Create cross-functional teams for a compelling customer experience
Make sure you keep the promises you gave your customers. Involve marketing employees in supply chain management. Motivate the teams to deliver the targeted value promised to the clients in a coordinated manner across the entire customer experience.
5. Develop a feedback loop to tailor the experience to customer's needs
Recognize that the fundamentals of the way you do business lie in understanding what your customers want and delivering it to them. In addition to delivering your value proposition, make sure you are capable of doing it repeatedly. Build processes to collect real customer insights and feedback to establish a dialogue with your most important customers.
6. Become a customer-centric organization
After you decide what and how to deliver to your most important customers, align your structure, systems, and processes to match it. Track your company's Net Promoter Score to learn if your business succeeded in becoming customer-centric. This score will tell you how likely are your clients to recommend your business to their friends. Focus all the departments and teams on the mission to deliver an excellent experience for your shoppers.
We just touched the surface of improving customer service here. Check out these articles for more info:
Summary
Since you know how important customer service is for your company, start focusing on improving it right away.
One more time, here's a list of things you can achieve by acknowledging the importance of customer service:
Decrease acquisition costs
Boost your profit
Increase the customer lifetime value
Improves the company's image
Build trust and reputation
Promote word of mouth advertising
Encourage brand loyalty
Find growth opportunities
Get an advantage over competitors
Define and stay focused on what's important to your customers
The bottom line, customer service is important because it gives results. All of our points are what you can expect after making customer service a priority in your business.