If you type "customer service" into the Amazon.com search bar, you'll get over 40,000 book results.
Some are great customer service books, and others are just long pamphlets promoting the writer.
Who has the time to separate the wheat from the chaff?
We do.
Enjoy our selection of the 20 best customer service books we read and loved.
They're ordered based on their review scores starting from the highest score from the largest number of GoodReads reviewers.
Here's our list of best customer service books:
Rating: 4.21/5⭐️—723,575 customer ratings
Print Length: 272 pages 📖
Publication Date: October 1936📆
The author of this bestselling customer service book is a role model of self-improvement literature. Dale Carnegie designed it for leaders and individuals who want to improve their communication skills. He brings out the rules that we all know but don't always act upon, and presents straightforward techniques to keep them in our attention.
Learn how to make people like you and win them over to your way of thinking. This top customer service book may even change how you look at people and how you act towards each individual.
Some of the lessons we learned from this work include:
Don't criticize, condemn or complain—anyone can criticize, but it takes character and self-control to forgive, and that's what you need to create meaningful relationships.
Be generous with the praise you give—people work better when you praise them than when you criticize them.
Be interested in people—ask questions and encourage people to speak about themselves to gain more friends in 2 weeks than you normally would in 2 months.
Improve your company's relationship by giving this publication to your team members for Christmas 🎁
"A person's name is to that person the sweetest and most important sound in any language."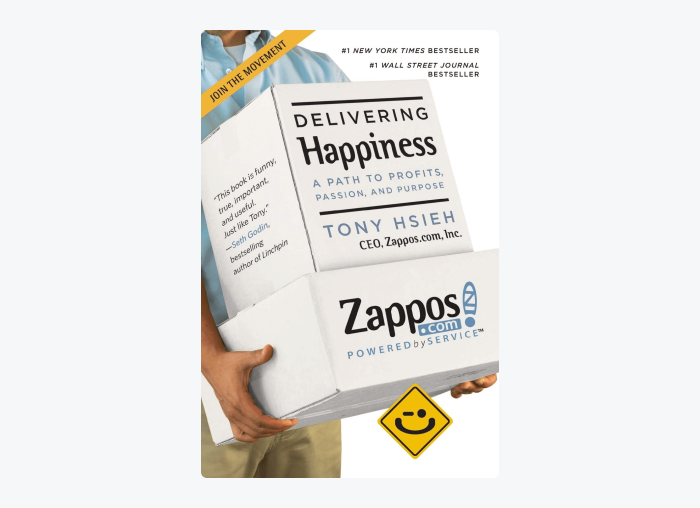 Rating: 4.02/5⭐️—67,214 customer ratings
Print Length: 272 pages 📖
Publication Date: June 2010
A small introduction first—
Tony Hsieh was the CEO of Zappos and got the company over $1 billion in gross merchandise sales in less than ten years. In his book on customer service, he shares all the lessons he learned from years of experience running a business.
The idea that sticks around throughout the whole book is that people's ultimate goal in life is to be happy. And their happiness comes as much from their job as from their personal life.
Hsieh's framework comes in four pieces:
Control—give people control over their career. At Zappos, they can earn badges for different skill sets, and each one represents a pay rise.
Progress—ensure your employees feel they're moving forward. A smaller pay rise that comes more frequently is sometimes more effective than a bigger one annually.
Connection—create a good environment for your employees to become friends. The more good friends they have, the more engaged and productive your reps will be.
Vision—spread a higher purpose that your employees can share. Strive for higher purposes than making money.
"Delivering Happiness" will change the way you manage your team and grow your company. You'll redirect your focus to creating a unified company culture with one value: Deliver happiness to your customers.
"Happiness is really just about four things: perceived control, perceived progress, connectedness (number and depth of your relationships), and vision/meaning (being part of something bigger than yourself)."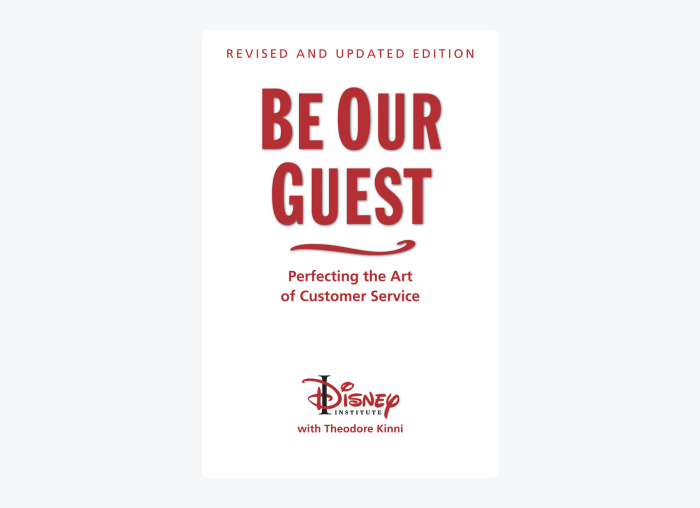 Rating: 3.95/5⭐️—2,540 customer ratings
Print Length: 224 pages 📖
Publication Date: May 2001 📆
Take it into your hands.
Recall the beginning of the last Disney movie you watched.
The storybook opens, the adventure begins, and new possibilities await.
This one is not a fairytale but a great read for managers and business owners to use and create a customer service plan. With this best-selling customer service book, you dive into the key processes and practices that took Disney to where it is today.
Some of our favorite thoughts from this work are:
You can't change people unless you change the environment they are in. Then the people will change by themselves.
Don't put people into your brand. Put your brand into people.
It takes an open mind, perseverance, imagination, and a dream to have a great impact on people.
Step-by-step methods are easy to read and follow in this great book on customer service. You'll also discover the lengths Walt went to create his parks. Stories about him are sprinkled throughout the pages, almost as little nuggets of gold.
You'll get questions to stir you towards creating what Disney found during his research on people and what works when it comes to entertaining them. Ready to play Genie for your brand?
"Quality service means exceeding your guest's expectations and paying attention to detail."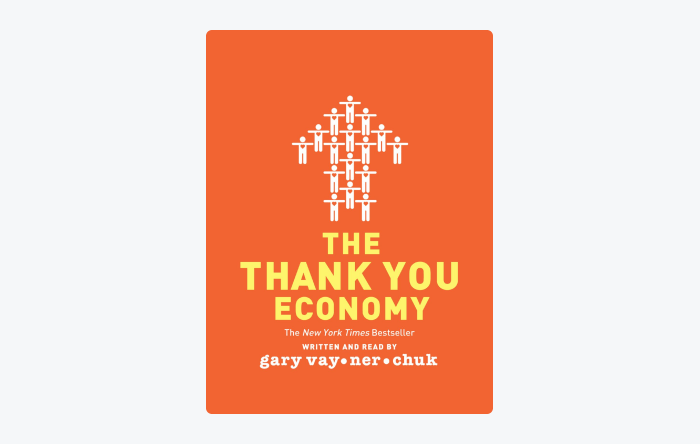 Rating: 3.85/5⭐️—12,491 customer ratings
Print Length: 240 pages 📖
Publisher: Harper Business
Publication Date: March 2011 📆
Gary Vaynerchuk and his work take another position on our list of best books about customer service. He explains the new way people do business nowadays.
The internet gave customers a voice and a platform to share their opinions. This should affect the company's approach to customer service. If you want your business to bloom, you have to adapt and be present on channels your clients talk about you.
Some of the key pointers from this book are:
Empower your clients to complain. It's better they say it to your face than behind your back.
Don't play it safe. Nobody will remember you.
Always adapt to change.
Customers want more personalization, and this customer service book shows how your business can scale it to the demand. Learn why it is important to focus on helping your customers and keeping your clients in mind whenever you do business.
"How we cultivate our relationships is often the greatest determinant of the type of life we get to live. Business is no different."
In addition to reading this customer service textbook, check out what proactive and reactive customer service is.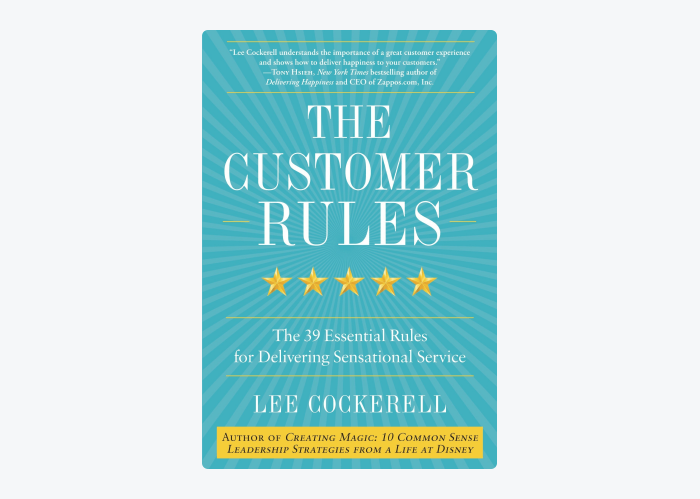 Rating: 4.07/5⭐️—796 customer ratings
Print Length: 208 pages 📖
Publication Date: January 2013 📆
What makes this one of the best customer service books out there?
Clear rules for winning and keeping the customers that are backed by 40+ years of experience in hospitality. Cockerell is a former Executive Vice President of Walt Disney World and shares everything he learned in his career.
Another great thing about this work is that the author draws ideas not only from his experience at Disney but also from being a customer. This helps to demonstrate the rules of customer service.
The chapters are quite short and generally focus on building relationships, preparation, and how to go beyond the clients' expectations. They align with Cockerell's granddaughter's advice: 'Be nice,' and his storytelling grabs the reader's attention throughout the whole time.
Improve your company's relationship with your clients and change the company culture to become more customer-centric with this customer satisfaction book.
"An effective leader allows exceptions to the rule for exceptional results or when circumstance demands."
As a quicker read before you hop to this work, have a look at what customer relations are and see some best practices to build an effective strategy for it.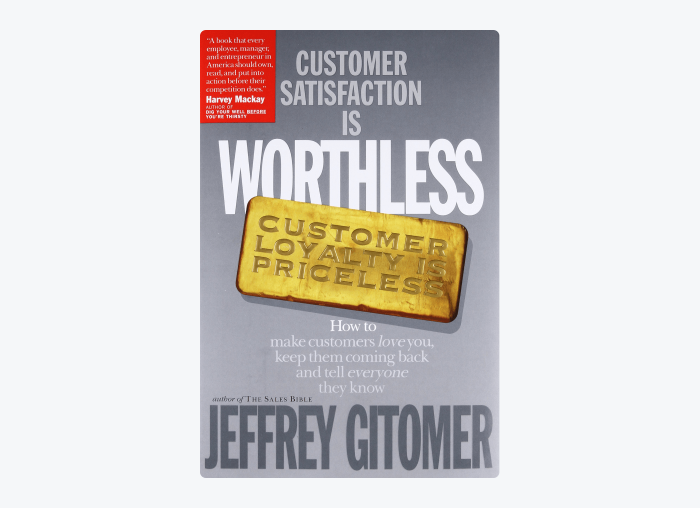 Rating: 4.07/5⭐️—565 customer ratings
Print Length: 288 pages 📖
Publication Date: June 1998 📆
Discover the difference between customer satisfaction and customer loyalty with this top customer service book. Once you do, you'll redirect your focus to the latter. Gitomer gives valuable advice on how to treat customers and, in turn, increase the profit you get from them.
The author presents 12 methods to earn loyalty through delivering consistently memorable service. He shows how important it is for your team to stay engaged and solve your customer's problems. Stop hiding behind company policies and start taking responsibility.
Learn how to make customers say "wow" after customer service interaction with your organization.
"If all it takes is an angry stranger to ruin your day, what are you going to do if something really serious happens? Why give someone else control of your life like that?"
Jeffrey Gitomer has a youtube channel. Check it out for some advice on sales.
Also, check out this article about how to improve customer loyalty as a background for this read.
Rating: 4.02/5⭐️—907 customer ratings
Print Length: 256 pages 📖
Publication Date: February 2016 📆
Three experts behind this work made sure it would become one of the top customer service books. But the book isn't exactly about the service at all. The first and the most important lesson you're presented is that customer success is different from customer support.
The authors argue that your business success tightly links to your customers' success. They show you the importance of customer success with a few simple laws to follow.
Some of the laws the authors describe are:
Make your customers successful by using your products and services—it's what they expect.
Monitor and manage customer health.
Sell to the right audience.
With this customer success book, you'll learn key metrics, risks, and activities to practice to achieve customer success. The publication offers guidance and inspiration so you can increase customer satisfaction and success in your organization.
"You can't pour enough business into the top of the funnel to sustain real growth if customers are leaking out the bottom at a high rate."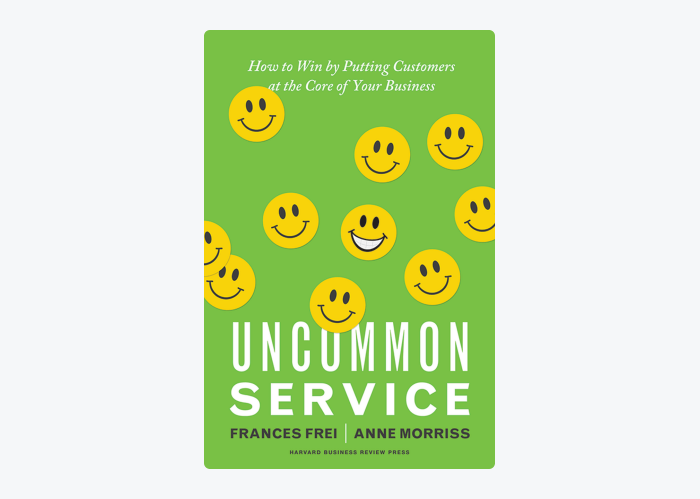 Rating: 4.05/5⭐️—41 customer ratings
Print Length: 272 pages 📖
Publication Date: February 2012 📆
The authors of this great customer service book show an uncommon approach. They argue that customer service should be at the center of every organization instead of only being used when customers have an issue with the company or product.
The one point that stayed with us the most is that your business can't be good at everything. Choose to be great at what your consumers care about the most. Don't waste your time and money on things that don't matter to them.
This is a straightforward read with basic truths about customer service. It discusses the company's culture and the importance of finding your customers' priorities and needs. After reading the book, you'll know how to focus your efforts in the place where you'll get the most out of them.
"When companies pay customers to try out their products and services, it's a customer acquisition program. When companies invest in activities that increase customers' willingness to pay a premium price, then they have a loyalty program."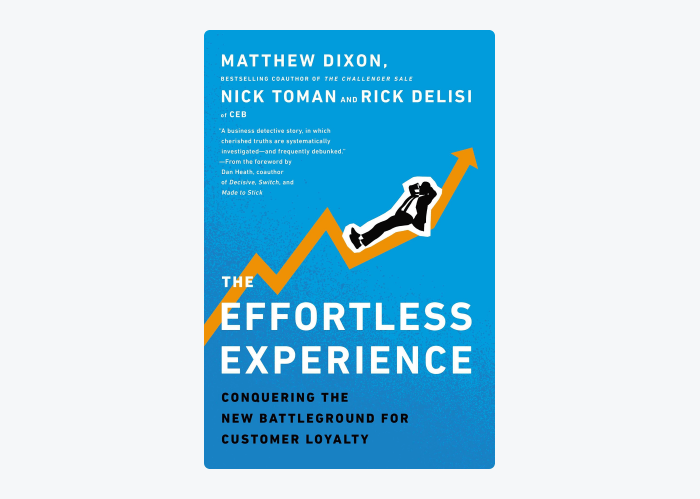 Rating: 3.97/5⭐️—998 customer ratings
Print Length: 256 📖
Publication Date: September 2013📆
This book has a bit of a different perspective about customer service: the authors argue that customers don't want great customer service after all. They want an effortless experience above everything else. This work lays out four key pillars of a low-effort customer experience and shows what customers care about most.
The essence we took from this book is that customer service doesn't drive loyalty. Focus on reducing the customer effort, and you might be surprised with the results you get.
This book is against the common approach of going the extra mile. It focuses on the importance of effortless experience and examples from real life we can all identify with.
A little warning from us: if you are looking for a broad perspective on customer service, this publication doesn't address that—instead, it focuses on service recovery.
The 4 pillars presented in this customer satisfaction book are:
Make self-service easy.
Minimize repeat calls by avoiding future issues.
Reduce customers' effort.
Give representatives more control in their interactions with consumers.
You will find tools, templates, and insights into customers' minds and priorities. It will show you that it is more important to reduce the customer effort than to "wow" them.
"You need to give your customers fewer reasons to be disloyal, and the best way to make that happen is to reduce customer effort."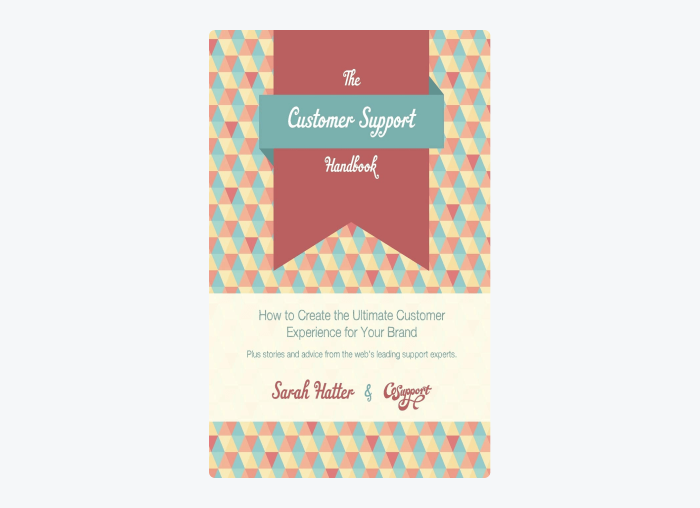 Rating: 4.99/5⭐️—92 customer ratings
Print Length: 202 pages 📖
Publication Date: February 2014 📆
Listen to the leaders' stories about their failures, successes, and the best practices for customer support. From this customer service 'textbook,' you'll gain insight into treating customers the way they deserve and the language to use to sound professional but not robotic in your interactions.
The overall lesson here is simply doing what is right for your customer and appreciating the ones who voice their opinions. You'll find suggestions, sample replies, and advice sprinkled everywhere in this customer support book.
The important thing we need to mention is that this work is geared towards online businesses. So, if you offer apps and online services, it's worth getting your own copy.
But if your business is based purely on your brick-and-mortar store, you might want to give this one a miss.
"It's simple: Happy customers reward you with their loyalty. Exceptional customer service converts into customer loyalty. It converts into raving fans who will praise your team on Twitter and Facebook and talk about their experience over lunch with friends. There is no greater marketing for your product than happy, surprised, raving fans, and no reason you can't start now."
Learn the definition, skills, and best practices of customer support as an intro to this publication.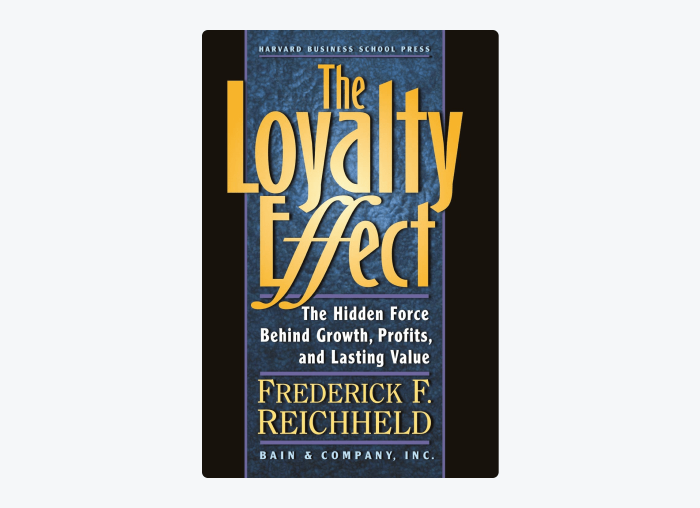 Rating: 3.98/5⭐️—240 customer ratings
Print Length: 352 pages 📖
Publication Date: 1996 📆
The Loyalty Effect shows you how powerful a loyalty-based management system can reduce customer churn and increase your profits.
The book describes eight elements all loyalty leaders build their strategy upon. Some of them are:
Build a superior customer value proposition.
Find the right customers and employees.
Earn customer and employee loyalty.
Gain an advantage over competitors through superior productivity of your employees.
The book also introduces the concept of the so-called "bad profit." Discover what costs you unnecessary spending and how to maximize the time consumers and employees spend with you.
Reichheld takes you on a ride to learn how important it is to examine your failures and do better.
"Loyalty is dead, the experts proclaim, and the statistics seem to bear them out. On average, U.S. corporations now lose half their customers in five years, half their employees in four, and half their investors in less than one. We seem to face a future in which the only business relationships will be opportunistic transactions between virtual strangers."
Retaining consumers is the first step for customer loyalty. Learn more about it from our article.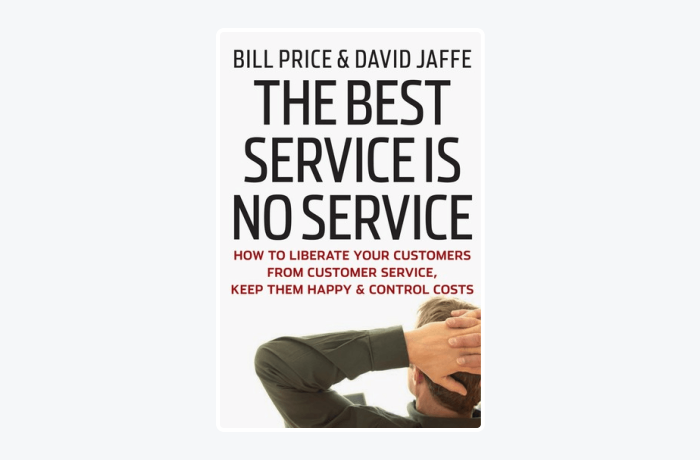 Rating: 3.98/5⭐️—143 customer ratings
Print Length: 336 pages 📖
Publication Date: March 2008 📆
Customer service is only needed when the company does something wrong. That's the approach this customer service textbook presents from the get-go.
The authors state that to succeed, your business needs to use customer service to measure pain points. Their end goal is to eliminate the demand for customer support entirely. At the end of each chapter, you'll get a survey to look at how your company is doing in relation to the principles you're reading about.
We don't want to spoil the book by giving you all 7 principles, so we picked 3 that stuck with us the most:
Create engaging self-service.
Be proactive in your relationship with consumers.
Don't be stuck obsessing over speed. Quality is the overall measure of good service.
This great customer service book provides insights, ideas, and methods to improve customer experience and business operations. Decrease the amount of money you spend on customer support by improving the client's buying journey.
"The most radical and far-reaching solutions often need rethinking of processes and deep questioning of the status quo-and these are hard."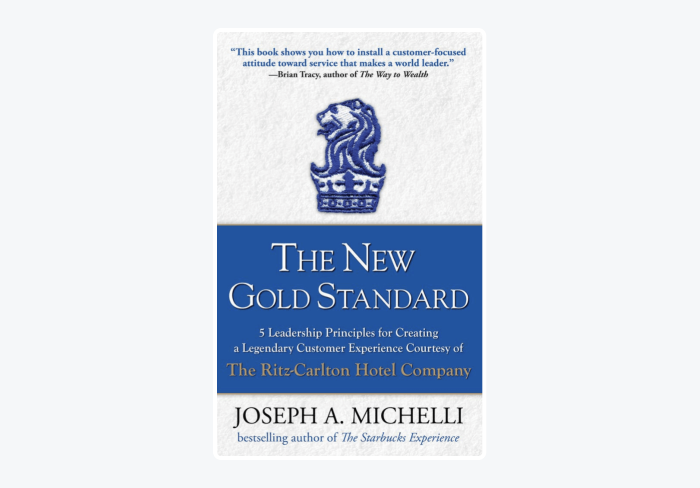 Rating: 3.93/5⭐️—728 customer ratings
Print Length: 304 pages 📖
Publication Date: July 2008 📆
Behind the scenes of The Ritz-Carlton Hotel Company, a book about customer service was born. Written with leaders in mind, Mitchelli presents key principles for an extraordinary customer experience.
Some of the ideas from this publication we think are worth pointing out are:
Borrow ideas from other industries to continue improving your business.
Treat your employees the same way you treat your clients because, as a leader, your role is to support them.
Trust is the most important element in the business. Create it by empowering employees to make their own decisions.
With the help of this customer support book, you'll discover innovative methods the company used and kept improving to achieve excellence. Learn how to create a culture of great customer experience while keeping all your employees proud and happy.
"By the time I started working in the restaurant, I knew the guests were very important. But a few months later, I realized that the maître d' I watched every day was just as important because every guest was proud when he talked to them. Why? Because he was a first-class professional. He was somebody special—because of the excellence he created for the guests."
Find out all you need to know about customer experience as an intro to profit more from reading this book.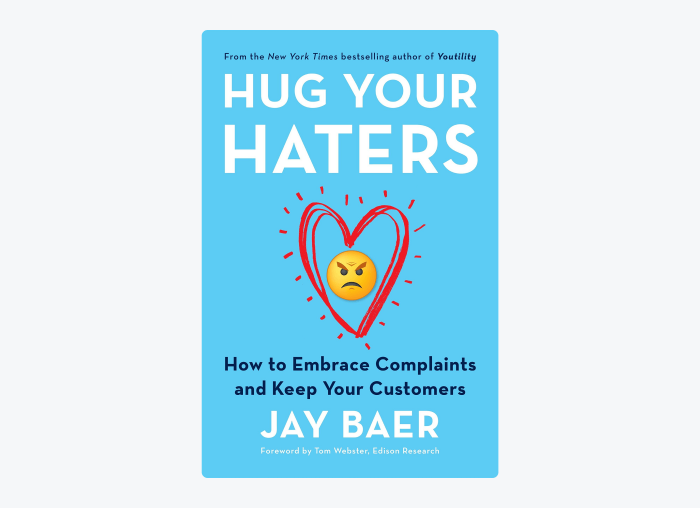 Rating: 3.9/5⭐️—582 customer ratings
Print Length: 240 pages 📖
Publication Date: March 2016 📆
Raise your glass! This one is to the haters!
Believe it or not, they give you the most valuable feedback and help you become the best in your field (even if that's not their initial intention).
Learn how to handle critics, angry customers, and the difference between offstage haters and onstage haters with this great customer service book. This work shows you how to value all feedback and answer with speed, compassion, and humanity.
The highlights from this work are:
When answering complaints, take a bad situation and make it better. You should answer all of them, on every channel and every time.
Change your opinion about your haters. They help you detect issues and care enough about your brand to give you feedback so you can become better.
Forums are your biggest opportunity to participate in discussions about your brand. Be where your clients hang out.
When reading this customer service training book, you'll learn how to turn bad situations into good outcomes and turn haters' actions to work in your favor.
"It's the art of misdirection. Throwing a compliment at somebody in the middle of negativity turns the situation around, and brings the power back to you."
Check out these tips for how to handle customer complaints for a quick read before you dive into this great customer service book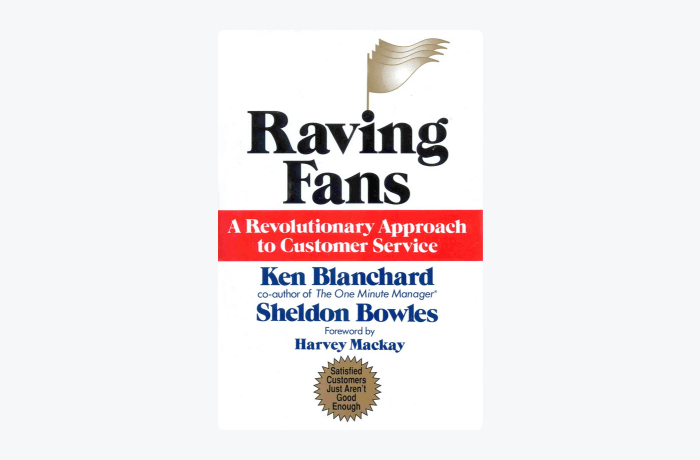 Rating: 3.88/5⭐️—8,701 customer ratings
Print Length: 160 pages 📖
Publication Date: 1993 📆
Learn how to define your company's vision, what your customers truly want, and turn them from buyers into raving fans. That's why this work landed on our best books about customer service list. Reach for this one for management techniques to implement into your business.
A few points we found particularly interesting in this book are:
Satisfied customers aren't good enough. You need to make everyone, from the supplier to the high-end consumer, feel important enough to become your fans and advocates.
Listen! Especially to silence, because that's when you have a problem. When customers complain, you know what's wrong. When your fans are enthusiastic, you're doing good. And when the consumer is quiet, perk up your ears to know what's the issue.
Be consistent with creating credibility. Deliver what you promised and more.
Take some tips and tricks from this customer support book to improve the level of your service. Start turning consumers into fans of your brand by tweaking your company's culture and becoming customer-centric.
"Your customers are only satisfied because their expectations are so low and because no one else is doing better. Just having satisfied customers isn't good enough anymore. If you really want a booming business, you have to create Raving Fans."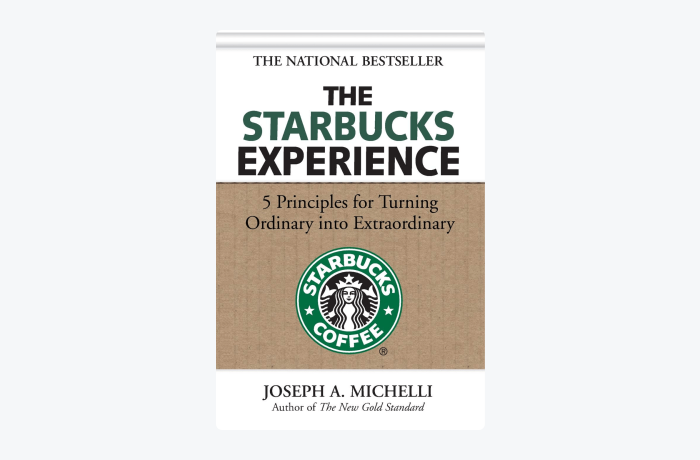 Rating: 3.78/5⭐️—4,703 customer ratings
Print Length: 224 pages 📖
Publication Date: October 2006 📆
Uncover the secrets to Starbucks' success with this customer satisfaction book. It contains thinking points at the end of the chapters, which you can use to consider how you can apply each principle to your business.
The five principles presented in this work are:
Be welcoming when meeting and greeting people.
Be genuine—show care when interacting with others.
Be considerate of the needs of others.
Be knowledgeable about the product and service you provide.
Be involved—participate in all aspects of your business, not just your tasks.
Discover the insider stories from Starbucks employees and a step-by-step strategy to improve customer experience. By the end of this book about customer service, you'll start thinking about your company's message and how you want to brand yourself.
"Consumers want the predictable and consistent, with an occasional positive twist or added value thrown in. Psychologists who study happiness often talk about the importance of predictability for safety and security, mixed with small increments of variety to offset boredom."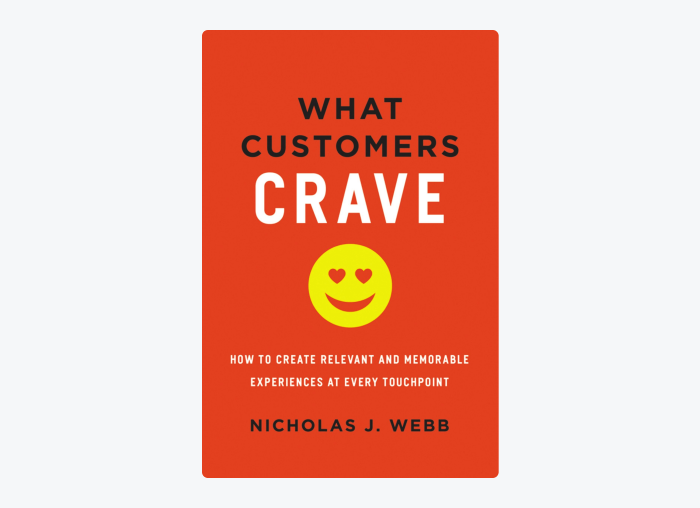 Rating: 3.76/5⭐️—211 customer ratings
Print Length: 256 pages 📖
Publisher: AMACOM
Publication Date: October 2016 📆
Have you ever thought about looking into your customer's desires and investigating them prior to making any big product decisions?
This is what this customer service training book teaches you to do. It is thought-provoking in the direction of what your customers love and hate. You will learn how to get to know your customers well and make the company's decisions based on their needs.
One of the ideas from this book worth mentioning is that the more you focus on delivering exceptional value to your clients, the more money you make. The more you focus on money, the less money you make. So ensure you prioritize building a mission-centered culture and not a profit culture.
You'll also get insights into who your customers really are and what they care about. Nicholas Webb will encourage you to reinvent the way you engage with customers—if you do they may bring their friends along.
"Innovation is as much a philosophy as it is a business discipline. The philosophy begins with a customer-centered view of the universe."
Learn what it takes to create an excellent customer experience from this article.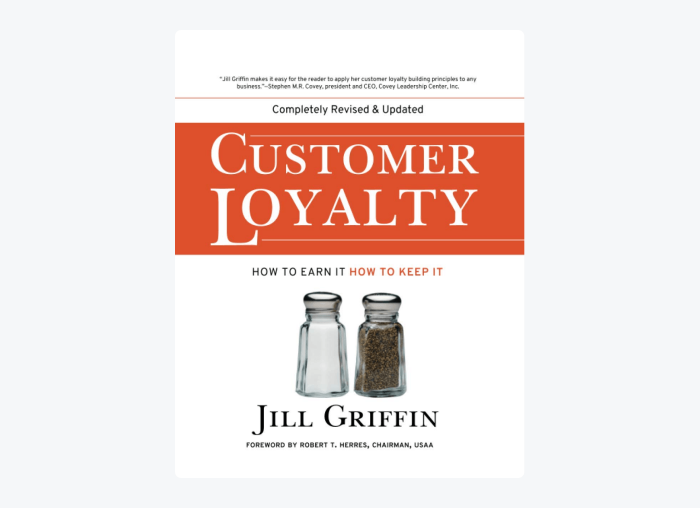 Rating: 3.78/5⭐️—50 customer ratings
Print Length: 272 pages 📖
Publication Date: September 1995 📆
As the title suggests, this customer service textbook focuses on loyalty above all. You'll learn the meaning of loyalty, how you can earn it, and how to keep it.
The key takeaways we got from this great customer service book are:
Implement staff surveys into your company's routine tasks.
Loyal customers should be your priority over single sales.
Make it easy for consumers to complain, and act upon this feedback.
Jill Griffin presents actionable ideas and a lot of content on a small number of pages. This work will teach you how to convert buyers into loyal customers. You'll start from the basics. And by the end you'll know how to develop loyalty driven company culture.
"The concept of customer loyalty is geared more to behavior than to attitude. When a customer is loyal, she exhibits purchase behavior defined as nonrandom purchase expressed over time by some decision-making unit."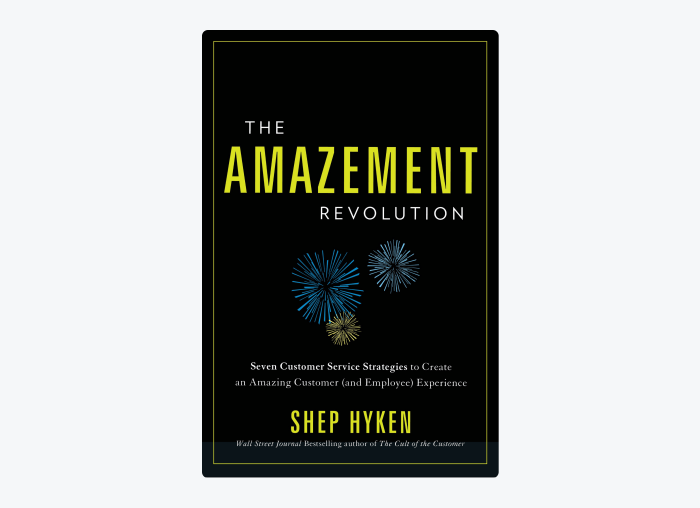 Rating: 3.7/5⭐️—76 customer ratings
Print Length: 224 pages 📖
Publication Date: April 2011 📆
Revolution is calling. Will you answer the phone?
With the seven strategies presented in this book on customer service, you can create greater customer loyalty and improve your employee loyalty.
One idea that we found appealing is that companies flourish because they run into the fire and not away from it. They tackle customer service head-on. Join them in this approach and become part of the revolution.
This best-selling customer service book has over a hundred examples from real companies for more insights into how the strategies presented work in practice. They'll fully understand, and possibly implement, them for a consistently better customer experience.
At the end of the book, you get a to-do list and a worksheet to help you organize ideas and share them with your team afterward.
"Remember that amazement is not a single experience. It's the consistent outcome of expecting and getting the right thing."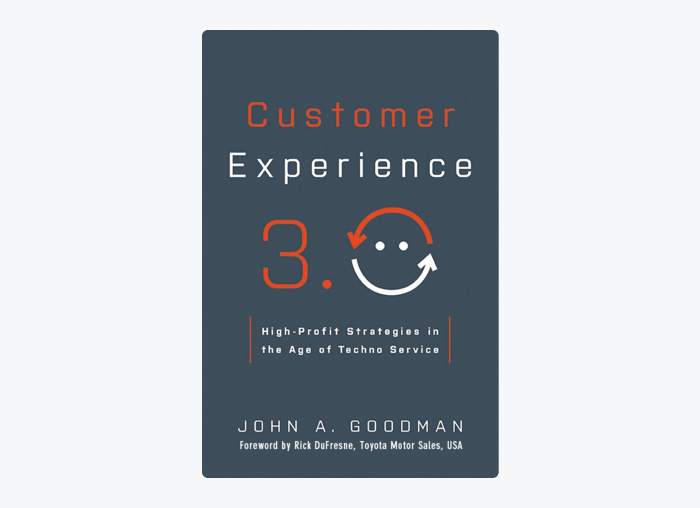 Rating: 3.67/5⭐️—81 customer ratings
Print Length: 256 pages 📖
Publication Date: August 2014 📆
What works best in customer service for you? This customer service training book offers guidance and a step-by-step framework to improve your approach to buyer's experience.
Goodman offers research-based insights into customer expectations. He also goes the extra mile to explain how to implement customer experience improvements into your company. This customer service textbook is a great resource for improving your business with strategies and practical ideas to follow.
You'll learn how to set priorities according to the customer's voice and use your systems and metrics for better customer satisfaction.
"Customers must be encouraged to seek assistance when they have questions or problems—a silent, unhappy customer is a less profitable customer."
Learn what customer satisfaction is, how to measure it, and ways to improve it as a head start to this read.
Over to you
This is it. That's a list of top customer service books we've compiled for your convenience. Now, it's your turn!
Pick the one(s) you like and give them a read.
Once you do, make sure you share your opinion with us. We'd love to hear if you liked it or not, and maybe get some recommendations from you.