Providing credible logs of a conversation is crucial to earning customers' trust and loyalty.
But that's not all.
When you have the exact copy of what was said in previous chats, your agents can learn from past experiences and become better at future interactions. And there's no better way to review past conversations than by using a chat transcript.
But how to provide them to your customers? What benefits can they bring to your business? And how can you use these logs to improve your brand's customer service?
That's what we're here to explain.
So, without further ado—
In this article:
If you want to learn more about improving the quality of customer service, be sure to read the following pieces:
Let's start from scratch and answer the basic question—
What is a chat transcript?
A chat transcript is a written record of a live chat conversation between a customer and a support agent or a chatbot. This documentation details the exact sequence of messages with timestamps and full contents of the chat. It's also created automatically by the chat platform and is ready for review straight away.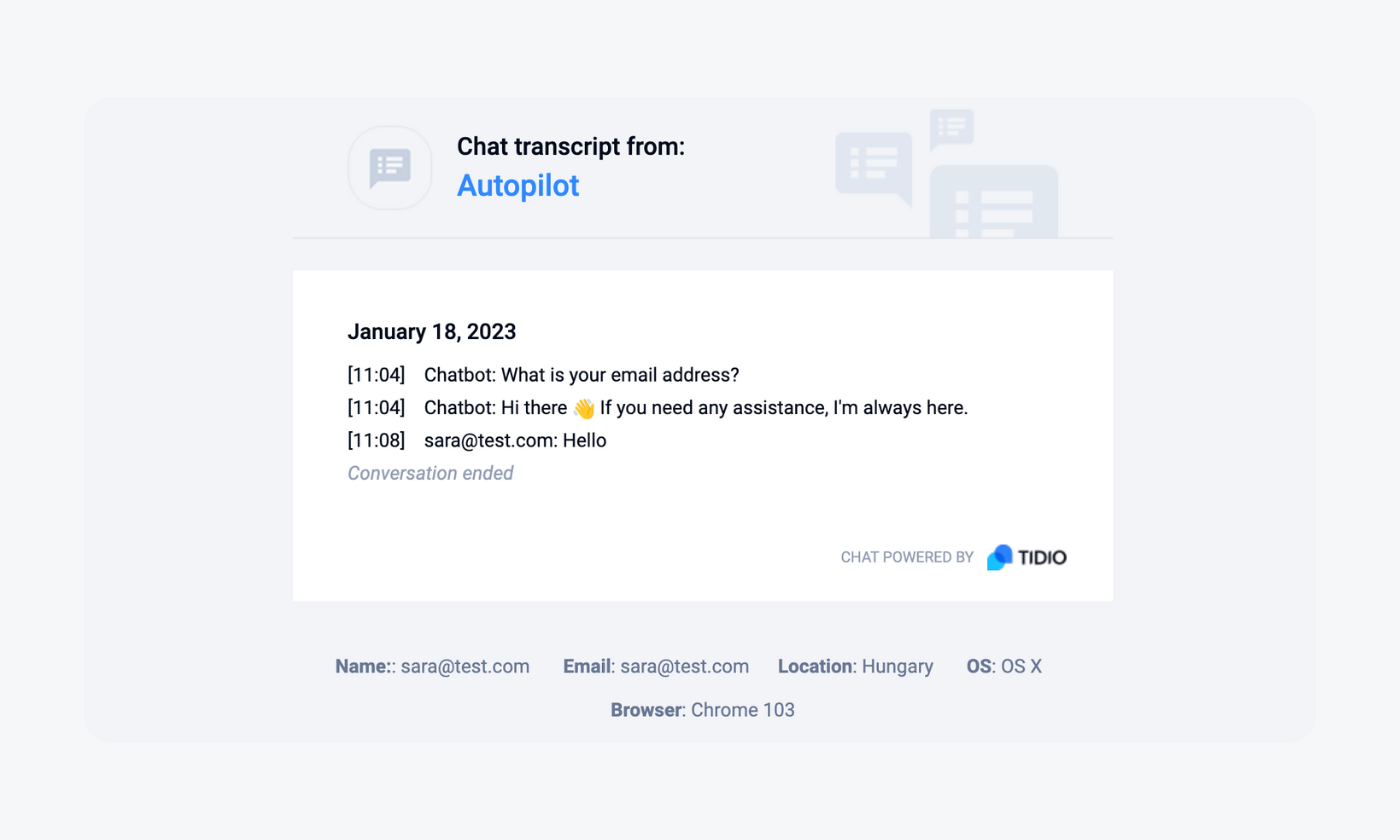 In the context of AI chatbots, transcripts help in machine learning processes, improving the bot's ability to understand and respond to user queries. Whereas in live chat, they let agents look through the finished chats and learn from them.
Optimized for clarity and reference, written chat records are extensively used in customer service, digital communications, legal proceedings, or research. They offer a way to revisit details, analyze communication patterns, and improve interaction quality.
But is it the only benefit of chat transcripts?
The short answer is no.
Let's find out what else these transcriptions of client conversations can bring to your business.
Why offer chat transcripts to your customers?
Nowadays businesses are increasingly recognizing the value of providing chat transcripts to their clients. That's because these logs serve as written records of digital conversations, acting as a bridge between the company and the customer. Also, they play an important role in fostering mutual understanding and facilitating a seamless customer journey.
What's more, chat logs bring several benefits not only to your company but also to your clients. Let's go through each one of them.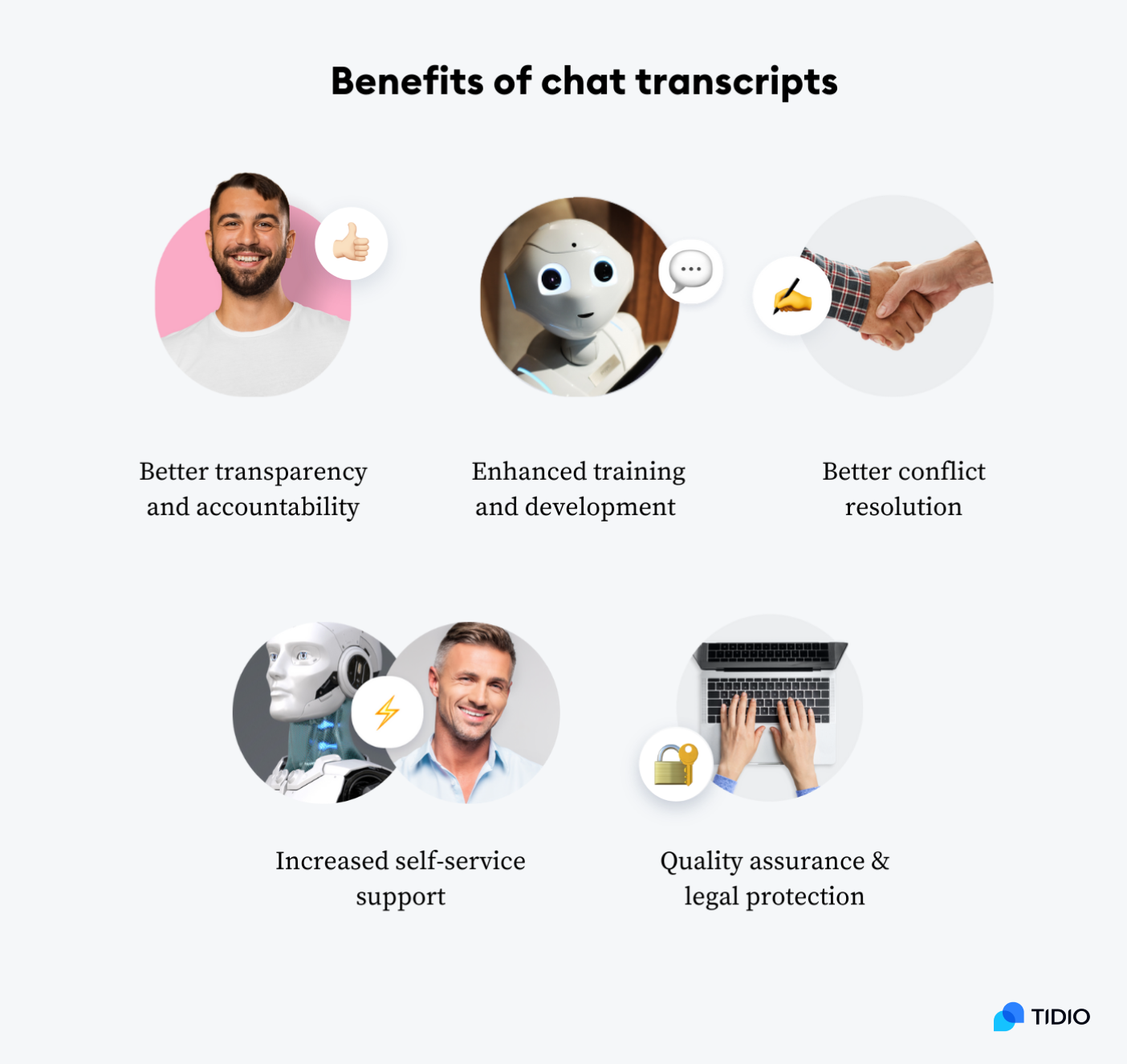 Better transparency and accountability
Providing customers with a record of their interaction promotes transparency, which is a key factor in building trust. It reassures clients that their issues and requests are acknowledged and documented.
Transcripts can also be used to gain insights into client interactions and sentiment, helping businesses refine their products, services, and customer engagement strategies.
Thanks to the chat session transcript, support teams can identify common issues clients face, observe how representatives handle different scenarios, and pinpoint areas that need improvement. On top of that, offering transcripts to clients shows that the business values their time and wants to improve their experience which helps the company stand out from competitors.
Research shows that experiencing good customer service changes buying behaviors for over 87% of shoppers and boosts the long-term revenue for the company. And as many as 92% of clients are more likely to make a repeat purchase after a positive shopping experience.
Enhanced training and development
Chat conversation transcripts serve as a repository of examples for customer interaction scenarios. They can be utilized in training programs or in your in-house CRM to help new employees understand how to manage clients' queries. Also, analyzing conversations after the chat ends can help your agents build the FAQ page, based on your clients' queries.
Your existing staff can also create docs with transcripts to learn from colleagues' previous interactions. Simply put, transcriptions can act as tutorials, knowledge base, and problem-solving templates for your new and existing employees.
All of that will foster continuous improvement of the company's customer service strategy and your agents' workflow. But that's not all.
Better conflict resolution
In the case of bad reviews, news spreads fast. In fact, an unhappy customer will tell between 9 and 15 people about their experience. This can lead you down a slippery slope to ruin your efforts spent on building a trustworthy brand. In that scenario, conversation transcripts can be your shield and a great ally in troubleshooting. And the last thing you want is a PR crisis caused by an unfortunate misunderstanding.
Chat transcripts act as an unbiased record of what was discussed and agreed upon during the interaction. In the event of a disagreement, they can be referred to, ensuring a fair and speedy resolution. Thanks to that, you'll be able to solve any disputes fast and in a professional manner.
Did you know that…
Over 83% of clients say they feel more loyal to brands that respond to and resolve their complaints. This makes conflict resolution vital for your company's good reputation and increases revenue in the long run.
Increased self-service support
Chat transcripts provide a wealth of data for analysis that can enrich your CRM. Advanced analytics or AI can be used to identify patterns, trends, and valuable insights about consumer behavior, preferences, and sentiments.
These insights help to inform and improve the business strategy.
For example, you can use chat transcripts to train a chatbot faster. This will also ensure the conversations the bot has with clients are more accurate to real-life scenarios. Moreover, software like Lyro can train itself. When you provide it with the conversation logs, it will learn the interaction with users and put it into practice in no time.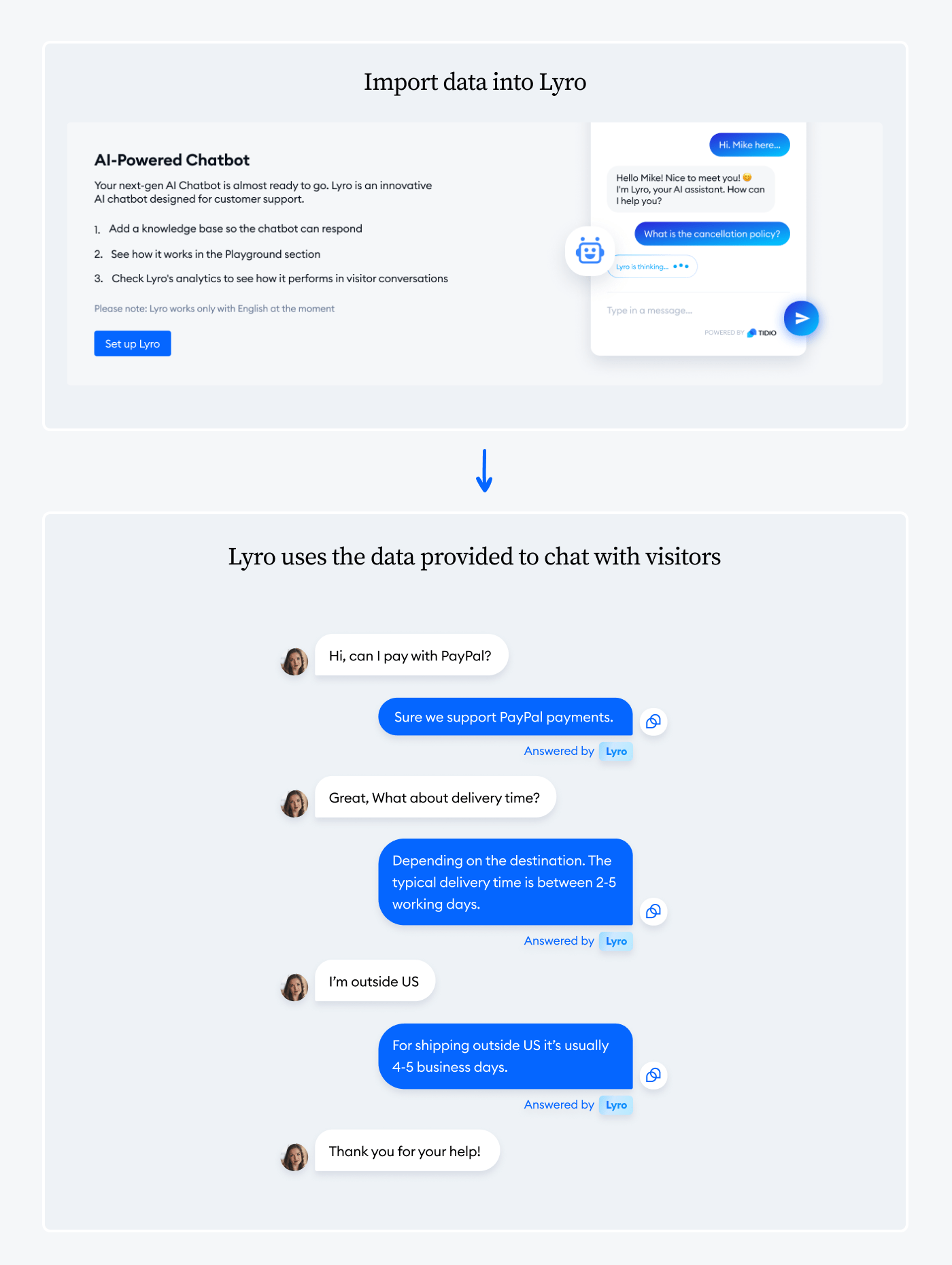 On top of that, your team can build a strong knowledge base with a FAQ section based on the conversation transcripts. So, in this case, these conversation logs play more of a role of support and backup for your self-service materials rather than providing full support.
Clients can also use a copy of the chat to find solutions to issues that they have faced before. It will reduce the need to contact support agents repeatedly for the same issue.
Quality assurance & legal protection
By regularly reviewing chat transcripts, companies can maintain and enhance the quality of their customer relationships. They can assess whether client service representatives follow the company guidelines, maintain professionalism, and resolve issues effectively.
It may look like a detail, but if you oversee some warning signs, it can cost you much more than you think. Research shows that after more than one bad experience, around 80% of consumers say they would rather do business with a competitor.
Also, in certain industries, having a detailed record of customer interactions can be essential for regulatory compliance and legal protection. Transcripts provide this verifiable proof of communication.
Knowing all the benefits of chat transcripts, providing your customers with them sounds like a no-brainer. And, if you're using Tidio, this process becomes remarkably straightforward.
So, let's discover how you can get your chat logs using Tidio.
How to get chat transcripts with Tidio?
In Tidio, our own AI-powered customer service platform, you have the possibility to request a chat transcript for each of your conversations, without the need to use code or APIs. This feature lets you preview the transcript of the conversation from the selected chat window, send it to your email address, or export it in CSV format.
Sharing these transcripts can significantly enhance transparency and improve client satisfaction. In this section, we'll guide you through a step-by-step process of how to provide them using Tidio.
Of course, if you haven't done it yet, the very first step is to create a free account. The registration is intuitive, free of charge, and won't take more than 5 minutes to complete.
Now—let's go through the ways to get chat transcripts.
1. Preview and export the transcript
To preview the chat session transcript, go to the Inbox panel in the main Tidio window and open a chat conversation. Then, you'll see the visitor's details on the right side of the chat panel. To get the preview, click on the three dots menu and choose the Transcript preview option.
The preview of your chat conversation will be displayed on the screen. It will also give you two options—copy the chat transcript to your clipboard or export it to CSV format.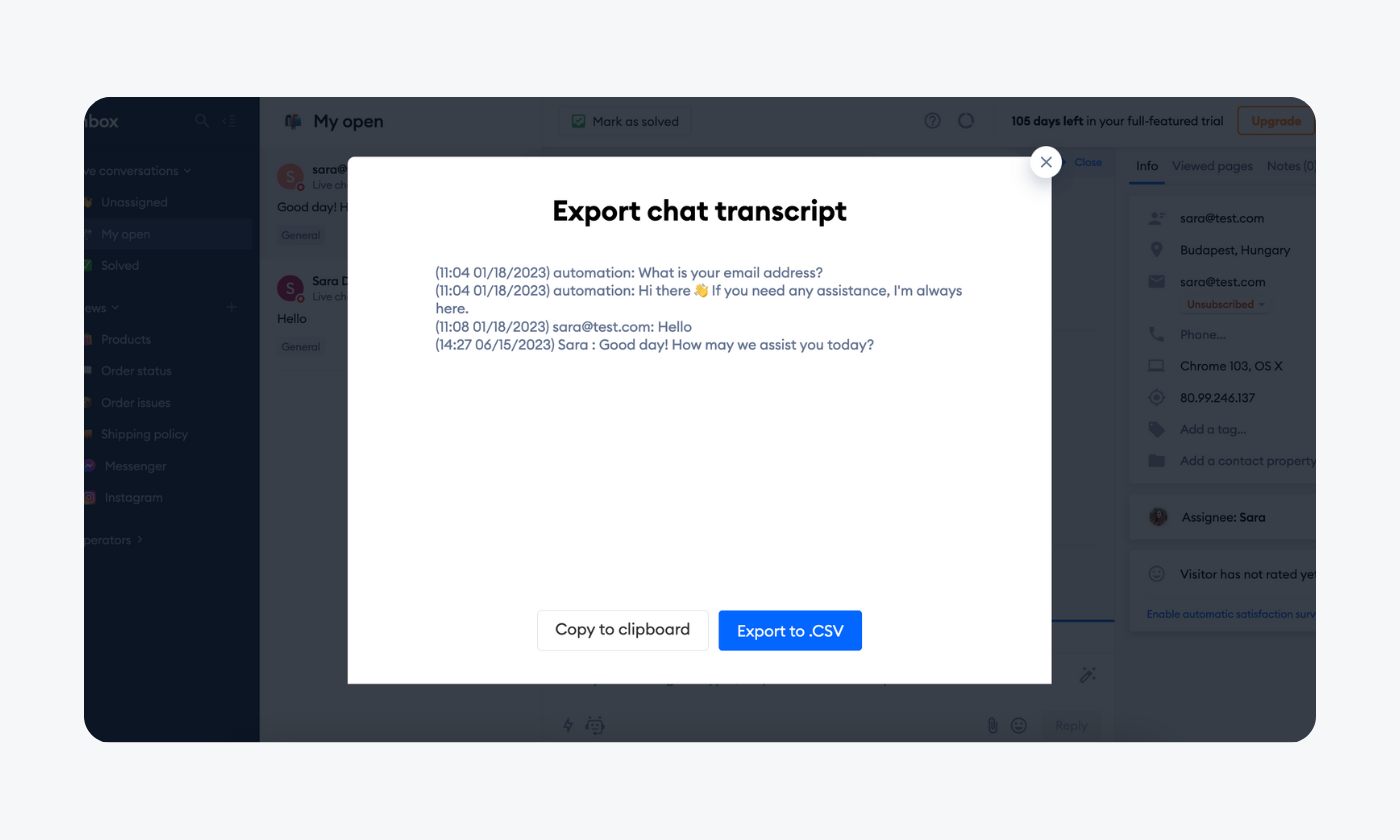 If you don't want to preview your conversation but wish to download it straight away, just click on the Export transcript to .CSV in the three dots menu. The transcription will look like this:

2. Send your chat transcripts automatically
Tidio offers solutions that allow for seamless customer service automation. The same applies to chat transcripts. You can download them and send them to your client manually but, if it's a part of your customer support strategy, it will be much faster if you automate the process.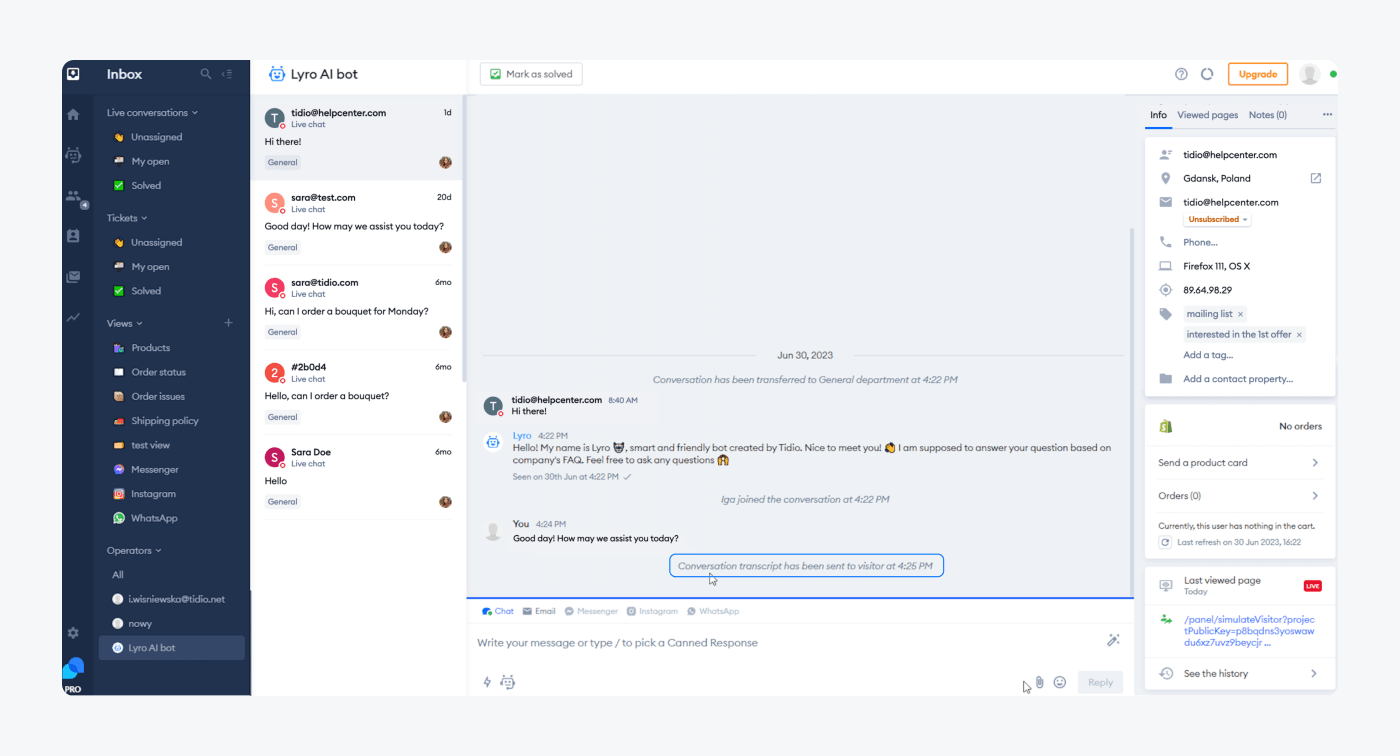 If a site visitor leaves before finishing a chat with your support agent, Tidio will automatically send them an email with a transcription of the unfinished conversation. It happens 15 minutes after your visitor leaves the site and closes the chat window.
What's inside these emails?
Each of them include all unread messages and a thread transcript, so your client gets the full context of the conversation.
This seems to be the best way of providing your clients with the full transcriptions of conversations held in the chat widget.
But, you can also do it manually.
3. Send chat transcripts manually
Sending a chat transcript to a chosen email address manually is also very easy. The first thing you need to do is to open your chat window and look at the Visitor's details on the right side of the panel. Then, click on the three dots menu and choose the Send transcript option.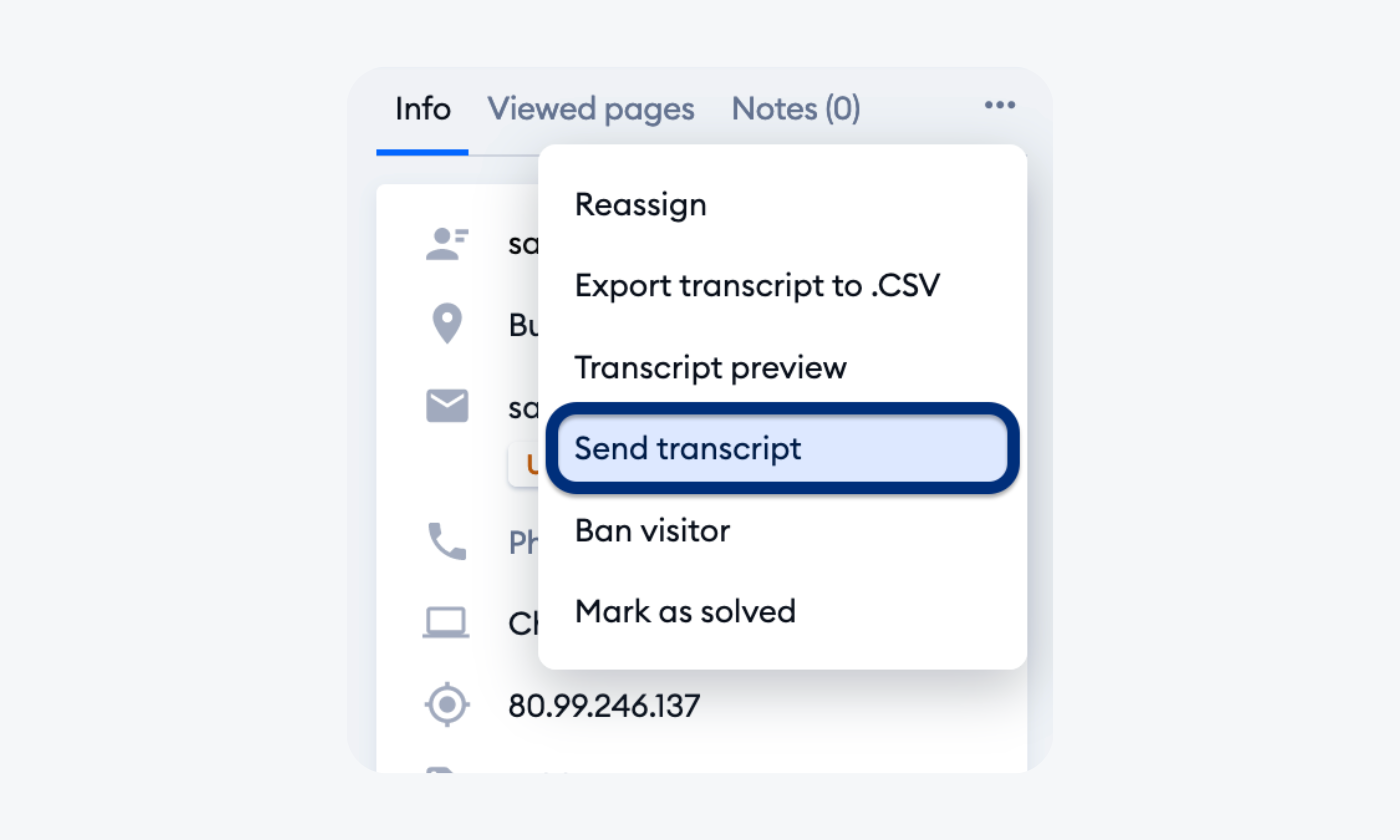 After that, you'll see a window asking you to type an email address to which you want to send the transcript of the chosen chat session. Once you're ready, click on the Send button to forward the transcript to your visitor.
Chat transcript: summary
Chat transcripts are written logs of conversations between a visitor and a customer service agent or a chatbot. These logs can be your silent, but great ally in leveraging the quality of your client experience.
They can help you enhance customer service by offering reference material, ensuring transparency, and aiding conflict resolution. Also, they can improve customer interaction, facilitate staff training, and offer invaluable insights for your CRM.
Embrace the power of chat transcripts and start transforming your customer service experience today.