Disclaimer: The coronavirus situation is changing dynamically. We try to keep this article up to date and provide accurate information but if you happen to notice any discrepancies, please let us know. You can use our widget.
It's no secret that due to the spread of Covid-19 virus, commonly referred to as "coronavirus", the world of business will face multiple challenges.
A recent study done by DigitalCommerce360 showed that the majority of eCommerce business owners have already taken action to respond to the on-going situation.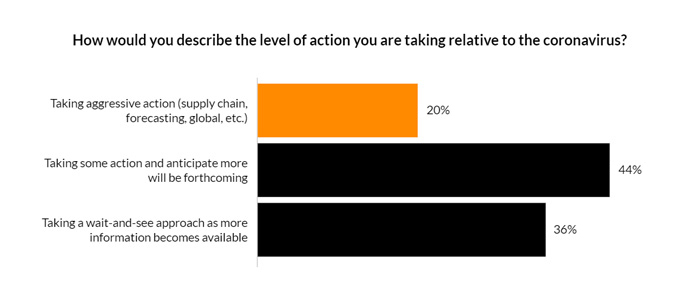 More than 36% of retailers foresee a downward trajectory for their businesses and expect the crisis to impact their businesses negatively.
It's also common to come across messages such as this one:
I have a Shopify dropshipping store. I have no inventory. Nothing of mine has shipped since January 20. I have so many back orders it will be a nightmare to keep track of.

Geri
Silver Beauty Products
For many small eCommerce businesses, the future seems uncertain, to say the least. Our team has decided to explore the problems faced by those entrepreneurs. We want to help and offer practical solutions for this time of the crisis.
Table of Contents
To learn more about the Coronavirus virus itself, visit:
Here are some tips to help you protect your eCommerce business and stay afloat despite the pandemic.
Search for Alternative Suppliers Outside of China
The eCommerce business owners importing products from China are in a difficult position.
The question we see repeatedly on eCommerce forums and Google is:
Can I import from China now?
Short answer:
Yes, but it depends.
There is a very low risk of Coronavirus transmitting through a parcel that has been shipped for several days. However, it's safer to search for alternative suppliers outside of China.
Click To Tweet
Here's why:
China exports dropped by 20% and right now everything is in chaos
They may be problems with deliveries and delays even if Chinese companies are not closed down (most of the factories are operational, but only at a limited capacity)
People are scared and suspicious of everything associated with the Covid-19 virus – they don't visit Asian restaurants, buy Italian lettuce, and as you can see below, they even stopped drinking Corona (the beer)
CNN reports on Twitter: "38% of Americans wouldn't buy Corona beer under any circumstances because of the coronavirus, according to a recent survey."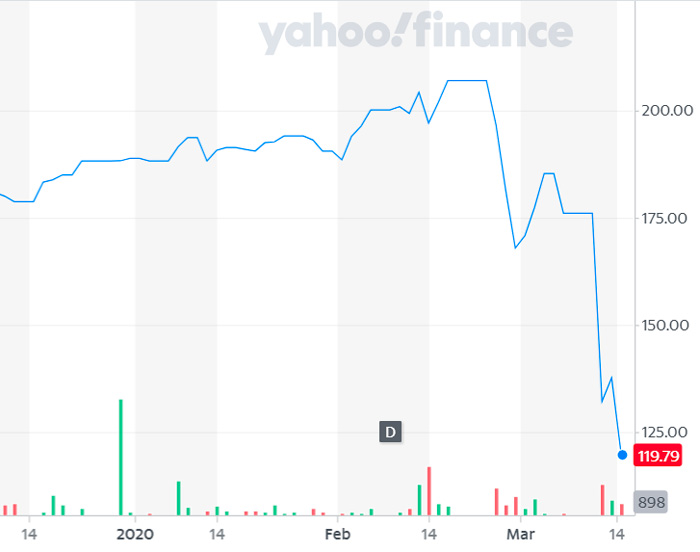 It may seem irrational, but people are panicking. You should ensure that your customers won't perceive your supply chain as suspicious.
Here's how to find new suppliers depending on your business model. Make sure to carefully filter out those based in China.
Dropshipping
Alibaba EU – free and easy to use platform with a great supplier rating system.
SaleHoo directory – provides access to 8000+ trusted suppliers that you can filter.
B2B Business platforms, such as Manta.com
Other directories – Dropship Direct, Inventory Source, Doba and more.
Wholesaler
Ziliot.com – EU platform connecting wholesalers with manufactures
World Trade Support – global suppliers platform
Online directories – for example Top 10 Online Wholesale Directory Sites
Your local area – search Google by typing: "[your area] wholesale market/mall"
Trade Shows – look for events moved to the online space
Manufacturer
Online marketplaces and platforms – Ziliot, TradeWheel, or Lightinthebox.
Locally – use Google with "[your area + product] factory"
Global Sourcing Specialists – product development and manufacturer sourcing
Whether you import from China or not, remember to:
Contact your suppliers directly to be updated and get more information about what's happening
Keep your customers informed – send emails about possible delivery delays
And once you've taken care of diversifying the portfolio of your suppliers, it's time to…
Prepare a Message to Your Customers About Coronavirus
During such crazy times, it's important to inform your customers about the on-going situation. Be transparent about how it might affect your business operations.
FYI:
The US Chamber of Commerce has prepared a set of customizable flyers and graphics. You can use them as a template or inspiration to create your own set of materials that you can post on social media or send via email. Get Coronavirus Response Toolkit
And here are the most important things listed in the template:
Actions related to keeping people safe:

We train our employees on health and safety standards.
We screen the health of our suppliers, employees, products, and customers.
We actively encourage sick employees to stay home.

Actions related to securing a healthy environment:

We are deep cleaning and disinfecting our business including high-touch surfaces.
We are opening windows or adjusting our heating/cooling to maximize ventilation.
We are taking measures to avoid crowding and encouraging people to use online services.

Actions related to creating a flexible workplace:

We are assessing the risks of business travel.
We are using videoconferencing for meetings and events where possible.
We are accommodating employees who become sick or have a sick family member.
Important:
You can download your customizable template here: Coronavirus Flyer
Take a look at the example of such an email sent by JadeYoga – the company producing and selling yoga mats.
To the Jade Community,

As I am sure many of you are, we are doing what we can do in response to the coronavirus. Our top priority is to protect the health and safety of our team, their families and customers. We would like you to know the steps that JadeYoga in the US and YOYOGA AG (Official Distributor of JadeYoga in Europe) have taken and how they may impact you.

First, while we have had no employees diagnosed with COVID-19, we are having all employees follow the recommended hand washing protocols when handling our products and we are encouraging all employees who have any symptoms consistent with COVID-19 to stay home from work until they are feeling better.

Second, we have also expanded our sick leave policy to provide extended sick leave to anyone diagnosed with COVID-19 so no employees will be tempted to work if they are sick. For our customers, this may mean some delays in responding to inquiries and shipping, but we hope you can understand.

Third, in the US we are preparing to have as many employees as possible work from home should the need arise. Again, this may cause our customers some inconvenience for which we apologize. In Europe at YOYOGA AG, we've always been working "remotely", so there won't be any further impact.

Fourth, according to the World Health Organization, it is "not certain how long the virus that causes COVID-19 survives on surfaces, but it seems to behave like other coronaviruses. Studies suggest that coronaviruses (including preliminary information on the COVID-19 virus) may persist on surfaces for a few hours or up to several days. If you think a surface may be infected, clean it with simple disinfectant to kill the virus and protect yourself and others. Clean your hands with an alcohol-based hand rub or wash them with soap and water. Avoid touching your eyes, mouth, or nose."
You can also consider writing and posting an open letter to your customers to explain the situation in-depth. Check out how Salesforce did it: A Letter to Our Customers.
Don't Cancel Your Woocommerce or Shopify Subscription Because of Coronavirus
Difficult times might require drastic measures. But restrain yourself from taking the decisions driven by emotions.
In the last few days, we've noticed Shopify taking a serious blow because of the Coronavirus outbreak. Entrepreneurs are panicking and closing their shops down. New accounts aren't being opened. Just take a look at Shopify's performance on the stock market.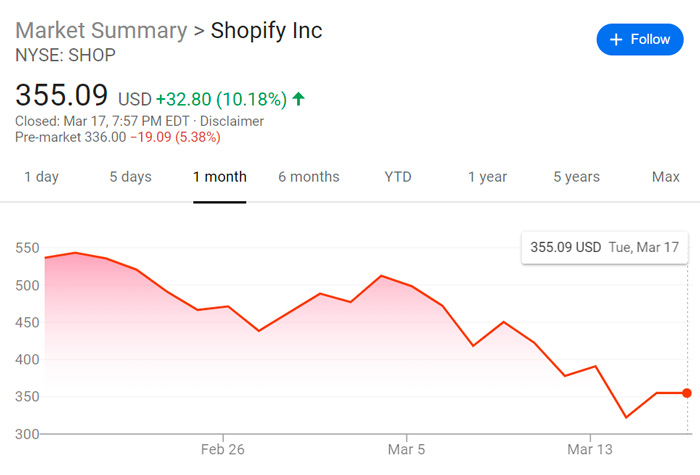 If all businesses decide to give up selling via Shopify or other eCommerce platforms, it will have a very negative and long-lasting impact on their development. There are steps you can take to improve your chances of making your business profitable during the crisis.
How Your Online Store Can Respond to COVID-2019 Crisis
During challenging times, being proactive is crucial. Take matters into your hands and get your business through the crisis. Here's what you could do:
Focus on Sales
No matter the niche you operate in, finding ways to keep your sales coming should be your number one priority. The more cash flow you get, the better chances you have to stay afloat.
Take Backorders
At first, taking more orders when you are not certain when the products you sell would be shipped, might seem counterintuitive. However, if communicated well with your customers, taking backlog orders will allow you to have a steady stream of cash flow so you are able to pay your bills.
Our tip: Be upfront about the possible delays and create a solid system for tracking your incoming orders. Let customers know about any issues asap, for example via a Shopify chat app.
Bring Qualified Traffic With Content
To avoid burning money on Google or Facebook ads, you should focus on creating awesome content that will bring your store more traffic. Perhaps it's a good time to start a company blog and create engaging content related to your products.
Take a look at how BestSelf (a company selling journals and planners) has approached this. They've started publishing articles that address the current situation and are useful to their readers.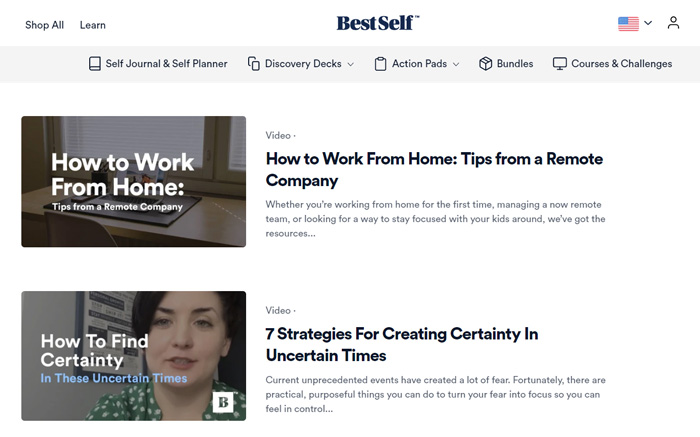 Build Your Email List (Lead Generation)
Focusing on your lead generation efforts now is the investment that will pay off later. Building a large email list allows you to reach more people with your email marketing campaigns.
Consider creating an attractive lead magnet, such as a discount code that would be exchanged for an email address of your lead.
Automate Your Customer Service
There is a big chance that during this crisis you will experience an increased number of messages from your customers.
To handle all customers' queries during the coronavirus pandemic, you can consider installing a live chat or a chatbot to automate the process and avoid overfilling your inbox.
Click To Tweet
For example, you could save plenty of time by setting up a FAQ chatbot on your store's website to answer the most popular questions related to delivery or other issues.
Here are some guides to get you started:
Sell Vouchers and Gift Cards
One of the ways to keep the liquidity of your business is to start selling vouchers and offering gift cards. Both options are great as you can sell them right now and offer to redeem them later to secure your stream of cash in the present moment.
The good news is that consumers are actively encouraged to support businesses that are currently struggling. Purchasing vouchers and gift cards to be redeemed later is one of the suggestions.
Learn more about running a successful eCommerce business (despite the crisis) here:
Check If Your Business Can Get Help From the Government or Organizations Because of the Coronavirus
There are many helpful programs, loan schemes, and other solutions for businesses affected by the outbreak of the disease. This support is meant to help you to cover your expenses in a situation when your revenue is frozen, you have to handle the refunds or your employees took sick leave.
For example, in the UK these actions and programs have been introduced since the outbreak:
Her Majesty's Revenue and Customs has set up a special help and advice phone line ( 0800 0159 559) for businesses who are concerned about paying their tax due to COVID-19.
Support for businesses who are paying sick leave to employees
Support for businesses through the Coronavirus Business Interruption Loan Scheme via the British Business Bank
On the other hand, in the US you can try getting a special loan.
Read more about it on the website of the U.S. Small Business Administration and Capital One:
Bonus Tip #1: Many companies, such as Zoom, Jamm or Loom are offering extended trials, free subscriptions or massive discounts to support other businesses (especially those that had to move online) in this time of transition. Reach out to your service providers to see if you can get a discount for their services during the crisis.
Be Proactive and Show That You Can Handle the Crisis
Your customers want to feel that you are able to handle the crisis. Being proactive in both: your operations and your communication with customers is crucial to run your business smoothly and make your clients feel taken care of.
To do this, you can use channels such as social media to openly share information about the situation. For example, take a look at how the Harmonic Arts approached the situation.
There are several ways to communicate with your customers proactively:
Use video streaming, webinars or other forms of interactive communication
Be active on social media and answer all comments and reviews
Send emails to alleviate fears and pains of your customers
Use live chats and chatbots to inform your website visitors about your operations in real-time
In the times of crisis, it's a good idea to join forums and groups related to your niche. You can connect there with fellow entrepreneurs to learn more about how they deal with the coronavirus situation.
Click To Tweet
You can also support them by offering your own solutions.
Remember: We are all in this together.
Here are a few eCommerce groups and communities you can join:
Conclusion
The times are tough, but the situation won't last forever. Instead of closing down, consider ways to protect your business from negative impacts and try to find opportunities you can use to your advantage.
Here's a recap of the steps you could take:
Diversify your suppliers' network and add suppliers from outside China
Inform your customers about the situation as soon as possible
Focus on ways to grow your eCommerce store instead of closing it
Don't hesitate to ask for help from the government and other organization
Be proactive in your actions against the virus and communicate it clearly
And here, at Tidio, we keep our fingers crossed for all businesses out there to overcome this difficult situation and come out stronger on the other side of it.