Abandoned Cart
Top 7 Apps to Recover Abandoned Carts In Shopify Store
Get to know the seven top-rated Shopify apps, learn about their cart abandonment feature and start using them right away.
Emails, chatbots, push notifications, retargeting ads – these are the most popular solutions used for cart abandonment reduction. Now, it's time to look closer which applications go well together with them.
All the tools that have been listed below are top-rated apps on Shopify dedicated to store owners who are in need of finding practical solutions to overcome the shopping cart abandonment problem and start making sales.
But before you do that, make sure you're already a Shopify store owner. If you aren't, learn how to set up a store on Shopify first.
Table of contents
The Shopify cart abandonment applications have been categorized into four main groups based on a communication strategy (emails, push notifications, Messenger, live chat) you'll be using when contacting cart abandoners.
Here is a list of the best apps to recover abandoned carts in Shopify store:
Tidio
Omnisend
Campaign Monitor
PushOwl
Smart Push Marketing (Hextom)
Recart
Abandoned Cart Messenger
The goal behind testing the apps was to come up with a list of A-players that could help small and medium business entrepreneurs deal with every seller's biggest nightmare – abandoned carts, lots and lots of abandoned carts.
However, like in every competition, there are first and second best. In this year's ranking, chatbots are definitely the leaders leaving the competitors far behind:
Perfect solution for collecting leads, giving discounts, helping customers, and anything else you need for engagement on an e-commerce site. It's so easy to use and brilliantly designed. Don't run an e-commerce site without it!

Eris Sharon,
studioljewelry.com
Deploy chtabots to your website and win customers back with Tidio for free.
But why chatbots exactly? Well, keep reading to find out.
Shopify Abandoned Cart App – Emails
Omnisend Email Marketing

Omnisend is a Shopify top-rated marketing automation app that delivers a rich email marketing solution allowing to address the problem of cart, product page and browser abandonment with a wide variety of email templates.
Other features:
Sends order, shipment, and cancellation emails to keep customers updated
Segments customers based on their past purchase behavior
Tracks sales performance
How to recover abandoned carts with Omnisend?
Automation > Create Workflow > Shopper
Abandoned cart recovery is an indispensable part of the sales process that can be stimulated by sending single reminders or a sequence of emails to buyers to alert them about the products left behind and convince them to finalize the deal.
With Omnisend, you can do both.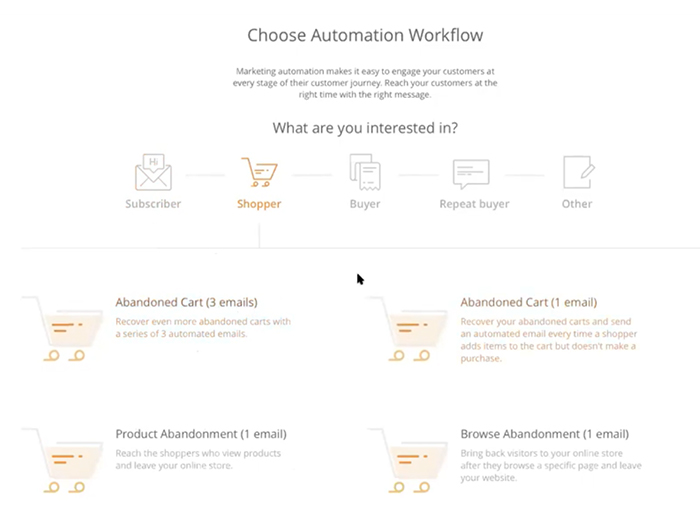 You can add trigger rules to emails so that the messages are sent to a specific group of audiences (e.g. you can target customers based on their purchase behavior, contact properties, subscription method, email campaign activity).
In the next step, set the time after which emails are to reach customers' inboxes. It's good to remember that the sooner you send the first abandoned cart email, the greater the chance a visitor will go back to the store. In this sense, abandoned cart timing is at a premium.
Then you can start editing the copy and look of a message (you can either customize them or choose one of the ready-to-use email templates).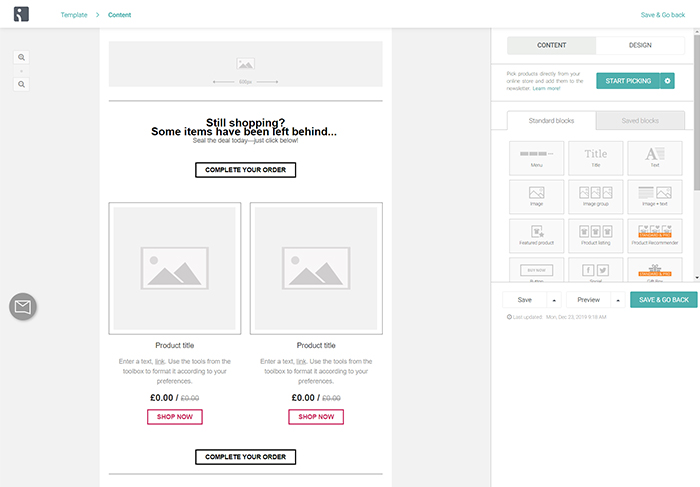 Thanks to an easy email builder, designing your own emails to better match your brand voice is very simple – you merely add and remove modules you'd like to be included, change the colors and edit the text inputs (logo/header, body message, checkout button, product image, footer, and badge).
Price: Paid plan starts at $16/month. Free trial available.
Get it here
CM Commerce Email Marketing (Campaign Monitor)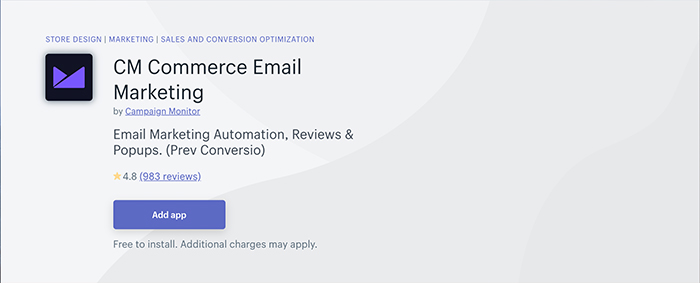 Campaign Monitor is yet another highly reviewed application on a Shopify platform that helps small retail businesses accelerate growth in a short time thanks to their advanced technology of email automation and pre-built workflows.
Other features:
Sends welcome messages to onboard customers
Sends follow-up emails recommending similar products
Sends newsletters to convert leads into customers
Sends review invitation emails to gather feedback
How to recover abandoned carts with Campaign Monitor?
Emails > Workflows > Recipes > Email Templates
Campaign Monitor offers three basic cart abandonment automation workflows: a single email, a sequence of three emails offering a discount, and a series of three emails targeting different customer groups (leads, first-time buyers, repeat clients).
In all three cases, workflow automation can be modified with an easy drag-and-drop editor (e.g. you can add more emails in a sequence) and the time delay can be adjusted.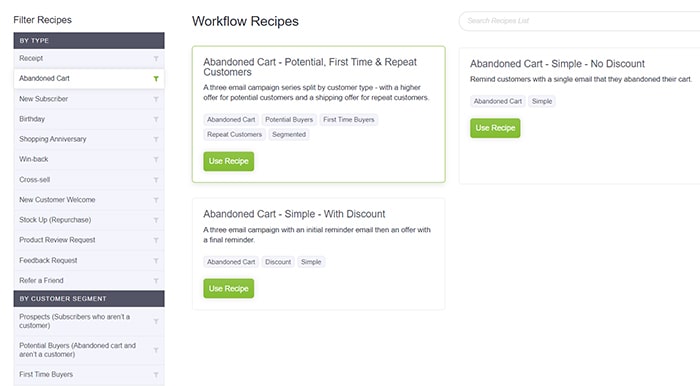 All workflows are supplemented with email templates made out of customizable blocks of text, images, and buttons. Apart from modifying content (preheader, subject line, footer), you can play with the form and choose to include a product image, total order value, and product reviews.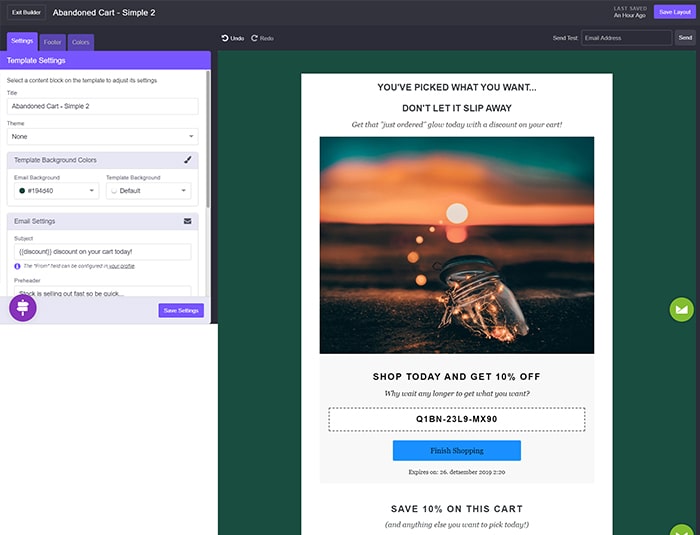 Price: Paid plan starts at $9/month.
Get it here
Shopify Abandoned Cart App – Chatbots
Tidio Live Chat

Tidio is an online business communicator dedicated to small and medium eCommerce businesses that enables store owners on-the-spot communication with their customers. Tidio is the only Shopify app offering a free live chat solution powered by chatbots.
Save carts with chatbots
Other features:
Sends a message to visitors leaving the page
Sends a message to welcome a new/returning visitor
Sends a message to offer discounts to new/returning customers
Sends a message to inform about discounts for a particular product
Segments customers based on their behavior
Helps to build a subscription list
How does Tidio save abandoned carts?
Chatbots > Add another bot > Discount when cart is added > Edit
First, log into the panel (either with your email or Shopify store address), download the app and you're in. The whole installation process will take 2-3 minutes tops which means you can spend the rest of your time on recapturing visitors.
In the dashboard, you'll see that Tidio offers a pre-built cart abandonment workflow that will be triggered every time a buyer goes back to the store's website.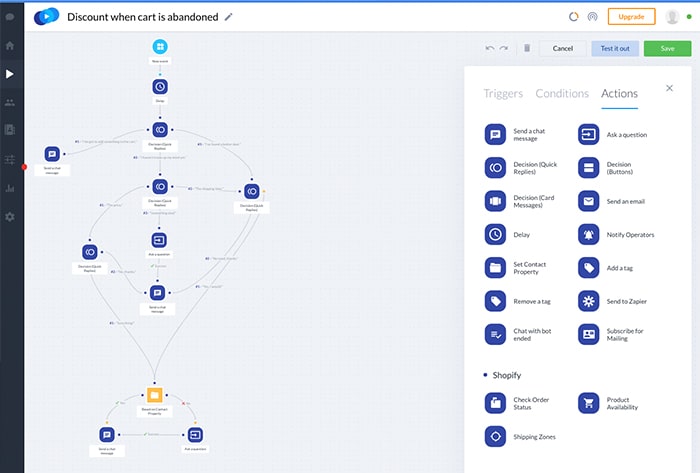 It's worth remembering, though, that the whole conversation workflow can be modified. So, what you can do is to set the time delay (Delay node), craft the content of messages that will be sent to customers (included in Action nodes), select a contact property by which you two will stay in touch (e.g. name, phone, email, etc.) and include a promotional code.
So, how does it look in practice?
First, a chatbot will ask visitors why they haven't completed the purchase and then offer a discount code in exchange for an email address. This way, you'll receive valuable feedback and generate new leads.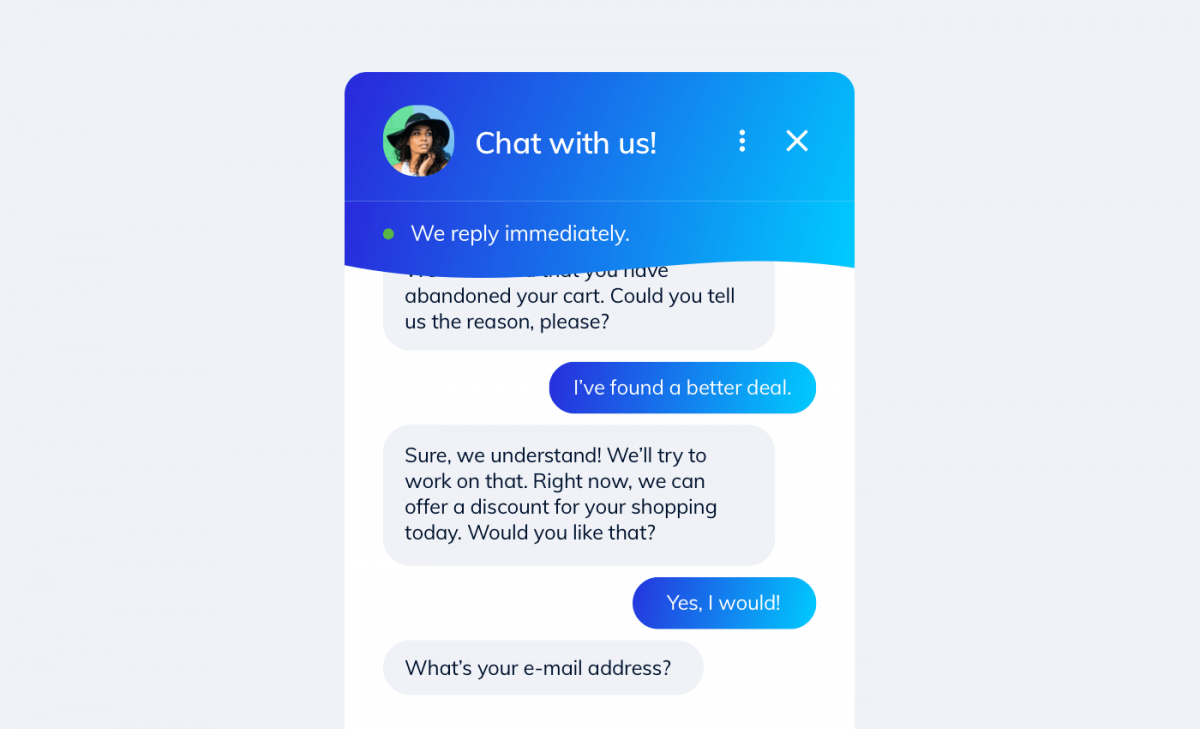 Sending automated text messages with Tidio is an extremely innovative, cheap and easy solution to handle the cart abandonment problem once and for all.
With their higher open and click-through rate than email, there is a 5-10% greater chance that your potential customers will read the abandoned cart message and reconsider leaving the store without a purchase.
Price: Paid plan starts at $15/month. Free plan and trial are available.
Get it here
Shopify Abandoned Cart App – Push Notifications
Did you know that push notifications have a higher open rate when compared to emails? Well yes, people are more likely to click on those small reminders rather than intrusive pop-up ads.
PushOwl Web Push Notifications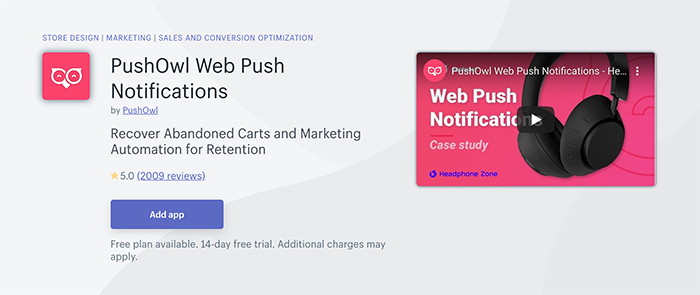 PushOwl is an application that has been invented with Shopify users in mind. Whether you're a small business owner or you're managing a well-prospering company of a bigger size, PushOwl is a great option to deal with the cart abandonment problem with low-effort setup and low maintenance costs.
Other features:
Sends flash sales alerts to nudge visitors into finalizing a deal
Sends back in stock alerts to reencourage a purchase
Sends welcome alerts to onboard new customers
Sends shipping alerts to inform about the shipment status
Measures campaign performance
Analyzes customer behavior
How to recover abandoned carts with PushOwl?
Automation > Abandoned Cart Reminders
Start saving your leads by selecting Abandoned Cart Reminders automation and sending a sequence of three alerts in a time interval that you can decide on.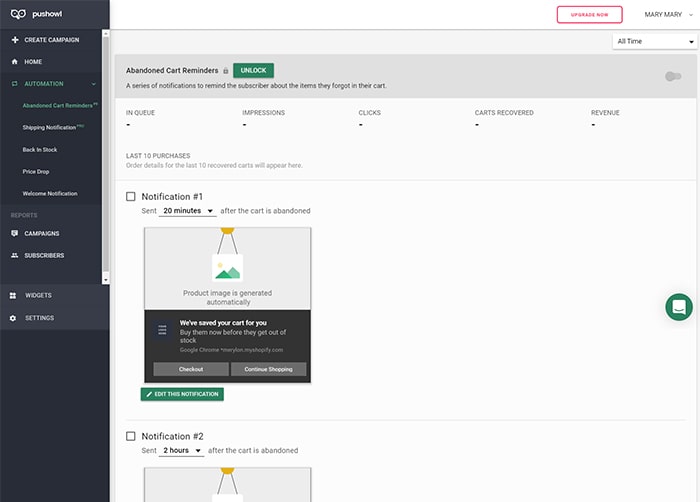 In a matter of seconds, you can then customize the push notification copy with the title, main body, button labels, and brand's logo sign. An image of abandoned products will be automatically generated from the first position of lost items and added into the copy.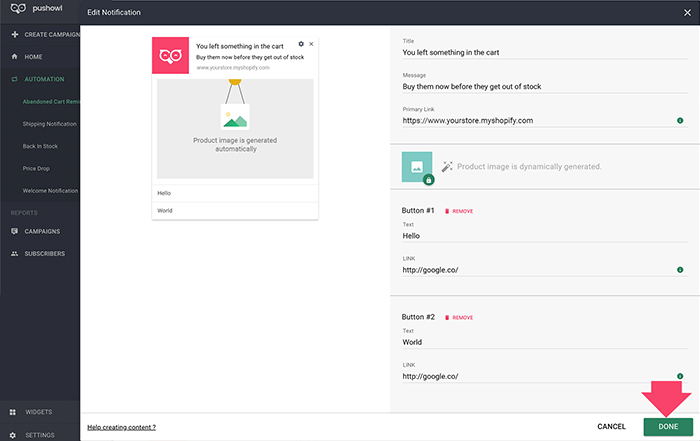 And that's it! You can now sit back, relax and follow the results of your cart abandonment campaign to see how many of your potential customers have seen, clicked through and eventually bought the once lost products.
Price: Paid plan starts at $19. Free trial available.
Get it here
Smart Push Marketing (Hextom)

Smart Push Marketing is the only Shopify app offering a free push notification solution with a simple editor and an advanced cart abandonment automation that is no worse than its main Shopify competitor – PushOwl.
Other features:
Sends alerts when out-of-stock products are available again
Sends customized promotion alerts
Generates one-time discount codes
Segments and targets specific customer groups
How does Smart Push Marketing recover abandoned carts?
Abandoned Cart Recovery > Activate
Abandoned Cart Recovery automation allows you to send an automated sequence of three alerts with editable input fields so that you can play with the text of the message's title, description, and buttons. Push notification buttons, as well as discount codes, are optional.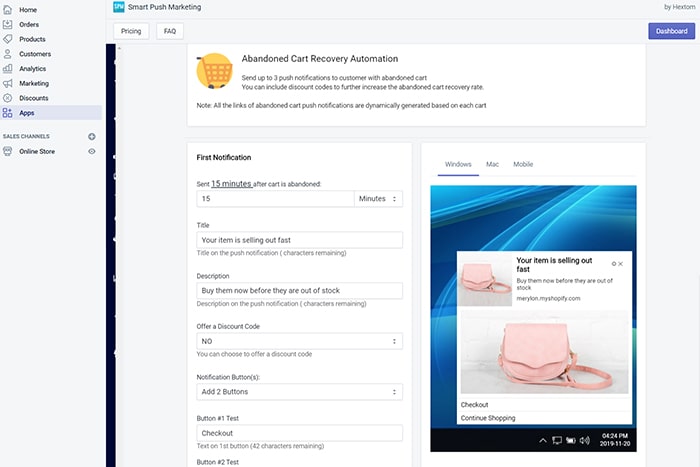 The hero image of abandoned products and links navigating to a specific cart page will be dynamically generated for each subscriber.
A great advantage of the app is that while crafting the alert your changes applied to the message are visible on the right side of the preview image. You can also see how the notification will look like for Windows, Mac and mobile users.
After your cart abandonment campaign circulates, you can track its performance in the panel. There you can observe how well your push notifications are doing – how many customers saw and clicked them, how many have bought displayed products and how much revenue they generated.
Also, Smart Push Marketing enables to recapture prospects at the "I'm just looking around" stage with the Abandoned Browser Recovery option.

Price: Free
Get it here
Shopify Abandoned Cart App – Facebook Messenger
Recart FB Messenger Marketing

With more people devoting their time to messaging rather than social networking, Recart FB Messenger Marketing has become a Shopify leading solution helping all eCommerce stores (small and big) reach their audience members almost immediately. The app bears a strong promise of an enhanced user engagement thanks to their messages being 4-6 times more often clicked and opened.
Other features:
Sends messages with product review request
Sends promotional messages offering discounts
Sends messages to welcome visitors
Sends messages with shipping details
Sends messages with e-receipts
Builds customer list with Sticky Discount Box and Customer Chat
How does Recart recover abandoned carts?
Messenger > Auto Campaigns > Abandoned Cart Messenger Campaign
You can send Recart abandoned cart campaign only to your Messenger subscribers therefore you need to make sure that your potential customers have subscribed to your Facebook page upon leaving the store.
You can encourage them to do so either through a Sticky Discount Box (a pop-up ad offering a discount), Customer Chat (once users start chatting with you, they become your page subscribers) or Discount Widget (a checkbox included in a product page).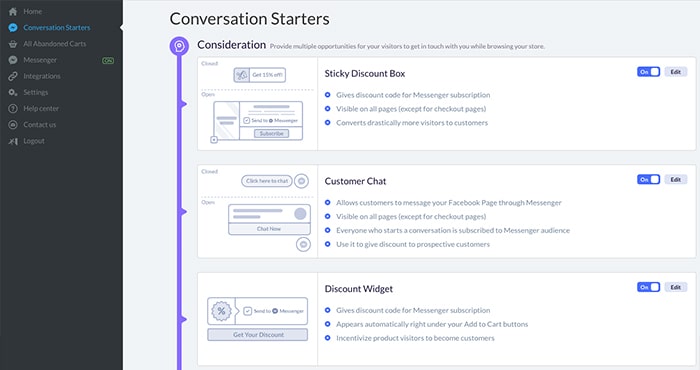 When you decide to send an Abandoned Cart Messenger Campaign, you can go ahead and customize the look of a message, change the text, include a product photo and add a discount code.
Then you save and send it.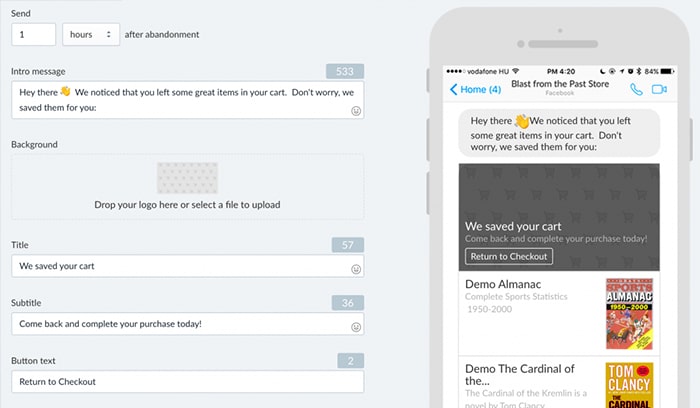 Because Recart's Abandoned Cart Messenger Campaign includes a three-message sequence, you can choose the time to send them or keep the default time (the first message will fire off after an hour, the second after 23 hours and the last one after 48 hours).
Price: Plan starts at 29$/month. Free trial available.
Get it here
Abandoned Cart Messenger (Booster Apps)

Booster App is yet another app offering a cart abandonment messaging solution that can be set up and running in less than 2 minutes. You can now enjoy Booster App's fourteen-day free trial and start targeting your users no matter what device they're currently using.
What does Abandoned Cart Messenger do?
Sends a series of messages to cart abandoners
Increases subscriptions on Facebook business pages
How does Abandoned Cart Messenger recovers abandoned carts?
Before you message your customers on Facebook, they need to subscribe to your Facebook page first. There are two ways you can encourage them to do that – either by adding a Send to Messenger widget or a pop-up (to incentivize buyers with little something e.g. coupon codes).
Then, potential buyers who abandoned their carts will receive a message from your Facebook page including a product image, link, checkout, and action buttons.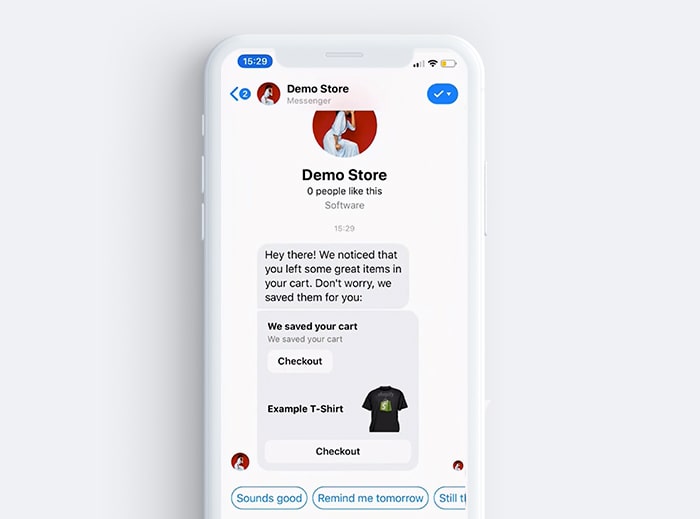 If they decide to proceed with the order, they'll be redirected to the checkout page. After they fill in all the needed information, the purchase is completed.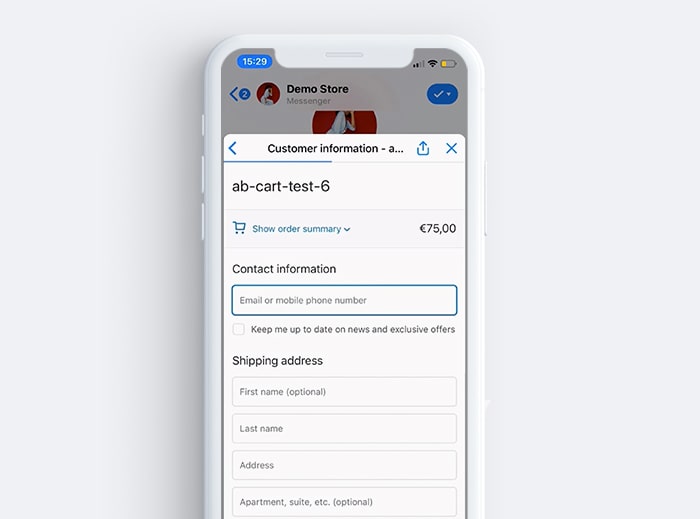 Price: Paid plan starts at 25$/month. Free trial available.
Get it here
Shopify Abandoned Cart App: Conclusions
Now when you've familiarized with all the apps – their highlights, best features, management processes – there is one thing left… to announce the winner!
There are four categories in which the apps were nominated: best communication strategy, time efficiency, lowest cost, and best design. See in the table below which apps performed best in which category.
Best Abandoned Cart Apps

by Category

Category
Shopify App
The best communication strategy –
that will be most appreciated by your target audience

Tidio Live Chat
A limited amount of time –
you want to devote to the overall management of the app (e.g. to set up and oversee it)

Recart Fb Messenger
Abandoned Cart Messenger
Small budget –
you can draw up to install and keep a running app within a designated period of time

Smart Push Marketing
Campaign Monitor
Sleek design –
that will please the customer's eyes and incentivize them to go visit your store

Omnisend
PushOwl
So, which app is going with you for a test drive?
Try Tidio For Free