Live Chat
Top 10 Live Chat Features That Speed Up Your Work
Live chat is made for customer service. It is packed with useful features that will make live chat support faster and more efficient. What are those live chat features?
Nowadays, live chat has become a staple to many online stores, service-oriented websites, social media platforms, and blogs. Live chat support is offered by banks, schools, medical institutions, retailers, and many more. It even has entered the call centers.
There are many reasons why live chat became so popular. Apart from being fast and easy to install, it allows customer service agents to deliver live help to multiple visitors at almost the same time. It also helps to communicate agents' and customers' thoughts better with the help of rich media (images, video, attachments). Last but not least, live chat offers numerous features which make the operator's life easier and keep the customer happier.
Live Chat Features
Tidio, a free live chat, is packed with many useful options. How can you get it? It's simple. You can sign up for this blazing-fast (and free!) customer service tool right here (or click the button below).
Get Tidio Live Chat
In this article, you will learn about 10 amazing features that make Tidio live chatting efficient.
Live Chat Integrations
Tidio live chat can be integrated with email accounts and Messenger. This way you can view and respond to emails and Messenger from one place – Tidio Admin Panel.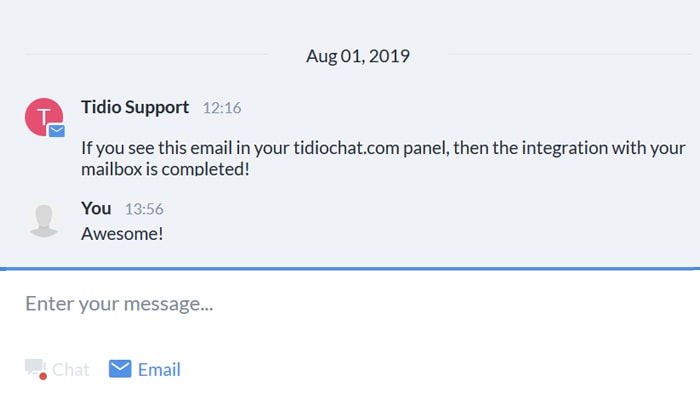 At the bottom, you can see Chat and Email icons. When the integration with Messenger is done, an icon for Messenger will also appear. Switching between channels is easy – just click the icon to choose email or chat.
Messenger icon will be visible only for messages sent from Facebook Messenger.
On this screenshot, we can see that the message received by Tidio was sent with Facebook Messenger
With email and Messenger integration you no longer need to switch back and forth between your inbox and FB account to respond to your visitors.
Quick Responses
Quick Responses are responses prepared beforehand that can be quickly called and sent to the visitor. These messages commonly go by the name of canned responses.
Imagine you have dozens of visitors on the line every day and each of them receives a similar welcoming message: "Hello and welcome to our store! My name is Jonnathan. How can I assist you today?"
How do you feel about typing it tens or hundreds of times during the day? Ouch…
This is where Quick Responses come into play. You type the message once, save it, and call it during the chat whenever you need it.
To call the Quick Response, type forward slash "/" followed by the first few letters of any word included in the Response. In the example below, "/hel" was typed.
If you look at the screenshot above, you will notice that there are two predefined responses set up for two operators: one for Susan, and one for Jonnathan. Both of the responses match "/hel" and have similar content – you can avoid displaying Susan's greeting by typing "/Jonn" (since the word "Jonnathan" is not present in the other greeting).
If there is a need, each Quick Response can be quickly edited before it is sent to the visitor.
And – that's it!
Just a slash, a few letters and the whole response is sent in a matter of seconds! With Quick Responses you can store predefined short or long messages and links to always have them at hand.
Visitor List + Viewed Pages
Visitor List + Viewed Pages = Tons of proactive engagement!
How come?
First of all, the Visitor List shows you all the visitors who are currently on your website. And secondly, having access to the Visitor List automatically enables you to see what pages visitors are currently on (Viewed Pages) and start chatting with them immediately.
Our users love this feature.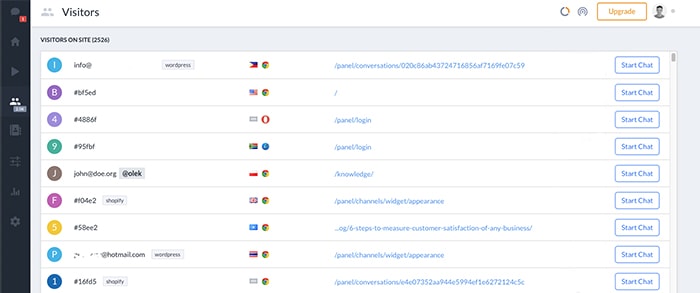 Since visitors are more eager to place an order after having a conversation with the support agent, such a proactive attitude can result in increased sales for your company.
Moreover, just by seeing the page the visitor is currently on, operators can better understand the request and follow the conversation.
Live Typing
Live Typing is your secret clairvoyance power. You and your operators can see what the visitor you chat with is typing. This way you can anticipate the question the visitor is about to ask which gives you a head start to think about the response.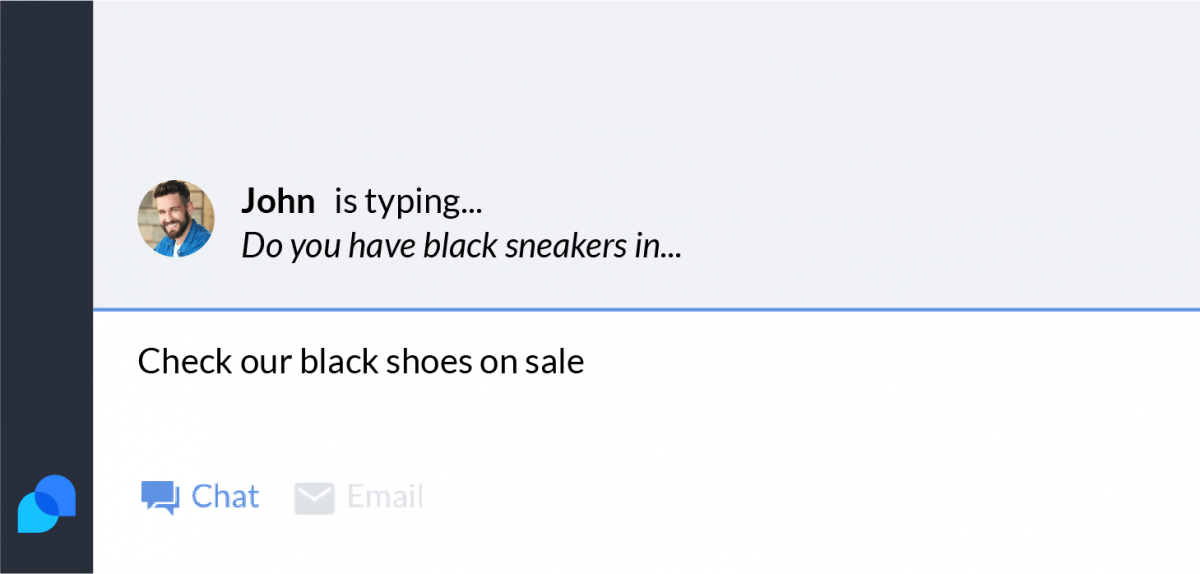 Everything that the visitors are currently typing in is visible in the chat window. The message is visible even if the visitor decides to delete it and starts to type a new one. Sometimes, what was deleted gives a valuable insight into your visitor's mind and allows you to understand them better.
Also, since a large portion of questions coming from the visitors tend to become repetitive over time, with live typing you can recognize one of such questions and call a suitable Quick Response ready to be sent as soon as the visitor is done with typing.
Now, what is left for you is to imagine the look on the visitors' faces when they receive responses the same moment they sent their questions!
Email Notifications
Whenever you are offline, there are chances that some visitors will need to turn to you for help. Even if they notice that the live chat status is offline, they will leave their messages anyway.
What if one of those messages is very urgent or important to your business? You surely wouldn't want to miss that!
With email notifications you do not need to worry. Whenever a visitor sends a message on a live chat that has status set to Offline, you will receive an email to the designated address so that you are kept up-to-date with all the messages waiting to be replied.
Mobile App
Although not as powerful as the desktop or online version, mobile app shares all the core features of its bigger siblings. With a mobile app installed, you can answer all pressing queries on the go without worrying that you are missing an important lead or leaving your visitors ignored.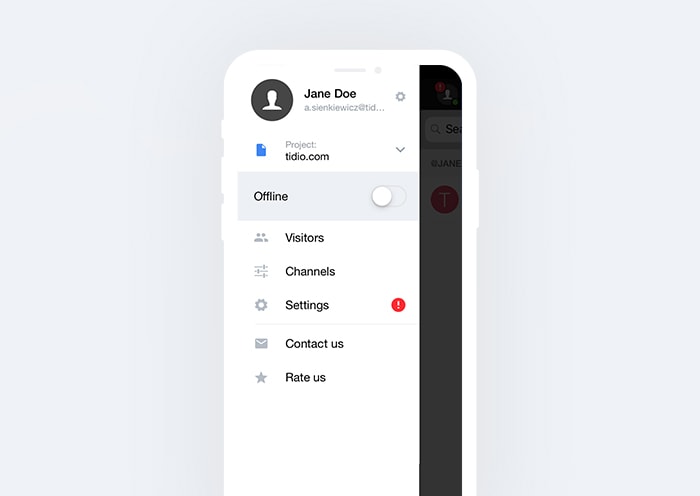 Pro tip #1
Create your free account with Tidio and then log into the admin panel. Go to "Settings" > "Desktop and Mobile" and download an app for your device or desktop. Please visit our Knowledge Base if you require a detailed tutorial on app installation.
How to Download Tidio Mobile App
Operator's Analytics
This feature gives you an overview on your operators' work. You can look up how many chats were completed on individual days across a selected period of time. You can also check what was their response time on those days.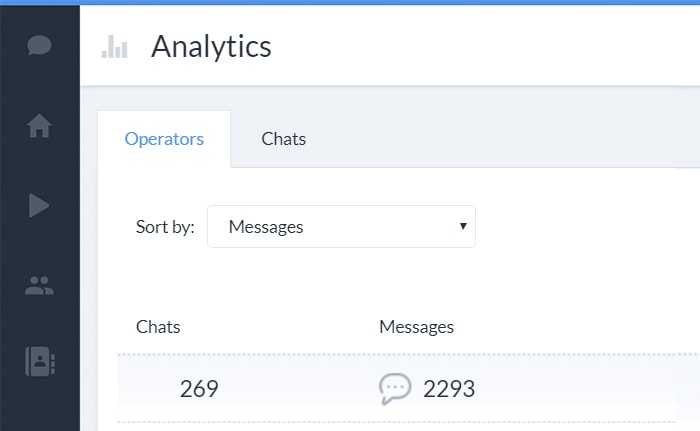 Operator's analytics is very useful to observe shifts in visitors' behavior – the volume of chats that needed to be responded can be higher on certain days, and lower on others.
With a day-to-day analysis you can notice a pattern and assign an extra operator whenever you anticipate the receive an increased volume of inquiries.
Chat Page
Tidio live chat can be run directly in a browser window (or tab) which means that there is no live chat widget present on the website. What you receive is a URL address that can be opened in a separate window or can be embedded into a specific page.
What's so useful about it? Well, there can be numerous cases where chat page can be used.
For instance, you may want to include a link to the chat on your Contact page or in the footer so that the visitors are welcome to chat with you and at the same time they do not see the widget present on each page.
Chat page URL can be displayed on your website as a button or a link (e.g.: Need Help? Chat with us!).


You can do the same with your emails. Normally, whenever you email someone from your business account, there is a signature block with your name and contact details. You can include a link to a chat page in that block, or insert it anywhere in the email you find suitable.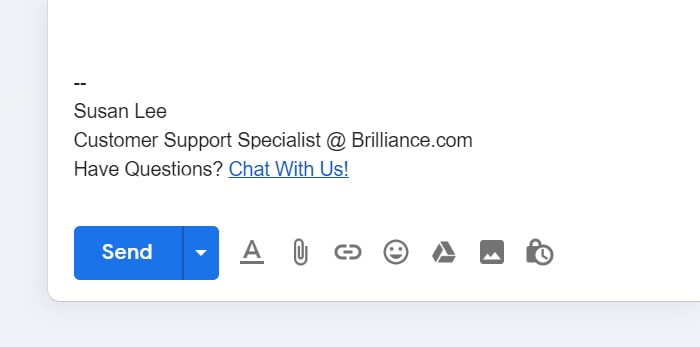 Chat page is great when you want your visitors to start their chat with you immediately. Having a link that leads directly to a chat is less hassle for the visitors who want to chat with you but are not on your website.
Visitor Ban
Trolls make the Internet an unpleasant place.
Trolls feed on anger and hate.
Trolls want your attention.
Trolls do not care about facts.
Trolls waste your time and energy.
So don't feed the troll – ban it!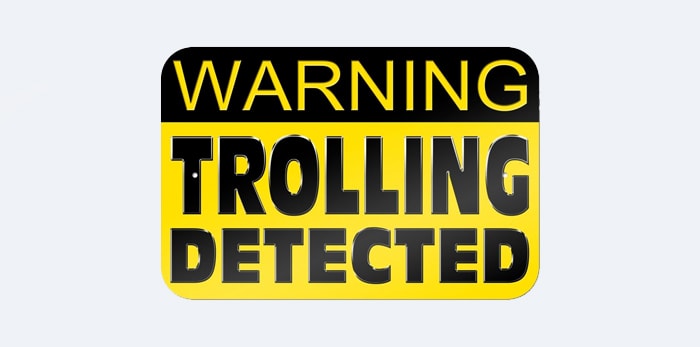 Your live chat support costs you time and money. If there are visitors who are not serious about your business and clearly have no intention of buying anything, you can ban them. This way you prevent them from sending further messages on your live chat.
Chat Transfer
The conversation can be transferred to another operator who is more suited to answer the visitor's question, when you need to step out for a minute, or you are already handling too many conversations at the moment.
When the chat is transferred, the conversation is not started over, but continued in the same chat window. In fact, the visitors may not even be aware that they chat with another operator until they are informed about it.
As a matter of fact, more than one operator can join a single chat. Just because the chat is transferred does not mean that the operator who was initially assigned to that chat should leave. Sometimes it can be beneficial to stay for the current operator – for instance, to observe the chat for training and quality purposes.
When it comes to conversation transfer, live chat support has a huge advantage over the phone call support – the live chat operator who joins the conversation can see all the messages which were exchanged so far. This way the visitors do not need to repeat themselves and explain their issue all over again.
Live chat, unlike some of the other types of customer service channels, offers unparalleled speed and efficiency. It combines what's best in other channels and enables both chatting parties to minimize their time and effort in achieving their goals.
If you would like to test all the live chat features, then head straight to the registration page and start using Tidio – free online chat tool for businesses.
Try Live Chat For Free