What a year 2021 was! So many new trends that shook the world—
And even if all of us are different people with our own experiences, it was pretty hard to miss the events that made the headlines or sparked discussions among our friends.
Time to recap the year and see which trends of 2021 attracted the most attention. But let's also look into the future and explore some predictions for this coming year.
In this article we'll be looking at:
Top trends of 2021
Predictions of 2022 tech trends
People's opinion on each of them
What was trending on the internet
We asked 1,998 people from around the world to share their thoughts. Here's our original report on the 2021 trends and predictions for 2022.
Major findings

We asked people to vote for the most important stories of last year and the top 10 news and trends of 2021 were:
Trump's ban from Twitter (771 votes)
GameStop stock surge as Reddit investors tackle Wall Street (722 votes)
Supply chain shortages at a historic high (687 votes)
The number of vaccinated people go from 7 million to over 4 billion in 2021 (686 votes)
Virtual offices can become the dominant workplaces in the future (448 votes)
Elon Musk becomes the richest man in the world (403 votes)
The Metaverse has been announced with over 90 companies working on its development (380 votes)
The NFT market is hot with some pieces selling for thousands of dollars (379 votes)
Inflation rates hit new records in Eurozone and the US (372 votes)
Bitcoin reaches its new high twice in 2021 (354 votes)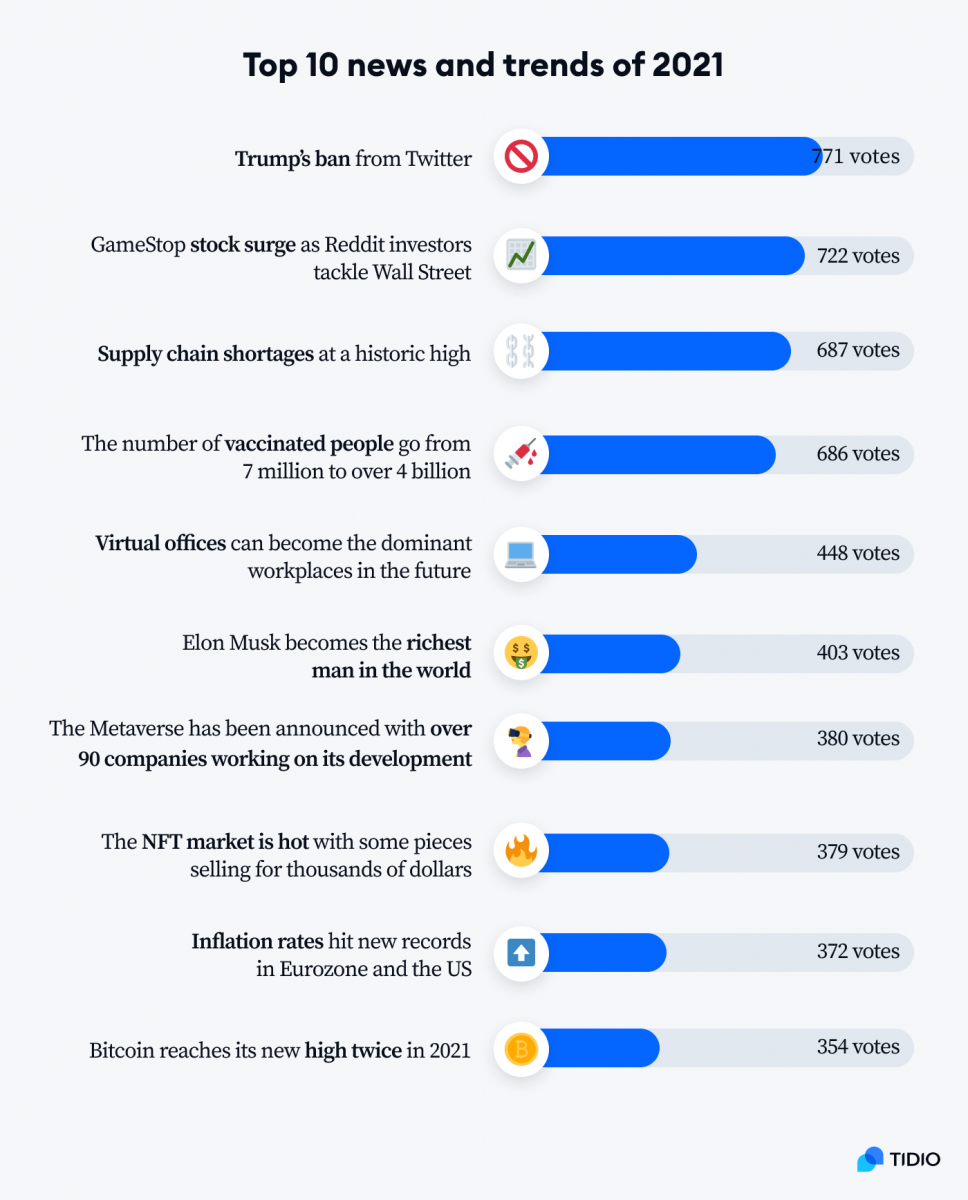 Over twice as many people heard about Trump's ban from Twitter as about blockchain technology and the growing use of robotics combined
Over 38% of people heard about Trump's ban from Twitter.
Only about 7% heard about blockchain technologies and just over 8% of people heard about the growing use of robotics.
Less than 10% of people heard about companies using the Internet of Things (IoT) and the increase of ransomware attacks
Only 7% of people answered that they knew about the IoT usage by companies to make working and shopping safer.
Just under 8% of people were aware of the increase in ransomware attacks in 2021 compared to previous years.
About half the number of people heard about NFTs as about the GameStop stock surge. And about twice as many people heard about GameStop as about the price of Bitcoin rising.
About 36% of people heard about the GameStop stock price increase.
In comparison, about 19% of people heard about NFT and under 18% were aware of Bitcoin's record highs.
Let's explore each of the new trends more in-depth—
Table of contents:
Twitter becomes more politically biased and people notice
Our findings:
About 21% of Gen Z and over 37% of Millennials think Twitter favors amplifying tweets and content from left-wing politicians and outlets.
Around 33% of Generation X and over 26% of Gen Z think that Twitter algorithms amplify content from right-wing sources more than tweets and content from the political left-wing sources.
Over 50% of all respondents do not think Twitter is neutral.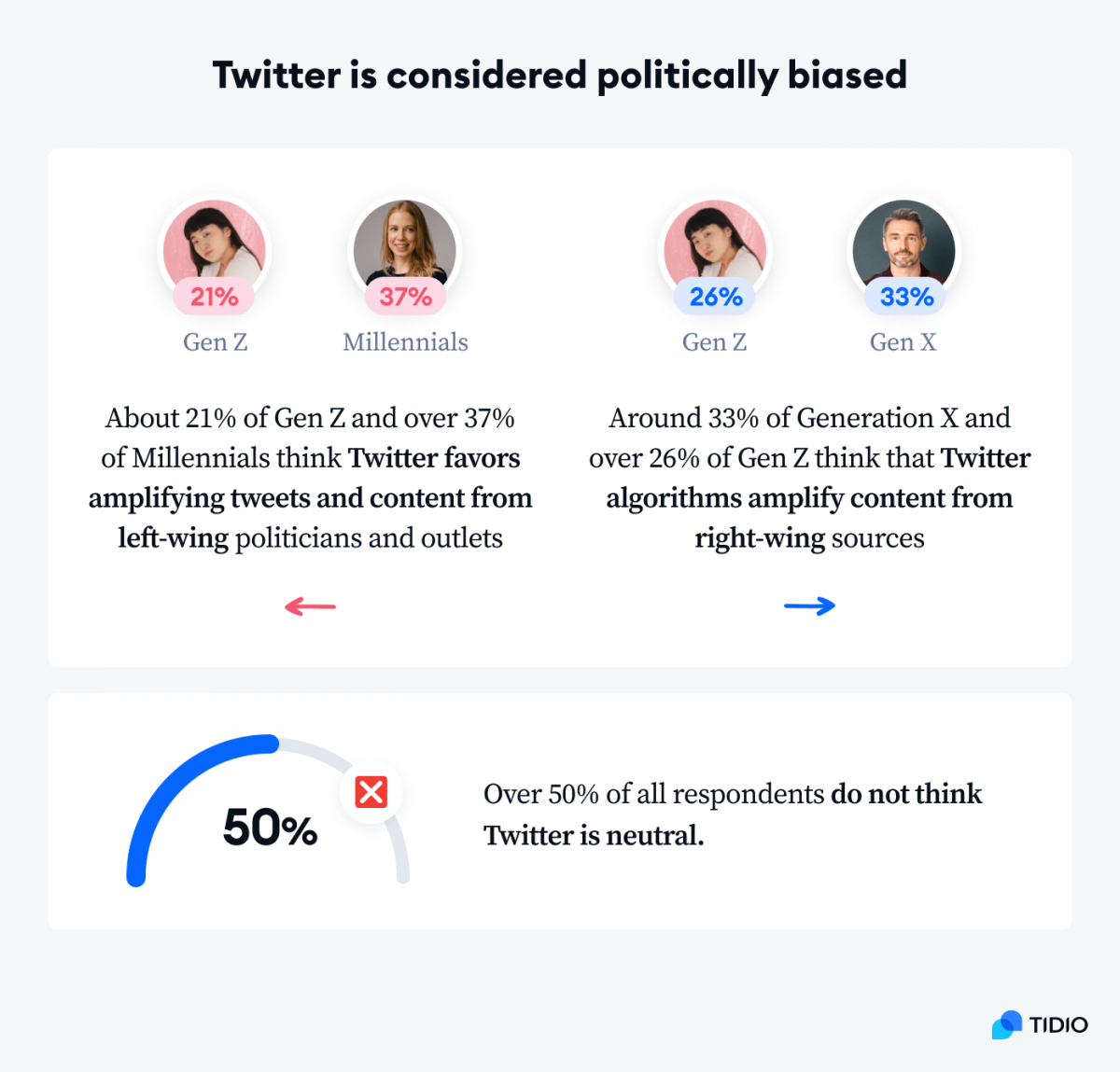 This became a trending topic because of Donald Trump's ban from Twitter in January 2021. The ban was following two tweets made by the former US president that violated the company's policy against the glorification of violence.
In addition to this action, in October, Twitter revealed that its algorithms amplify more tweets from right-wing sources than from left-wing news outlets and politicians. This further showed the political bias Twitter displays.
What's more, an independent study found that in 6 out of 7 countries, Twitter amplifies mainstream political right more than the political left. Also, the same study found that the U.S. media landscape algorithmic amplification favors right-leaning news sources.
These actions didn't escape the public's eyes. Our own study confirms that most people don't see Twitter as politically neutral anymore. But the opinions about whether Twitter leans towards the political left or the political right are very divided with 35% believing the former and 32% believing the latter is true.
This is one of the tech trends to watch out for in 2022. Twitter can make societies more polarized and stir things up by amplifying right-wing sources over their left-wing counterparts.
Stock market fluctuation due to the new generation of investors
Our findings:
The majority of people (75%) think that stock markets are for everyone to invest however they like.
Only about 37% of people agree that the next generation of investors doesn't take investing seriously enough.
Most people (67%) agree that next-generation investors use their collective power against big investors and corporations.
Over half (57%) of the people think that the internet makes it too easy to manipulate stock markets.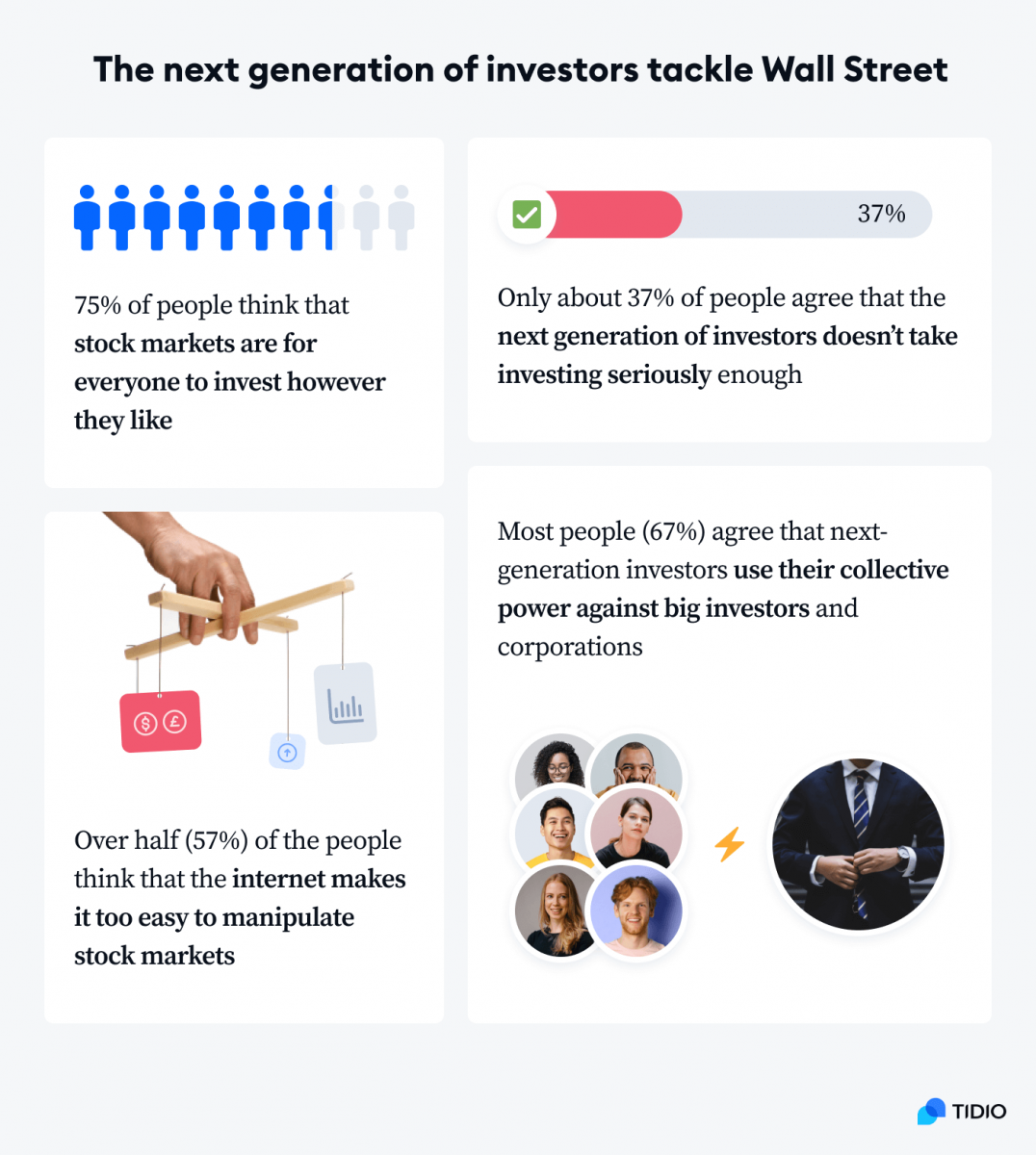 The events that sparked this tech trend are the two stocks being influenced by social platforms. The first is GameStop. Its price surged in January from $17.25 to $347.50 in just over 3 weeks. The second is AMC. The price of AMC Theatres increased at the beginning of June from $12.08 to $62.55 within about two weeks.
The surge in stocks was caused by the subreddit group WallStreetBets. Many claim it was revenge on big stockholders but some say these actions were fueled by the real value of the GameStop and AMC stocks which were shorted and undervalued on the market.
In 2021 more than ever before a new generation of investors uses platforms, such as Twitter, Reddit, and Discord to discuss hot stocks and boast about their gains. They also create forums and dedicated Telegram chats to talk about investing.
Our prediction for 2022 is that the trend of the new generation of investors arranging and coordinating massive pump and dump activities is likely to continue. It will probably even grow in scale considering the rush of interest it created in 2021.
Shortages and inflation reach new highs
Our findings:
Nearly 60% of people experienced delays and issues when trying to purchase new electronic products this year.
Over 43% of respondents think that delays and issues in purchasing new electronic products were due to lockdowns and limitations to shipping and transportation.
A whopping 78% of people noticed that prices of basic goods are higher but only 38% of them think that we should be concerned about the current level of inflation.
About 60% of people don't mind if the government prints more money to stop the negative consequences of the pandemic.
Inflation hit a new record last year reaching 4.9% in the eurozone and 6.2% in the USA, the highest it has been since 1982.
In addition to prices going up, we're also experiencing supply chain shortages. With cargo transit times increasing from 59 days to 87 days because of full warehouses and capacity limits.
The majority of our respondents had trouble purchasing electronic products last year. This is also related to chip shortages that have been an issue since the first half of 2020 when the demand for mobile devices and computer equipment spiked due to working from home.
Also, the Suez Canal blockage in March didn't help. It made the supply problems even worse. The Ever Given container ship got stuck for over 6 days and blocked around 400 ships. It effectively held up around $9.6bn worth of goods a day.
Inflation and product shortages will be closely monitored in 2022. According to Jefferies, a financial services company, we are past the peak of the supply chain shortages. We can expect significant improvements by the second half of 2022. With that said, we will still be likely to experience shortages throughout most of the coming year.
The number of anti-vaxxers is growing with more people being vaccinated against Covid-19
Our findings:
Over 20% of people don't agree that Covid-19 vaccines will have a positive effect on the pandemic (end it faster, decrease the number of deaths)
About 37% of people think that Covid-19 vaccines are a scheme created by big pharma companies.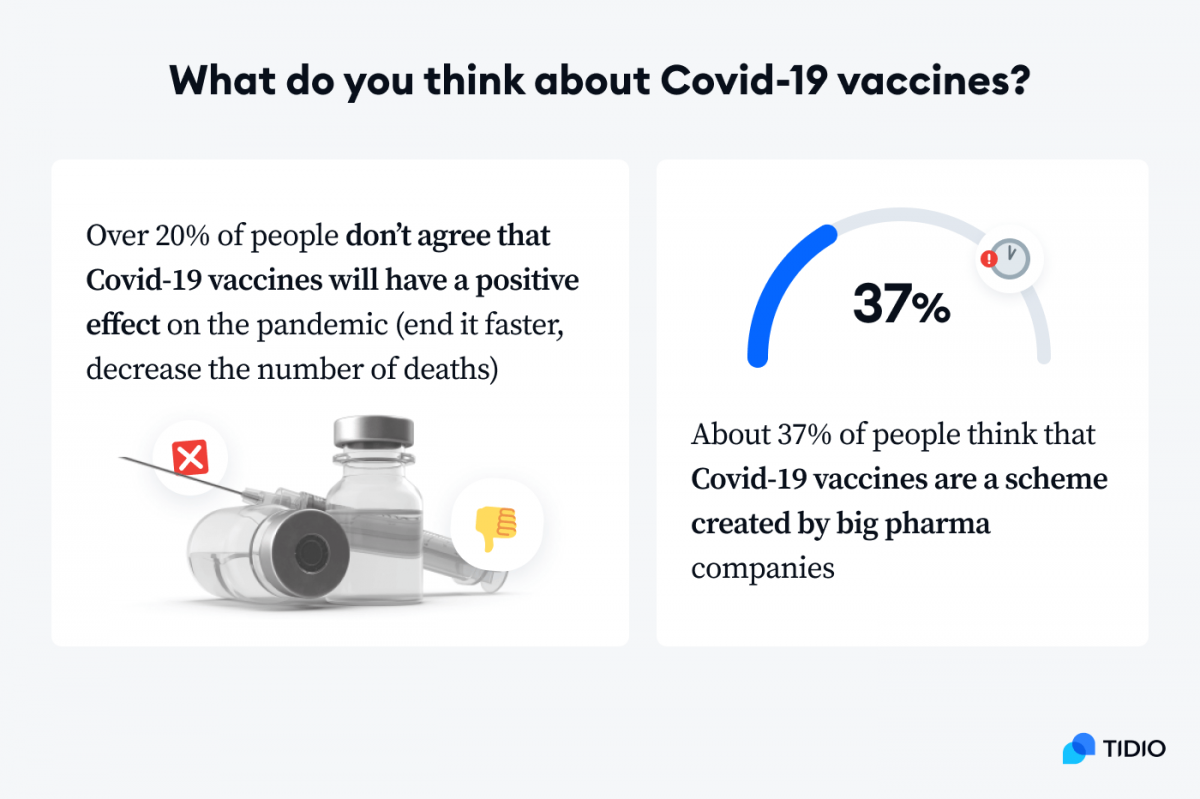 Around the world, 56.5% of the population has received at least one dose of the COVID-19 vaccine at the time of writing this report. The number of vaccinated people increased from 7 million at the beginning of 2021 to over 4 billion at the end of the year.
This was also followed by the increase in the number of anti-vaxxers. Our survey found that about 25% of respondents don't think Covid-19 vaccines will decrease the number of deaths caused by the pandemic and about 20% don't think they will help us end the pandemic.
Some of the anti-vaxxers refuse to take the jab and others are looking for ways to undo the effects of the vaccine after receiving the shot.
Some of the methods are strange and others are downright dangerous: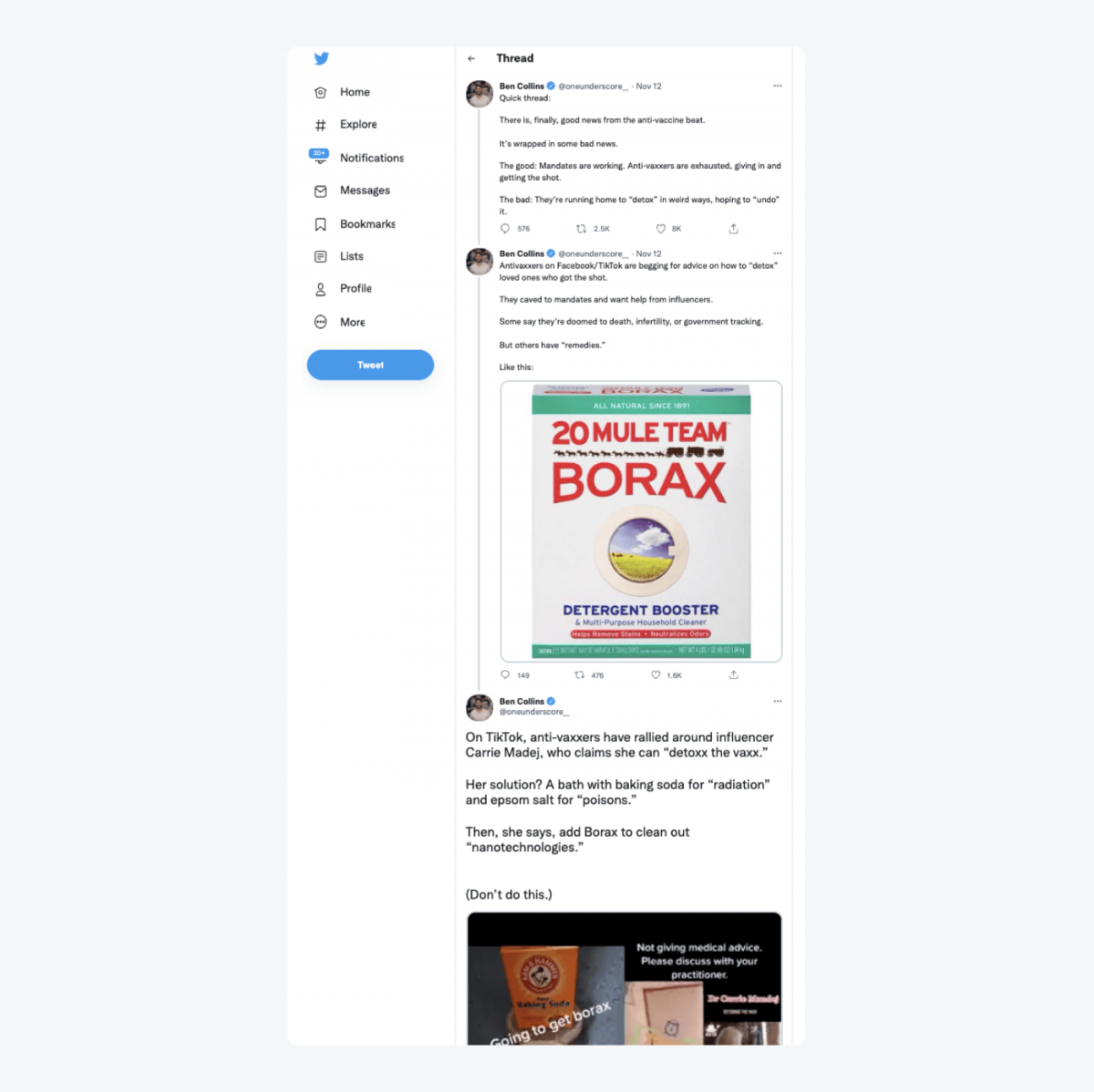 More and more countries are making vaccines mandatory to the population with fines and other consequences for refusing the jab. Seven countries so far made it mandatory for all adults to be vaccinated against Covid-19 and 49 countries made it mandatory for parts of the population to take the jab.
What will happen in 2022? We can expect that vaccines will become mandatory for the majority of the population of many more countries. Anti-vaxxers are likely to still try to avoid taking the jab and use homemade methods to "cleanse their body of the vaccine."
3D office space in virtual reality can become the new norm
Our findings:
Nearly 71% of people would work in a 3D office space in virtual reality if the company made it available.
Only 15% of respondents don't agree that virtual offices will be the dominant workplace in the future.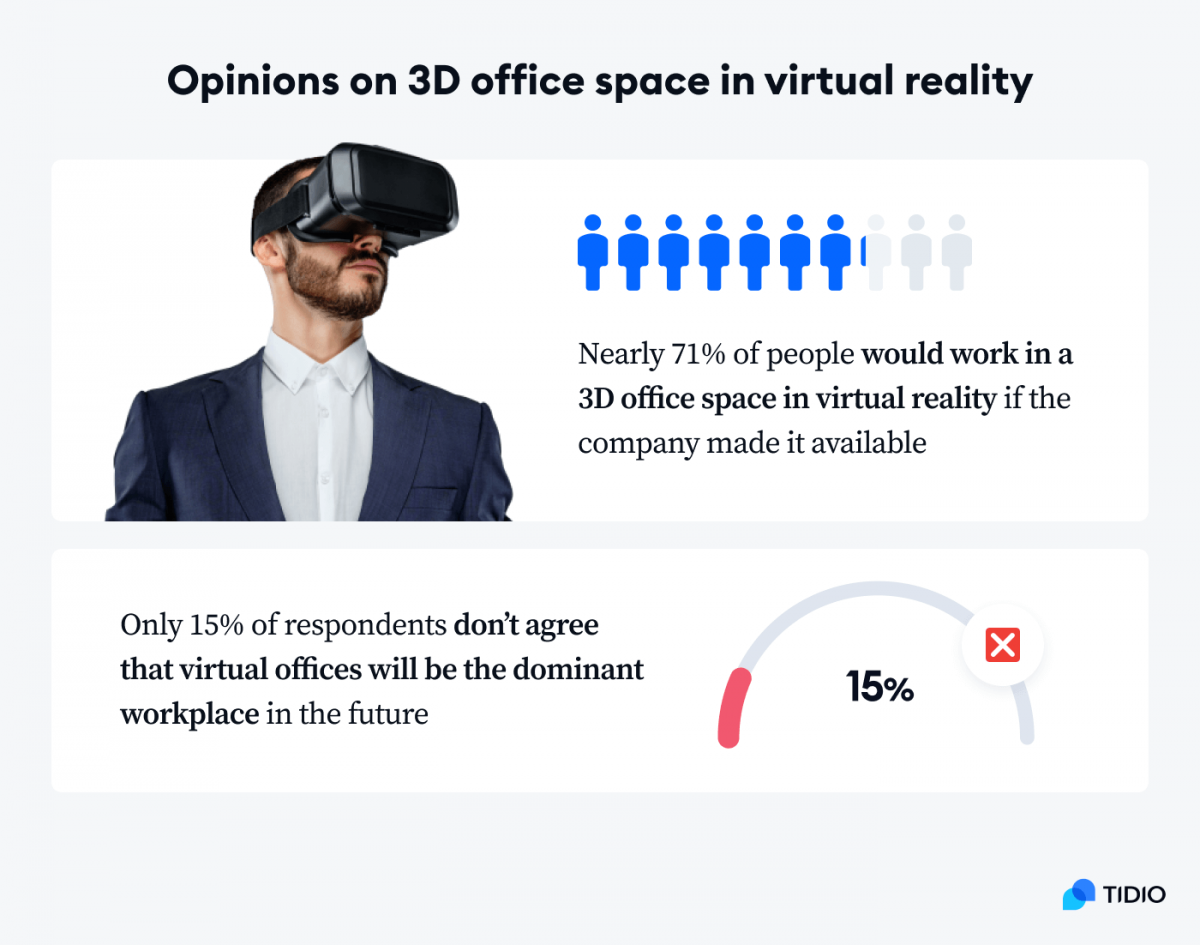 Going digital is no news anymore. Many companies moved their employees to work remotely and therefore sped up the digital transformation.
But some of us are missing the daily office interactions with our colleagues. The good news is that 3D office space in virtual reality can help with that. As our survey results show, most people are interested in joining 3D office space when they become available by their employer.
Our 2022 prediction is that hybrid working will continue to be the norm but some companies will introduce virtual reality to help us run the meetings and aid the socialization of coworkers in a company. It is also very likely that this trend will expand with more companies working on making the 3D virtual offices a reality that we could use on a daily basis.
Elon Musk becomes the richest person in the world
Our findings:
The overwhelming majority of people (around 80%) want to see higher tax rates for the rich and more laws put in place to regulate tax evasion.
Only 5% of people disagree that Elon Musk, as the wealthiest person on the planet, should use his resources to help to end world hunger.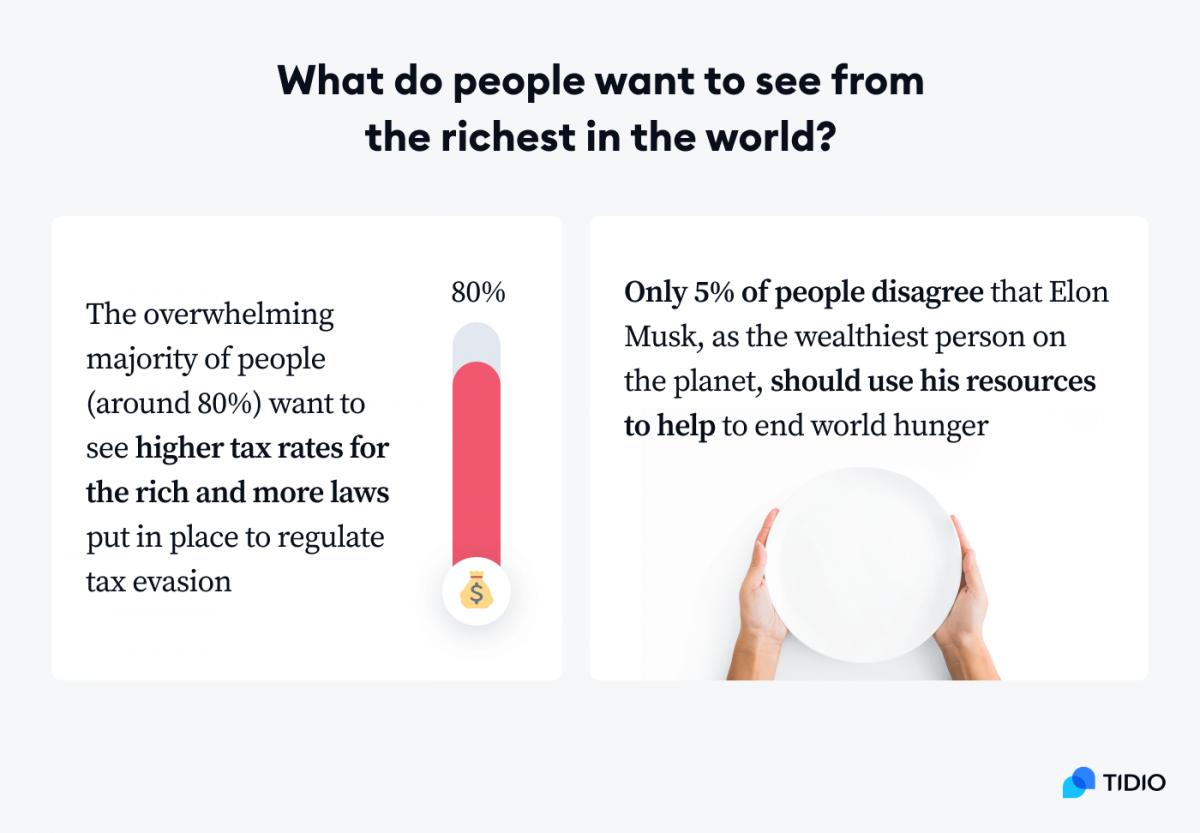 Elon Musk was a hot person this year!
His net worth increased from $185 billion in January to $278 billion at the end of the year making him the richest person on the planet. He was also TIME's person of the year.
Both of his companies were extremely successful in 2021. Tesla stock price skyrocketed from $700 to over $1,100. And SpaceX won a $2.9 billion contract with NASA to build a moon lander among other developments.
But what people want from Elon Musk has more to do with improving the world with his wealth. The overwhelming majority of respondents would like to see him using his resources to help to end world hunger and pay higher taxes in accordance with his income.
Also, the director of the UN food scarcity organization claimed in October 2021 that 2% of Elon Musk's wealth (about $6 billion) could solve the world hunger problem. But Musk offered to donate the money to the organization if they told him how it will be used to end the problem. No response from the WFP just yet though.
What can we expect in 2022 from the richest? Elon Musk's company SpaceX, alongside Blue Origin and Virgin Galactic, is teasing space tourism being available in the coming years. Among other space news to look forward to in 2022 is SpaceX's first artificial gravity starship development. Alongside new products, we can also expect more resources put towards helping the ones in need on the planet. Let's keep a firm eye on that one.
NFT (Non-Fungible Tokens) worth thousands of dollars
Our findings:
Nearly 60% of people have a negative opinion about NFTs, they think they're a scam, a speculative bubble without much value and they exist for people to show off their money.
Less than 10% of people think NFT pieces are an investment, and only 16% think their price is the true value of the piece.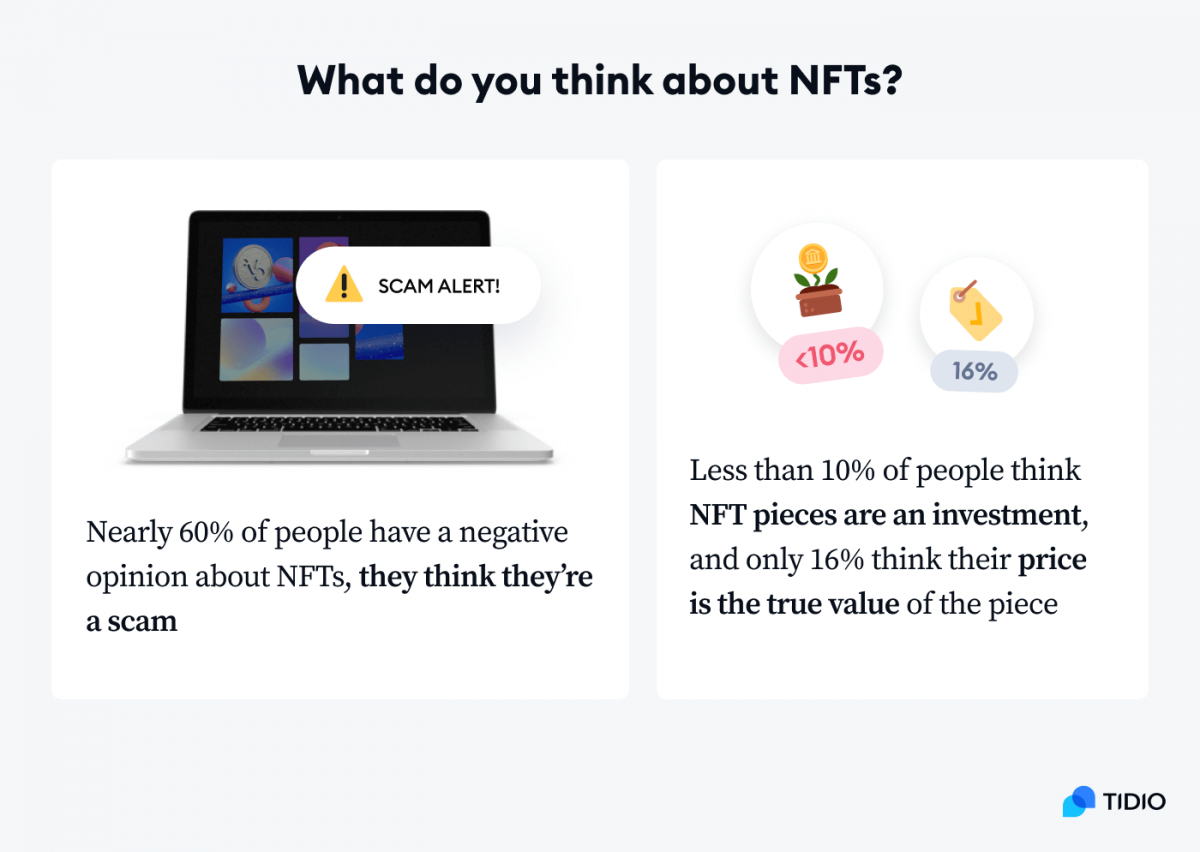 Some think of them as investments, others as collectibles, still others consider them a fad.
Opinions vary and so do the prices for each piece. They can cost as little as a few dollars or reach hundreds of thousands apiece. Like this one which sold for $684,406: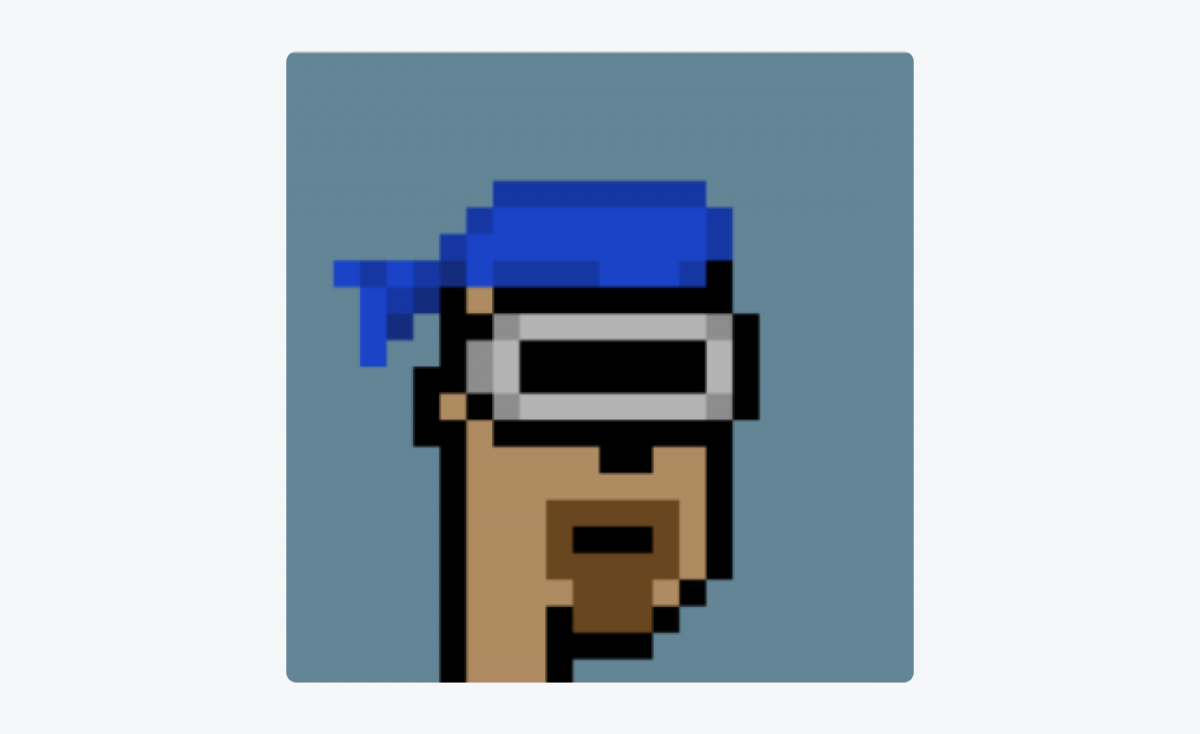 What are NFTs anyway?
Non-fungible tokens are pieces of art or collectibles stored on a blockchain. They are unique and cannot be interchanged or traded. NFTs are the originals that can be associated with their reproduced copies of digital files (photos, videos, audio).
Think of them as the Mona Lisa in the digital world. You can make duplicates of the painting but there is only one original that's worth millions of dollars.
The interest in this tech trend increased last year. There were only a few people searching for NFTs prior to 2021 even though they've been around since 2014. According to Google Trends, the searches for NFT related topics spiked in February and continued to rise throughout the year. As many people have become interested in NFTs, the NFT marketing concept is also on the rise.
This is an interesting trend to keep an eye on in 2022. Will the NFTs grow in value and be more widely used in Metaverse or will they become one of the short-lived tech trends? By looking at the increased interest and the growing number of non-fungible tokens created, our prediction is that more people will see their value and they'll be used more often.
More eyes on Metaverse development than ever before
Our findings:
Only about 1 in 2 people know what Metaverse is.
From these respondents, only 35% would participate in Metaverse when it's developed.
Men expressed higher interest in participating in Mark Zuckerberg's virtual reality project. (44% of men and only 35% of women would participate in Metaverse)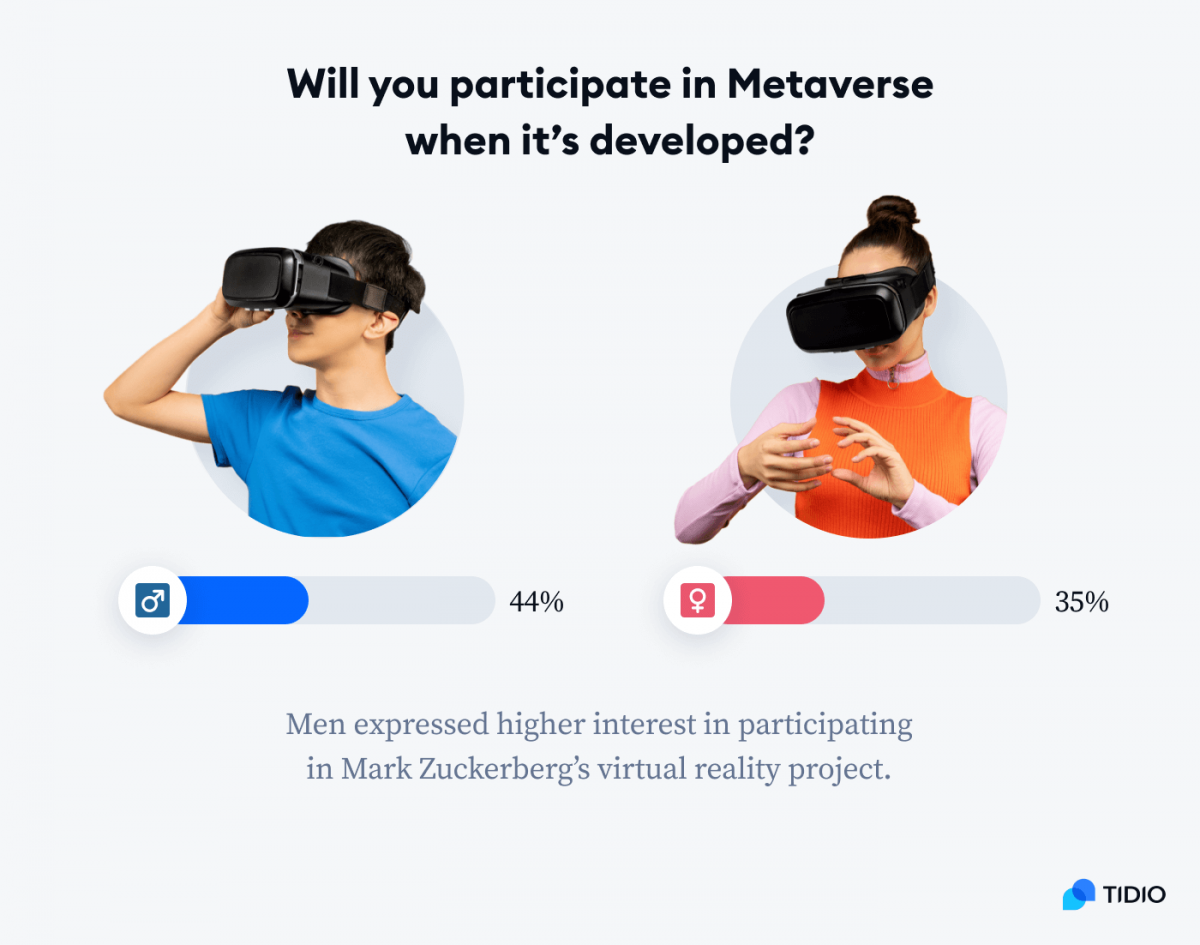 According to Google Trends, nearly no one searched "Metaverse" prior to October 2021 but the interest spiked after the announcement by Mark Zuckerberg.
Facebook announced the change of its name to Meta. With the announcement, the company also said it will focus on bringing the Metaverse to life and helping people to connect.
They're not the only ones. Over 90 companies are building our virtual reality future. And from those respondents who know what Metaverse is, most are waiting for how it will work before deciding if they want to join it. Also, about 27% have decided that they won't participate in it at all.
Our findings show that, more men than women are interested in participating in Metaverse. Why? Guardian article expresses concerns that females have when entering the virtual reality world. A beta tester told Meta that she was groped while being on the platform and the company did nothing to help the victim.
Last Christmas period we saw more Oculus app downloads than ever before. This can suggest that virtual reality headset was a popular technology gift over the holidays.
The prediction for 2022 is that Metaverse will start to go mainstream. We will see it more in shops, TV ads, and other places. More people will also start using it, slowly moving our social lives into the virtual world.
Our separate study on Metaverse also found that most people believe that it can cause serious harm to modern society. At the same time, almost half of our respondents believe that we will live and coexist mainly in Metaverse 10 years after its development.
Cryptocurrencies surge and double their value
Our findings:
Nearly 24% of people are more likely to purchase meme cryptocurrencies, like Dogecoin, than traditional cryptocurrencies, like Bitcoin.
Over 50% of people think meme cryptocurrencies are a Ponzi scheme or a gamble and don't want to purchase them.
Nearly 64% of people want to purchase some cryptocurrency.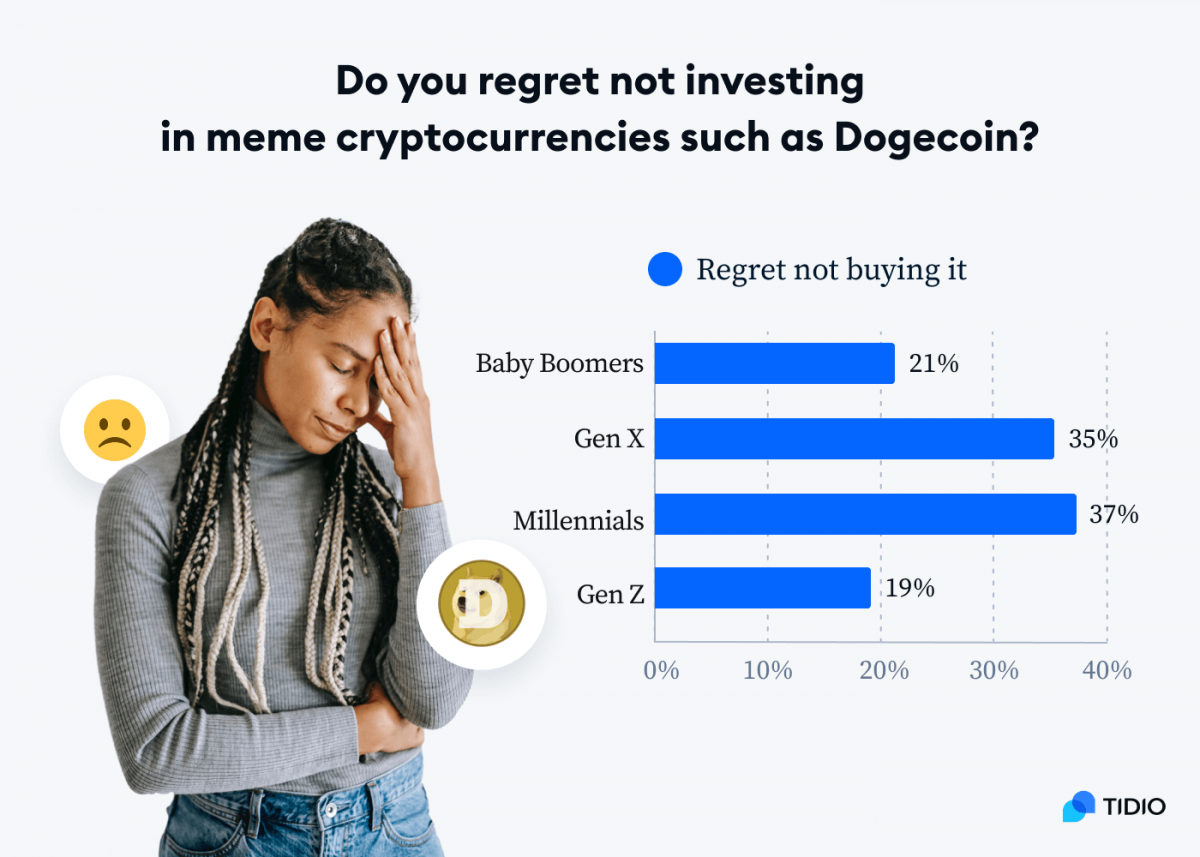 Bitcoin prices have increased from $29,000 in January to over $63,000 in April. Then it rose again to a new high of $69,000 in November.
But what is the deal with meme coins?
They are a type of cryptocurrency that gains popularity, usually thanks to influencers and retail investors promoting them online. Like Elon Musk, who brought Dogecoin to fame last year by tweeting about it. In comparison to mainstream cryptocurrencies, meme coins tend to be highly volatile because they are community-driven tokens and they are meme-inspired.
Dogecoin went from $0.05 in January to a high of $0.74 in May. It might not seem like a lot but if you bought $100 worth of Dogecoin in January, you'd have $1,480 in May. Not bad, huh?
An article on MarketWatch argued this year that Gen Z has unrealistic hopes of retiring early thanks to investing. Our results contradict that. We found that Gen Z is much less interested in cryptocurrency than Millennials. With only 41% of Gen Z wanting to purchase some type of cryptocurrency compared to 73% of Millennials.
Russell Okung, the offensive tackle in the National Football League (NFL) was the first professional athlete to demand to be paid in Bitcoin in 2019. The tech trend expanded in 2021 with politicians, athletes, and others that want their paycheck in Bitcoin.
This trend is likely to continue in 2022 with more employers considering the change of their employees' paycheck on demand. Celebrities, athletes, and politicians will be first in line but we might start seeing the option of Bitcoin paycheck available for more regular jobs as well.
Climate change concerns expressed by a growing number of people
Our findings:
Over 82% of people think climate change is a serious problem.
Nearly 58% of people think that we have to act now or that it's either too late to mitigate the effects of climate change.
18% of people think climate change is a myth.
Nearly 60% of people don't think commitments made during COP26 will be achieved.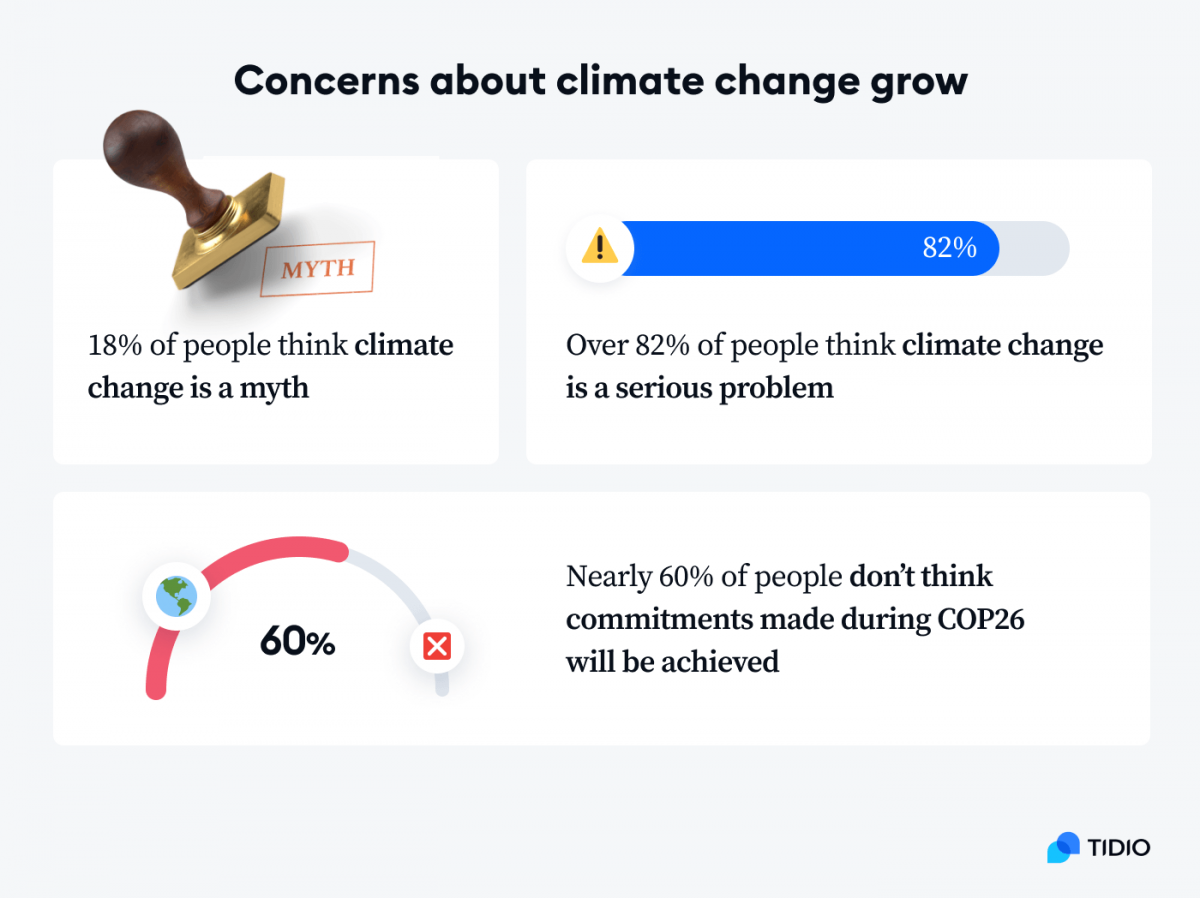 In November 2021, the annual UN climate conference, COP26, took place in Glasgow, UK. Many plans were drawn and agreements were made to mitigate the effects of climate change.
But will the countries keep their word and act on their commitments?
Most of the respondents from our study don't think so. The majority of them say that only some agreements will be achieved or that countries won't act on the promises made.
But there are also those who think that climate change is a myth (18%) or that it's already too late to change anything and we are doomed (8%).
What will happen in 2022? The concerns about climate change and the pressure put on future climate change conferences are likely to increase. Also, the number of people concerned about climate change is likely to grow.
Deepfake is becoming impossible to spot
Our findings:
Nearly everyone (74%) thinks we should be more cautious about the videos and photographs we see.
Around one in every four people thinks we cannot trust any videos or photographs anymore.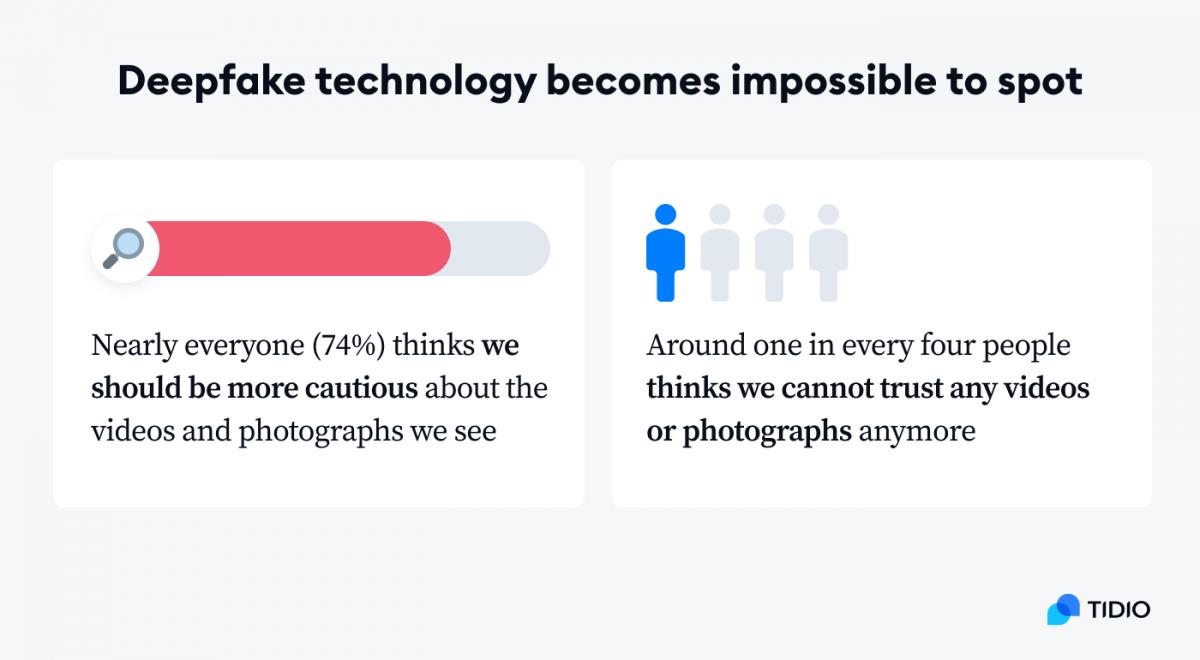 This is one of the examples of a deepfake video showing how far the technology has come:
This looks so real that it's scary for some of us. Understandably, people are more cautious about what they see and believe now. We need to make sure to use this technology wisely and beware of those who might abuse deepfake videos.
With Tom Cruise's deepfake videos on TikTok and politicians being targeted and tricked by deepfake video calls, we need to be on our toes when it comes to what we see versus what we believe. Deepfakes are an unprecedented threat to democracies and online trust.
A 2022 prediction for this trend is that the U.S. will continue to try to combat deepfake videos so we should look out for increased efforts in battling them. Also, people will watch out for the videos and pictures they see online and double-check the sources they came from more than before.
These are all the findings from our survey. Let's now see what are the major 2021 trends according to Google, Twitter, and YouTube.
Other trends of 2021
To complete our analysis of the 2021 trends, let's start with Google's Year in Search, then go onto Twitter's top tweets, and end on YouTube's trending videos.
Google trends 2021
According to Google Trends, the most searched topics of the year include:
Affirmations and self-care
In 2021 people search more than ever before for:
Affirmations
How to maintain mental health
Body positivity
Ways to celebrate the LGBTQ+ community ("pride events near me" increased by 5,000% worldwide)
Covid vaccines & healthcare staff
Vaccination volunteer was the top trending volunteer opportunity the world searched for this year.
"When is nurses' week" was searched at an all-time high in 2021 around the globe.
In addition to this Google trend, our survey found that the vast majority of people (over 75%) believe in the effectiveness of Coronavirus vaccines and their ability to help us end the pandemic with fewer deaths.
Entrepreneurship and job worth
"How to start a business" was searched for more than "how to get a job" this year.
"How to ask for a raise" was the top searched "how to ask" in the U.S. in 2021.
This trend suggests that people are discovering the worth of their work and want to be paid the right amount for it. More people are also seeking independence when it comes to their work and becoming their own boss.
This trend is likely to continue in 2022 with more employees starting their own business and others asking for higher pay for their work.
Cryptocurrency & meme stock
In February, there were more searches for how to buy bitcoin than searches for how to buy stocks worldwide.
The U.S. searches for what is a meme stock were 10X higher in 2021 compared to the previous year.
As our survey found, about 64% of people want to purchase some type of cryptocurrency. We should look out for this trend to grow within the year to come.
Climate change
More than ever before, the world searched for the impact of climate change, with Fiji searching the most.
Worldwide, searches for sustainability reached record highs this year.
Not surprisingly, our findings show that most people think climate change is a serious issue that we need to act upon.
These are the major Google trends but this list isn't exhaustive. Search for "Google Year in Search" to find more trending searches or watch this 2-minute video to gain a better idea of what was the year in search like:
What is the most searched thing on Google in 2021?
The top 3 most searched for things on Google in 2021 were:
Searches
Australia vs India
India vs England
IPL (Indian Premier League)
All the above are related to the same topic—cricket.
Who is the most searched person on Google 2021?
The most searched person was Alec Baldwin, followed by Kyle Rittenhouse and Christian Eriksen.
Alec Baldwin is an American actor whose name went viral in October. This was due to the movie-set shooting accident where a cinematographer was killed because of a prop gun that fired a real bullet.
Kyle Rittenhouse was accused of murder during protests in August 2020. His name was trending in November because of his trial. He was found not guilty because the ruling said that he was acting in self-defense.
Christian Eriksen is a Danish soccer player whose name went viral in June. That's due to his collapse on the field during a Euro 2020 match after which he was rushed to a hospital.
What were the news trends according to Google search?
Afghanistan
AMC Stock
COVID Vaccine
Dogecoin
GME Stock
Stimulus Check
Georgia Senate Race
Hurricane Ida
COVID
Ethereum Price
Twitter trends
What was trending on Twitter last year?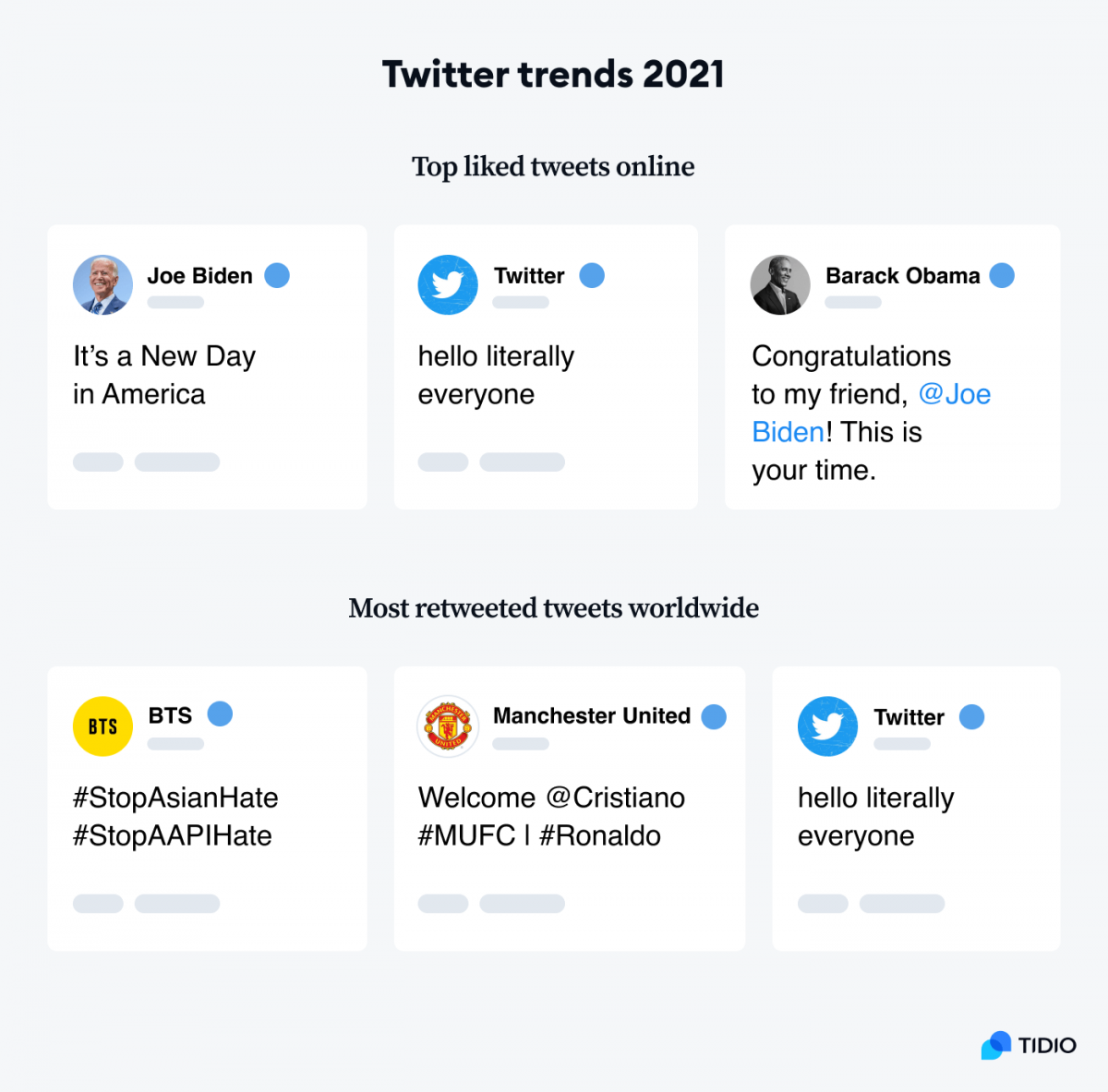 Do you recognize any of them? Did you like or share them?
If the answer is yes then you're not the only one!
It's a New Day in America. by Joe Biden—4m likes
hello literally everyone by Twitter—3.2m likes
Congratulations to my friend, @Joe Biden! This is your time. by Barack Obama—2.7m likes
Most retweeted tweets worldwide
1. #StopAsianHate
#StopAAPIHate by BTS—998,2K retweets
2. Welcome @Cristiano #MUFC | #Ronaldo by Manchester United—599,3K retweets
3. hello literally everyone by Twitter—590,3K retweets
Youtube trends
In the United States, this was the most trending video of 2021:
This video presents a YouTuber Jimmy Donaldson, alias Mr. Beast, who spent 50 hours in a coffin buried alive. Viewers were able to watch him and his crew all the time.
Minecraft Speedrunner VS 5 Hunters by Dream ranked second. In this video, viewers can see the YouTuber play the Minecraft game.
The third place belongs to the Glitterbomb Trap Catches Phone Scammer (who gets arrested) by Mark Rober. This video is about the YouTuber taking on phone scammers and revealing them with a glitter bomb inside a package.
When it comes to the trending music video of 2021 Pooh Shiesty took the stage with his Back In Blood song:
This breakout hit was at #1 on the US Top Songs Chart for three weeks in a row. Pooh Shiesty made his television debut on The Tonight Show Starring Jimmy Fallon, performing "Back In Blood."
The second place belongs to the Weeknd with the music video for Save Your Tears. This was followed by performances at multiple music awards and the Super Bowl.
And Lil Nas X with the music video for MONTERO (Call Me By Your Name) takes the third spot. This song was nominated for a number of awards and won 5 awards including AMA "Favorite Music Video" and MTV Video Music Awards "Best Visual Effects".
Key findings
Here's a quick roundup of the biggest trends of 2021:
Twitter banning Donald Trump—the majority of people believe Twitter is politically biased.
GameStop surge due to a subreddit group's taking on Wall Street—the majority of people think everyone should invest however they like but they also believe that the internet makes it too easy to manipulate stock markets.
Supply chain shortages at a historic high—six out of ten people experienced delays and issues when trying to purchase new electronic products last year.
Covid-19 vaccination rates increase—more than three out of ten people think Covid-19 vaccines are a scheme created by big pharma companies.
3D virtual office spaces in virtual reality—the majority of people think that virtual offices will be the dominant workplace in the future.
According to Google search, it was a year of affirmation and looking for ways how to heal.
Sources
Methodology
For this study about 2021 trends, we collected answers from 2,007 respondents. We used Amazon Mechanical Turk, Reddit, Facebook, and LinkedIn.
Respondents were 40.7% males, 34% females, and 25.3% preferred not to say. The sample's average age was 34. They had to answer about 20 questions, the majority of which were scale-based or multiple choice. The survey had an attention check question.
Fair use statement
Has our research helped you learn more about cybernetic enhancements? Feel free to share statistics from this study. Just remember to mention the source and include a link to this page. Thank you!