While running an e-commerce store, it's essential to turn every visitor into a repeat customer. This can be accomplished largely by making every visitor feel special – and you can do that by using real-time communication (such as live chat) on your e-commerce website.
Turn your website visitors into delighted customers.
Set up the Tidio live chat app in 5 minutes and watch your sales grow.
Learn About Live Chat
According to Forbes, over 80% of customers are on the lookout for e-commerce websites with a real-time, customer service supporting tool – about 60% are of the opinion that they're more likely to return to an e-commerce website that offers live chat support.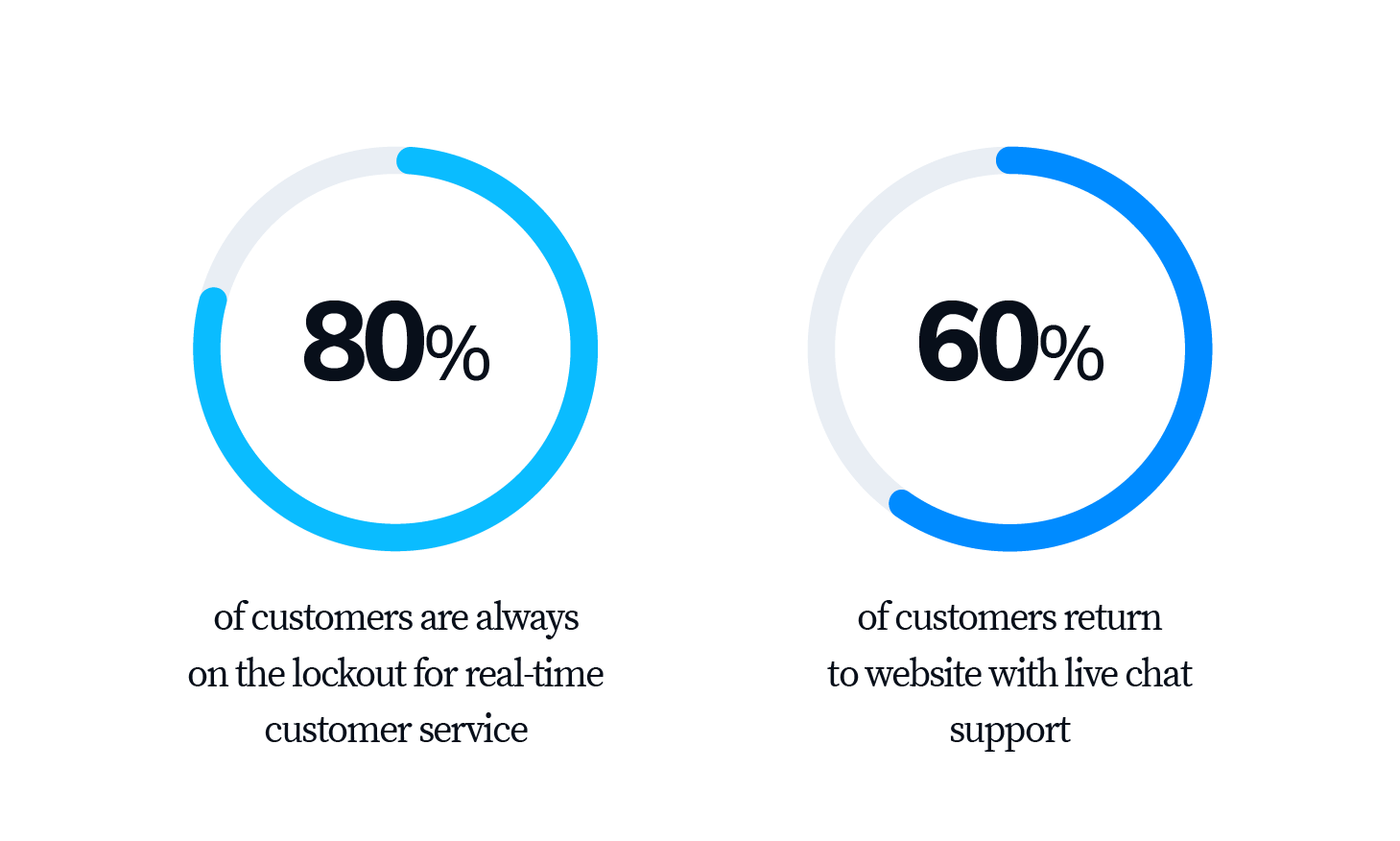 What is live chat and how does it work? It's merely a window that pops up on a website, in which the user can type and make inquiries instantly. It also enables the website's agent to monitor the users who are currently on their website and possibly approach them with a question.
Live chat is an excellent way to boost your online business, stay ahead of your competitors, communicate quickly with your customers in real-time, and convert your visitors into buyers. Here's what you can read to learn more:
Benefits of Using Live Chat in E-Commerce
Discover customer pain points
Understanding your buyers' needs and providing the right solution is an essential marketing and sales process. Live chat software doesn't only enable you to understand customers' needs, but it also helps you discover their pain points, giving you access to their mindset. This will enable you to understand their thoughts, behaviour, and opinions, which will aid your decision-making process.
Reduce expenses
Phone support and e-mail have traditionally been the most common techniques e-commerce websites use to assist their customers. Live chat, however, is more efficient than e-mail communication. In addition to that, according to Forrester research, live chat is about 17-30% cheaper than a phone call. Live chat enables a trained agent to attend to many customers at the same time, saving the company a significant amount on personnel costs in line with phone support.
Increase sales
Having a live chat app will give you the opportunity to answer customers in real time, allowing you to get hold of your buyers. This will also enable you to assist them in overcoming any obstacles. This is similar to having standby sales personnel on your website. According to the American Marketing Association, websites that use live chat usually have their eCommerce conversion rate 20% higher than websites without live chat.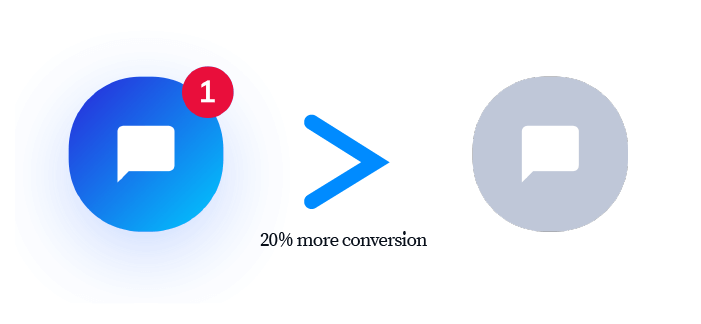 Customer convenience
Live chat grants users real-time access to a company's sales agents and support staff. Customers are more comfortable if they can contact you at any moment to make inquiries regarding your products and services. Using live chat will help boost customer convenience and grow your online business.
Improve customer service and loyalty
Live chat enables you to provide quick replies to questions about your products, give solutions to problems faster, and enhance your availability for customers. This improves customer service and loyalty.
Faster problem resolution
With live chat, support agents can solve customers' problems faster and more efficiently compared to other customer service channels. As a result, support agents can walk users through resolution and troubleshooting procedures easily. Remember that the best types of customer service support depend mainly on the nature of your business.
Competitive advantages
Installing live chat software on your website provides you with a competitive edge, as you can be faster and smarter in terms of resolving your customers' queries in comparison with your competitors. This really works. Research conducted by the American Marketing Association suggests that customers who use live chat are three times more likely to buy.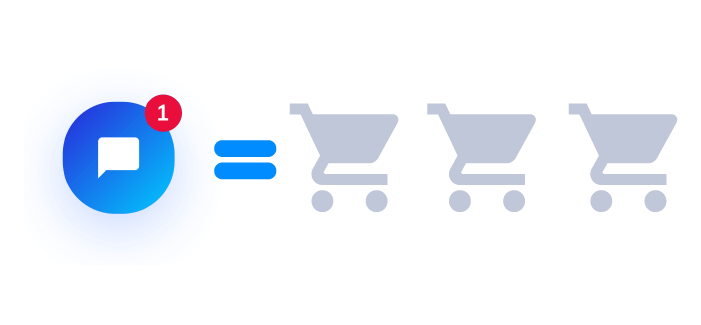 The eight ways to boost eCommerce conversion rate with live chat
1. Use canned messages smartly
One of the great assets of live chat is the ability to make use of canned messages – they eliminate the time required for typing individual replies. Canned messages should be written with a lot of expertise so that they don't seem too robotic (or, shall we say, chatbotic?). Speeding up your responses will help you solve more queries and, in the process, boost your conversion.
2. Target returning visitors
Thanks to live chat (with the help of chatbots), you can address returning customers with personalized discounts. You can also prevent them from abandoning their carts or your website – a chatbot will simply engage them by offering a discount or asking for feedback.
3. Use pre-chat surveys
Live chat applications allow you to personalize communication with a customer with pre-chat surveys and provide a unique customer service experience. Nothing boosts conversion better than a good personalization: according to Epsilon Marketing, 80% of shoppers are more likely to buy when a company offers a personalized experience.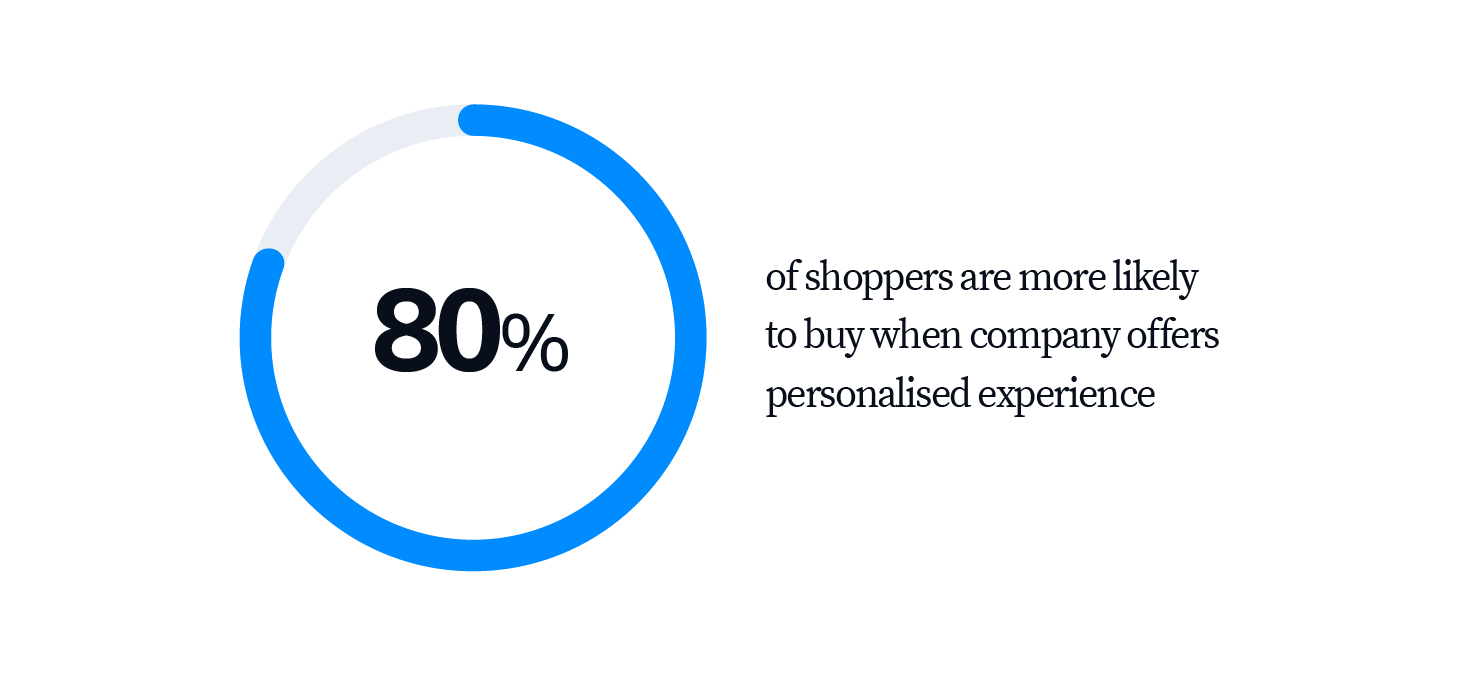 4. Integrate your live chat tool with e-mail and Messenger
If you are not always available, try to synchronize your live chat software with your e-mail inbox and Facebook Messenger. This will let you to get notified about new conversations started by customers, allowing you to respond instantly, wherever you are.
5. Use live chat to communicate value
Live chat aids clients who are trying to make inquiries about a product or service. A client's inquiry is quickly addressed, and this shows that your business has value and quality. Nowadays, customers demand instant answers. They love when their questions are answered quickly.
6. Train your chat support team
The core of your live chat system is your support team, so it's important to train them properly for live chat customer service.
Remember that live chat agents need to:
Enhance dialogue
Display expertise
Communicate in the customer's language
Make customers feel comfortable when interacting with your business
7. Create a perfect live chat experience
The first impression is one of the most important customer service and sales factors. Check out this outline to make sure that everything works like a charm:
Create friendly greetings: Make sure that your customer service agents use friendly and polite language.
Have templates ready: Use canned responses to answer the most popular questions and save your agents' time. Use templates as a part of the conversation flow, and remember not to overuse them as it's irritating for customers. You can avoid this by personalizing the responses – e.g. by putting in the customer's name. Once the client identifies that they're chatting with a human being, there's a much higher tendency to make a purchase.
Assist a customer to the end: Make sure that every issue has been addressed and resolved.
Stand out among your competition: Create a process that provides unique customer service experience. It will help to boost your overall sales.
8. Integrate live chat with an external CRM
Most live chat platforms allow you to integrate with third-party apps and create an automatic flow of data. With this feature, you can send the data straight to your external CRM, like Hubspot or MailChimp. What's the gain? Thanks to this, you can, for example, comfortably set up an e-mail campaign to send a newsletter to your leads, boosting your conversion in the process.
Some live chat solution have integrated CRM solutions and customer segmentation tools. Check out our detailed comparison of the most advanced live chat platforms: The Best Intercom Alternative: Zendesk vs Drift vs Intercom.
Conclusion
Live chat is an excellent way to boost your online customer service, marketing, and sales way ahead of your competitors, as it allows quick, real-time communication with your customers, helping convert them into buyers.
Thanks to live chat, the days of waiting for an e-mail reply or a phone call are a thing of the past. It's a great tool for creating a closer relationship with your customers and assisting them whenever they need it.
Setting this tool up on your website is a piece of cake. All you need to do is register with a live chat platform and install it on your website (and you don't need any coding skills).
Let's grow your business together!
Try Live Chat For Free