As the military invasion of Ukraine has unfolded, an estimated 1 to 5 million Ukrainians may seek refuge in Poland, Romania, Hungary, Slovakia, and Moldova. The majority of them will have to rely on humanitarian assistance to meet their basic needs. The Council on Foreign Relations estimates that the war could take up to 50,000 casualties and leave the country in great economic insecurity.
Deeply saddened and alarmed by the events happening just across our eastern border, Tidio wants to support Ukraine and publicly express that we stand with the Ukrainian people.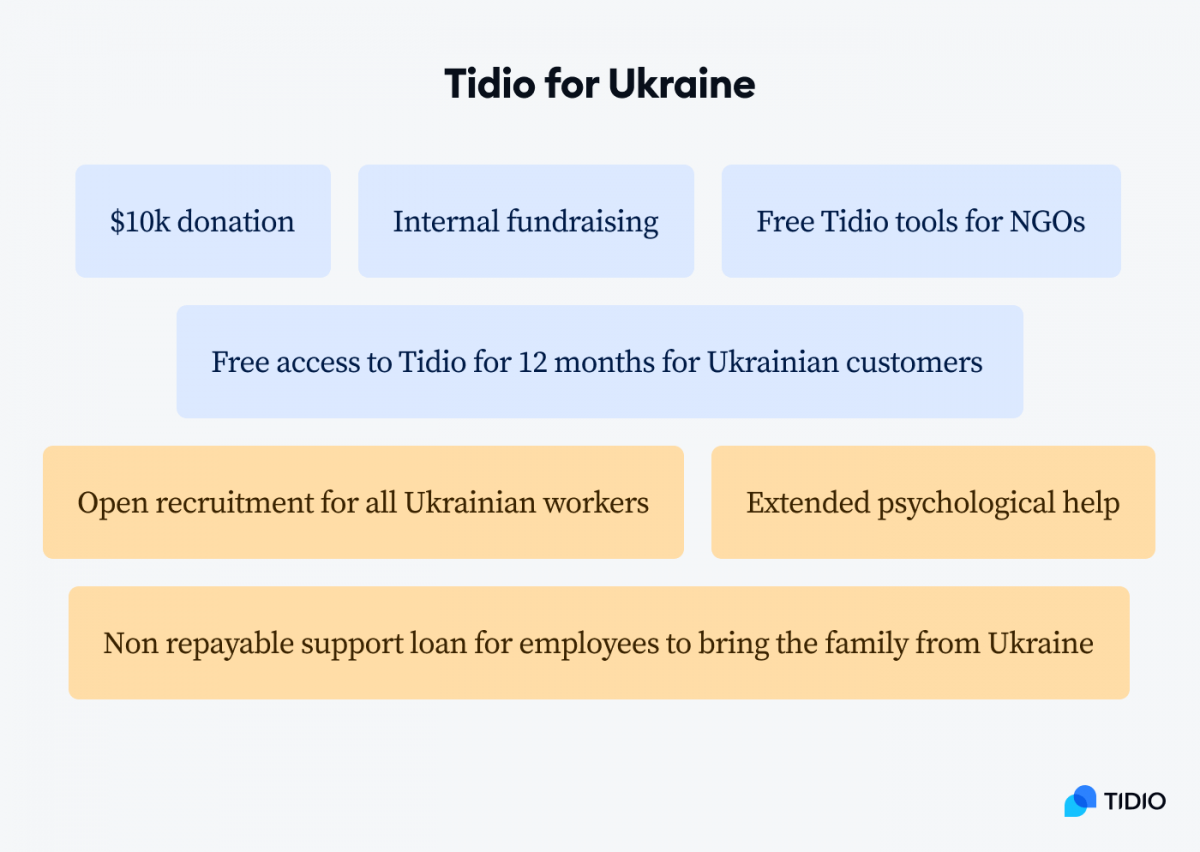 We made a $10k donation to help refugees and victims of the conflict
We made a donation to the biggest Polish nationwide fundraiser that collects money for Ukraine. This money will be used to organize the transport and accommodation for refugees as well as the delivery of basic necessities and food directly to the conflict zone.
We launched an internal fundraising initiative—the money collected by our employees will be doubled by Tidio
We also launched an internal moneybox that will contribute to the fundraiser. The amount collected by our employees will be doubled by Tidio.
All NGOs that help Ukraine have access to Tidio products free of charge
Efficient communication in times of distress is crucial. We want to help improve information flow in any non-profit organization helping Ukraine by providing our tools free of charge. If you are an NGO worker or a volunteer that needs assistance in setting up online communication, please contact us at support@tidio.net.
All our current clients from Ukraine get free access to Tidio for at least 12 months
As we are hoping for a fast resolution of this conflict, it's also clear to us that many Ukrainian-owned businesses may struggle in the close future. We want to support Ukrainian entrepreneurs and companies by providing them with a customer service platform for free in the following 12 months.
Open recruitment for all workers from Ukraine
Previously, we accepted applications of those who could legally work in the EU, as well as US citizens. In the current situation, we have opened the recruitment process to all Ukrainian workers that entered the EU and registered in one of the reception points. We also offer assistance with any formalities. Have a look at the list of our open positions.
All our employees have access to extended psychological help
Many of our employees are Ukrainian. Some of our employee's family members are in Ukraine, many of them actively fighting against the invasion. We cannot imagine how this must feel—the least we can do is offer professional psychological assistance to those who need it.
Non-repayable PLN 5k support loan for employees who want to bring their family from Ukraine to Poland
Bringing your family to safety is one of the utmost priorities during armed conflicts. To make it easier for our employees, we offer them a non-repayable 5k support loan, so they can take care of transport, accommodation, and other necessities for their family members.
How can you help Ukraine?
As the whole world follows the news, it's a natural need to want to help. What can you do now to support the people of Ukraine?

Make a donation
This is an easy and very effective way of helping—emergency response efforts are costly but necessary. Here are some of the verified organizations that ask for assistance.
Here's a full list of the organizations selected by the Ukrainians.
Stay informed
In times like these, it's essential that we share verified information and avoid spreading fake news and misinformation. So make sure you double-check the sources before you decide to share news on social media.
It's better not to pass on that video/photo/statement if you have any doubts about its credibility.
On top of that, follow the news from trustworthy sources. The Kyiv Independent, The New Voice of Ukraine, and Stand with Ukraine share the latest news and are not associated with the state-owned media.