It's no secret that online stores use live chat and chatbots with awesome results.
After all, there are many potential customers who are easy to attract and plenty of products that are rather easy to sell. The sales funnels in eCommerce are short and the profits add up.
But what about other industries?
For instance, can a digital transformation consulting company from Central Europe use the same live chat to connect with potential clients?
Digital transformation company – adaptation of a new digital customer service tool
The short answer is: yes, it can.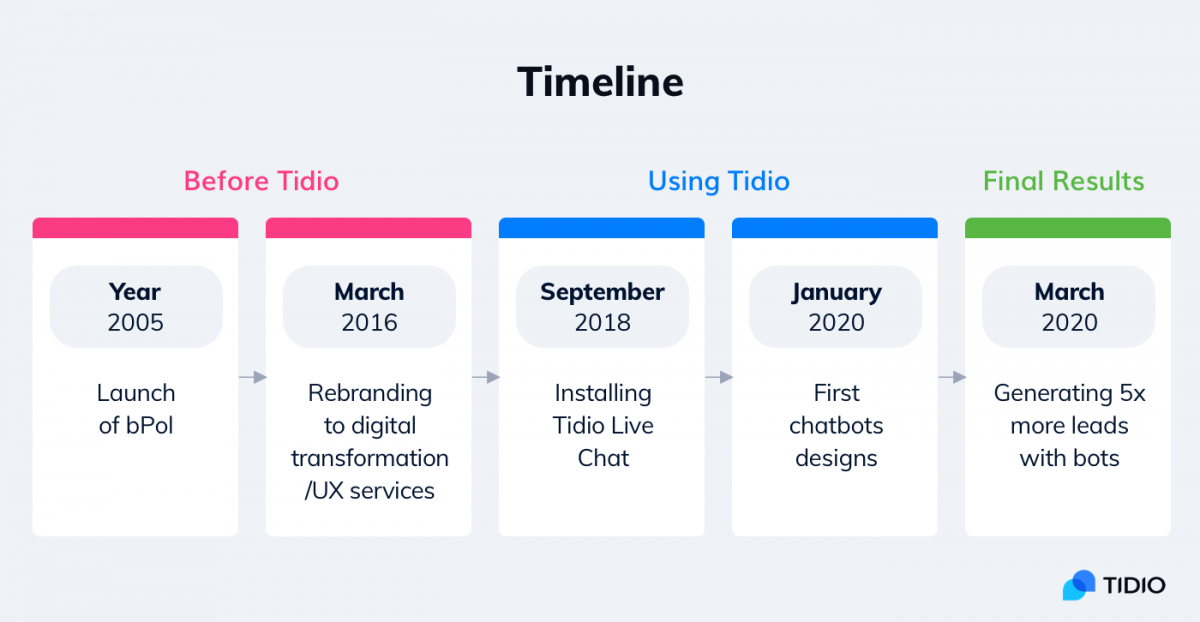 Today, we want to share the story of Martyna and bPol.
Read on to find out how they managed to:
Inspire trust by reducing their response time down to 3 minutes
Improve their website UX and lower the bounce rate
Use chatbots to qualify leads on autopilot
If you are interested in learning more about Tidio chatbots used in various industries, check out:
🏢 Chatbot Templates for Agencies
👨‍💼 Chatbot Templates for Services
🏠 Chatbot Templates for Real Estate
✍ Chatbot Templates for Bloggers
Digital Transformation Consulting Agency: Background
bPol is a software/digital transformation consulting company based in Warsaw, Poland. They have operated since 2005 and gradually added new types of services. Today, they focus on software engineering, digital consulting, cloud infrastructure services, and UI/UX design.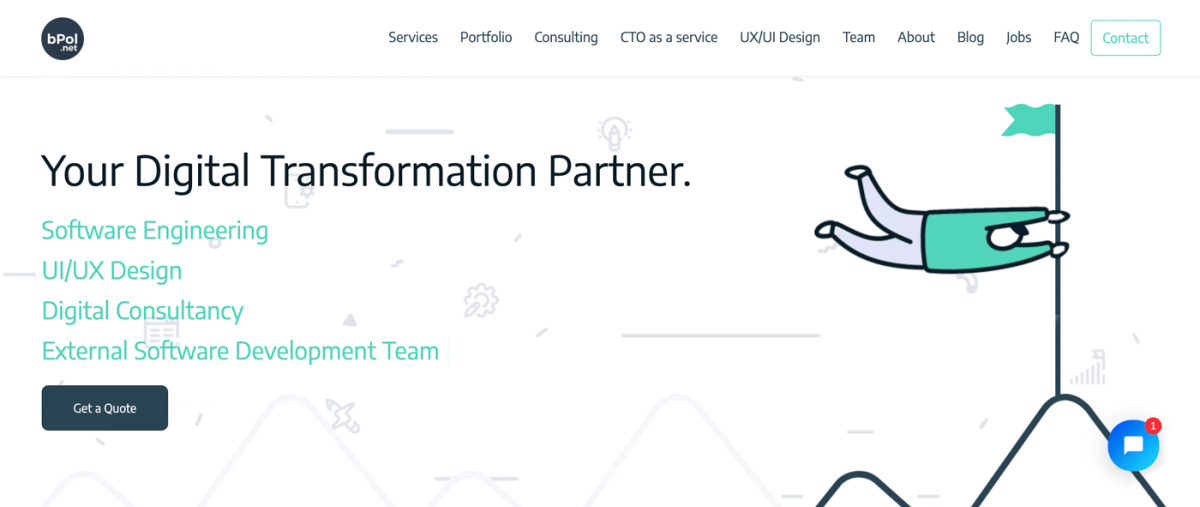 The developers and UX designers from bPol have worked on multiple projects for clients from all over the world, for example, French pharmaceutical, food & beverage companies.
Challenges
Hiring an external software development team or booking a consultation about your digital transformation strategy differs from buying a pair of trousers.
Consequently, offering B2B coding services online can be a tough nut to crack.
Here are just some of the typical problems companies like bPol have to face:
Fierce competition
Hard-to-find audience
Convoluted sales funnel
It's hard to stand out from the rest. It's hard to get a lead. And it's even harder to convert them into paying customers.
Seems like a tough line of work, right?
It all pays off in the long run, though. You strike gold from time to time and score a big client that will make up for all your efforts. Do you remember Alex and his high ticket dropshipping business? The principle is pretty much the same.
Most of bPol's customers leave more than $100,000.
A perfect customer would check your portfolio, read your FAQ page, fill out the contact form, and wait for your response. Patiently. Yet still maintaining this I'm-ready-to-start-doing-business momentum.
That can't be too hard, right?
Bzzt. Wrong answer. That "perfect scenario" almost never happens.
Sure, you can just leave your visitors on their own and hope for the best. Or you can take matters into your own hands!
Goals
bPol's primary goal was to engage visitors immediately after they land on the website.
It is not surprising that Martyna and the rest of the bPol team keep abreast of modern digital trends. After all, it's their job. It only felt natural that live chat and chatbots were the best way to approach their problems.
Chatbots can:
Improve User Experience
Boost engagement
Increase conversions
Qualify leads
Book calls

On the other hand, live chat has given them the opportunity to connect with visitors and start building a relationship from the very first minutes.
🚀 Read more: 25 Best Shop Introduction and Welcome Message for Online Businesses
Traditional Marketing vs Account-Based Marketing
bPol installed Tidio several months ago.
The very first thing that they noticed right after adding the widget? Their bounce rate dropped by half.
It was a good sign.
They needed to decide what type of marketing strategy would be the best.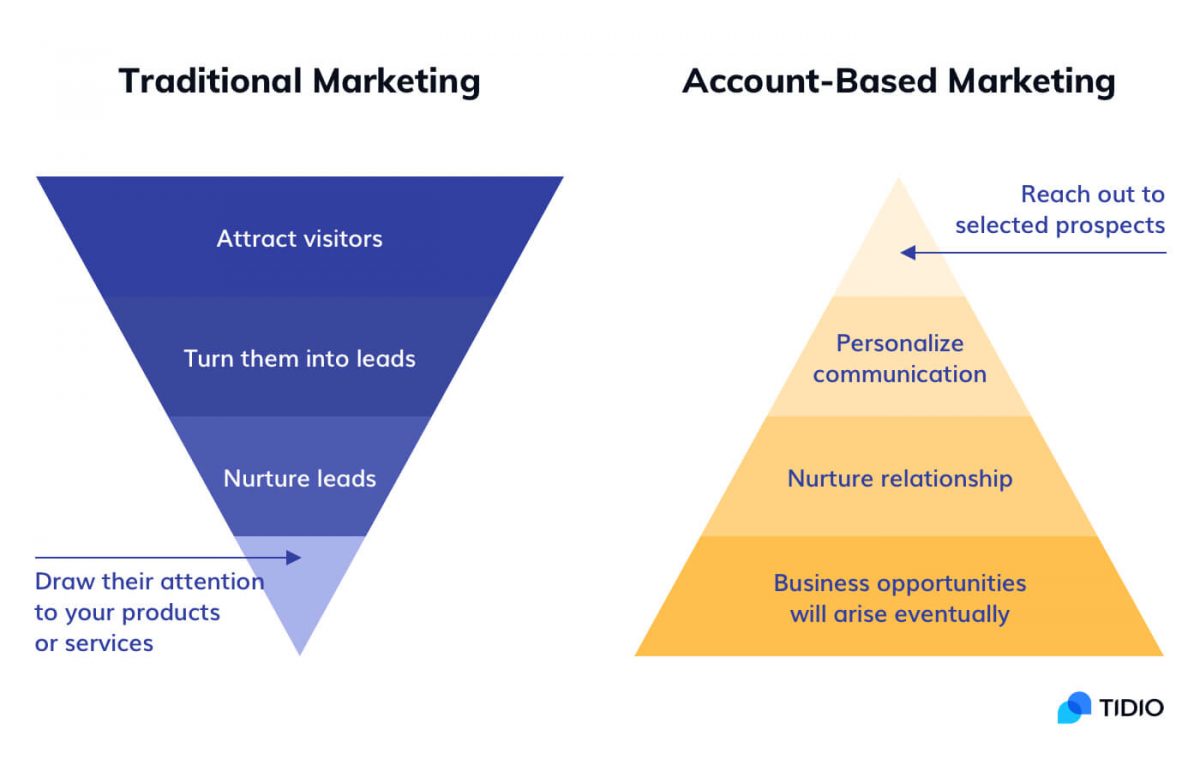 Now—
Each of these funnels looks perfectly fine in and of itself. But what would happen if we mixed things up a bit?
Maybe conversational marketing and chatbot marketing could be the missing link between the two funnels?
🚀 Read more: Conversational Marketing Simple Guide to Boost Engagement
Process & Results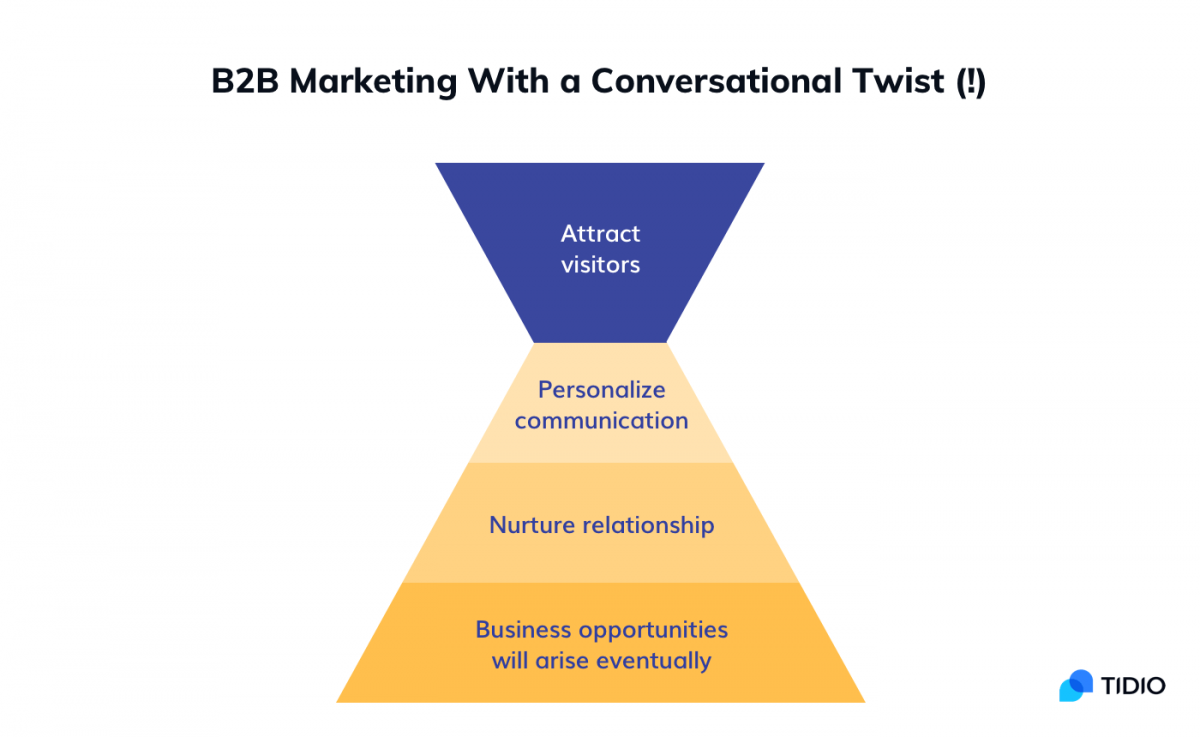 Martyna and bPol wanted to use a framework that makes use of their website traffic and combines traditional lead nurturing techniques with the conversational approach of account-based marketing.
She says that it is far easier to book a call with a potential customer after talking via live chat.
After all, she is not selling a product! She needs to present herself and her colleagues as a team of cooperative, responsive, and confidence-inspiring people ready to start work and help you solve any problems right away.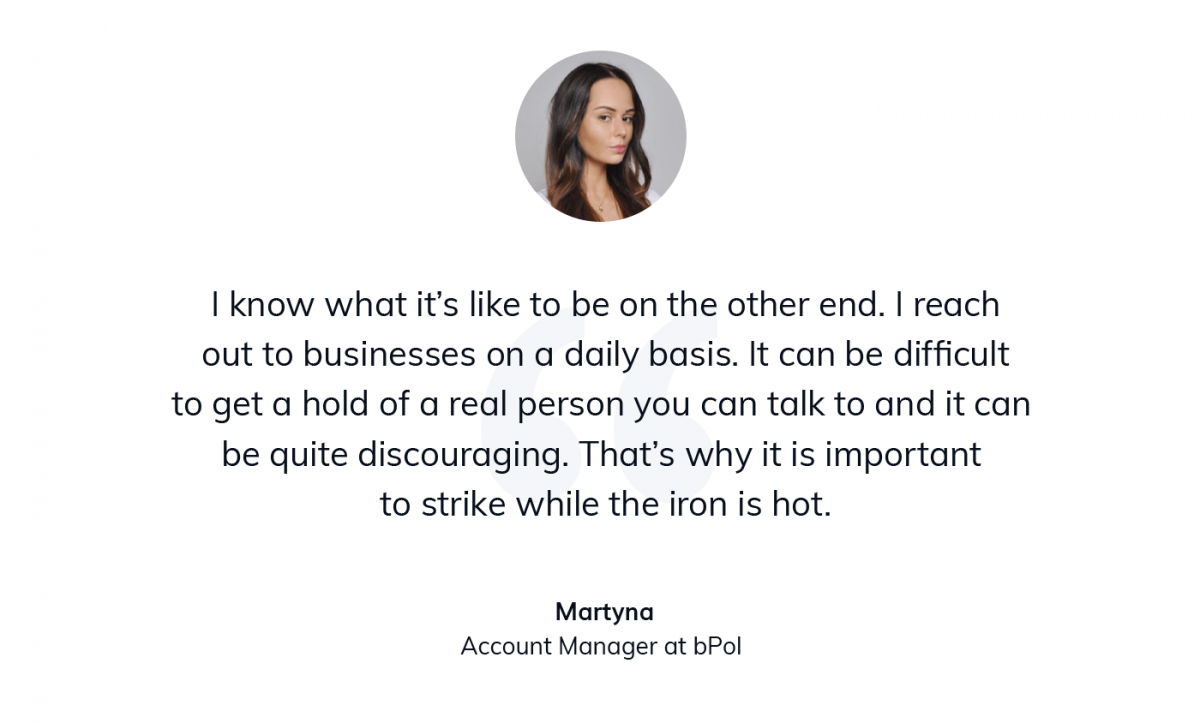 Martyna can read messages from potential customers and answer back any time of day.
Sounds like a chore?
She hardly even notices!
Initially, different people at bPol took turns as live chat operators. But as soon as Martyna discovered the mobile app, she realized that she can handle everything on the go by using her smartphone.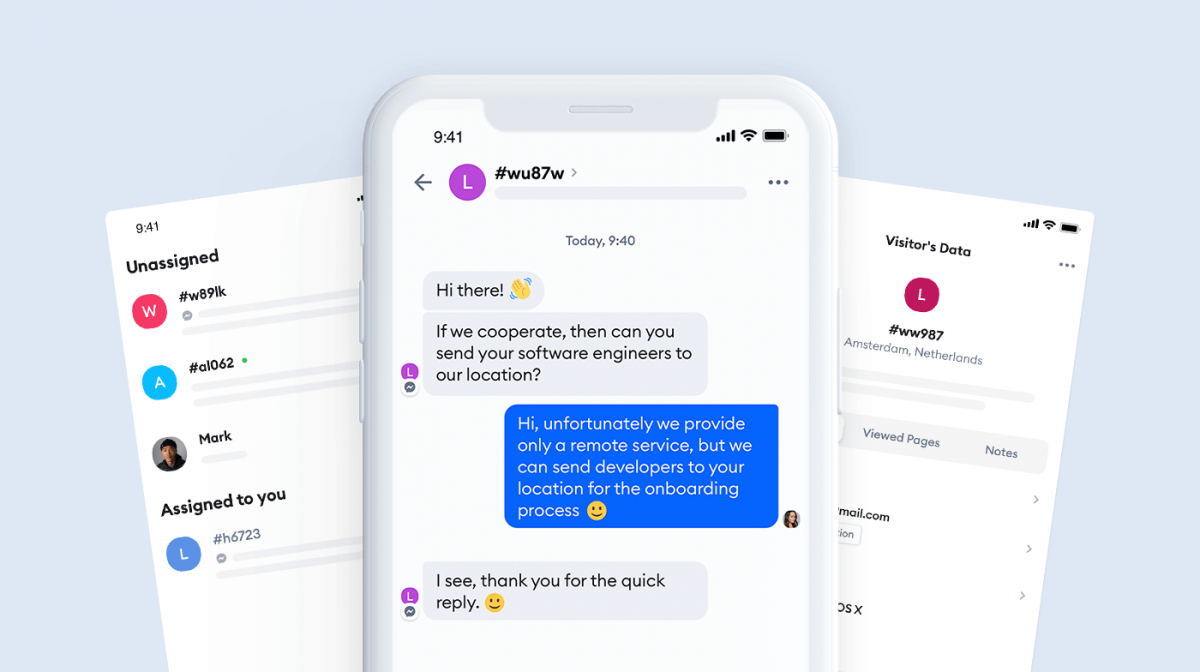 Writing business emails can be a chore but chatting with customers online feels just like instant messaging.
Emails need to be thought-out and it feels perfectly normal that you answer within several hours or the next day. Martyna admits that, usually, customers receive an email reply from her within 1,5h. But she can reply to a chatbot message in a matter of 3 minutes.
Martyna hasn't logged into the Tidio panel ever since, because the mobile app has everything she needs.
But what about the customers who are not ready to talk just yet?
They don't have to.

If someone chooses the option to speak with a human, Martyna receives a notification on her smartphone and she will jump right into the conversation.
However, if potential customers choose the option to shop around, a chatbot will try to steer them in the right direction. Needless to say, it's a great way to qualify leads.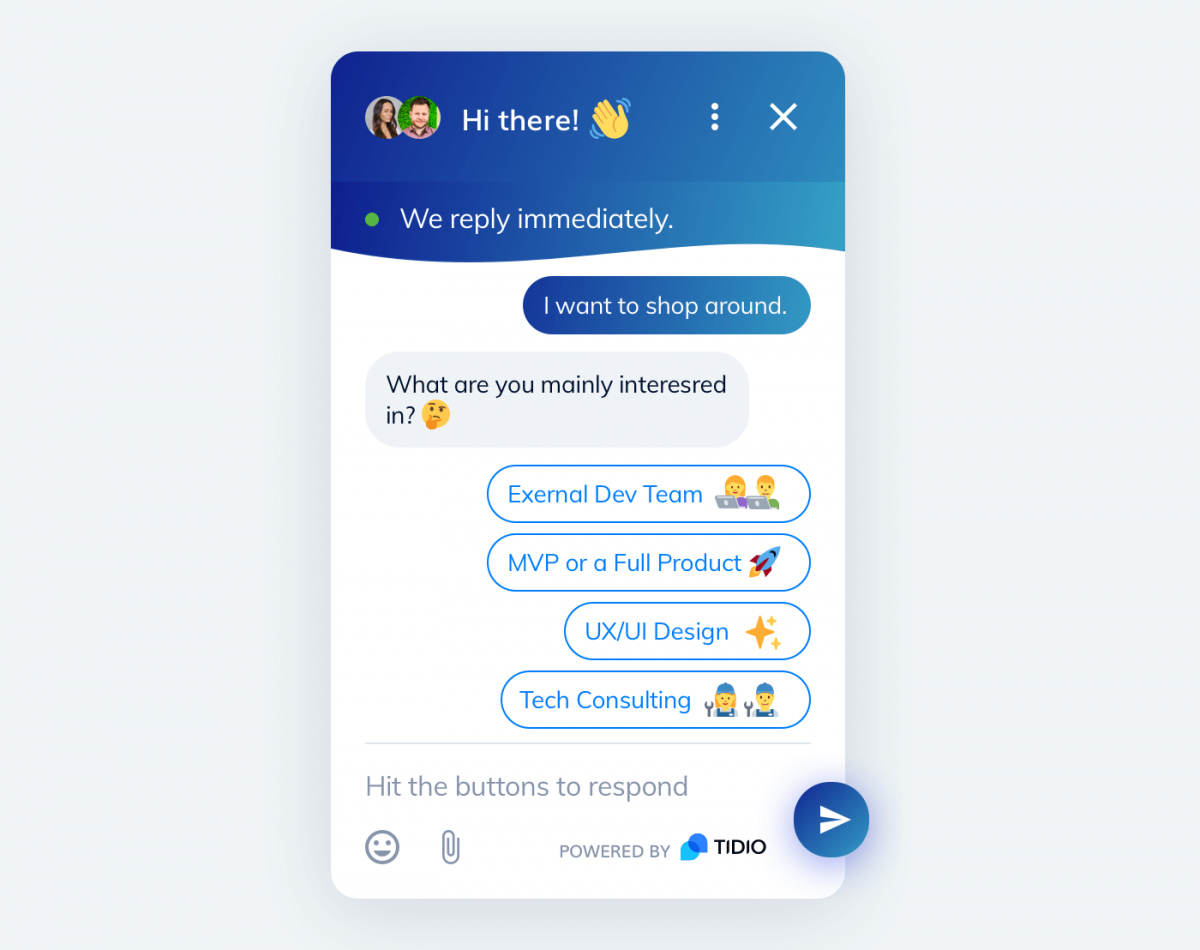 Create a similar chatbot 🤖
Key Takeaways
What are the most important lessons that we can learn from bPol?
The mobile app is the most convenient way to talk with visitors if handling live chat is something you do on the side
A live chat widget helps to build trust and lowers your bounce rate
It is OK to combine different marketing strategies and figure out what approach works best for your business
Tidio can be used successfully by B2B companies
Bonus: Tutorial
To create a workflow like the one used by bPol you should:
1) Install the mobile app (you need it to receive push notifications about the customers who want to chat)
2) Learn how to incorporate the Notify Operators node into your chatbots
The first part is very easy. Type "Tidio" in the search bar of your app store. The official mobile app should pop up as the top result.
Once you install the app, you can sign in and go to the Notifications section in the Settings panel. Make sure that the push notifications are enabled.
Let's test it out!
We'll create a simple notification bot. It will send notifications to your phone when someone visits a specific page on your website.
The mobile app does not have access to the editor. To add and edit bots you need to sign in on your computer. Go to the Chatbots panel (the "play" icon in the menu on the left) and choose the + Add from scratch option.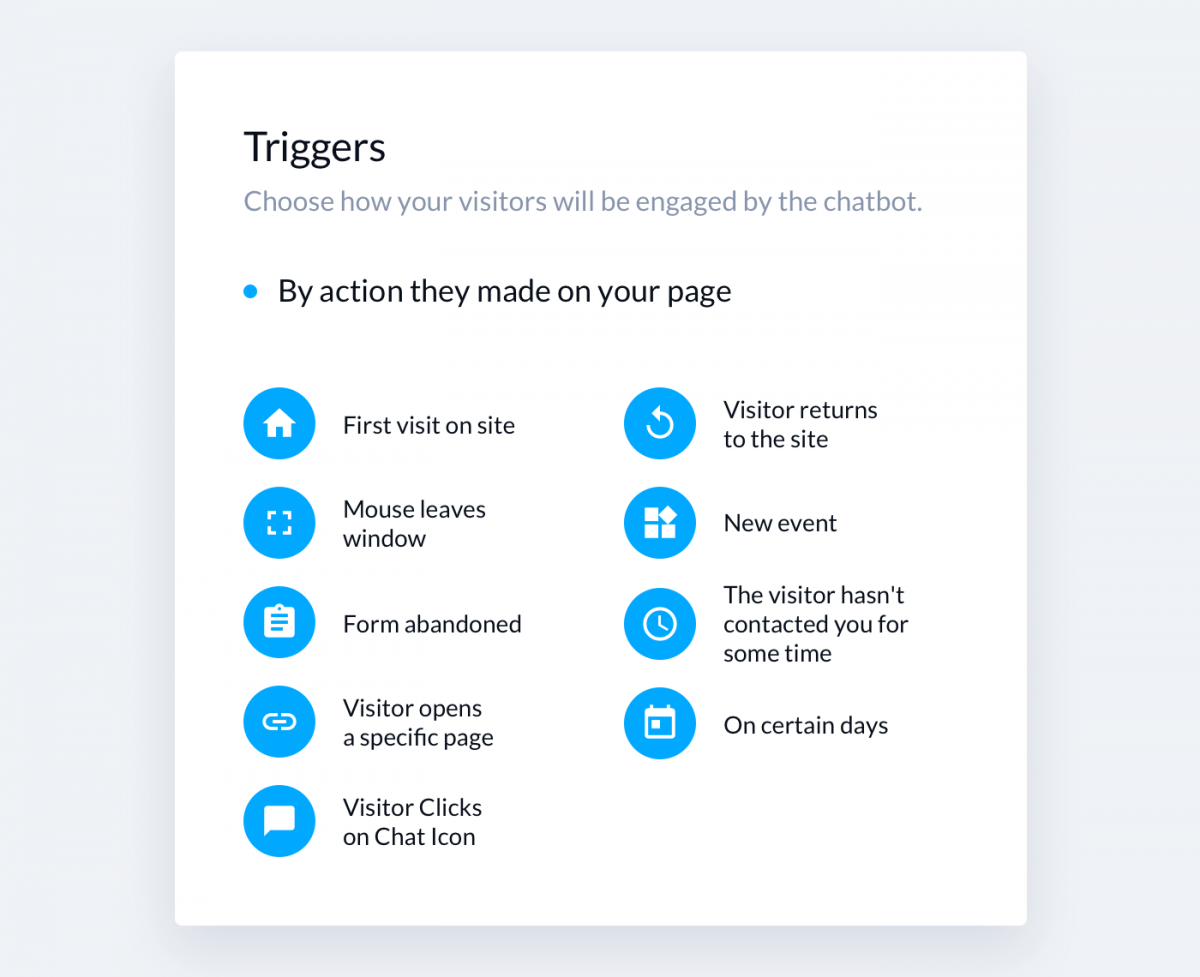 Select Visitor opens a specific page for the initial trigger.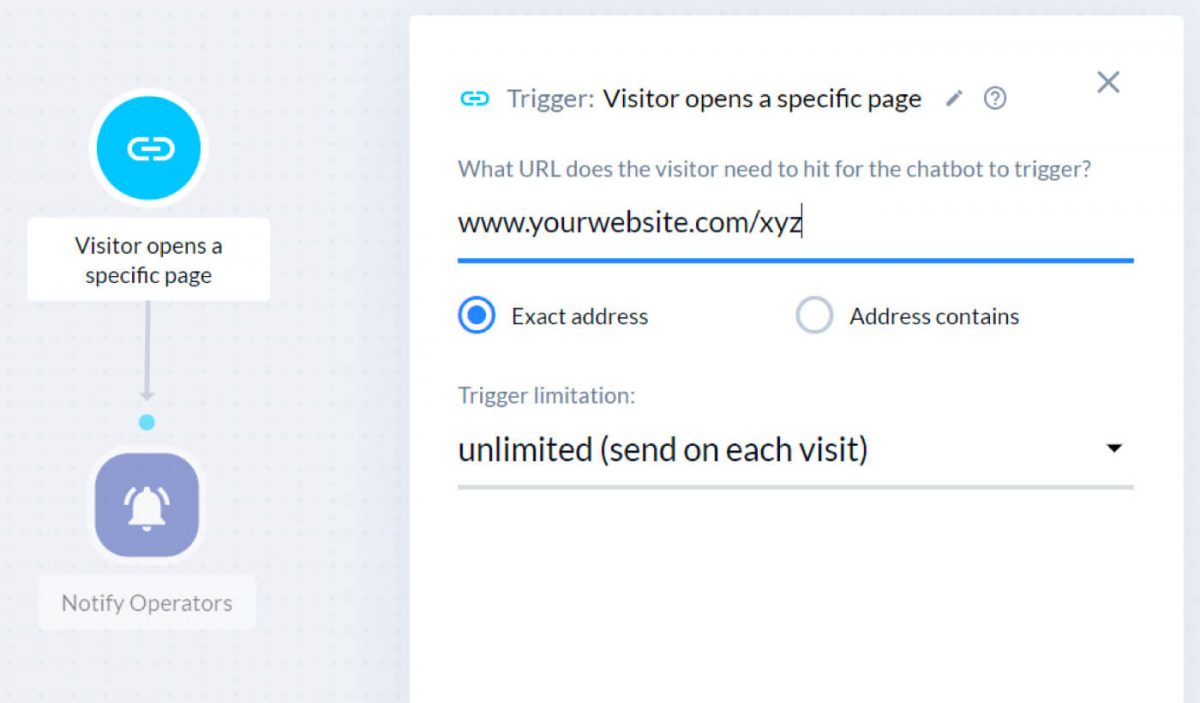 Add the exact address of the page in the first node. Then attach the Notify Operators node.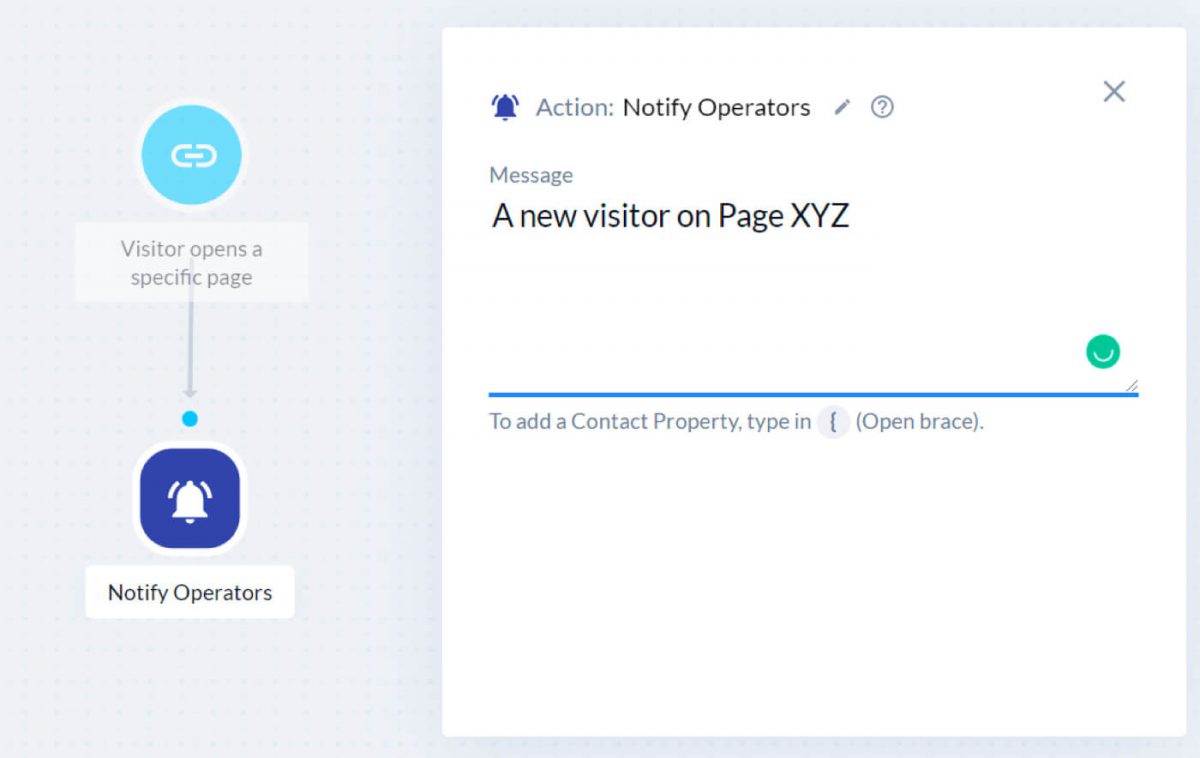 Write the notification message and save your chatbot.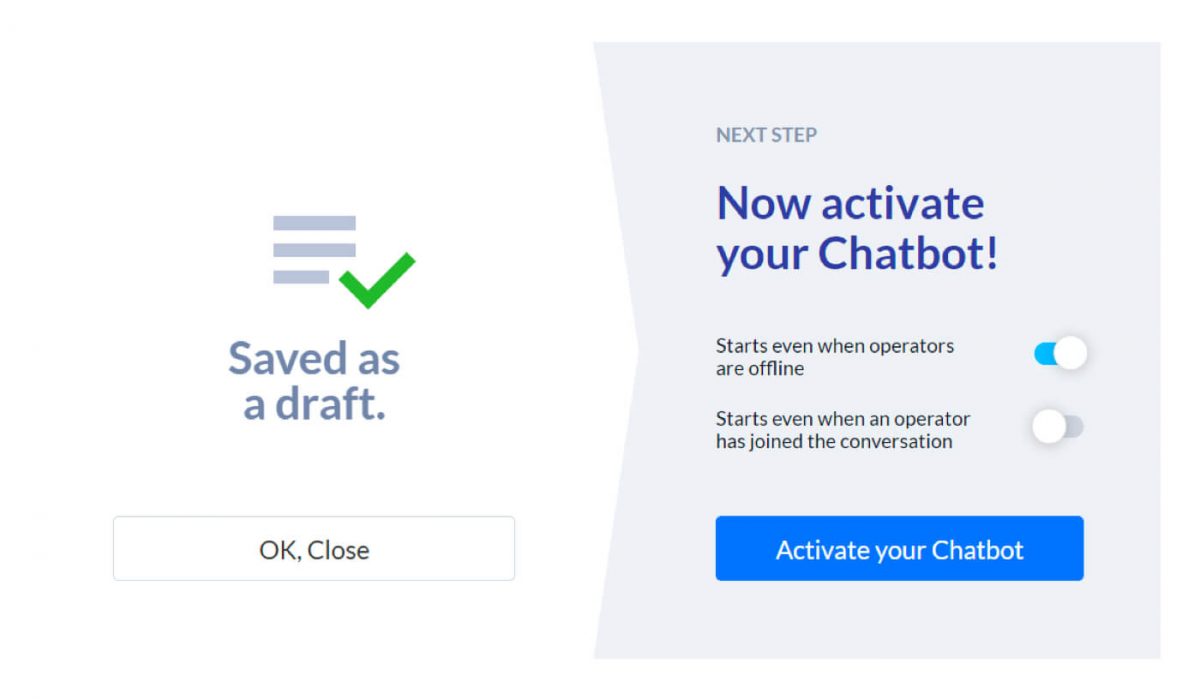 Create & Add This Bot Now
Activate it and try it out. Visit the address and check what happens. You can also send it to your friends.
See? It wasn't difficult at all. You can now set up notifications for anything.
🚀 Read more: How to Build a Chatbot Without Coding
Try adding a chatbot that asks a question and then sends a notification if somebody selects a specific answer. The bPol's chatbot does exactly that and it helped them to book many calls!
Good luck.