Looking for unique 2021 chatbot statistics? You've come to the right place because we've got some fresh findings to share with you!
We've run an independent survey about chatbots. We've analyzed data from over 5 million conversations that were conducted by 160 thousand of our active users (and their bots). We've also examined external sources of the highest quality to make this article more insightful.
The main goal was to check:
what are the most popular ways of using chatbots
which businesses can benefit the most from chatbot technology
what are the biggest conversion drivers for lead generation chatbots
Here's a list of the most important questions we've tried to answer: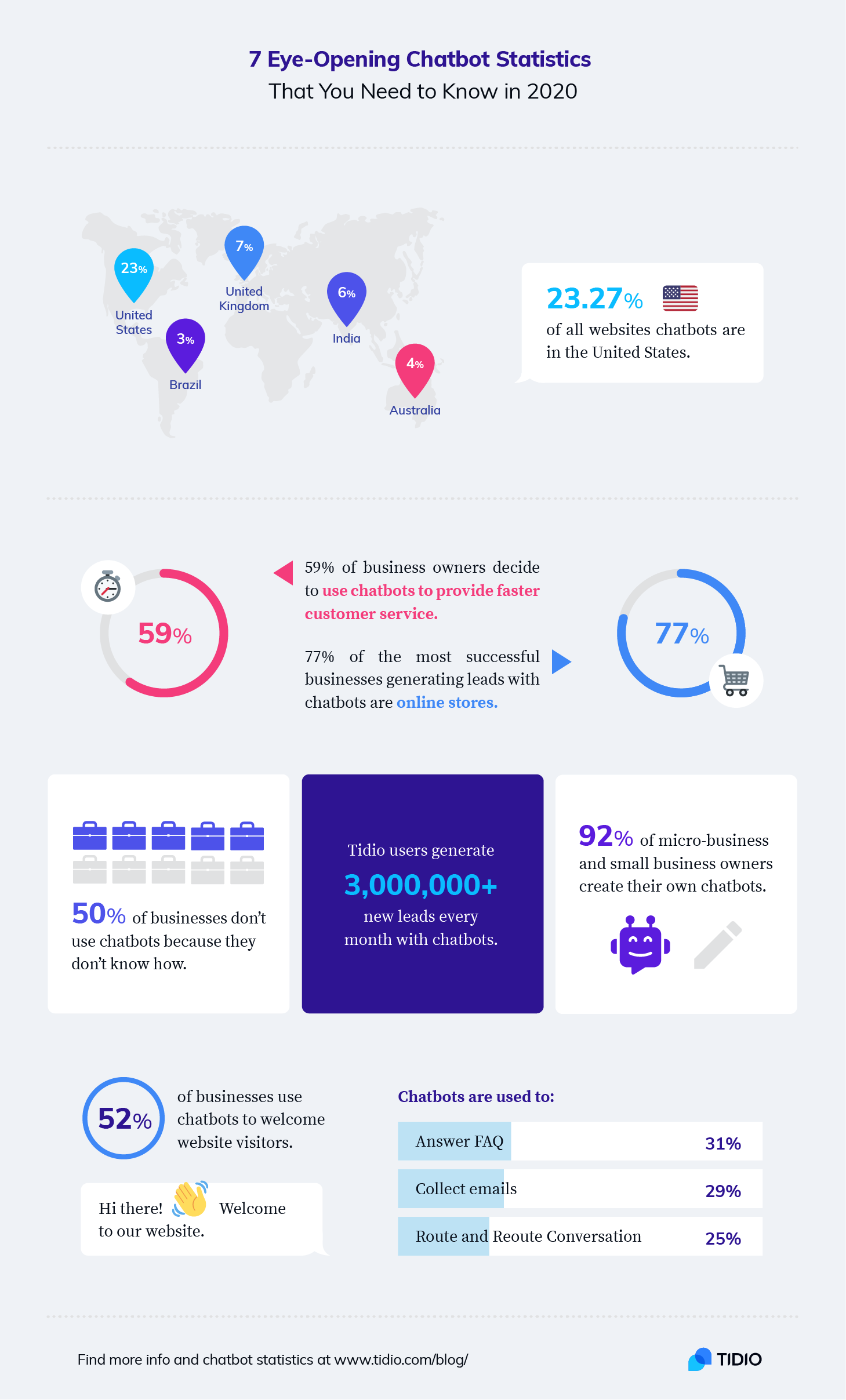 Are Chatbots Gaining Popularity?
At some point, chatbots became really trendy. Many believed that it was due to the so-called "chatbot bubble" – the technology, that despite being very popular, was forecast to pass.
But, whoever believed so – was wrong. The chatbot bubble never burst.
August 2017 was the peak of the chatbot bubble. Against many predictions, chatbot popularity did not decline. Quite on the contrary. The overall annual search volume related to chatbots has remained stable and increased over the past years.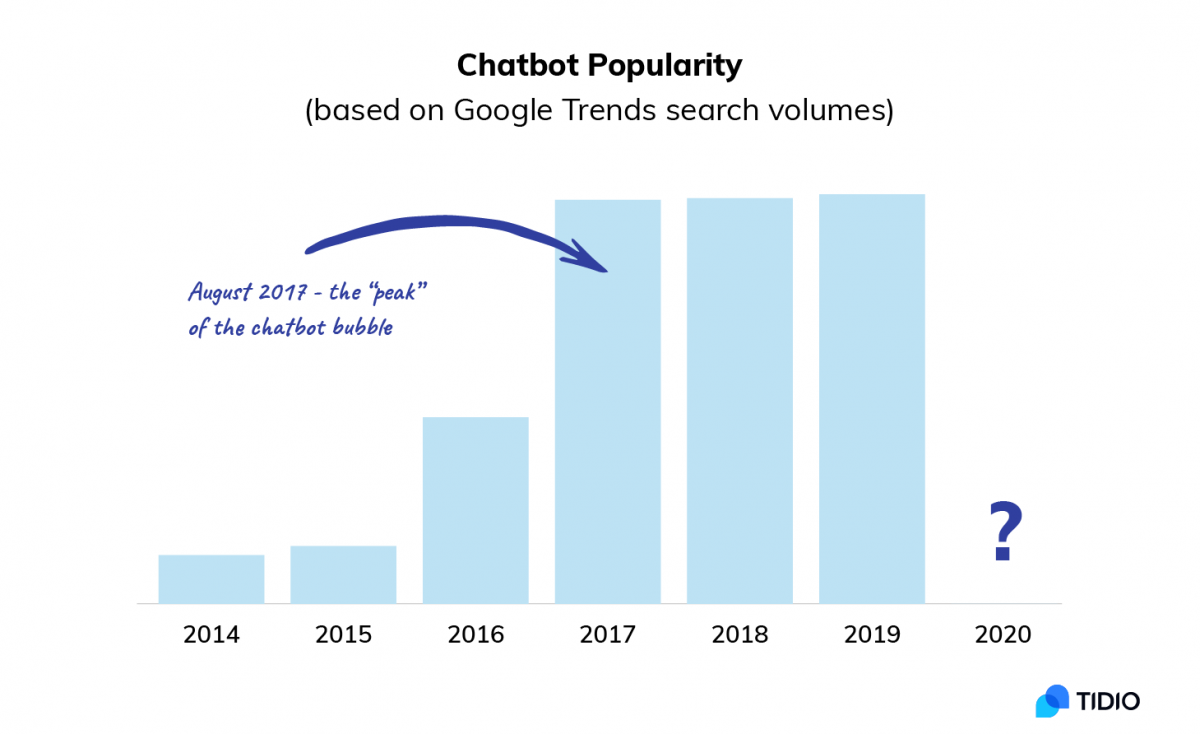 There are many factors to such popularity. Chatbot technology became more accessible and affordable. Dedicated chatbot building platforms (e.g. Tidio) entered the market allowing consumers to create chatbots without any coding skills.
Secondly, the global eCommerce business is growing at an unprecedented pace (it's estimated to have reached $4.2 trillion USD in 2020 and predicted to reach more than $6.5 trillion by 2023). Such growth is fueled by several factors:
Online entrepreneurs can start their businesses relatively easily (although making it truly profitable can be a challenge) and at low initial and running costs.
Online stores are accessible. Consumers can buy a product from any part of the world at any time over the Internet using their computer or mobile device.
The new selling environment, however, brought new challenges. The demand for fast and round-the-clock customer service being one of them.
Many online merchants are often unable to meet their customers' expectations. That's why they reached for virtual assistants – chatbots.
Interesting fact: In 2019, Tidio users' chatbots sent 124,961,071 messages and generated 3,137,738 leads 💡
Those virtual assistants are well adapted to the digital business environment. They are always available to serve their customers from different time zones, they can speak their language, and meet their customers on different touchpoints (website, social media, mobile apps).
If you are interested in chatbot tools, check out the comparison of the best chatbot platforms available today.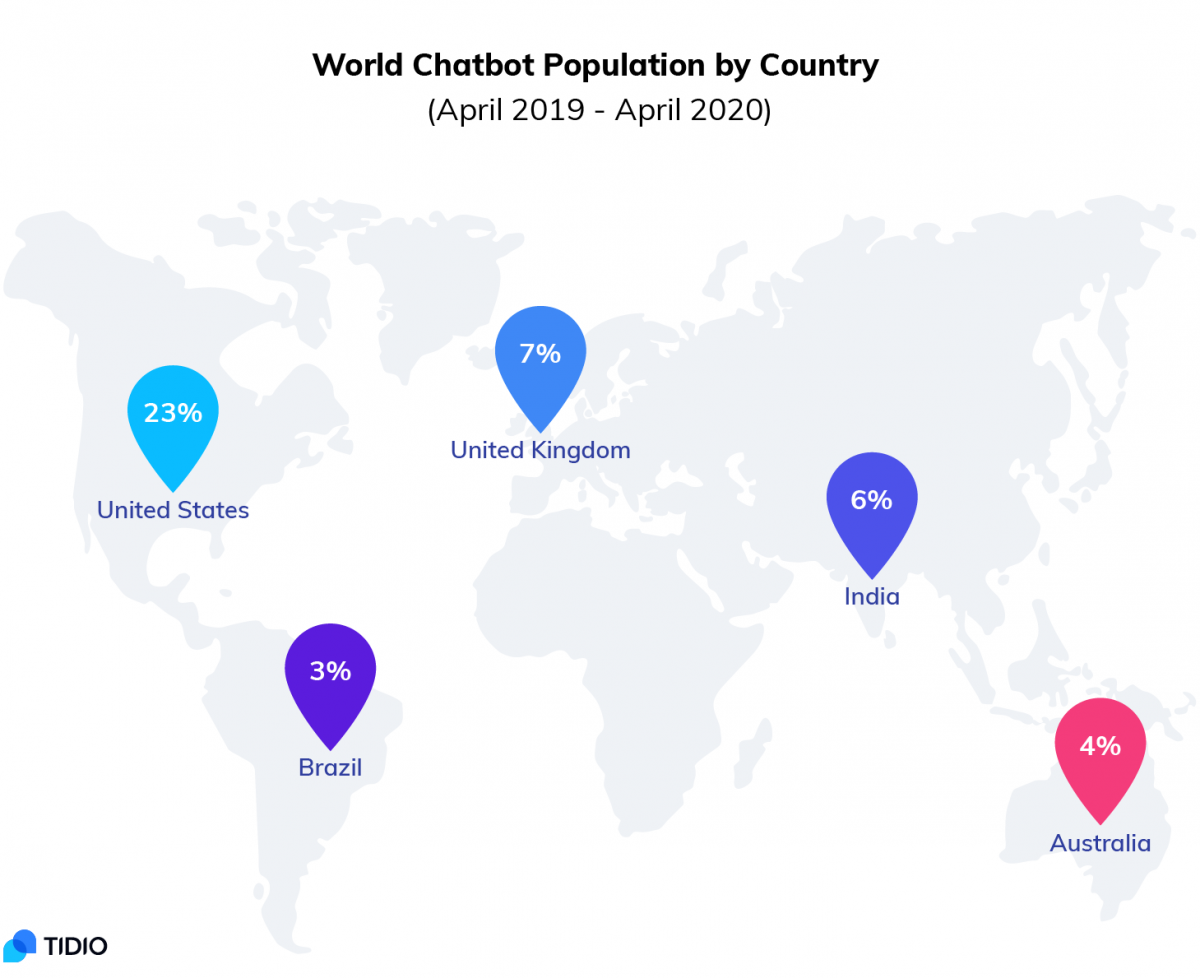 Currently, the highest number of chatbots added to websites and online stores is observed in the United States (23.37 percent). This data distribution is based on 450,000+ active chatbots created by Tidio users.
Note: Chatbots are popular, but so are live chats. If you want to see how they can help you, explore the list of the best live chat software we prepared for you.
What Is the Size of the Chatbot Market?
According to Business Insider, the chatbot market size is projected to grow from $2.6 billion in 2019 to $9.4 billion by 2024. That's a compound annual growth rate (CAGR) of 29.7 percent.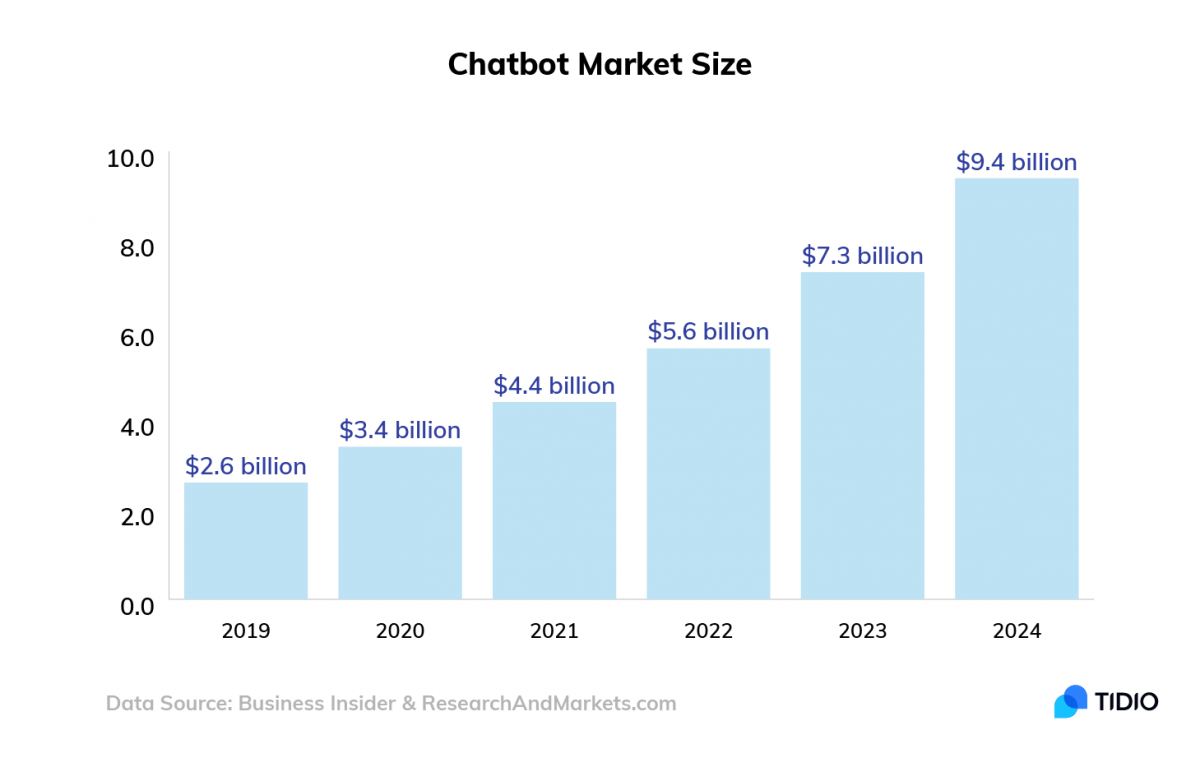 The most popular chatbot solutions are associated with platforms and customer service apps such as Tidio.
The majority of online businesses, however, don't use any live chat or chatbots on their websites. Live chats or instant messaging apps (operated by humans or chatbots) are used by less than 6 percent of Shopify-based eCommerce businesses and less than 1 percent of B2B companies.
Read more: 7 Best Shopify Chatbot Solutions and Shopify Bots
Why Do Businesses Decide to Use Chatbots?
The primary reasons for consumers to choose chatbots are related to time. Online entrepreneurs want to reduce the wait-time by delivering their visitors and customers fast answers (59 percent). They also want to save more time on repetitive customer service tasks (43 percent).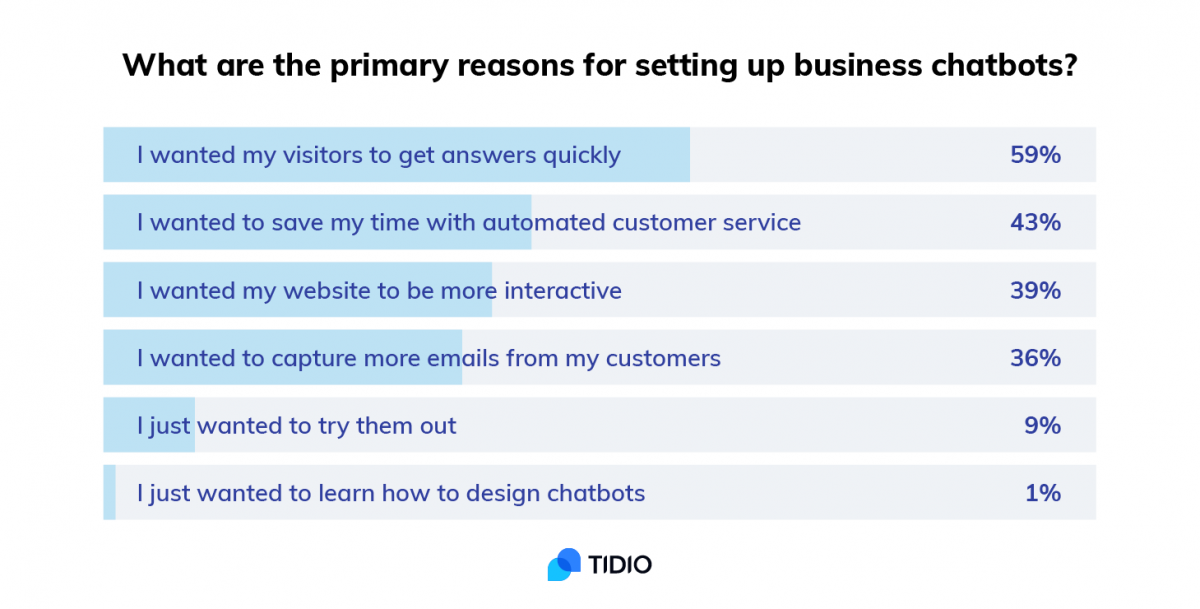 The secondary reasons are linked with engagement. Chatbots are used to make websites interactive (39 percent) and to generate leads (36 percent).
Overall, 90 percent of businesses and individuals who start building their own chatbots have a specific goal in mind. They "employ" chatbots to save time, deliver better and faster customer service, or they want to increase sales.
What are some of the other reasons? Well, for one thing, there are so many free chatbot templates suitable for particular industries and businesses that it is a shame not to try them.
How Chatbots Can Improve Average Response Time in Customer Service?
We've already identified that time is one of the main driving factors behind consumers reaching for chatbot solutions. Being able to save time and deliver swift service is crucial in business.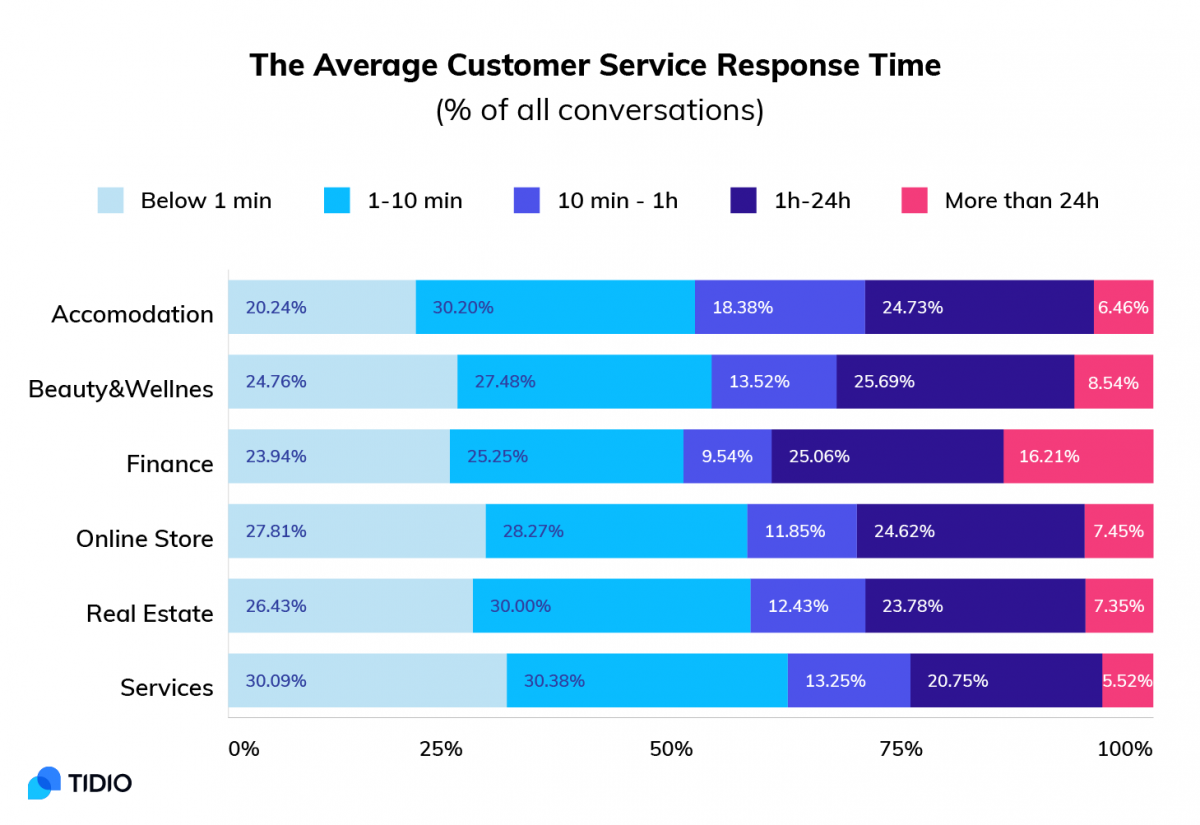 Today, customers tend to be very demanding and expect to receive responses to their queries fast (ideally, within 10 minutes). Otherwise, they'll turn to the competition that can meet their expectations.
Regretfully, most businesses fail to deliver customer service on time. Customers get their first response from online stores within 10 minutes only in 56 percent of cases. On average, the response time for eCommerce stores is 2 hours 40 minutes, and 44 seconds.
Since chatbots can handle any amount of conversations simultaneously, they can reduce the customer wait time significantly. Moreover, their response time to an individual query takes only a few seconds.
The best thing about chatbots is that you don't have to exchange the same messages over and over again. It can be quite tiresome. Did you ever wonder what is the average number of messages written by customers and chat operators?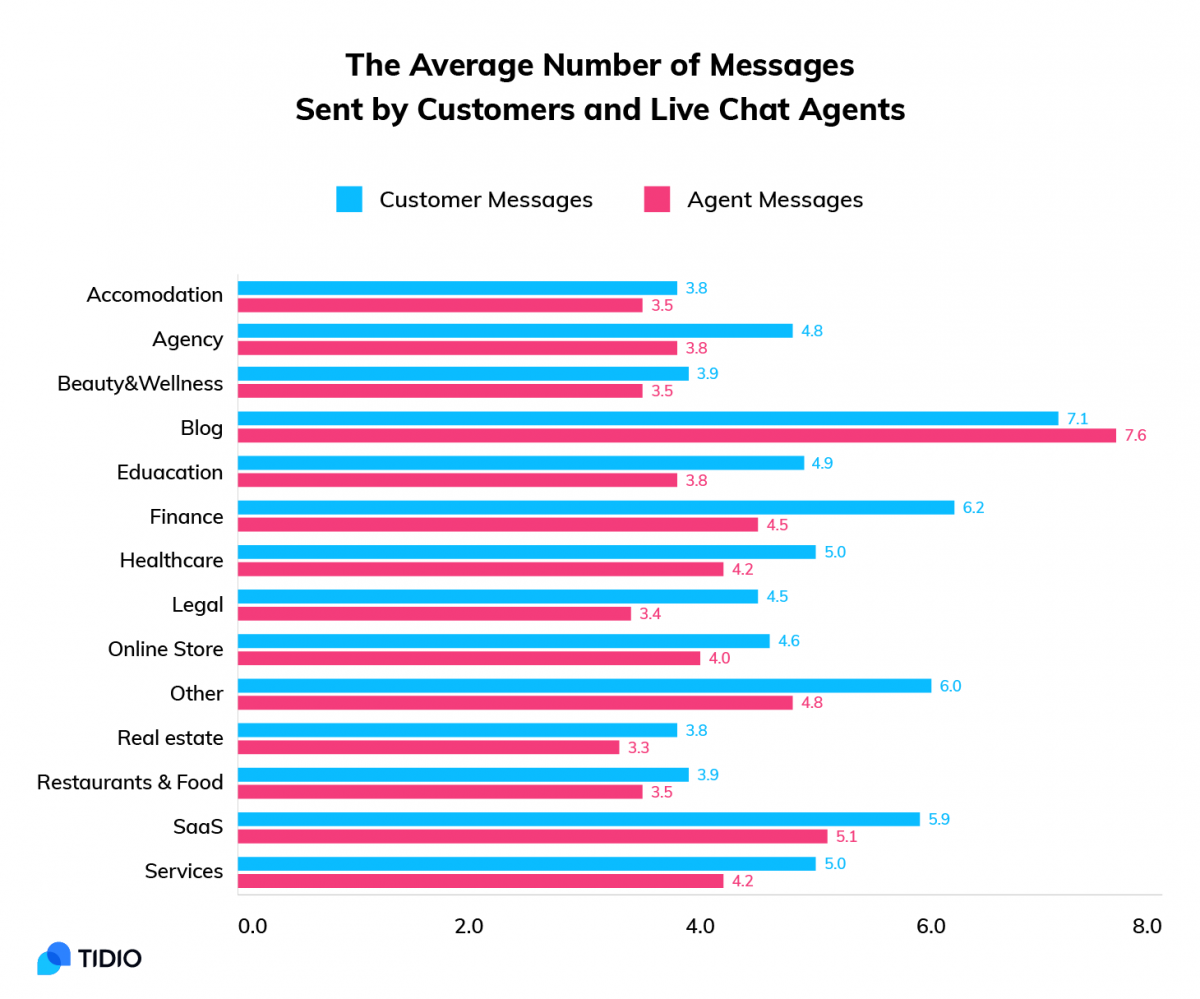 The chart above shows the average number of messages sent in different industries per session.
💡 Every client who wants to interact with your business sends approximately 4-5 messages and you need to reply with 3-4. Chatbots come handy if you don't want to write them on your own.
Blogging is the only industry where the average number of messages sent by customer service agents (7.6) exceeds the average number of messages sent by the customers (7.1). In all remaining industries, customer service agents respond to fewer messages than there are waiting in a line.
What Businesses Chatbots Are Most Suitable For?
77.4 percent of the most successful businesses that generate the highest number of leads come from the eCommerce industry.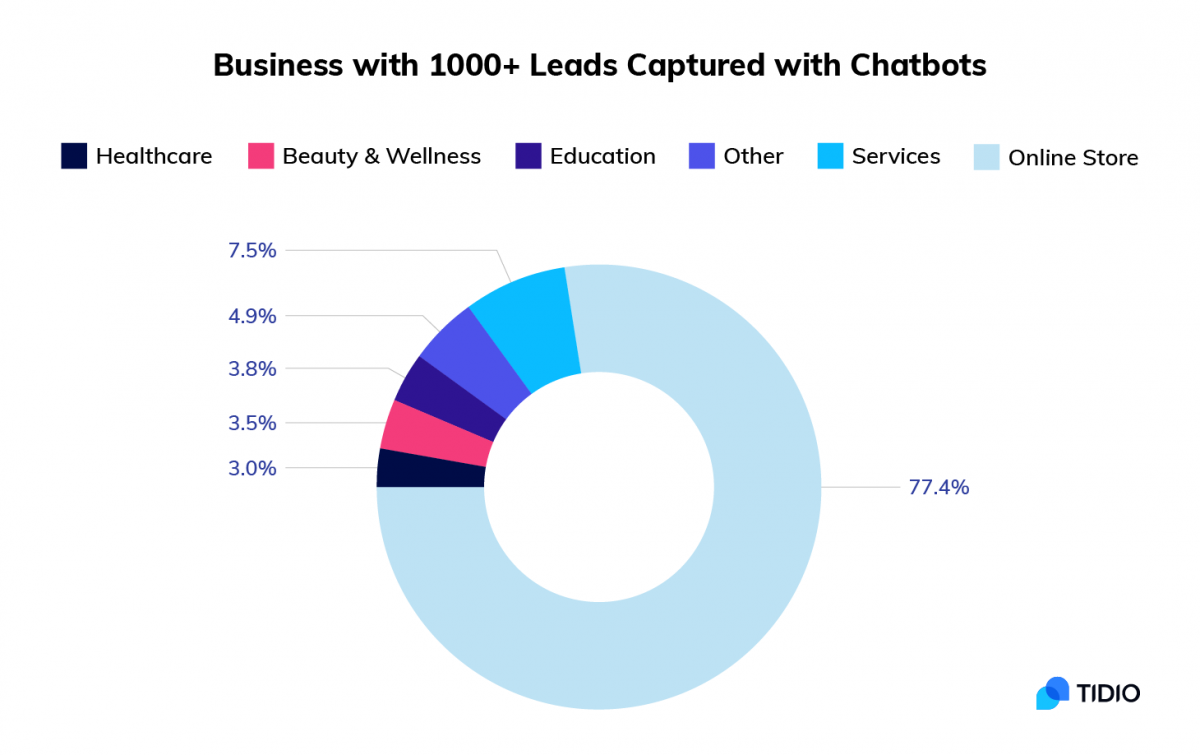 Unsurprisingly, it is the online store owners who utilize the power of chatbots the most.
Why is that?
Online businesses use chatbots to communicate instantly with their visitors/customers and resolve their issues on multiple platforms (e.g. Facebook or their online store). Chatbots help round-the-clock with delivering a valuable and personalized shopping experience.
Curious to find out more? Check out how different businesses use chatbots in The Best Chatbot Examples and Chatbot Ideas That You Can Borrow.
What Products Can Be Sold Effectively With eCommerce Chatbots?
98% of the visitors to the website or store leave without buying.
You can stop some of them by engaging them with chatbots. They are great for giving discounts or rescuing abandoned shopping carts.
Chatbots can help with selling all kinds of products and they are suitable for different eCommerce business models.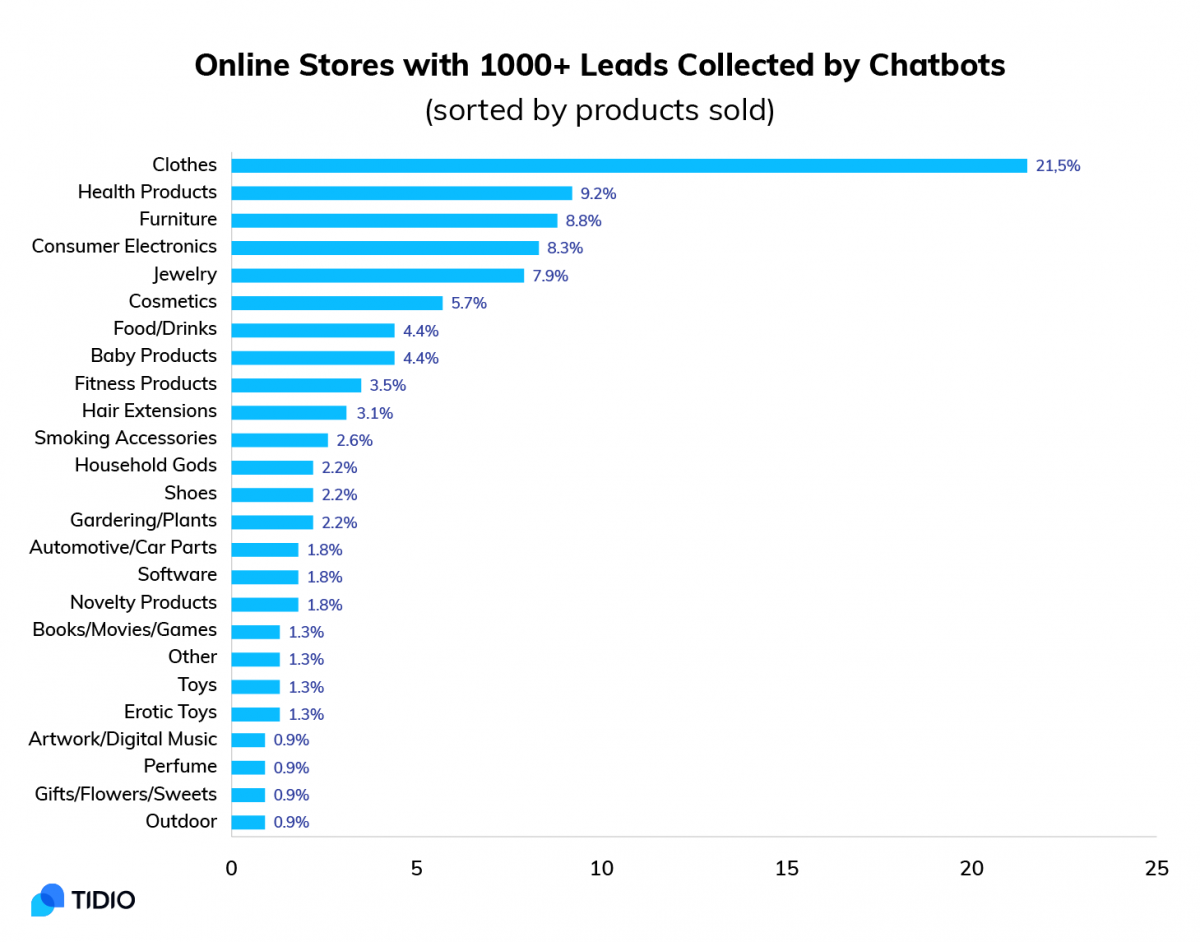 Clothing is the most popular product type sold online with the assistance of chatbots. 21.5 percent of the most successful online stores sell clothes.
Next are health products (9.2 percent), furniture (8.8 percent), electronics (8.3 percent), and jewelry (7.9 percent).
Why Are Business Owners Afraid of Using Chatbots?
Chatbot technology is often perceived as something complex and having a high entry barrier. Despite the high popularity of chatbot platforms, many potential users are still unaware of such solutions or are afraid of them.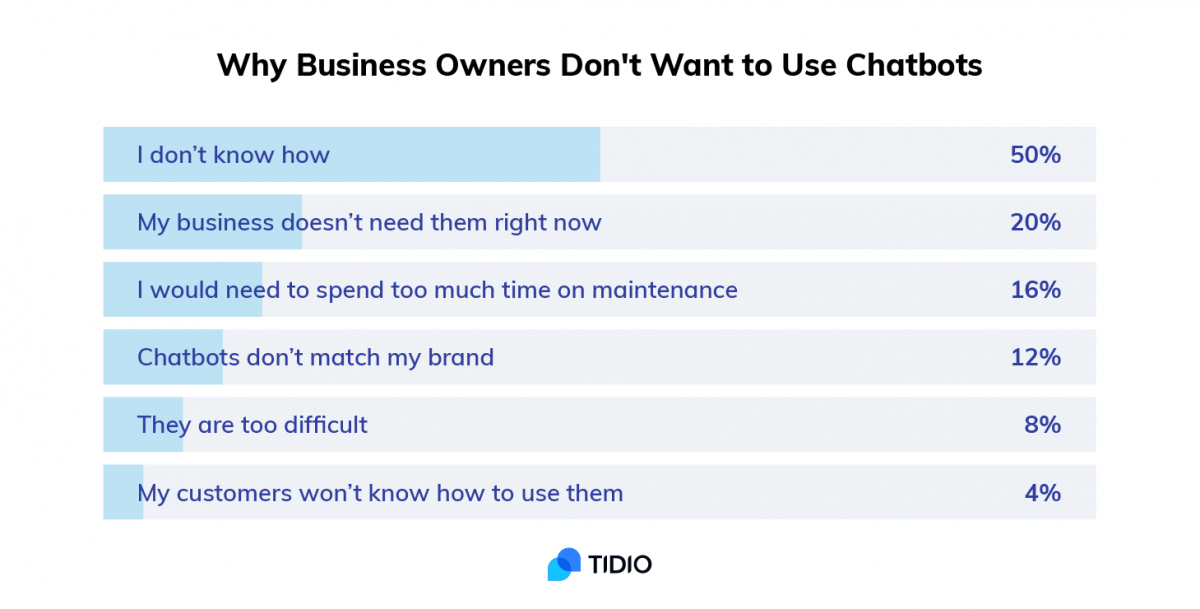 As a result, 58 percent of business owners who don't use chatbots admit that they don't know how to use them or find them too difficult.
On the other hand, 83.3 percent of those businesses that do not use chatbots admitted they have actually talked with chatbots and used their help as customers at least once.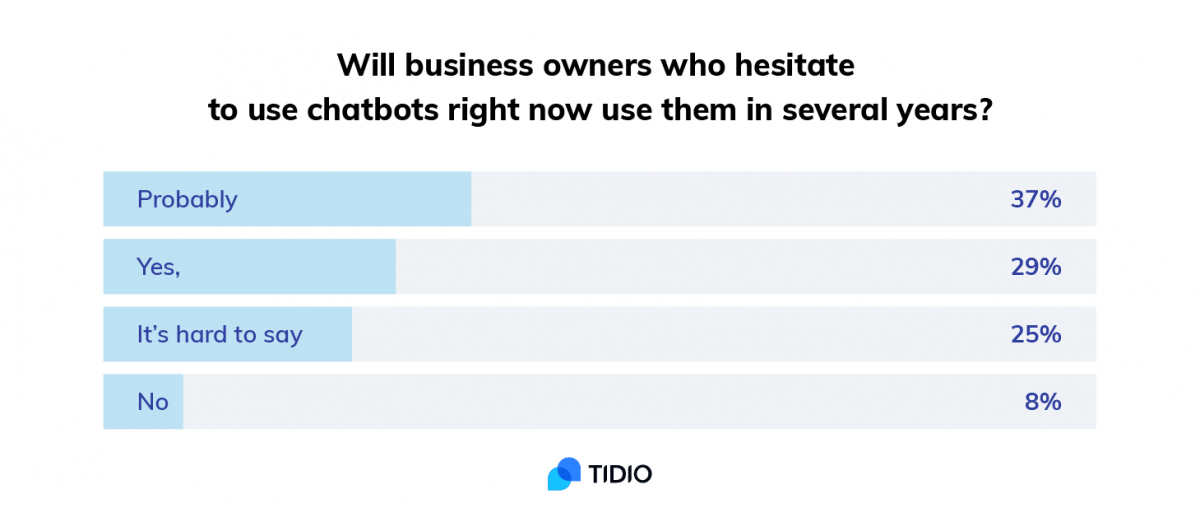 Generally, business owners are aware of the benefits of having their own chatbot on a website or store. 66 percent of them believe that they will need chatbots in several years.

Among those online entrepreneurs (micro-business and small business owners) who use chatbots, 92 percent of them manage to create chatbots, and conversation flows on their own.
This proves that chatbot building is a manageable task that, contrary to the common misconception, can be handled by users with no special technical skills.
If you feel intimidated by chatbot technology, find out the most important facts in some of our articles:
What Factors Determine the Successful Use of Chatbots in eCommerce?
We've asked our users if they have accomplished their primary goals for setting up chatbots (such as lead generation, faster response times, improved sales). Then, we've compared the answers with their approach to editing and customizing chatbot messages.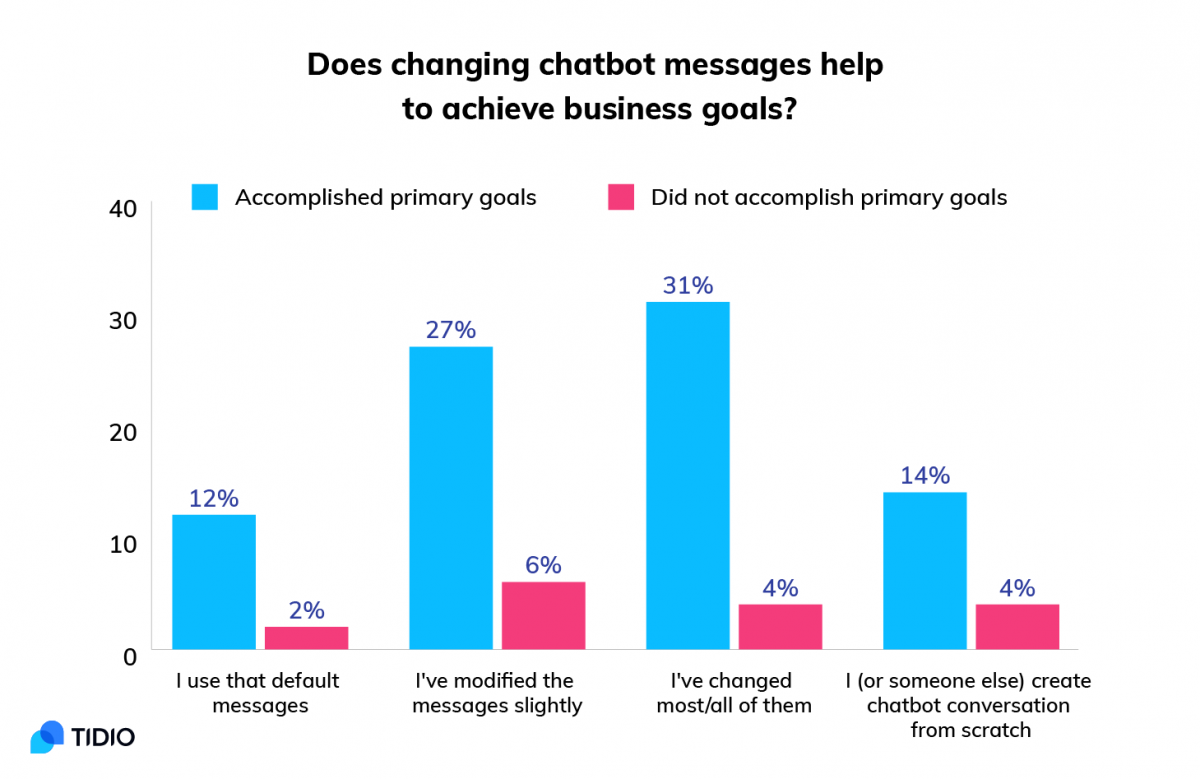 It turned out that customized chatbot messages are the most important factor for accomplishing business goals. By changing individual messages, our users can tailor the chatbot conversations to match their brand voice and business needs.
Among the users who achieved success with chatbots, 31 percent changed most or all of their chatbot messages.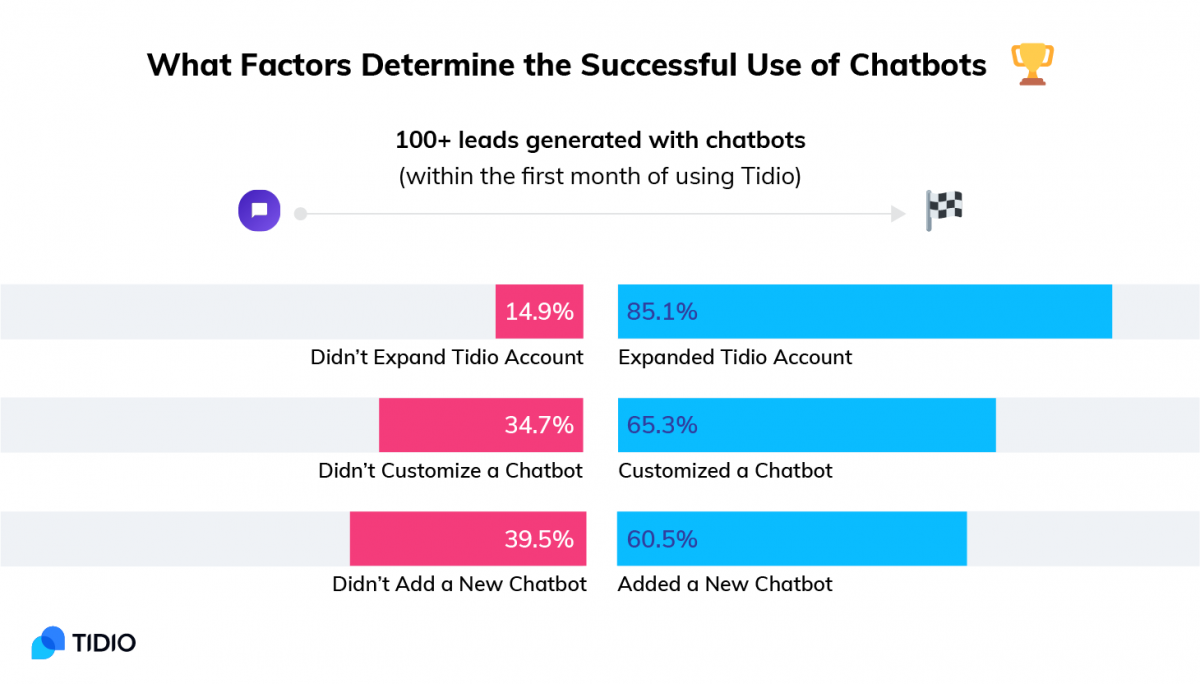 We've also taken a look at another factor related to our users' success – account expansion (plan upgrade). Users who have multiple chatbots activated and have a higher limit of reachable visitors by chatbots are more likely to achieve their business goals.
Some chatbot platforms (for example, Intercom) don't have a free plan. Check out popular alternatives here: Best Intercom Alternatives [Tidio vs Drift vs Intercom vs Zendesk].
What Are the Areas of Chatbot Application?
More than half of chatbot users (52 percent) use chatbots to welcome their visitors, 31 percent to deal with answering FAQ questions, and 29 percent use chatbots to generate leads.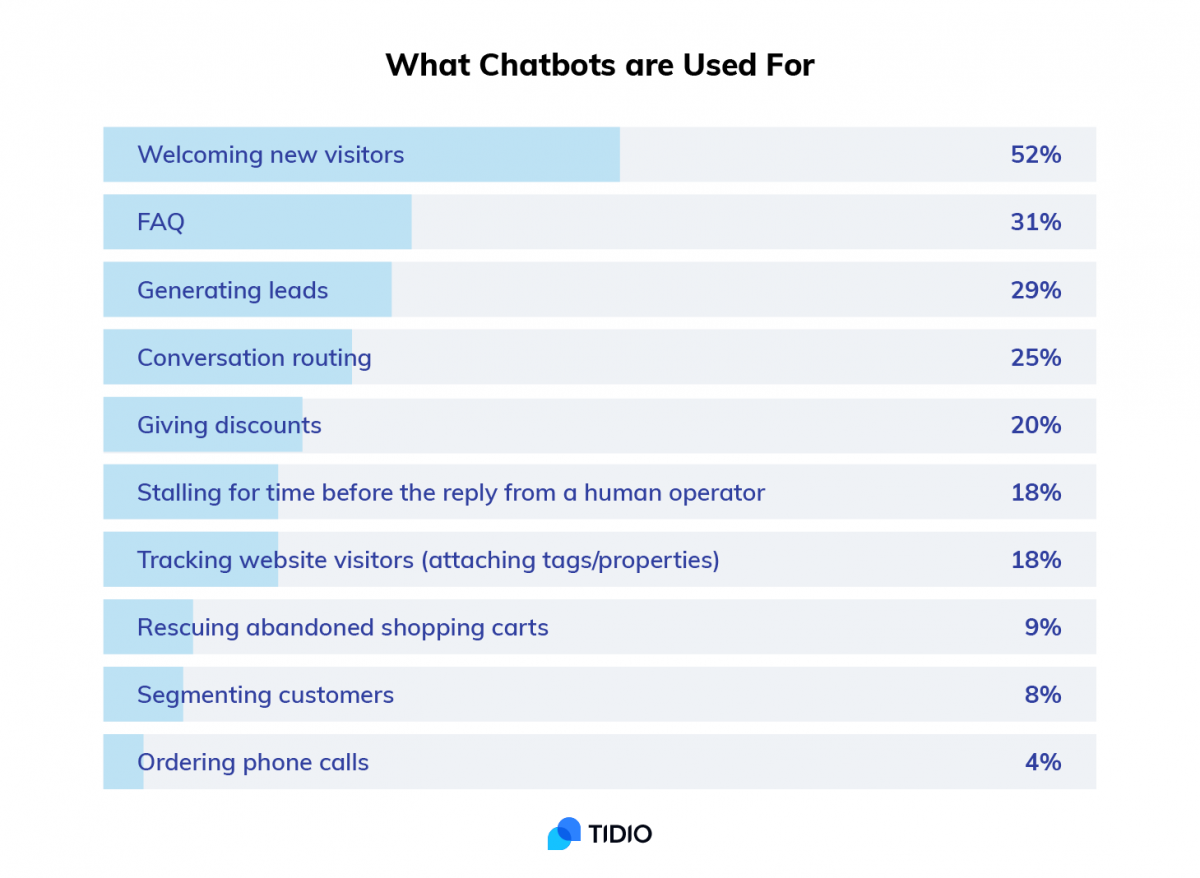 The first area of application shows how chatbot users understand the importance of good customer experience. The second one, yet again, proves that chatbots indeed help with saving valuable time.
Which Chatbot Templates Are the Most Popular?
We found that AI Responder is the most popular bot template. It makes perfect sense since AI chatbots are very flexible and can be used in different scenarios.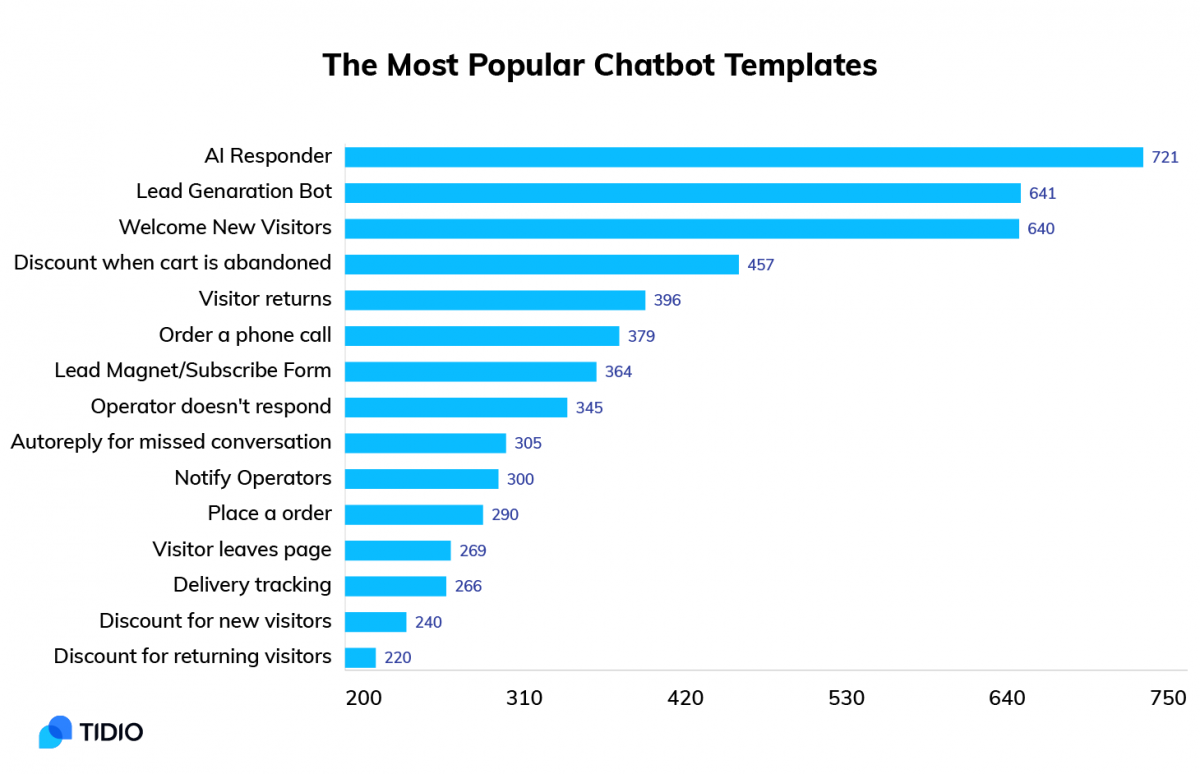 Our respondents indicated that they use multiple chatbots (56.2 percent) on their websites, and use AI chatbots as supplementary bots (43.8 percent).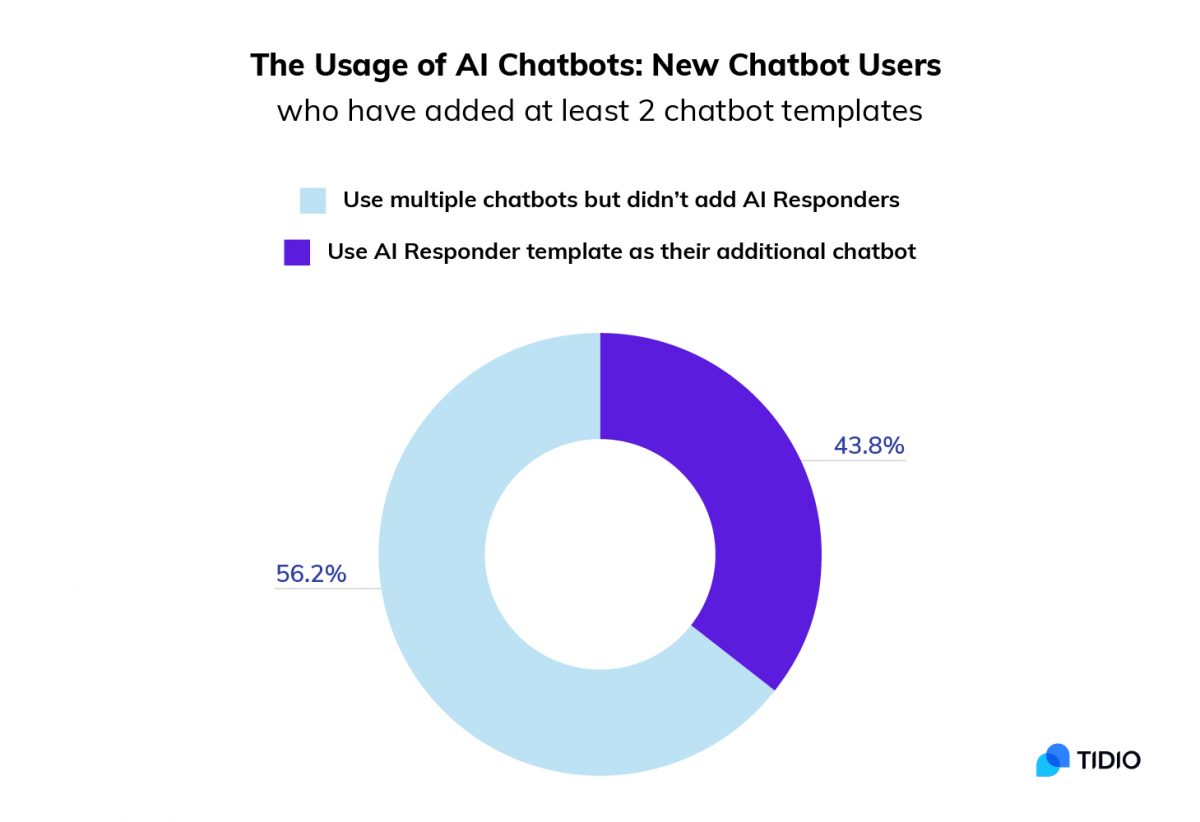 AI chatbots are valuable as they can take over conversations whenever a rule-based chatbot is unable to answer a question that was not covered by the script. Such a setup of two chatbot types is more versatile and makes the conversation feel more natural.
Are Businesses Satisfied With Their Chatbots?
Only 8 percent of our respondents claimed that chatbots didn't work for them, while 12 percent were unable to state whether the chatbots have helped them reach their goals or not. The remaining users were partially satisfied (42 percent) or feel confident that their chatbots did help them reach their business goals (37 percent).

On the other hand, 43 percent of business owners do not check if chatbots affect their specific business metrics. The rest of the users feel that using chatbots has brought them many benefits.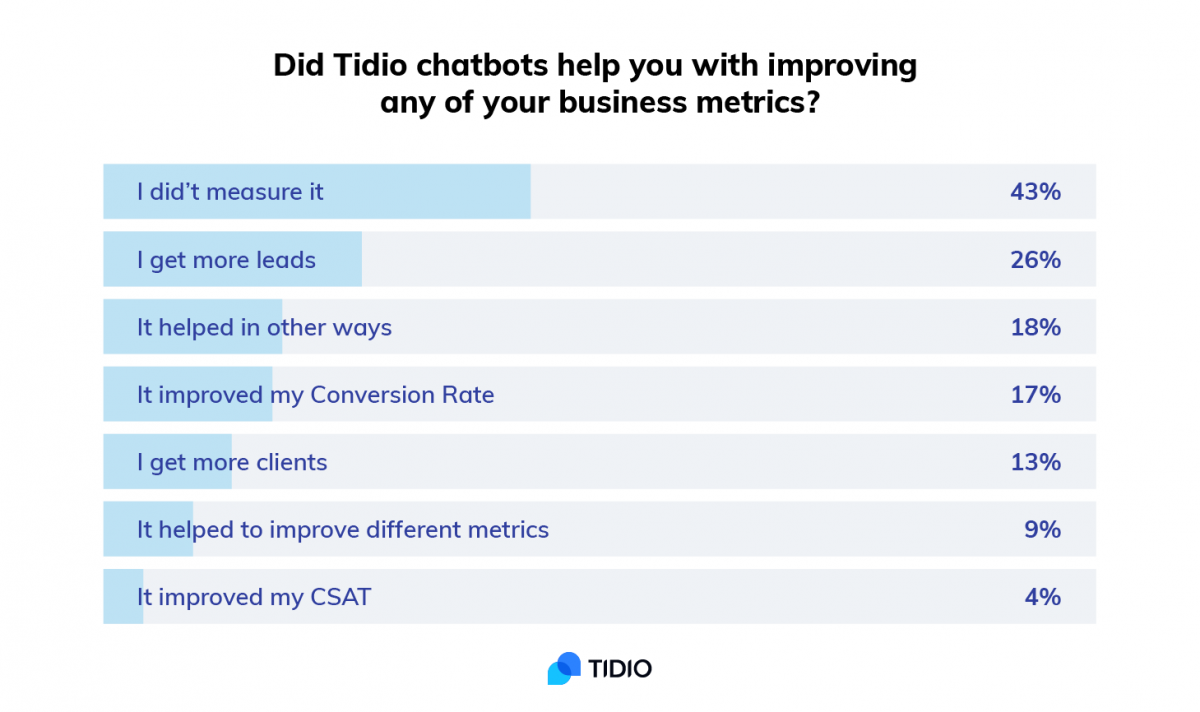 Those seemingly contradicting responses show that many online sellers don't track or collect real data related to their business performance. The main indicator they are most interested in is their revenue. Due to the low entry barrier and cost of running an online business, many eager entrepreneurs open their stores and learn how to run it properly on the job.
However, 51 percent of the users keep an eye on the metrics and noticed an improvement in their respective metrics after adding chatbots to their websites and stores.
Chatbot Trends: Summary
Despite being six decades old, chatbots have started to become an emerging technology only fairly recently. The chatbot trend that many predicted to pass away as yet another fad has remained steady and strong during the past few years.
Online entrepreneurs are gradually discovering the benefits of chatbots.
Those who already use chatbots deliver fast customer service, save time on repetitive tasks, and collect more leads. Others, who are yet to try this kind of interactive solution, predict they will also have their own custom chatbots in the coming several years.
Chatbots' popularity grows in line with the eCommerce business and market. And although online retail is the biggest industry that employs chatbots, other businesses operating online do not shy from using them, either.

Provide 24/7 customer service even when you sleep.
Create unlimited chatbots for your website without coding to engage more visitors.
Learn About Chatbots