Email Marketing
How to Write Business Emails + Business Email Format Guide
Learn how to start, compose, and finish your business emails. A comprehensive guide to writing email messages that hit the spot and make a lasting impression.
Business Email – Introduction
Need to learn how to write business emails from scratch?
This guide's got you covered.
You'll get tips on how to write a professional email to a business partner, customer, colleague, investor, and other stakeholders.
On top of that, we'll share great conversation starters and killer techniques to engage the recipient and make them actually want to reply.
Want to send beautiful newsletters, email marketing campaigns, and abandoned cart emails? Try our free email marketing software to design your emails, segment your contacts, and track email analytics.
Design & Send Emails Now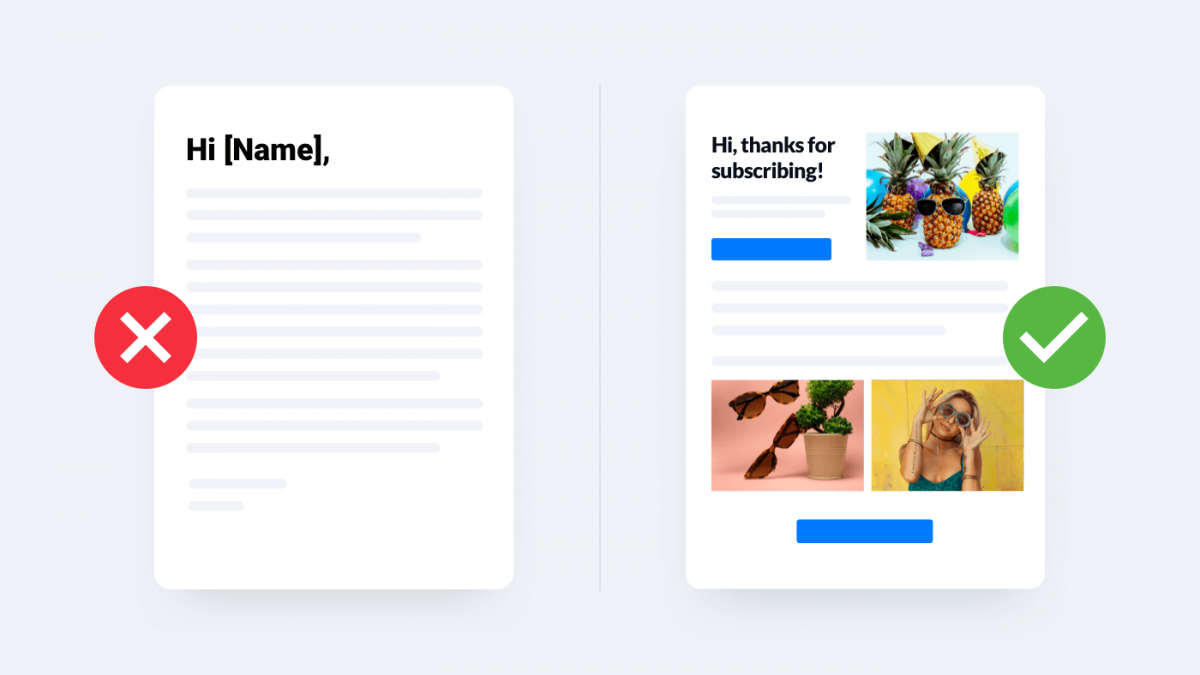 Discover 250+ templates—Design and automate your email campaigns.
One of our users, Kate, had this to say:
I'm not a technical person but I could use my contacts and send a bulk email campaign in no time.
The first electronic message was sent in the late 1970s. Since the mid-90s, email had been gradually replacing the fax machine and, in the 21st century, it completely revolutionized the way we send letters. Today, email remains the most important channel for business communication and electronic business correspondence still makes the world go round.
Business email writing – from cold emails that help you with networking to email messages sent to your closest business partners – is an essential skill. It should be mastered by everyone who wants to achieve success and keep their business growing. As it happens, making businesses grow is actually one of Tidio's top purposes (and our chatbots' prime directives), therefore…
Here is Tidio's guide to writing killer emails that will help your business shine and prosper!
Have you tried using bots to send automated emails?
There are many options to choose from. You can read our guide to choose the best chatbot platform or simply learn how to build a chatbot right now and test in minutes. If you need inspiration check out some popular chatbot ideas.
What is Business Email?
The main distinction between personal and business correspondence can be observed in their tone, structure, and purpose. They must be effective at facilitating and maintaining business relations and can't be too formal. Still, business emails adhere to the rules of composition, grammatical correctness and they respect the etiquette of business culture.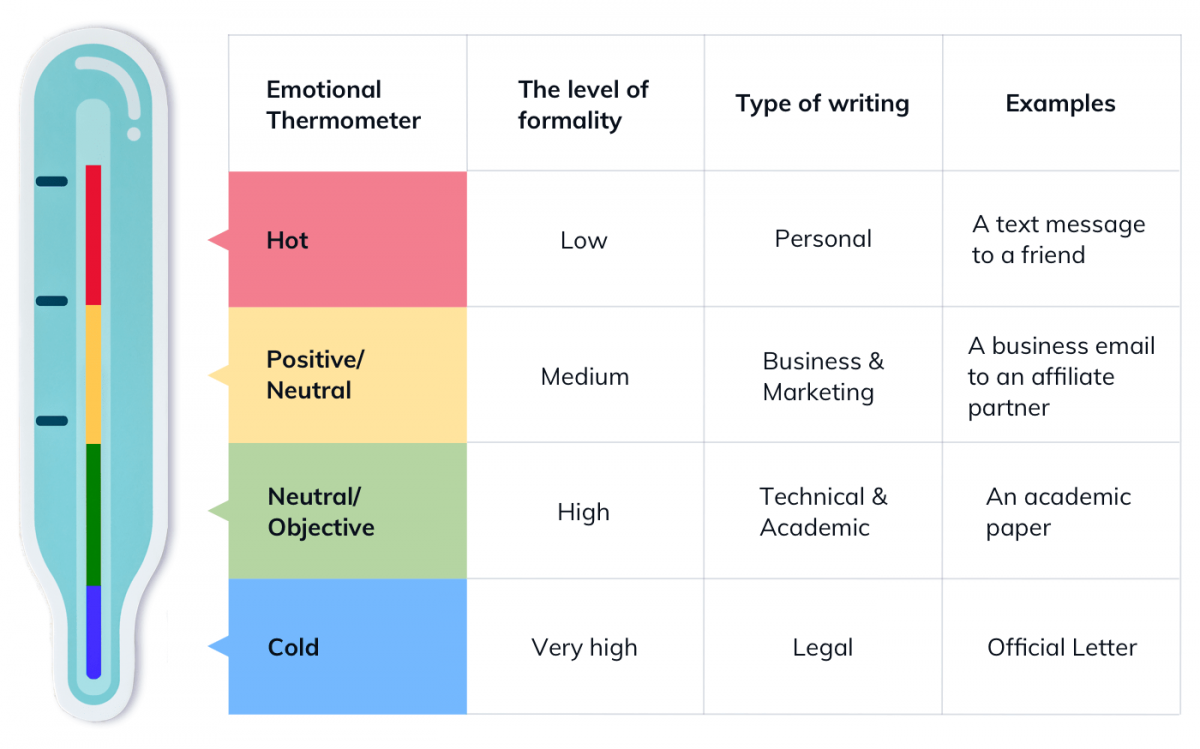 As you can see in the picture above, business emails fall somewhere in the middle when it comes to their level of formality and tone. You don't need to use very complex sentences and rare vocabulary, but you cannot sound lazy or disrespectful. Try to be positive (but not overly cheerful), straightforward (but not rude), well-organized (but not pedantic), and polite (but not too dry).
Tip: Business to business messaging is still very much email-oriented, but business to customer communication favors real-time solutions. Email is perceived as "traditional" and slow compared to messages sent via social media messaging apps or live chat.

🚀 Read more: Best Live Chat Software.
Business email is a form of online communication – between professionals, business partners, affiliates, investors – that serves professional purposes.
The most important function of business email, just like with traditional business letters, is to establish and maintain successful business relationships based on mutual respect and professional benefits.
Business Email Format
Emails may seem straightforward, but the devil is in the details. Take a closer look at the picture below and familiarize yourself with the format of the business email. The structure is very logical and every part – from the subject line, salutation (greeting), and opening line, through the main body of an email, right down to the closing line, sign-off, and signature – has its unique purpose you should know, understand, and be comfortable with.
This structure is followed by all emails. Now, let's discuss them section by section.
Professional Email Address
You can't do much about the email addresses of others, but you should definitely try to make yours look professional.
Some people created their email accounts decades ago and haven't given it a second thought ever since, but your email address can betray many things about you. For instance, an email like [email protected] can give us a hint, that someone uses a free email service, is 31 years old, comes or lives in Japan, and is not particularly fastidious about hosting and domain name.
Tip: Would you like to create your first email marketing campaign but you don't know how? You can try a free lead generation, customer service, and business messaging platform right now. Meet the small business owners' favorite all-in-one live chat and marketing automation tool. Create your free Tidio account now and get access to 20+ beautiful email templates and chatbots.
Many business people or HR professionals consider certain email addresses an instant giveaway that someone does not pay attention to details. It is a little bit like receiving a tacky business card decorated with a poor quality clipart picture.
Let's take a closer look at the structure of an email address.
Parts of a Professional Email Address
Here is the correct email address format:

| | | |
| --- | --- | --- |
| j.doe | @ | tidio.com |
| user name | "At" sign | domain name |
| This is usually the name of a person using an email address. | Since there can't be any spaces in email addresses, the @ symbol separates the user name and the domain name. | The domain an email account is registered at. It should be your company's official website. |
Use your real name and your business domain. Conversely, your business email address shouldn't look like any of the examples below:
| | |
| --- | --- |
| ⛔ [email protected] | Email accounts registered at hotmail.com, yahoo.com, and aol.com are perceived as unprofessional. |
| ⛔ [email protected] | Don't use numbers, references to pop culture, nicknames, or puns, especially if they are offensive/contain swear words. |
| ⛔ [email protected] | Some emails look like they came right out of a spam generator. Your business email address shouldn't raise any suspicion. |
How to Create a Business Email Address
If you don't have an email account linked to your professional domain, you should consult it with your IT department/hosting provider. Usually, you can easily get a business email or configure one by using online tools provided by your hosting company.
By the way, you can send automated emails to your prospects with Tidio. But did you know that you can install Tidio as a Shopify live chat or WordPress chat plugin for lead generation too?
How to Start a Business Email
Business emails are just the opposite of hamburgers – you put a sesame bun between two pieces of meat. Good emails have great subject lines and opening lines that get readers hooked. The main body should be filling, but not too juicy because you should prepare readers for the meaty ending – the CTA closing line.
Subject Line for Business Email
The subject line is the very first thing your email recipient will read, so it must be clear, draw attention in the inbox, and be easy to find later. It is also one of the best sections you can experiment with when you send bulk emails. In general, short and descriptive subject lines are better than gimmicky ones.
Good Subject Line Examples
How is [company's name] dealing with [a problem]?
Could your company use some help with [issue you can help to solve]?
It was nice seeing you at [an event that the recipient attended]
By the end of this week, we have to take care of [something]
Bad Subject Line Examples
⛔ What's up, man?
⛔ IMPORTANT!!!!!!!!!!!!!!!!!!!!!!111111111111
⛔ Our amazing [product] will help you!

Subject Line vs Salutation
Subject lines should be relevant and precise. They can't be disrespectful or sound desperate, because you really can make the first impression only once, and the subject line is how you "introduce" yourself. Make it count. However, you shouldn't literally introduce yourself as a person within the subject line itself, because greetings come in the next part.
After clicking on your email in their inboxes, the recipients open the proper content of the email, which should start with a so-called salutation.
What Is a Salutation in a Business Letter/Email?
In the context of correspondence, a salutation is a greeting. The most common salutation in the English language is "Dear" and it can be used in most situations. Salutations are usually followed by the recipient's first name or title + the last name, e.g. "Dear Emmett", "Dear Dr. Brown", "Dear Professor Chomsky".
Pro-tip:

Salutations combined with names are followed by a comma (or a semicolon in very formal correspondence). Nevertheless, the opening line of the first line of the main body of your email should be treated as a new sentence and the first letter should be capitalized.
Business Email Greeting Phrases (Salutations)
Here are the most popular greeting phrases: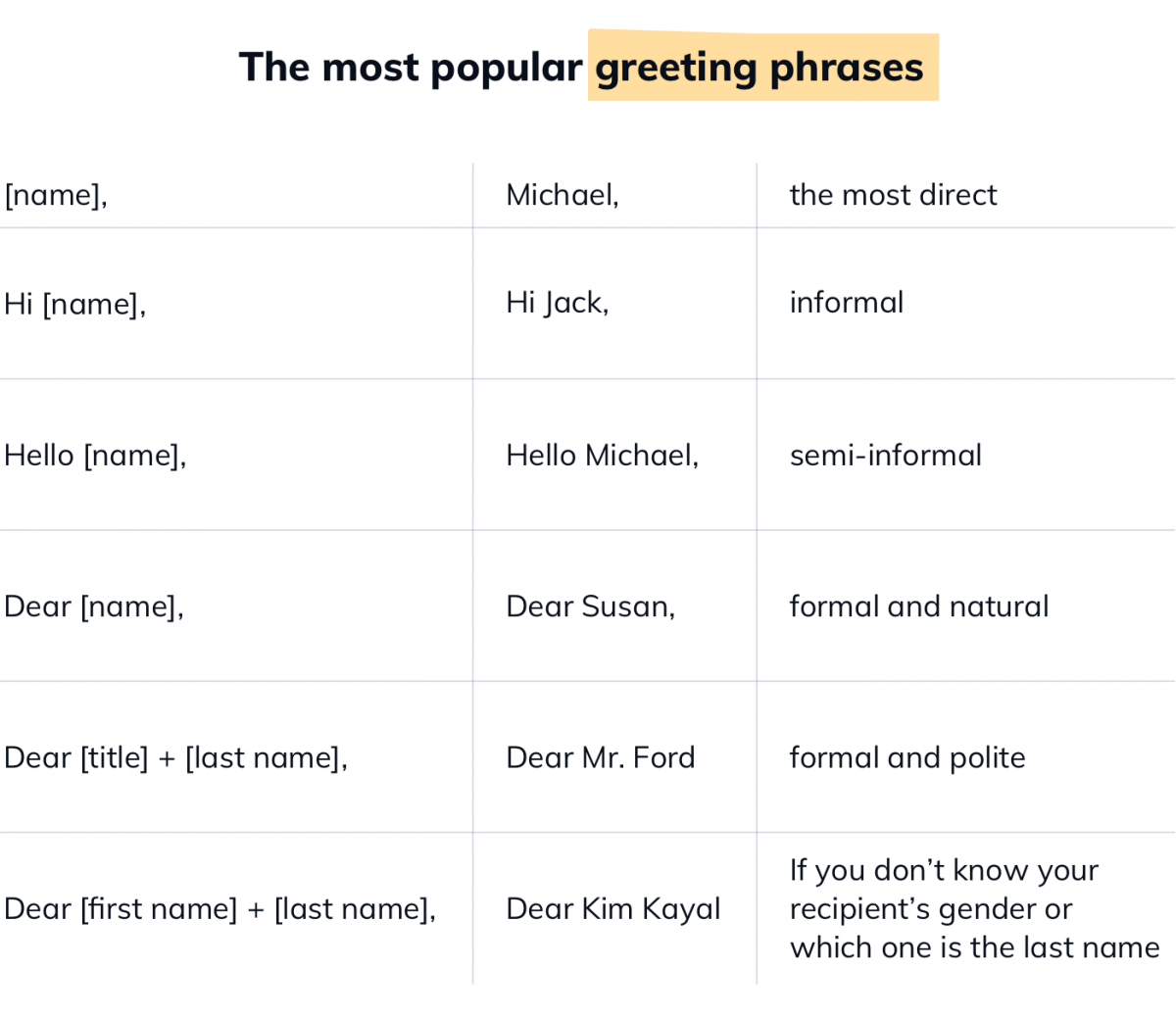 Notice:
"Dear Mark," is always written without a comma between the salutation and the name. However, in the past "Hi, Mark," (or "Hello, Mark,") with a comma used to be perceived as more correct than "Hi Mark,". Recently, the second option has become more popular and is preferable, probably because one comma after the name looks more aesthetically pleasing than two commas close together.

"Hi" and "Hello" can be used without a name. If you don't know your recipient's name, you can use one of the more universal welcoming phrases such as:
Hi there/Greetings – However, it is good to address your email to a specific person. If you don't know their name, you can also use their job title.
Dear [Job Position]
There are also some greetings that it is safer to avoid, for instance:
⛔ Hey! (It might be received as too informal)
⛔ Dear Sir or Madam (This expression is too formal and sounds stiff)
⛔ To Whom It May Concern (This is imprecise and tends to be ignored)

You shouldn't sound too formal, but sometimes it is safer. Don't try to fraternize if you have just begun exchanging business correspondence with someone you don't really know that much.
Best Opening Lines for Business Email
Well-written emails should show that you respect other people's time. Usually, it's best to get straight to the point at the very beginning of your email.
There are four basic types of email opening lines that work best in business and sales. They employ different strategies of approach to the receiver, and you need to determine which one of them is best in a given situation.
1. Email Opening Lines That Offer Value
Hint at a potential benefit or a solution to their problem.
Email opening line examples that offer value:
I'm reaching out because [there is a way your recipient's business can benefit from this email exchange and your cooperation]
I've noticed that [a problem occurred] and I believe that I can assist you in [solving the problem].
2. Email Opening Lines That Ask Questions
Ask a question and let them express their opinion or ask for help. People engage more when they feel somebody needs them or is interested in what they have to say.
Email opening line examples that ask questions/ask for help:
Does your company want to [achieve a particular goal or make a strategic decision]?
Would you like your business to [increase revenue by XX%/convert more leads into sales/join the top ten businesses in a given field]?
I would be very grateful for your advice on [the subject your email recipient is an expert on].
3. Email Opening Lines That Boost Ego
Start with a compliment. Show your admiration for something your email receivers or their businesses accomplished.
Email opening line examples that boost the recipient's ego:
Congratulations on [recent achievement]!
I loved your recent . It [helped me realize/discover something which I appreciate]. I'm contacting you regarding [the reason you are writing this email]
I would be very grateful for your advice on [the subject your email recipient is an expert on].
4. Email Opening Lines That Use Contextual Conversation-Starters
Refer to a recent meeting, an event or a person to introduce the subject and kick off a conversation:
Email opening line examples that are topical:
We spoke on [date] about [whatever you had talked about]. I'd like to discuss [the angle you would like to discuss that would pick up a conversation where you left off last time]
It was great to see your company at [an industry event/awards]!
An alternative version (with a twist):
I saw [your email receiver's competitor] at [an industry event/awards]. I think [a call to action or reassurance that you side with your email recipient].
[Name of a shared contact] suggested I get in touch with you regarding [the topic you want to address]
Watch out for These Email Opening Lines
You should bear in mind that some of the common email formulas and phrases have lost their potency over the years:
| | |
| --- | --- |
| Email opening lines that are overused or don't work: | What is wrong with them and what to do instead |
| ⛔ Did you enjoy your [weekend/vacation/holiday]? | It looks forced and it can be an intrusion into somebody's personal life – not a good choice if you are not friends. |
| ⛔ Did you know that [curious fact]? | It may come across as patronizing. You can grab someone's attention by throwing at them an interesting statistic that they most probably don't know, but you don't need to rub it in their faces. |
| ⛔ I would like to introduce myself. | Don't announce it. Just do it if you really need to. However, it is not the best opening line. It's better to get straight to the point. Your correspondence partners will check your email signature anyway. |
How to Compose Your Email
Effective business emails need to be personalized and must perfectly match a specific situation when it comes to the main body of messages. It is impossible to provide ready-made templates for all occasions, but the most successful email messages usually are similar in structure and follow one of the common patterns.
Strategies to Write Persuasive Emails
There are three main strategies you can use to write a persuasive email.
1. Use Before/After Contrast in Your Emails
You need to start your pitch by describing the current state of affairs. You paint a bleak picture (or at least a somewhat worrying one), then you describe the bright future, which is waiting up ahead.
The important thing is to create two contrasting elements, one of which is negative/lukewarm/neutral and the second bright and optimistic. Now, all you need to do is introduce your services/product/thing that will serve as the bridge enabling a smooth transition between the two states. Make sure to point out how what you bring to the table makes that possible.
2. Write Emails That Draw Attention to a Problem and Bring a Solution
In this email formula, you take a similar approach but focus on the negative outcomes. Instead of making your email recipient imagine the bright future to come, you create a sense of endangerment, dissatisfaction, and urgency to take action.
Choose a potential problem and agitate it. Don't blow it out of proportion, but build a strong argument. Elaborate on different scenarios that might become detrimental to your email recipient's business. In the previous email structure example, you created a positive impression and introduced something which would help to accomplish it. Here, you employ negative emotions (fear/anxiety) and offer a remedy to the problem. The main goal is to build up tension and release it.
3. Write Emails That Create a Desire
Alternatively, you can try appealing to positive emotions and arousing enthusiasm. In this type of business email, you need to earn more personal engagement. Try to grab the attention of the person on the other end and include them in your "scheme". Stress how much their involvement is needed, ask questions and use calls to action. Here, your main mission is to induce a kind of gold fever.
While in the previous business email examples the recipient was more or less passive, here you need to make them feel a part of your team early on and make them excited.
How to End a Business Email
What is the secret to writing business emails that work? If you remember the metaphor of the inside-out hamburger from one of the previous sections, the ending should be juicy.
The closing section of an email should be like the punchline of a joke. Including a call-to-action closing line is a must. You don't write emails for amusement but to make them do something!
Email Closing Lines Examples
I look forward to hearing from you
I'm looking forward to your reply
See the details here: [www address] and let me know what you think
If you require any assistance, feel free to contact me
Keep me posted
Keep up the good work
Let me know if you need anything
Please contact me if you encounter any problems
Please let me know if there's anything you need
Email Sign-offs
Sign-offs are the counterparts to salutations. They are common phrases customarily used in the letter and email writing.
Best Business Email Sign Off
Below are some of the most common professional email sign-offs
Most popular and universal:
Sincerely
Regards
Best Regards
Equally acceptable:
Best
Best wishes
Fond regards
Kind regards
Many thanks
Respectfully
Thank you
Warm wishes
With appreciation
With gratitude
With gratitude
Yours sincerely (British English)
Yours faithfully (British English, used instead of Yours sincerely when you don't know your recipient personally)
Sincerely yours (American English)
Email Sign-offs to Avoid
| | |
| --- | --- |
| Sign-offs you shouldn't use in business emails: | The reasons why you shouldn't use these sign-offs: |
| ⛔ Thx | You should avoid abbreviations unless you are on very friendly terms with the recipient. Otherwise, they appear disrespectful. |
| ⛔ Cheers | Too informal. You are composing a business email, not raising a toast. |
| ⛔ Blessings/Have a blessed day | Religious overtones may not be appropriate in professional business correspondence and they can sound out of place. |
| ⛔ Peace and love | Too informal. You are composing a business email, not decorating your van before going to San Francisco. |
Business Email Signatures
The final part of your email is a signature. A professional email signature should be as informative as necessary for the purpose of a given email, although a short biography may be a little bit too much. Think of it as an electronic business card with all the information your potential business partners would like to know.
Structure of Email Signature
Sign-off,
Full name
Title and company
Phone number
Website address
Regards,
John Doe
CEO of Tidio
123-456-7890
www.tidio.com
Business Email Template
Here is an email template that you can modify. You can also see some useful customer service email templates on our blog.
Subject: How is [company's name] dealing with [a problem]?

Dear [name],

I loved your recent . It [helped me realize/discover something which I appreciate]. I'm contacting you regarding [the reason you are writing this email]

[The first paragraph of the main body – link the content of the video/article you've read with a current situation of the receiver's company]

[The second paragraph of the main body – describe, in a positive light, how things could look like in the future and what are some of the challenges that need to be overcome]

[The third paragraph of the main body – pitch a solution and inspire the recipient to take action]

Keep up the good work and let me know what you think about this idea. I look forward to hearing from you.
Regards,

[Your full name][Your job title][Your workplace][Additional contact details or a website address]
Business Email Example
Here is an example business email that follows the rules described in the article.
Subject: It was nice seeing SalooSoft INC at the IT Champions Expo 2019 in Denver
Dear Mr. Herring,
Congratulations on the success of your new app!
Your presentation at the ITCE 2019 was very impressive and we absolutely love your smart checkout solution. In point of fact, we liked it so much, that we would like to discuss some collaboration ideas and see if our company can bring something to the table.
Shopping automation is one of our main focuses, but we approach it from the hardware side. We have sold more than 4500 units in of our signature device in the last year alone, and we have dominated the smart shopping market in countries such as Denmark, Sweden, and Norway. Just imagine what we could do if we joined forces!
Please, let me know how we could arrange a meeting and discuss our future prospects. I look forward to hearing from you.
Kind Regards,
August GrönbergCNO of | Big-X-Sell-Techwww.bigxselltech.com
A Handy Business Email Checklist
Before you send an important email, remember to go through this checklist:
My email address looks professional and has my company's domain at the end
I checked the BCC and CC settings when typing in the recipient(s)
The subject line of my email is descriptive, clear and it has no typos
I have used an appropriate salutation and way of addressing the recipient
My opening line is intriguing and it uses one of the techniques described in the article
The main body of my email makes a compelling argument for my case and it follows a logical structure
I have included a CTA (call to action) in the closing line
I have used one of the sign-offs which matches the situation
My signature looks professional and it states clearly who I am and what company I represent