Chatbots
How Much Does It Cost to Build a Chatbot?
Do you want to know how much does it cost to build a chatbot? Here is a short guide to the chatbot-making business and different approaches to chatbot development.
Chatbots have been taking the world of eCommerce by storm. Business owners love them because they help to automate customer service and boost sales. Customers have grown to like them as well.
This is especially true for the new generation of digital shoppers. According to our new survey, 52.88% of online buyers aged 18-29 would use chatbots to get helpful answers to their simple questions.
Some were initially hesitant to welcome the new technologies right away. However, they've quickly learnt that chatbots and virtual assistants can make their life easier.
Free Chatbot Templates
The times are a-changing, and there is no way to stop it folks. After all, what is the point of waiting for phone operators or e-mail replies when one can conveniently use a chatbot to solve most of the problems?
Tip: In 2020 anyone can make a chatbot. It's easier and cheaper than ever before. There are many online tools that you can use to create your own chatbots. Tidio Chatbot Editor is one of the best free tools available and it is very popular among professional website owners.
The rise in popularity of chatbots is closely related to a gradual shift towards a more customer-oriented approach in businesses. To break into a market, you need to have a quality product and deliver a great customer experience.
That's why companies hire User Experience designers, develop Conversational Marketing strategies and invest big money into Artificial Intelligence chatbots. So far, we have CX, UX, CM, and AI – they surely can make one's head spin.
Do I Really Need a Chatbot?
Let's assume that you would like to make your business more competitive. You want to stay afloat for many years to come. You also want to harness new technologies and business solutions to benefit from their use in the future. What can you do to achieve that?
The first thing you can do to score some easy points with your customers is adding a chatbot. It can welcome, assist, provide customer support, answer frequent questions, offer discounts, and much more.
A good chatbot serves many purposes, but ultimately they add up to one important thing – chatbots boost your conversion rates. It's low hanging fruit, but don't rush into getting one before having considered what solution fits your needs best.
You could probably hire someone to set up a chatbot on your website or online store. The more you are willing to pay, the more advanced and customizable features you can get. At least in theory. Chatbots can be coded from scratch and equipped with advanced machine learning algorithms. The tech is here, and the sky (and your wallet) is the limit.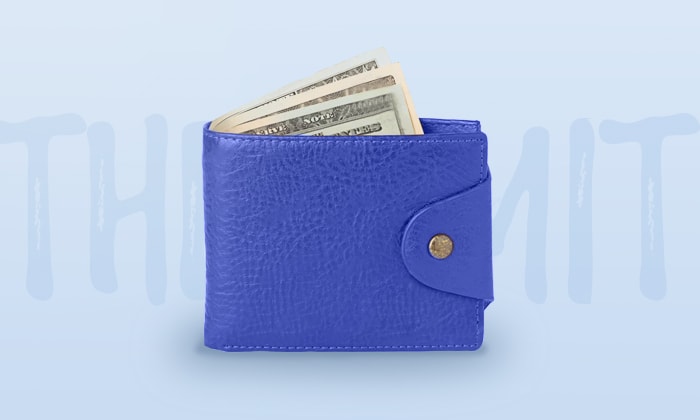 For sure, it can be done and you can throw money at the problem. If your company has a team of programmers who are up for the task or the means to hire third-party developers, it may work. Chatbots usually deliver high Return on Investment (ROI).
How Much Does It Cost to Build a Chatbot?
According to Van Baker, Research Vice President at Gartner, by 2020, over 50% of medium to large enterprises will have deployed product chatbots. Some companies literally spend hundreds of thousands of dollars on their chatbot and quickly manage to increase sales by 10-20 percent or significantly reduce spending and save millions. Usually, the costs are lower.
Average Cost of Chatbot
You can expect to pay somewhere around $ 10,000 to $ 15,000 for chatbots with custom backend which can also be connected to third-party integrations and CRM. A Facebook Messenger chatbot for small business can cost from $ 2,000 to $ 5,000. Sounds more reasonable, doesn't it?
The thing is, you can't really pay once and get it over with. When it comes to web-based apps, tailor-made solutions require regular maintenance and upgrades. You will have to depend on the developers to manually add new features and take care of bugs and compatibility issues. With a custom chatbot, designed and coded just for your business, you have complete control over it. But, with great control comes great responsibility.
Custom Chatbot Development
Let us share a piece of common sense advice – don't bring a gun to a knife fight. If the annual turnover of your business does not really justify the expense, don't spend thousands (or tens of thousands) on something you can have for free.
It may come as a surprise to you, but you can actually make chatbots on your own and you won't have to pay a cent. All you need to invest in building an awesome chatbot is time – which you would spend on designing one and discussing it with your developers anyway.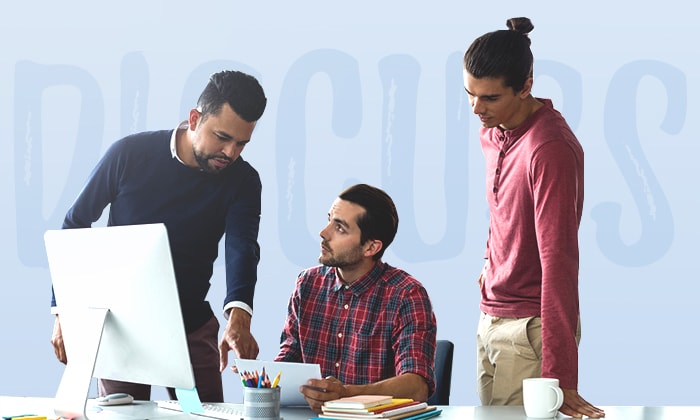 Chatbot development can be lengthy and full of traps. Instead, you can use the all-in-one chatbot platform – Tidio app is available for Shopify, WordPress, and Wix, but you can also integrate it manually with any website. Install Tidio Live Chat to find out that creating chatbots can be a piece of cake.
Free Chatbot Maker
After registering your account and integrating Tidio Live Chat with your site, you can access the Chatbots section of the admin panel. You can start creating your chatbot by clicking the Add another bot button.
You can use one of the available bot templates and customize it according to your needs, or you can click the Add from scratch button to start making a completely new one.
The chatbot editor which comes with Tidio Live Chat is based on a user-friendly drag and drop interface. You can add building blocks to create unique conversation flows.
Designing chatbot conversations with our tools does not require any coding skills – you simply create a diagram which takes into account various actions performed by your customers and responses provided by them through the chat messaging widget. These can be selected from the options suggested by the chatbot or you could even try open-ended questions which use the Natural Language Processing engine, which triggers actions based on specific keywords.
How to Make a Chatbot
Let's assume that you are tired of using pop-ups and contact forms to generate leads. Instead, you want to deploy a chatbot to take care of the task. It will engage when visitors land on a selected page of your website and suggest signing up for the newsletter.
Add another bot in the Chatbots panel
When adding the new bot choose Visitor opens a specific page as the starting trigger. The editor will open and you can configure the trigger and append more blocks.
Add Delay from the Actions panel to make your chatbot wait for several seconds (you can set the delay time). Make sure to connect the nodes!
Append a new Decision (Quick Replies) node to ask the visitors whether they would like to sign up for your newsletter or not. Add the appropriate quick reply options, e.g. YES and NO. As there are two possible answers we need to create two separate routes based on the user's choice.
For the YES choice adjoin the Ask a question node. Type in the question the chatbot will send to the user, like: What is your email address? Set the automatic validation for Email. Turn on the Save the answer as a Contact Property switch and select email. Add a Send a chat message block to thank the user for signing up.
If the user chooses the NO response, the chatbot should send a different message. Append another Send a chat message node and complete the chatbot's response.
You can finish with the Chat with bot ended block.
Your chatbot conversation flow design should be similar to the one in the illustration below.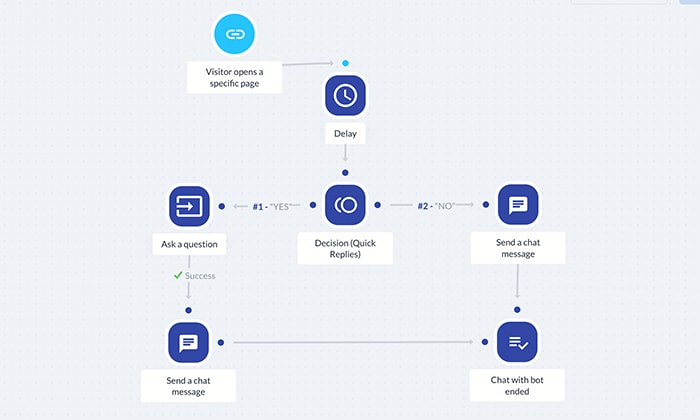 It wasn't hard at all, was it? You can click on the Test it out button in the upper right corner of the editor and see how your brand new chatbot works. After the tests you can add it to your website.
Using chatbots is a great way to boost the conversion rate of any online business.

Although they may look intimidating and complicated, chatbots can be created with a really simple tool that all business owners can use by themselves – with no coding skills required.

How to Make a Chatbot in 10 Minutes – a Simple 3 Step Guide
The main aim of Tidio chatbot-making tools is to directly translate your ideas into working chatbots as quickly and intuitively as possible. You don't have to possess any technical knowledge to make a chatbot. All you need to do is follow the general principles of good conversational design.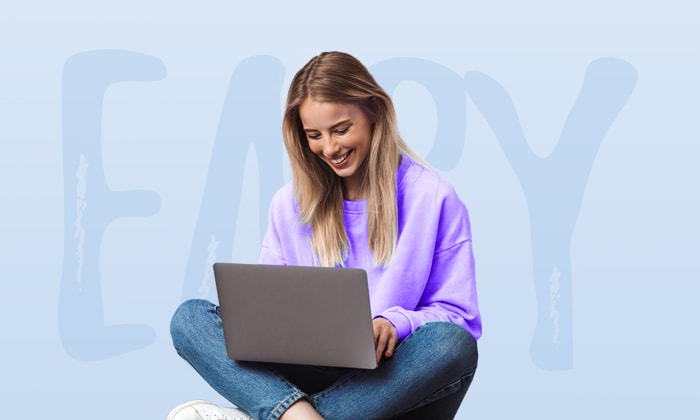 For all that matters, you could design your chatbots with pen and paper anywhere you are and easily copy them with the editor afterwards. It is about being creative – the editor takes care of the technological aspects of the process and you can focus on bringing your chatbot ideas to life.
Chatbot Cost Calculator
If we were to use one of the online chatbot calculators to estimate how much a standard chatbot with features similar to the ones provided by Tidio could cost, it would turn out to be worth at least $ 12,000.
What you should really consider is something far more relevant. It is never about which piece of software seems right for the job at any given moment, but about the possibilities it has to offer in the long run.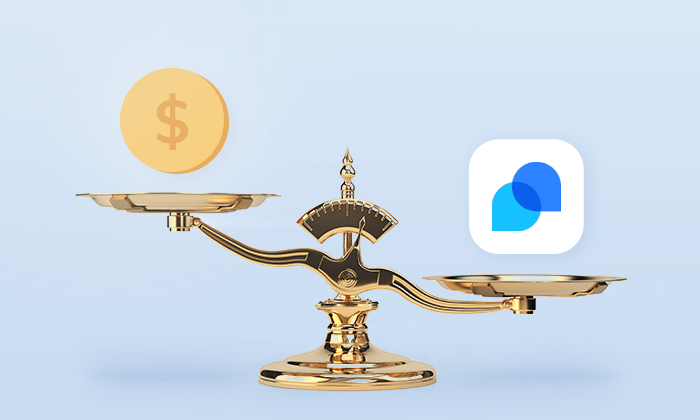 You can choose to buy a black box chatbot which works well, but requires constant involvement of specialists to modify anything; or, you can give Tidio a shot and learn how to make your own chatbots. However, don't confuse it with being left on your own – if you decide to install our app you become a member of the Tidio users community, who shares its experience, makes suggestions for improvement, and can always ask for support.
Join the Community of Chatbot Makers
With Tidio you don't have to worry about the maintenance cost, upgrades which keep your chatbots up to date, or your coding skills – it can be a huge weight off your shoulders.
Why not give it a try?
You can start using Tidio Live Chat and its chatbot-building tools right now!
Try Chatbots For Free