Only about 22 percent of businesses are satisfied with their landing page conversion rates. That number can be quite daunting but fortunately, it is not fixed by any means. That's what optimization is for.
Building a Shopify landing page that converts is a multi-dimensional task that entails some questions you need to ask and answer before you even sit down to writing a copy and designing the layout.
First, you need to set up a Shopify store and then think about what are you going to use the landing page for (the goal)? Secondly, who are you going to target (the audience)? Thirdly, how are you going to drive traffic to your page? And finally, how to make your Shopify landing page actually work so it fulfills the goal it was made for?
The last task is especially difficult if you consider ever-changing trends, consumers' expectations, and the multitude of solutions available on the market. You might have already heard that page interactivity is to become one of the essential elements of the landing pages in 2020.
Interactive pages engage the customer through buttons, navigation, pin locations, sound, animations, or drag-and-drop. They are vivid and mesmerizing.
But your product page needs something more than just bells and whistles. These days anyone can have a captivating story and pretty design. You want your page to stand out and deliver something more – a conversation that adds a lot to exceptional customer experience.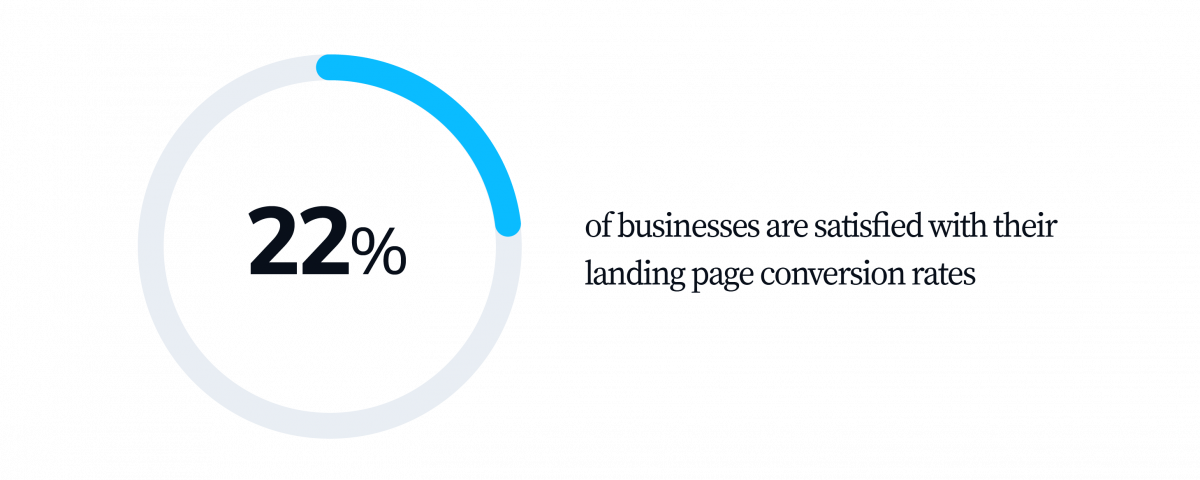 Turn your website visitors into delighted customers.
Set up the Tidio live chat app in 5 minutes and watch your sales grow.
Learn About Live Chat
Note: If you want to cut straight to the chase, learn how to install a Shopify online chat app in your store.
Although live chat can help you collect more leads and improve the overall customer experience, it is not the only way for optimizing the Shopify product pages. There are more things to consider when it comes to landing page optimization, and this is what we will cover in this article.
In the final paragraphs, you will find an FAQ section where we answer general questions related to the landing pages and to the process of their optimization.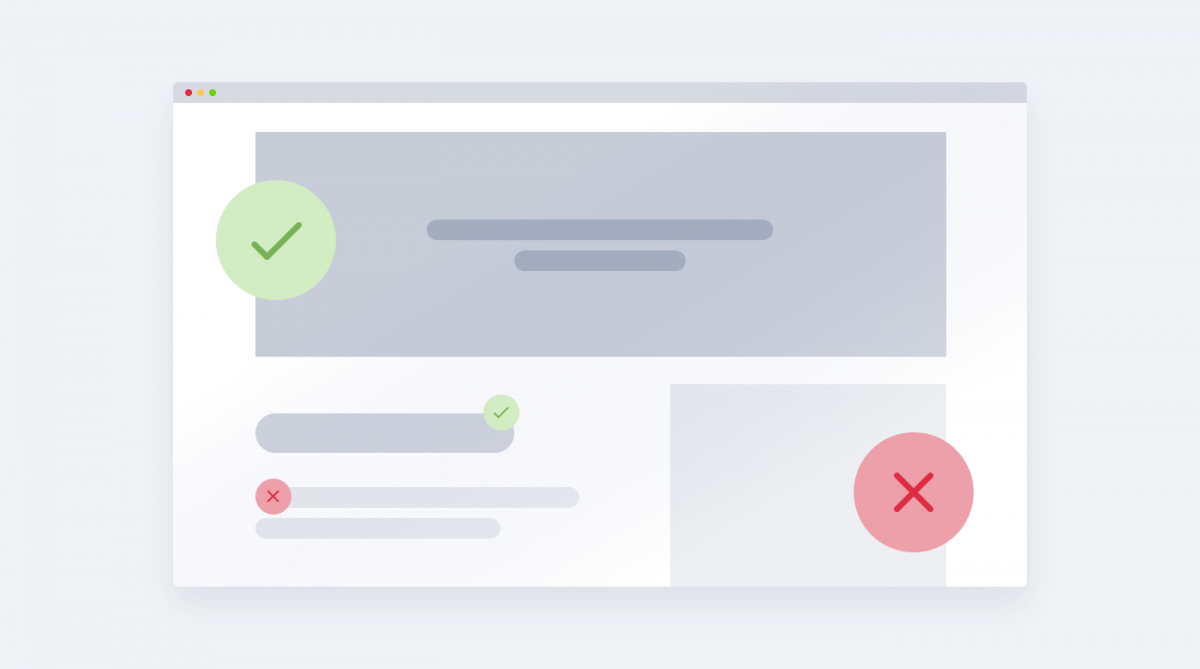 Shopify Landing Page Common Mistakes
Common Shopify product page mistakes pertain to the audience, images, and copy. These are, for instance:
Poor design
Wrong target audience
The discrepancy between the ad copy and page copy
Complex language
Unclear CTA buttons and/or there are too many of them
No clear purpose
Generic content
Information overload
We will address these mistakes and show you how to amend them. And then, give you some tips on how to collect data so you can finger-point the culprit that sabotages your conversions.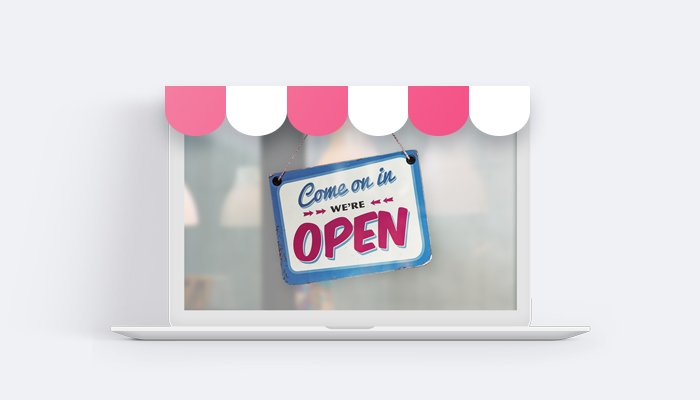 Shopify Landing Page Best Practices
The landing page best practices are only a starting point to help you build your best landing page for your Shopify store. After that, you need to experiment, test, analyze, refine, and test again. These practices and the conclusions you manage to draw will help you build better pages in the future.
#1. Try a Conversational Approach
Imagine that you, as a potential customer, stand at the shopfront and try to figure out what kind of place it is. There is no signboard, no banners, the windows are covered with blinds so you can't take a peek inside.
Oh well, never mind… You're going elsewhere. You just need a [product] and there are hundreds of other stores that sell it.
In the virtual world, the landing page is the shopfront, and in this story, it didn't fulfill its purpose. The conclusion is that someone has just lost a customer… Come to think about it, wouldn't it be so much easier if there was someone you could talk to and just ask the questions you need?
Of course!
Add a Human Touch to Your Landing Page
Having someone who would personally tell you about a product, answer some questions, or simply engage in a conversation could keep visitors on your Shopify landing page longer.
The best part: You CAN deliver such customer experience to your visitors or even be the first one to engage them before they leave. So even if you are initially having some issues with your landing page, a conversation with another person could make up for it.
All you need to do is to install a live chat on your landing page and turn your regular Shopify landing page into a conversational one! This way your visitors have someone to turn to in case they would like to inquire about your product.
Boost Visitors Engagement
Live chat is a simple solution that seamlessly connects you to your visitors and customers. With live chat, you can deliver a similar customer experience you would in a traditional store.
For instance, you can greet your visitors, collect leads, build relationships with your customers, and show off your amazing chat support skills.

Automatic Customer Engagement
You can go one step further and automate the whole process with chatbots. They provide 24/7 help and make your Shopify landing page more interesting. With funny conversational flows or quizzes, chatbots can hook the visitors and help them convert.
Chatbots can greatly complement your website and be used as a "backup". How? If there's a visitor who does not fancy reading all the information on your landing page, then your chatbot can tell everything the customer needs to know.
If your potential customer becomes interested in what you offer, a chatbot can collect any necessary details from them and act as a CTA button to finalize the journey.
Try Tidio live chat powered by chatbots. It's a lightweight solution that will not hurt your landing page performance.
Key takeaway
Live chat and chatbots can significantly improve your visitor engagement, conversion rate, as well as overall customer experience.
#2. Identify Your Customer
So let's start with the basics. The super-important question you need to answer is: Who are your customers? Or: Who is your target audience?
Are they college students, who need fancy but cheap clothing? All-age couples looking for wedding rings? Teenage geeks, who are after a Star Wars lightsaber or Chewbacca costume? Business professionals, who need to have their business cards designed and printed? Or perhaps people who seek dietary help to lose a few extra pounds?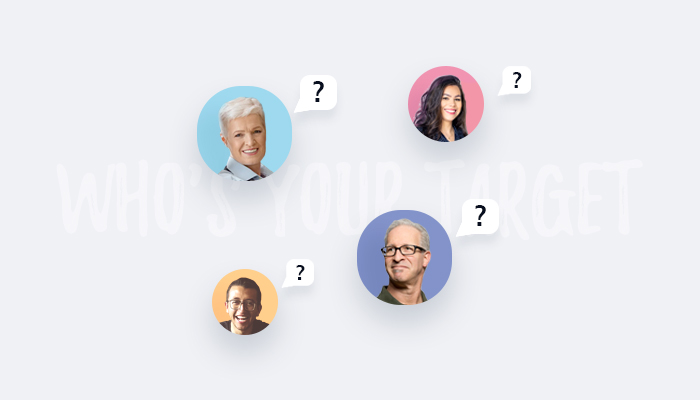 If we're talking about some specific audience, college students for example, then we should ask even more questions to find out more about them. For instance, what is their average age? What is their economic status? What do they like and dislike? Where do they come from? What are their frustrations and motivations?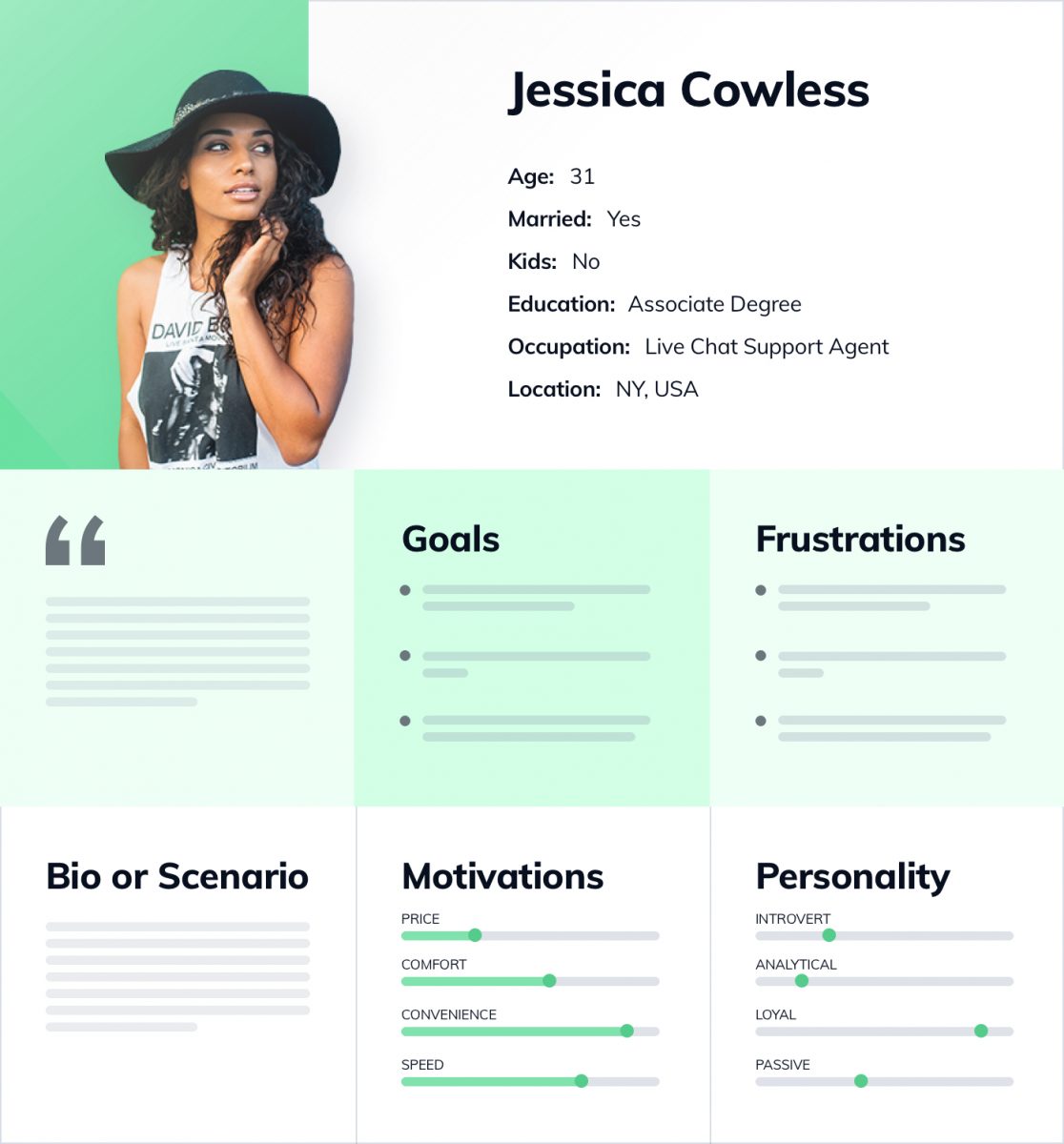 Thinking about your customers this way, you try to put yourself in their shoes. When you manage to pinpoint their common characteristics, you can create a so-called buyer's persona who should be given a real-like background (name, age, gender, bio, habits, pain-points, image, etc.).
How to Identify Your Customers?
The audience research can be generally divided into two-steps.
First, you collect as much data as you can about your customers to create a persona.
1. Create a rough profile of your customers through market research.
Find out what their factual characteristics are:
Age (does not need to be super-exact. Knowing what stage of life they currently are at is sufficient)
Gender
Occupation
Income
Location
Language
Hobbies
2. Next, move on to understanding their emotions and motivations. Define your customers':
Needs (family needs, emotional needs, social needs)
Demands (family, work)
Budget pressure
3. And lastly, you can focus on those areas which will help you with targeting the product or service. For example:
Preferred buying method (online, over the phone, personally at the store)
Are they spontaneous in their decisions or rather think through each decision very carefully?
How can you collect data on your existing and potential customers?
Surveys
Emails
Newsletters
Social media (e.g. Facebook Audience Insights)
Customer support (or some other customer-facing staff)
Google Analytics ("Audience" tab > "Demographics")
Google Trends
Family and friends

Secondly, think about your own products or services you sell and decide what is the core offer (or benefit) you bring to the table.
What would your customers use that product or service for?
What do they love it for?
Who would benefit from it the most? (i.e. Is this something your persona would want?)
How does your product or service address customers' pain points? (i.e. How will your offer make your customers' lives better?)
What sets you apart from your competition? (i.e. What's your unique value proposition?)
Key takeaway
Targeting your pages correctly can increase the conversion up to 300% (source), so tailor your product pages to the audience. Only by knowing what your customers need and what their pain points are, can you present your product/service as a solution and thus, make your landing page sound more convincing.
#3. Set One Goal
Your Shopify landing page was created for a reason. What was it? What was the goal you wanted to achieve with it?
Or in other words, what do you expect the visitors to do? Would you like them to buy something? To leave their email address? To inquire about your products/course/services?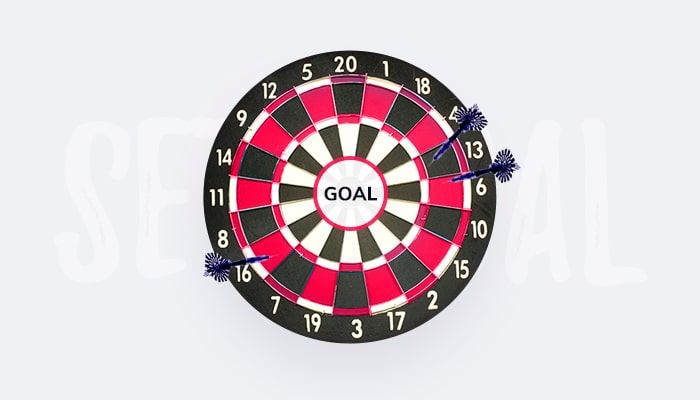 Define the goal of your landing page and stick to it. If you want your visitors to inquire more about a particular line of products, then make it clear throughout the whole page. Otherwise, if you try to achieve too many things in one go, your visitors will feel confused and will lose their patience and/or interest.
Key takeaway
A multitude of different offers can reduce the conversion rate up to 266% (source) so remember to dedicate one landing page to one goal.
#4. Include Meaningful CTA Button(s)
When you manage to define the goal of your Shopify landing page, turn it into a CTA button.
For instance, let's say you want your visitors to leave their email addresses, so you can send them an ebook about your online courses. Your CTA button closing the lead capture form could say "Download Your E-Book" or "Send Me My E-Book".
Landing Page CTA Button Design Guidelines:
Give a meaningful label to the button. Actions like "Done", "Send" or "Download", depending on the context, sound too vague, so make sure that your visitors know what exactly will happen when they click the button.

Give the button some space and contrast. The contrast means that the button will be easily noticeable to your visitors (please keep in mind contrast and size standards for vision-impaired individuals) and would not blend with the color of the background. Giving space means that there is no clutter on the page that could distract your visitors from the CTA button.

The CTA description should encourage action, so use simple but powerful verbs to motivate your visitors to actually click that button.

The button should immediately follow an offer and the unique selling proposition explanation. Do not try to position it at all cost above-the-fold because placing it in the wrong place may cause friction. If possible, place it in the upper section, it is not, however, an imperative.
If your landing page is longer, you may repeat the button so it is available in the lowest section as well. Generally, it is recommended to include one CTA on a page but it largely depends on the design of your page so keep the number reasonable.
Keep the CTA label short. Too long labels can be unreadable and simply look odd (not to mention they will look horrible on mobile screens).

Include personal pronouns like "You,",'I" "Your," "Me," or "Mine." They will help your visitors see your offer through their own eyes.

Key takeaway
CTA is the finishing line on the customer journey. Let your visitors feel it was worth crossing it, so do not make them guess what action is hidden behind the button.
#5. KISS Your Shopify Landing Page
Do what? Keep it simple.
If there was only one single idea you should definitely remember whilst optimizing your Shopify landing page, it's the KISS principle ("Keep It Simple, Stupid" or "Keep It Stupid Simple"). Well, OK — user-centered design is equally important 😉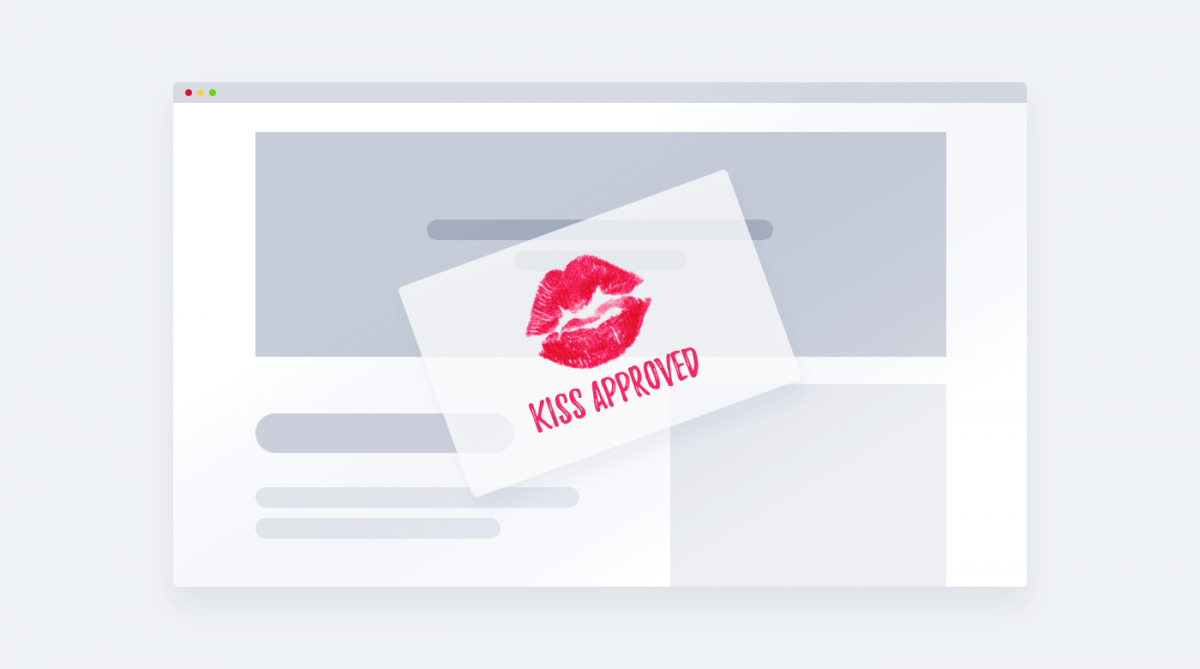 Even if your product is very complicated, there's no reason to make it sound and look complicated to your potential customers. Present it in as accessible, as clear, and as simple as you can.
Show your audience the powerful features of your software or product the way they can understand it. Otherwise, how can they even consider it to be useful for them?
You want to present the product to your customers who are likely to have a different level of knowledge or skills than you do. So yet again, you put the persona of your buyer in the center of your focus and try to think like them.
Key takeaway
Keep your landing page clean and simple. Avoid complex descriptions and jargon but do not skip important bits about your product.
#6. Keep The Content Clear, Consistent, And Relevant
Simplicity is important. But so is clarity.
Your visitors landed on your Shop based on what they saw in the social media or google ad which means they had certain intent and expectations in their minds.
Now, imagine for a moment that you are your own customer — what would you look for as a person who is new to your landing page?
How about:
What does this product do?
How does this product work?
Will this product help me?
What do I need to do?
Your Shopify landing page should have answers to all these questions ready and easy to identify. To help your customers "digest" the content of the page, present it in various ways to enhance the visual clarity. For instance:
Use bullet points. They separate the content and naturally guide the reader's eyes from the top to bottom. They are great if you have several items to list (e.g. product benefits).
Support your content with relevant images to help your visitors digest all the information. Be mindful of the images you use though. It's very easy to create clutter that could overwhelm your visitors.
Use various headings. H1 should be used only once per page, but there are five more left (H2-H6*). Arrange your content into logical and meaningful sections.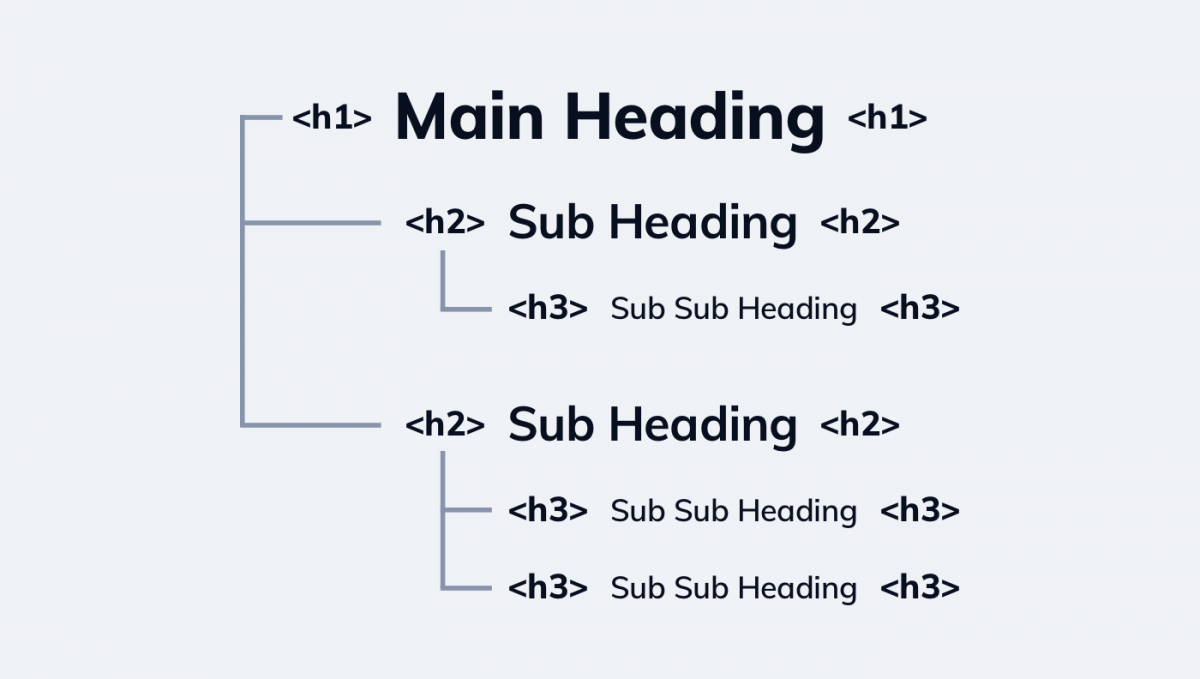 *Important: Headings should be used in descending order, meaning that H1 should be followed by H2 (not H3 or H6). What's the benefit? A clean landing page that can be read by humans and screen readers.
Key takeaway
Keep the content across the whole landing page clear and consistent. Steer away from irrelevant information and make sure that your visitors understand what this page is about and what's in it for them.
#7. Focus on The Headline and Hero Image
The main headline (H1) and hero image are the ones that grab the visitor's attention first.
Our brains need as little as 0.013 seconds to recognize an image and merely ~3-5 seconds to form an impression and decide whether the website offers what we want or not. Then, we either stay or keep searching.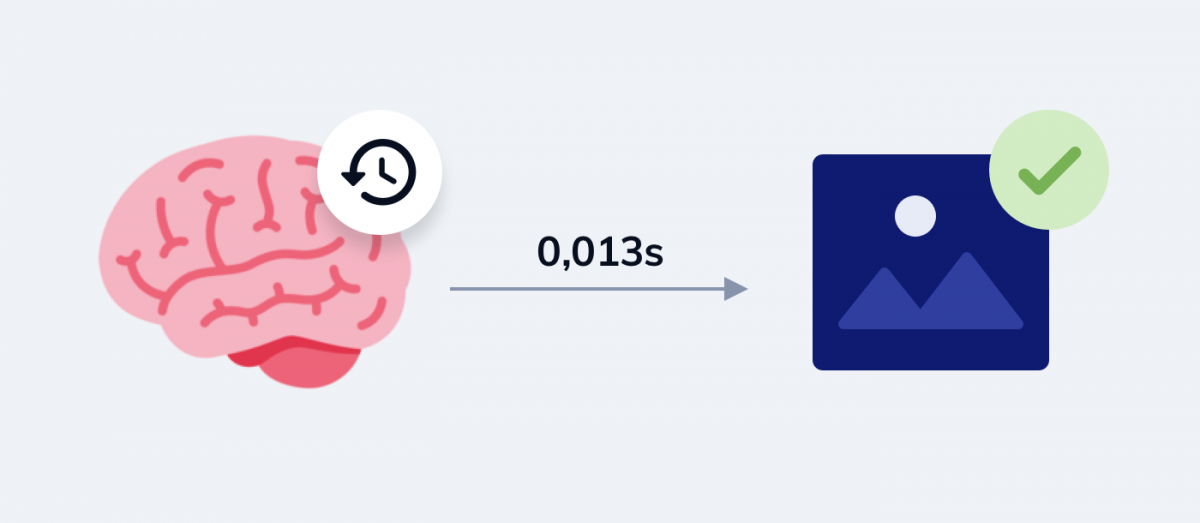 So make those seconds count.
Landing Page Hero Image vs Video
If you wonder what works better, the image or video, then according to statistics, videos can improve conversions by 86 percent. It doesn't mean though, that an eye-catching picture will not do the job well. In fact, your visitors are 80 percent more likely to read the content if it is complemented with images.
Again, it's all about the coherent message. The hero image or video should work well with the landing page headline copy and support the value of your offer.
Landing Page Headline
The headline of your Shopify landing page should clearly state the value of the solution you are offering.
For instance, H1 saying "New and Used Books" is very straightforward but not very exciting, nor does it explicitly tell the visitor what's in your offer for them. "Save up to $8 on new books and $12 on Used Ones" – not perfect but sounds better.
This headline text could be possibly written in many different ways but most importantly, you can see that the benefit is obvious: Shop with us and save money.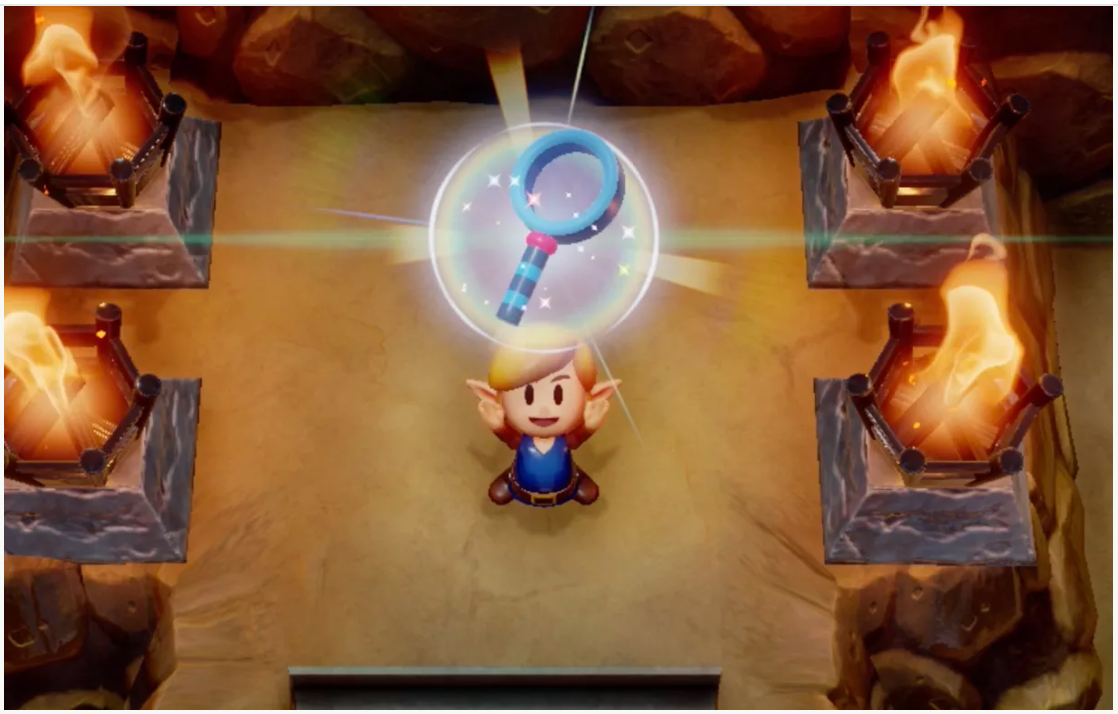 Headlines are about benefits.
>>Book our services and save time. Spare yourself the hassle. Be smarter. Feel relaxed. Stay awesome. Improve your life. Make your loved ones happy…<<
That's what the headline of your Shopify landing page should communicate.
Key takeaway
Show your customers how beneficial your offer is and how it addresses their pain points. The "pain-relief" message should be well communicated through the page content.
#8. Keep an Eye on Performance
Good website performance matters. A lot.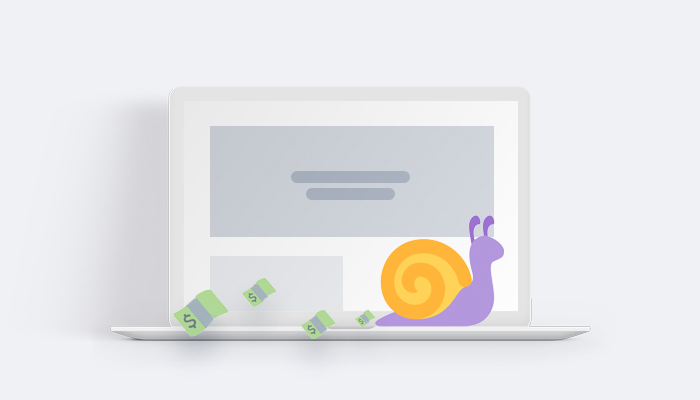 The speed of your website (and that includes landing pages) has a huge impact on how your brand is perceived, the trust and loyalty of your customers, and how soon your potential customers will leave — annoyed and disappointed.
Speed applies to the desktop and mobile versions of your Shopify landing page. After all, it's 2020 already and people want to see the webpage instantly and wherever they are, or they will close and forget about it.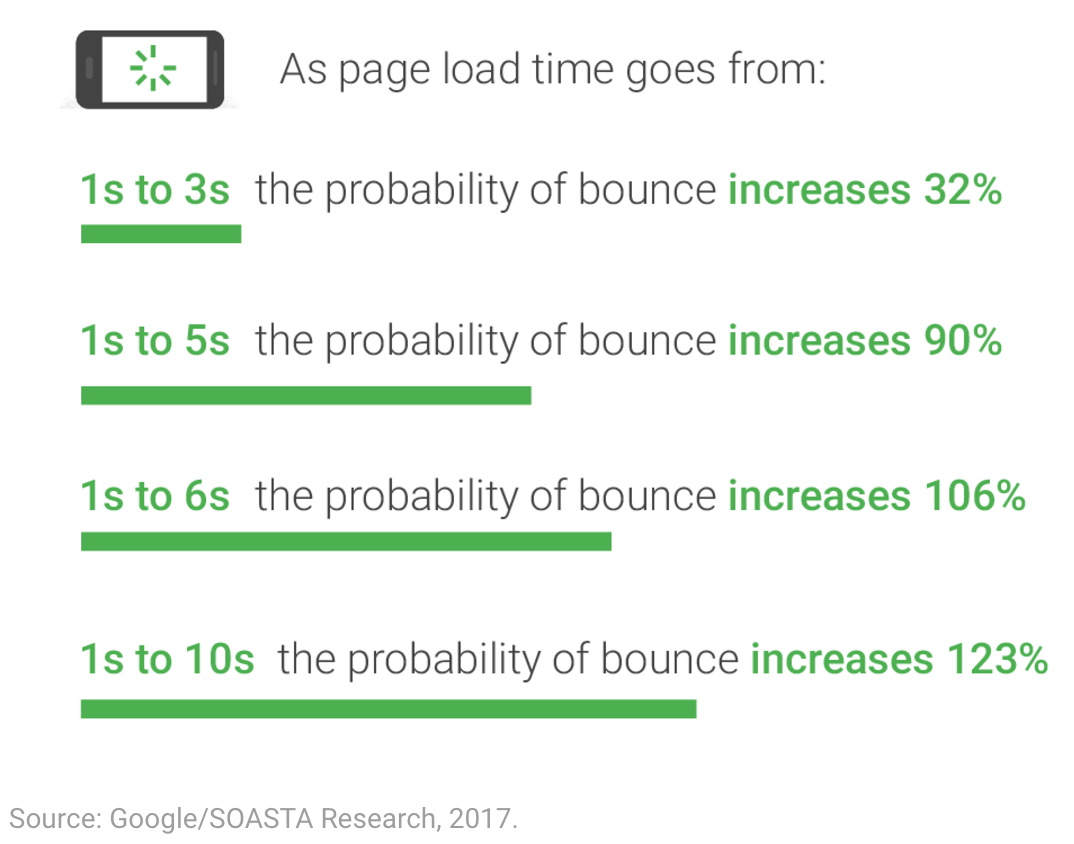 What's the actual wait time? Two seconds. That's the average time 47 percent of consumers expect from a web page to load. One second longer and 40 percent would leave the website.
What is important to keep in mind in terms of Shopify landing page/website speed optimization?
There are several factors, such as (but not limited to):
Size and weight of the graphical elements used
The volume of the content (copy)
The number and quality of the plugins installed
Excessive use of "attention-grabbers" (e.g. pop up windows)
Unreliable hosting
Key takeaway
Slow landing page loading time can be a major reason behind the high bounce rate. Test your website speed on a regular basis to detect any potential bottlenecks that could impact the customer experience… and patience.
Landing Page Optimization Tools for Data Collection
Landing page optimization means analysis and improvement of each element visible on the page. So if you already have a landing page up and running, it does not mean you need to bury it alive and start with your design from scratch.
How can you find out what works and what doesn't? By testing what you already got to find out which elements present on your page are the ones that need improvement.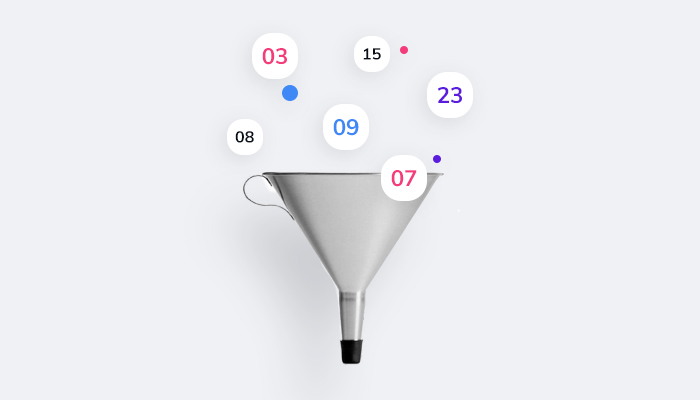 Testing Landing Page Usability
What testing of landing page (or website) usability basically means, is that you check whether your page delivers good customer experience to your visitors.
There are several factors that influence good experience, such as clarity, relevancy, availability (e.g. page load speed, server uptime, or no broken links), responsiveness, just to name a few.
The spectrum of goals is quite wide and although we do not intend to get into details about usability as such, you, as the eCommerce entrepreneur, can draw on some of these principles to make one step closer toward a better landing page optimization.
So what you can do is to track your users' actions whilst they are on your Shopify landing page. You will need a heat mapping tool for this.
Heat Maps Will Show You What's Hot and What's Not
Website heat map (or heatmap) tools produce visual representations of the visitors' behavior (actions they take). They show which individual elements of the webpage receive most of your users' attention.
With heat maps, you can understand what your visitors look for and what they do on your landing page. Heat map tools record and visualize clicks (or taps on mobile devices) and scrolling.
Since it's a heat map, the most popular areas are marked with red-ish colors, while the least popular ones are blue-ish.

There are different types of heat maps that collect different insights about your user, such as:
Different Types of Heat Maps
There are different types of heat maps that collect different insights about your user, such as:
Which elements on the page they click (or tap)
How far and how fast they scroll
Where they move and pause their mouse pointer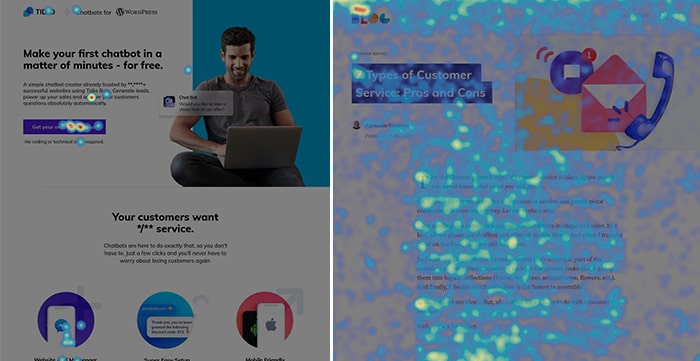 In the above example, you can see what elements of our homepage are the "hottest" among our users.
What Do Heat Maps Tell Us?
Knowing how your users behave whilst browsing your landing page will help you to answer many crucial questions which, in turn, will enable you to identify weak spots that need improvement. For instance:
Do my visitors click the CTA button?
If the CTA is ignored, it means it does not stand out enough to catch your visitors' attention. Perhaps it's not visible due to the clutter, low color contrast, size, vague labeling, or odd location?
Which CTA button is clicked more often?
If there is more than one CTA button present on your landing page, do check which one receives more clicks. Perhaps the less popular one is obsolete or just needs a subtle tweak.
How far do my visitors scroll?
Do your visitors scroll only half-way, skip to the bottom, or drop out immediately without even checking what's below-the-fold? This could be an indicator pointing toward some flaws within the content.
Perhaps this is not what they expected to see because the ad copy is not consistent with the landing page copy? Or the headline does not explain what you actually offer? Or maybe the most crucial information is located below-the-fold instead in the upper sections?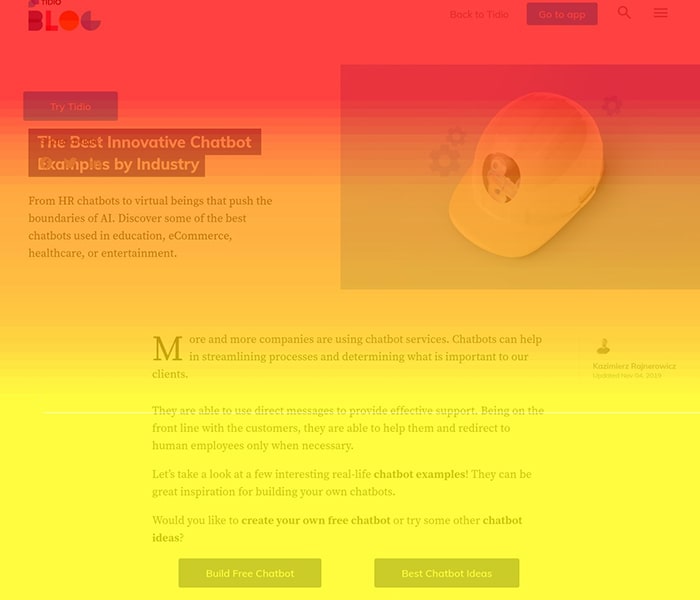 Do they focus on what I want them to?
You want your visitors to click the CTA button. But instead, you see they try to click images or icons that are not even clickable. You may also notice that their focus is very inconsistent or they spend a lot of time analyzing certain bits of your content.
It could mean that there is something confusing about your layout. Maybe there are too many elements that demand attention from the visitors? As a result, they do not know what they should focus on. Or some of the graphical elements look as if they were interactive and suggest they could be clicked? Or maybe a certain piece of content is hard to understand so the visitors pause for a moment to figure it out?
Shopify Landing Page A/B Testing
A/B tests are very popular and effective in the CRO (Conversion Rate Optimization) process.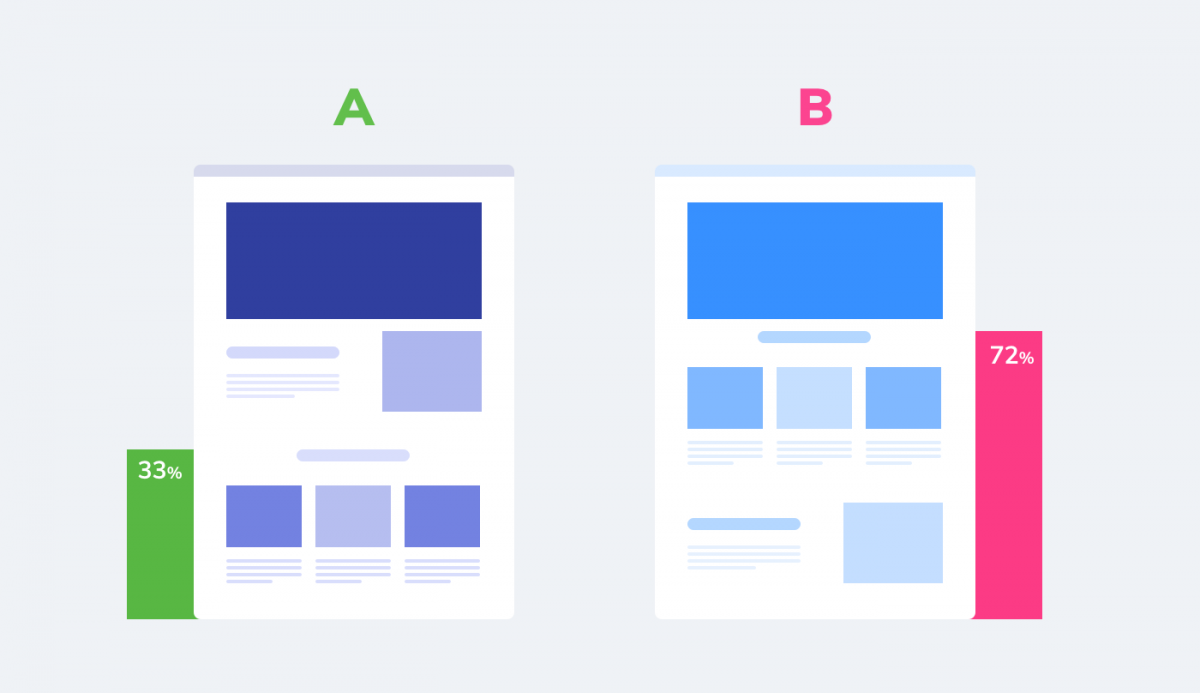 When you manage to pin-point a few potential mistakes in your landing page design or content, fix the one you believe is the most pressing. Next, run an A/B test to find out whether the change you have introduced made your landing page receive more clicks.
What to A/B Test on Landing Pages
The following landing page elements can be A/B-tested:
Copy (content, arrangement, length)
Headlines (even a single word can make a big difference)
Your offer (perhaps what you offer is not what they really look for)
CTA (location, label, color, size, font)
Product descriptions (are they simple and benefit-oriented?)
Images and videos (test your page with hero image and without it)
Key takeaway
With heat mapping tools you can see how your users perceive certain elements on your landing page and spot weak areas within the page design and content. A/B tests allow you to run two landing page versions simultaneously so you can see which version performs better in terms of engagement and clicks.
Shopify Landing Page Optimization: FAQ
This section contains a collection of the answers to the most common questions that were not discussed in the article but are related to the Shopify landing page.
What is the average landing page conversion rate?
According to WordStream, the average landing page conversion rate across all industries is around 2.35 percent. The top 25 percent of landing pages (in terms of performance) convert at almost twice the rate around 5.31 percent or higher. The top 10 percent of landing pages are converting at 11 percent.
How are landing page conversion rates calculated?

How do I drive free traffic to my Shopify landing page?
Start with engaging your followers on social media. Whenever you publish a post, remember to add your business-related hashtags so other users discover your profile and fan page. If you run a competition, then social media are also a great place to viral boost your landing page. Offer some incentives for those who share your post.

Another thing worth trying is to be actively present in online (niche) communities. Help their members by answering the questions they ask (e.g. Quora, forums, blog comment sections). 

Good SEO will also help your potential customers to discover your page. Incorporate the keywords into your landing page copy to attract customers looking for products like yours.

If you have a little bit of a writer in you, then offer to write a guest article on somebody's blog to continue reaching new audience long after the article was published.
Do you have other questions regarding the Shopify product pages that you would like us to answer? Let us know!
Shopify Landing Page Optimization: Summary
Landing pages are all about customer experience.
That's why the most important thing to keep in mind during the process of landing page optimization is your customer. Shopify product pages, as well as your Shopify store sites, should clearly communicate to your users what your offer is about and what's in it for them.
The clarity in communication is reflected in the copy of your landing page, its design, headlines, and CTA labels.
Whenever you are unsure which of those elements should be improved — test, and see what works for your customers best. The better you manage to tailor your landing page to your audience, the more relevant your content becomes, and the higher the chances are that your visitors will convert.
Try Tidio For Free