Chatbots' arrival is relatively recent. They first entered the market in 2010, when the demand for technological innovations was growing. Now the chatbot technology is thriving – it is believed that by 2020, 80% of enterprises will deploy chatbots to their sites to expand and automate their customer service.
Growing demand for virtual assistants in the eCommerce circle means one – the future with chatbots is inevitable and if companies want to stay in the game, they should take an interest in chatbots right here, right now.
What you're going to learn:
Provide 24/7 customer service even when you sleep.
Create unlimited chatbots for your website without coding to engage more visitors.
Learn About Chatbots
Lesson One: What is chatbot?
Let's start with the basics. What is it, exactly?
Put it simply, a chatbot is a program designed to simulate human conversations in natural language (written or spoken) through a digital platform, like e.g. a messaging app.
The interaction with a chatbot (also known as a bot, chatterbot, virtual assistant or virtual agent) is possible due to the processes like machine learning and natural language processing (NPL) that allow for human speech recognition and accurate response delivery.
How does it work in practice?
If someone wants to communicate via a chatbot, they need to click on the widget (a chat window usually placed in the lower left or right corner of a website) which will later expand to a bigger size chat bubble (the interface). There, you can type in an inquiry and a few moments later, you get an answer.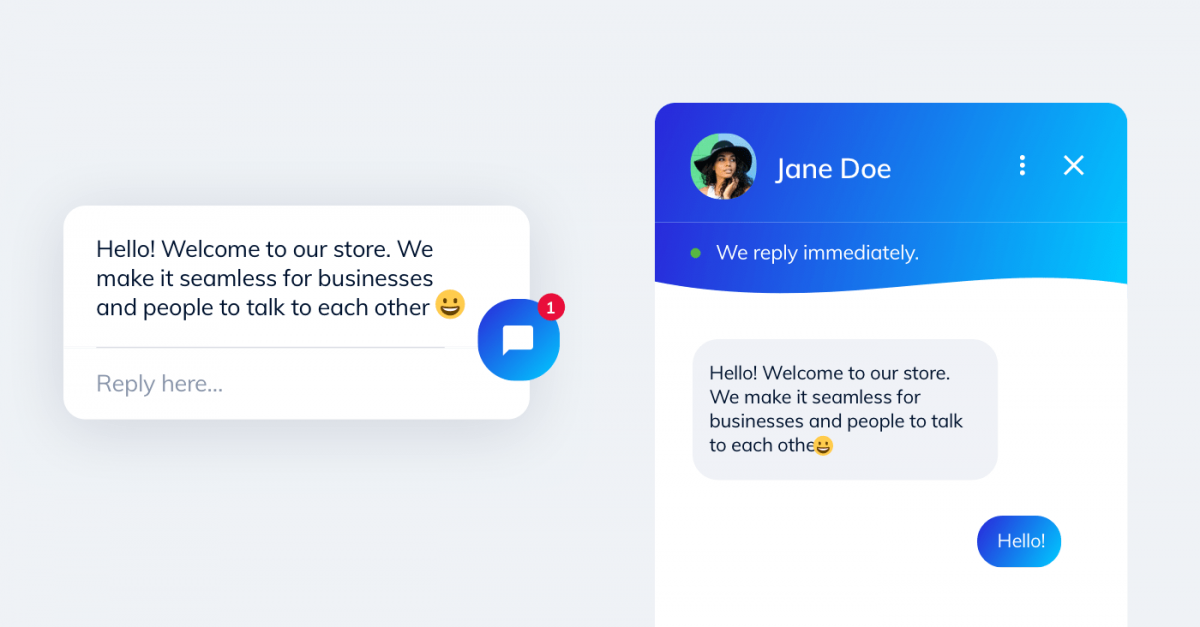 Note: Chatbots aren't your cup of tea? Explore the features and functionalities that best live chat software offers.
Lesson Two: How Does a Chatbot Work?
The work process of an online chatbot will heavily depend on its type. In general, there are two types of chatbots: rule-based and AI chatbots.
Let's start with the rule-based chatbots.
A rule-based chatbot (or a decision-tree bot) is programmed with a predefined set of rules that determine areas users are most likely to enquire about (e.g. about a product price or availability) and then reply with the correct answers to those questions.
In this sense, rule-based bots provide only a limited number of responses and can't address those queries that go beyond their knowledge base (these are the questions outside their defined rules).
AI chatbots, on the other hand, learn from interactions – the more they converse, the greater their database becomes. Their job, so to say, is to mimic the human language during conversations and communicate the message in a clear and comprehensible way.
Contrary to the rule-based chatbots, they don't mind the grammatical or spelling errors. Their ability to find responses to the queries with linguistic mistakes come from self-education that AI puts a strong emphasis on.
Note: Want to become a chatbot creator? Head straight to our in-depth guide on how to build a chatbot for a website.
Rule-based vs AI Chatbot Example
Let's visualize it with an example.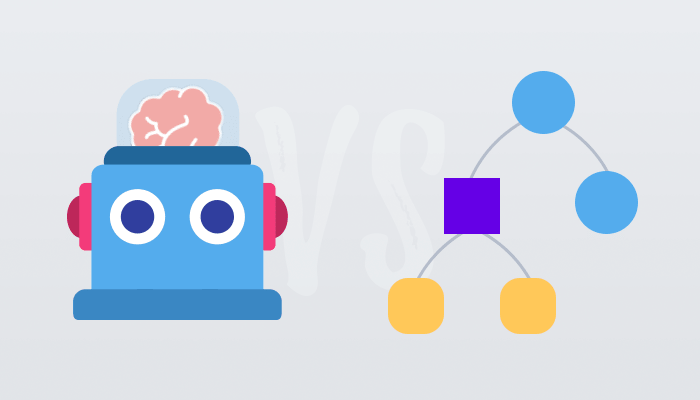 A changed form of a word, e.g. catsup (ketchup) won't prevent AI chatbots from taking the order for a cheeseburger and proceeding to the checkout. A rule-based chatbot, however, will keep repeating the same command over and over again unless they receive a grammatically correct answer corresponding to their vocabulary input.
Lesson Three: Why Do Consumers Use Chatbots
Chatbots has been undeniably a promising trend in the eCommerce business circle for a reason – a faster and more engaging customer service intervention. But, when the interest in virtual assistants started in 2016, no one would have ever imagined how powerful they'd become three years later.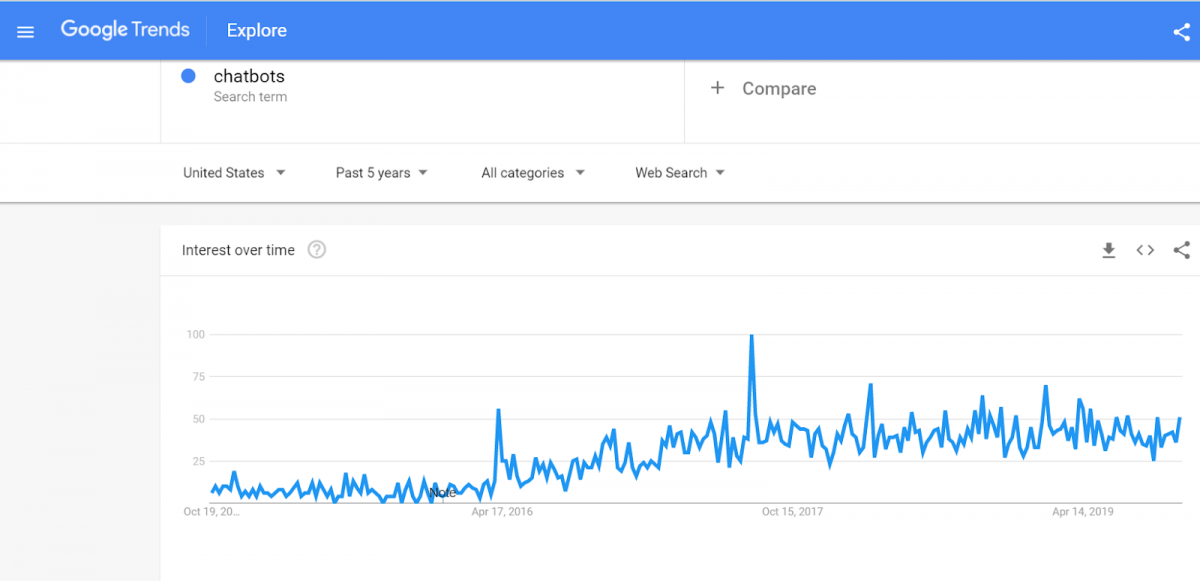 To a great extent, the trend of online chatbots has eventuated from the rising popularity of messaging apps whose total number of users surpassed those using social networking last year.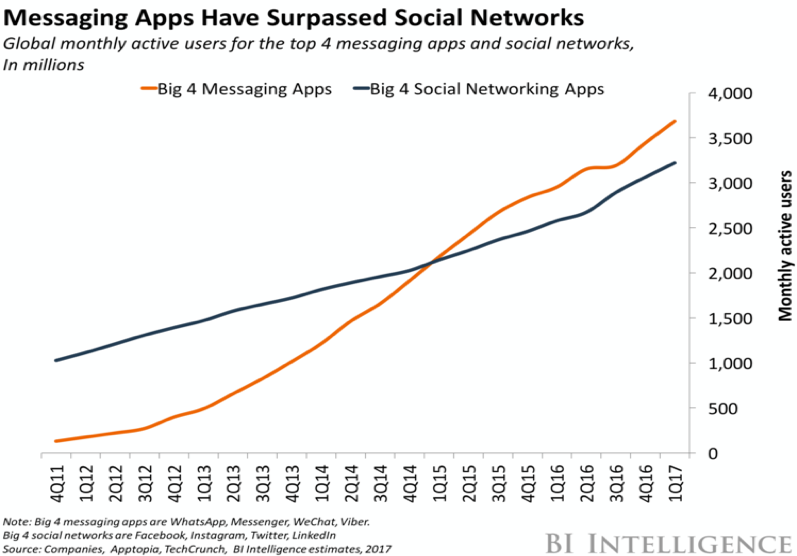 Conclusion? Faster and more convenient information exchange is the reason why so many Internet users prefer short text messages to phone calls.
Because chatbots integrate with a messaging app, they're capable of answering queries in the least amount of time. Use Tidio free chatbots to connect with clients under three seconds.
Their primary use cases, then, involve delivering speedy responses in case of an emergency, resolving complaints or providing detailed explanations.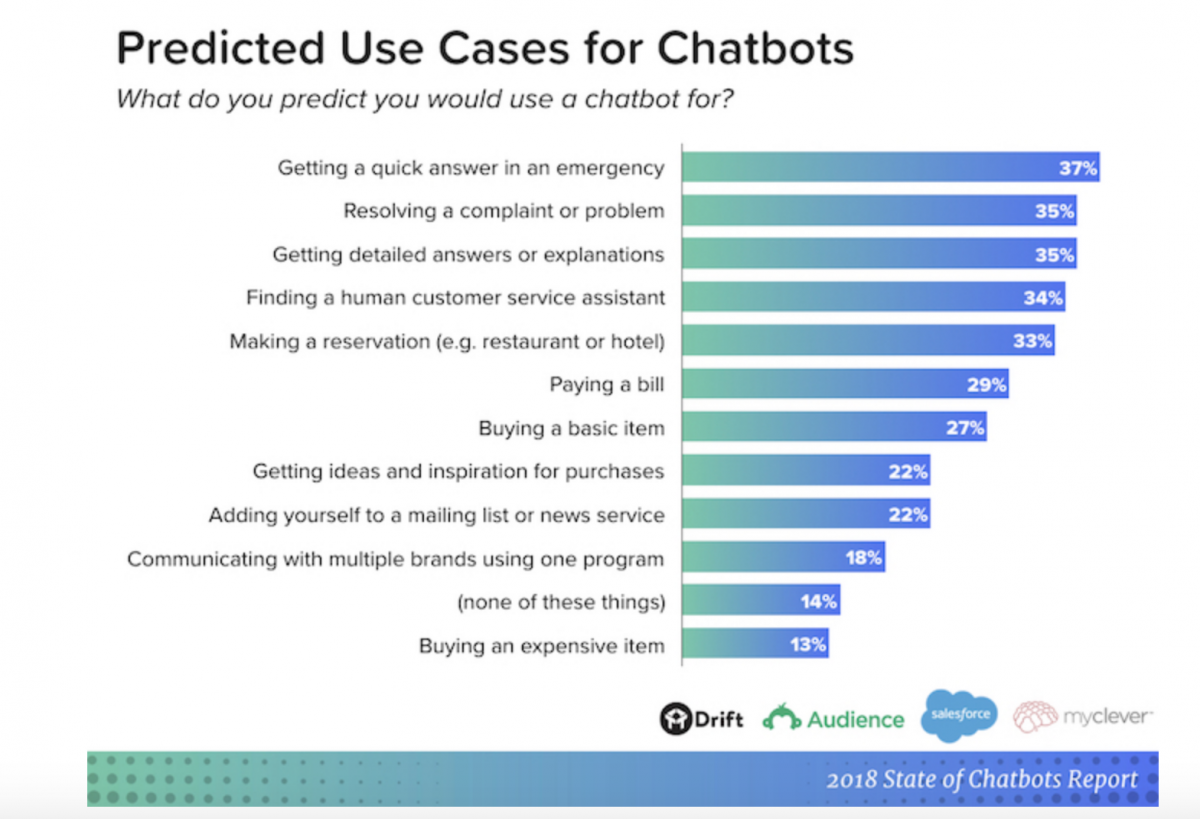 Lesson Four: What Are the Benefits of Chatbots
The evolution of customer service has been long and not always allowed for an accurate assessment of customer's needs and the introduction of the right troubleshooting procedures.
Even now, customers meet obstacles on their shopping journey (see the table below) that hamper their overall experience with a store. For 88% of the world's population, just one poor user experience is a good reason to stop transact business with an online brand.
In fact, customers pay more attention to the quality of assistance they received from the customer care (for which they are willing to pay more) and are more likely to turn a blind eye to the product's price or durability (Walker).
Since excellent customer experience takes precedence over other sales and marketing aspects, why don't you try to increase customer satisfaction with a chatbot?
There are five best chatbot platforms available on the market and they can do more than you think.
Tidio, for instance, is Shopify's top-rated app that has helped 300 000+ businesses to connect with their clients. It's also a chatbot plugin for WordPress that bloggers and WooCommerce store owners rely on.
Solution #1: Online Chatbots Work Outside Normal Operating Hours
Customer service's non-standard working hours, that come as a result of the time difference, are undeniably one of the reasons for customers to leave the websites. When customers can't get information about the product on-demand, they decide to leave.
Chatbots, contrary to customer service representatives, don't mind the daytime or a timezone. Because they work 24/7 and 365 days a year, prospects have continuous access to professional help and thus can request product information from every place on Earth at any hour.
Solution #2: Online Chatbots Make Websites Easy to Navigate
Going through a company's site is probably the first step in familiarizing with the brand that will determine whether a visitor will find the information they were looking for and stay with the company longer, or get caught up in the complicated interface layout and leave the site.
A small website redesign, however, could prevent prospects from leaving the brand's page without taking any of the desired action first, like making a purchase.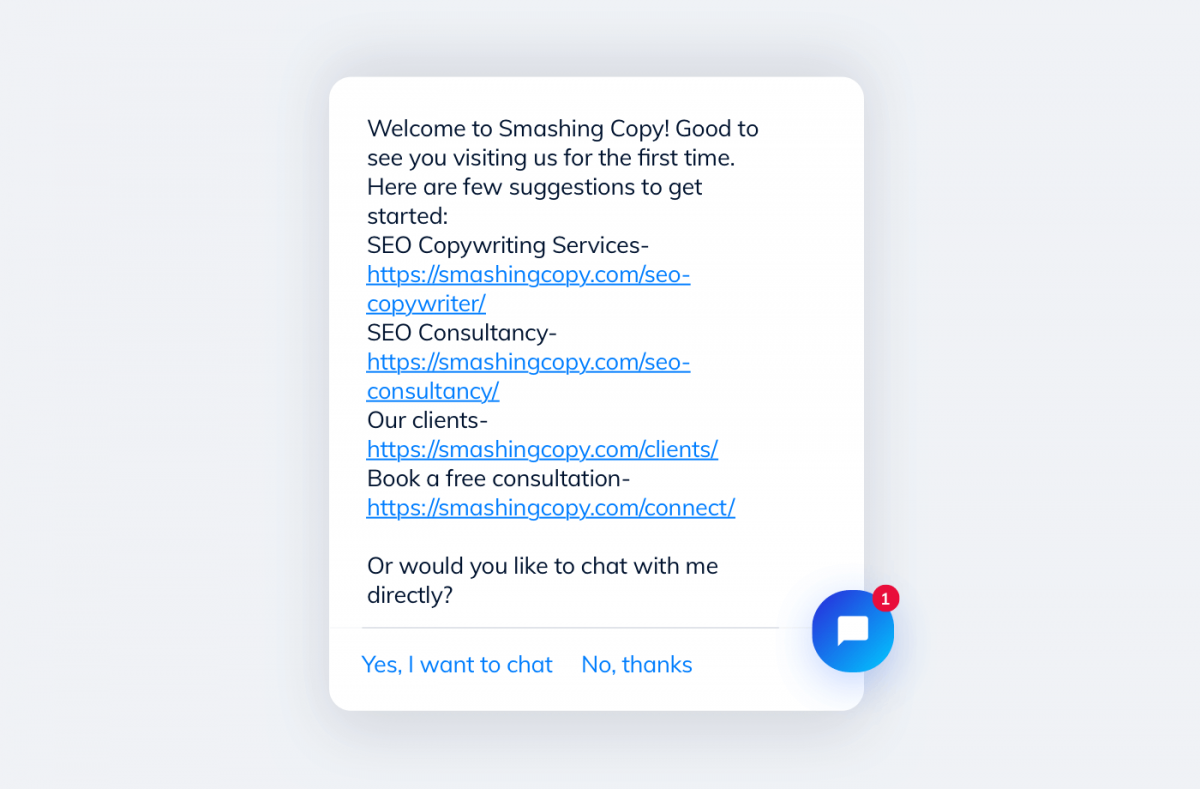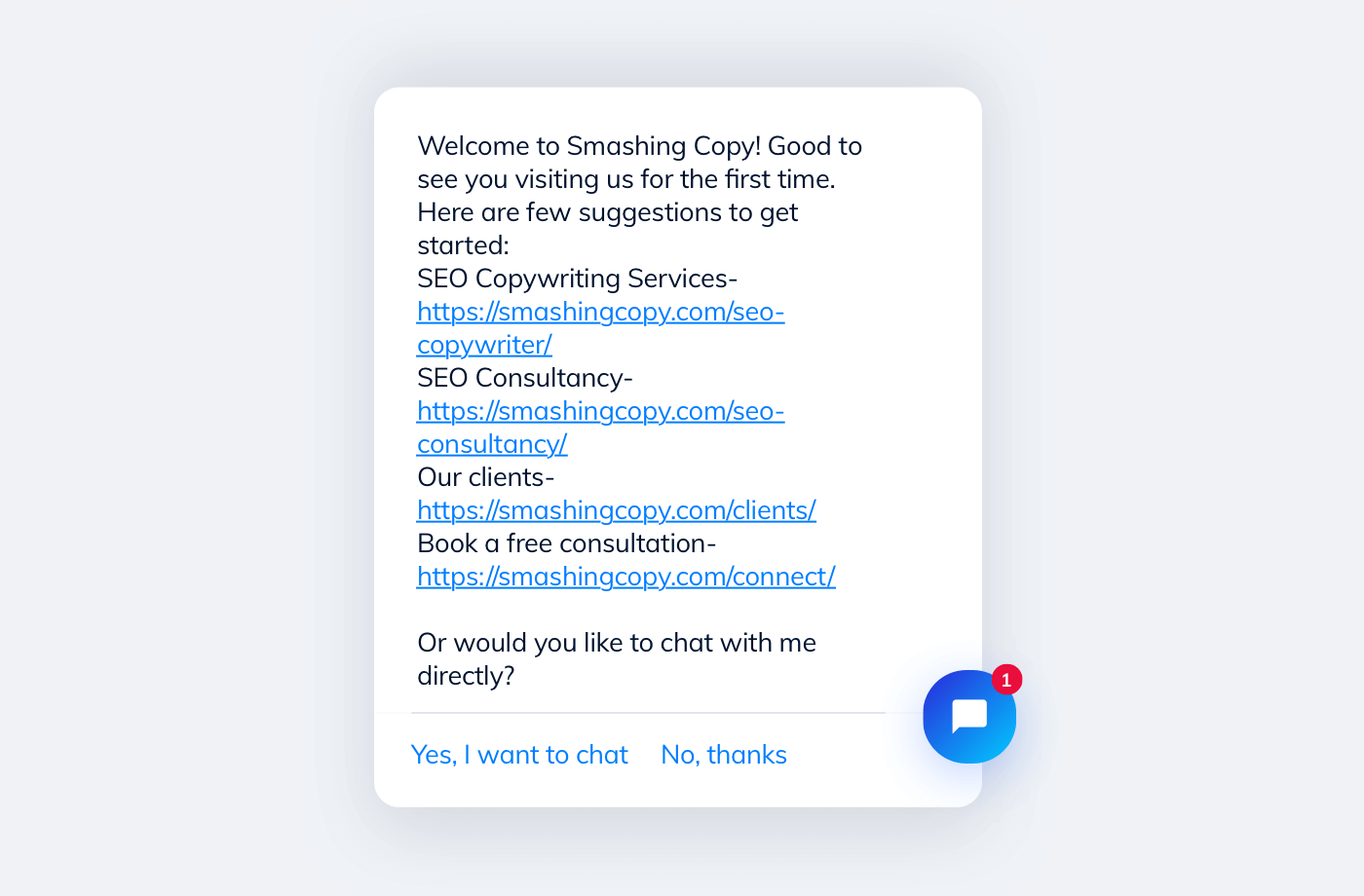 Adding a small messaging window in the website's corner, where first-time visitors could ask their question upon entering the site, could prevent them from pointless wandering around the site in search for small details necessary to complete an order.
Solution #3: Online Chatbots Automate FAQ
Lack of essential information (like e.g. shipping costs, acceptable forms of payment, the estimated time of arrival) on an online business website is the driving factor for numerous buyers to empty the carts and leave the store. Permanently, most likely.
The problem, however, could be easily solved with a FAQ chatbot – a type of bot that specializes in answering common business-related questions.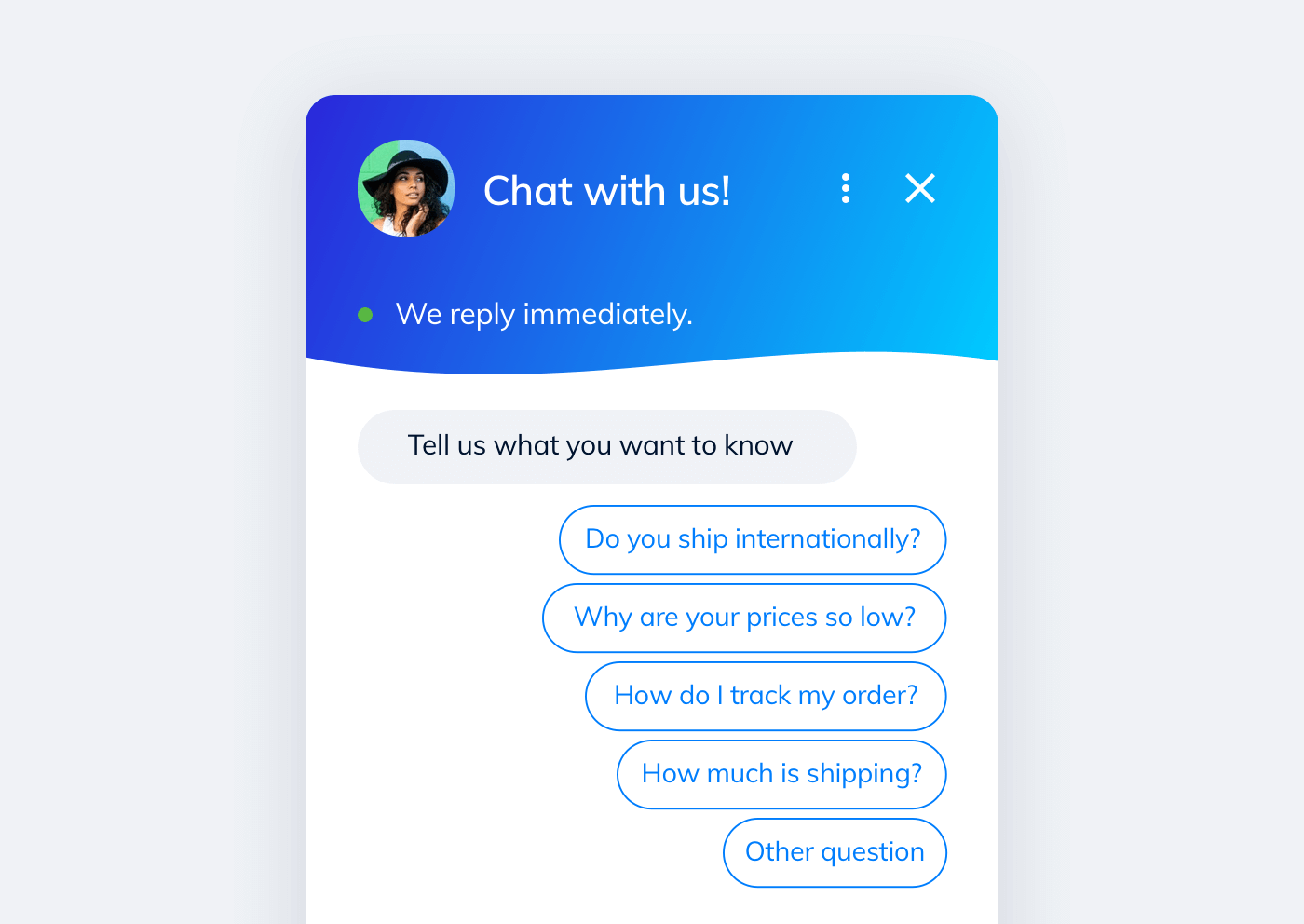 With answer buttons being displayed in the interface, visitors will no longer be obliged to wander around the website in search for information necessary for the transaction completion as the answers to the questions they seek will be laid in front of them.
In this sense, chatbots work in tandem with the support team members and let them handle the more demanding inquiries.
Solution #4: Online Chatbots Collect Data during the Conversation
There are two sides of lead capture forms.
On the one hand, online forms are a great way to acquire new leads and stay in touch with them through sending e.g. follow-up emails informing about a product upgrade or new blog post. This will increase the chances of visitors returning to the website, purchasing an item and eventually becoming paying customers.
On the other hand, customers don't enjoy filling out online forms. The Manifest study has shown that over 80% of the respondents abandoned at least one online form mainly for two reasons: security concerns (29%) and a long-form procedure (27%).
The solution here?
Replacing the standard long lead capture forms with a shorter and less obtrusive chatbot conversation similar to the one between a shopping assistant and client, in which website visitors will be kindly ask to share their personal data.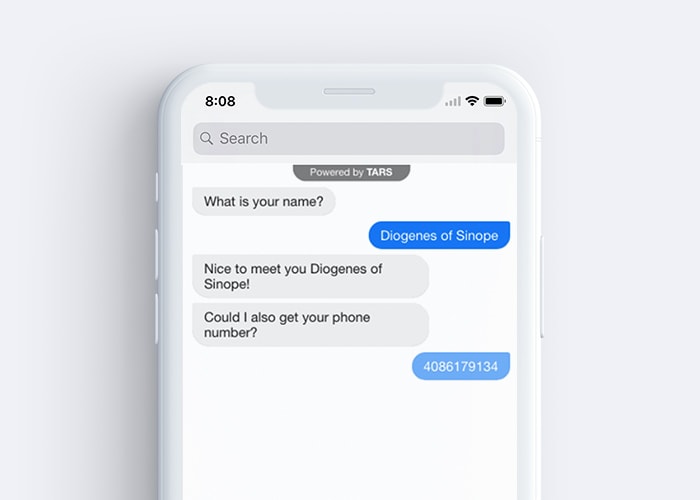 Solution #5: Online Chatbots Personalize Communication
Once the leads are collected and the contact details shifted to the database, the personalization process can finally begin.
Based on the customer profile, their recent order history, and preferences, AI chatbots can offer customized product recommendations. Consequently, they create up- and cross-selling opportunities and a greater profit.
Lesson Five: Why Should You Choose Chatbots
Are chatbots effective? If so, why should you decide on one?
To remain on the market, companies need to stay competitive and offer something their customers won't resist.
Adding innovative chatbots to a website capable of addressing clients' needs in a matter of seconds is definitely this "something" that all eCommerce business owners should consider.
Provide 24/7 customer service even when you sleep.
Create unlimited chatbots for your website without coding to engage more visitors.
Learn About Chatbots