Chatbots
Chatbots Explained – What Can They Do to an Online Business?
What are chatbots? You've heard of them for sure. Why are they generating so much noise among consumers? Why should you consider using them?
Check our video to find out!
What Are Chatbots?
Chatbots help you to automate certain business tasks, usually by chatting with users using a conversation interface (like Tidio Live Chat). Chatbots aim to keep the interaction natural, so it looks like you're talking to another human being. This makes them appealing and approachable.
Don't worry, they're not about destroying all life forms on our planet (at least, not yet).
Most of chatbots follow the conversation rules set up by a user with chatbot platform. And you don't even have to be a developer – you can do it all within a warm seat of your home!
Consumers are getting more and more aware of chatbot's existence. According to Hubspot, 47% of customers would buy a product from a ecommerce chatbot. That's a huge potential for business!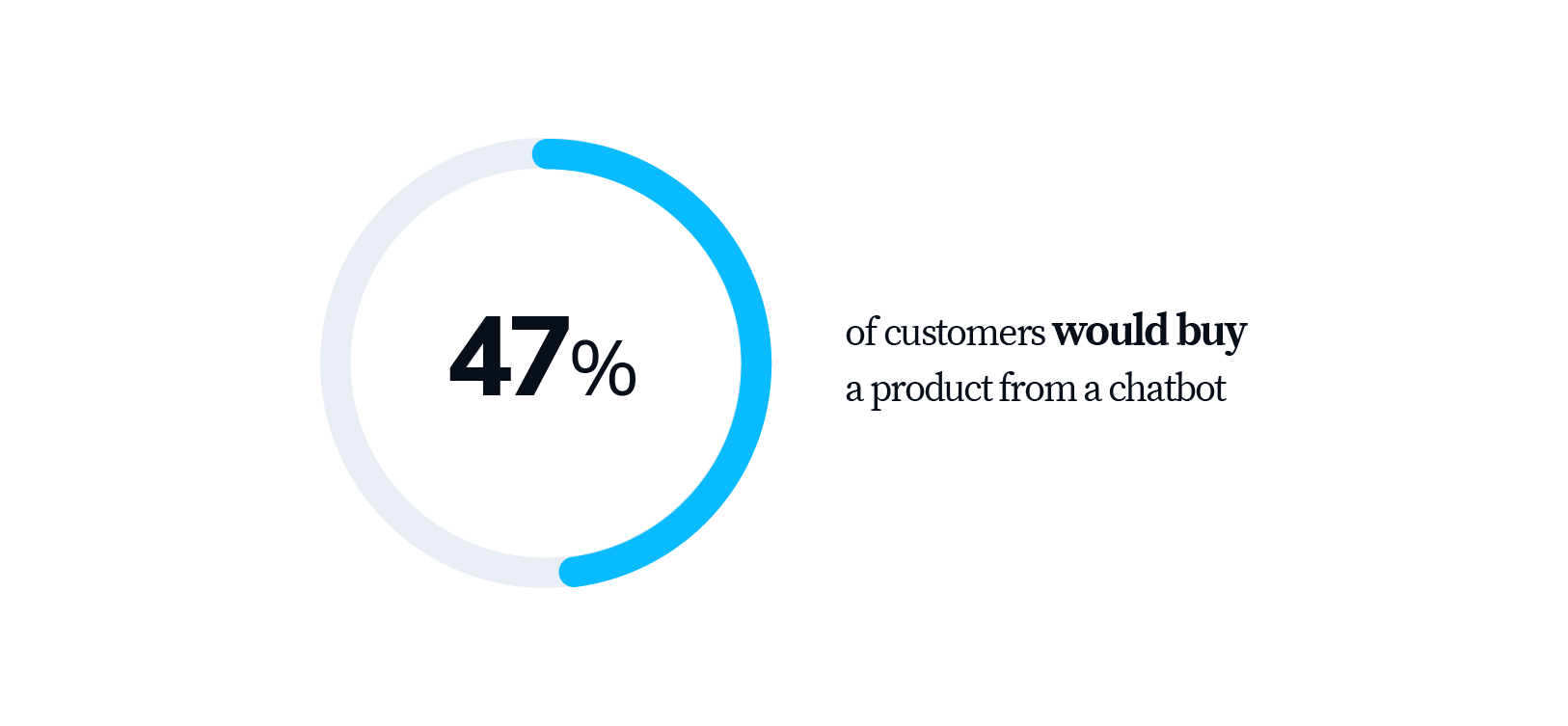 Why Do Consumers Want To Use Chatbots?
Customers have certain expectations of using chatbots. Their most predictable use for this tool is:
getting a quick answer in case of an emergency (37%)
resolving a complaint or a problem (35%)
receiving detailed answers or explanations (35%)
finding a human customer service assistant (34%)
There's a clear connection to most common issues in terms of customer online experience, and that is:
sites that are hard to navigate (34%)
lack of possibility to get answers to simple questions (31%)
basic details about business are hard to find (28%)
spending too much time to find services (27%)
As the data suggests, customers consider chatbots as a solution to their biggest frustrations while engaging with your business. Chatbot online shopping becomes more and more popular.

Why Should I Use Chatbots?
Modern business era demands squeezing all your business' areas to the maximum. That includes customer service, marketing, and sales. One of the things that help is automating as many processes as possible.
We can already see that grocery stores have self checkouts (and Amazon opened a store with no cashiers at all, limiting human interactions only to those necessary).
What About an Online Business?
Chatbots are a great way to save time and money. They can handle a great volume of your conversations, leaving your live chat agents free to focus on more complex issues (and the ones that require a more personal approach). Good example of such time-saver is a FAQ chatbot that answers the most commonly asked questions.
Chatbots can also provide a 24/7 support when your agents are not there (they need to go home at some point, right?). But it's not a reason for you to skip leads or let your customers go with unresolved issues – just let chatbot do the job.
It's effortless to set one up and the scenarios it may follow are countless. By connecting the right triggers, actions and conditions you can teach your chatbot to follow even most complicated issues in a simple way. Download the free Tidio Chatbots Cheat Sheet and check all the elements a chatbot can be made of.
Extra Chatbot Features For Ecommerce Owners
Ecommerce chatbots can take actions that are especially valuable to online store owners, by reacting to a wide range of events.
For example, you can configure an ecommerce chatbot to react when your customers abandon their shopping carts, asking for a reason and/or offering a discount. That helps to boost conversion A LOT!
Chatbots are also a great support to ecommerce stores in terms of providing efficient customer service.
Customers are really demanding in terms of quick replies – they get impatient after 10 minutes of waiting. Integrating chatbots with live chat allows you to achieve great response times and exceptional real-time customer service.
So what chatbots are to an online business? It's an efficient and cost-effective way to boost your customer service, marketing, and sales – everything happens 24/7, and you don't have to be a developer to tame the power of chatbots.
Let's grow your business together!
Try Chatbots For Free