Live Chat
How Can I Use WordPress Live Chat on My Website?
Have you ever thought "I should add live chat to my website"? Meet the best live chat plugin for WordPress. Learn how to use Tidio as the ultimate WP chat plugin.
In 2019, WordPress powered 34% of all websites across the internet. Tidio is the highest rated WordPress live chat plugin among popular solutions. It has more than 60,000+ active installations and hundreds of positive reviews.
The WP community values it because it's very WordPress-friendly. You can install the live chat on your website in minutes and use it to communicate with your visitors.
See this easy installation guide:
To install the plugin, you can use your WordPress panel (read the step-by-step guide right below). You can also visit the official WP plugins website to check out the best WordPress live chat plugin.
Tip: Some live chat tools are not very popular among WordPress users. The general reception of a given platform can be positive, but the rating of its chat plugin for WordPress can be quite low. If you are interested in WordPress-friendly solutions, you can check out the ranking of best WordPress business chat plugins.
To use the WordPress live chat widget on your website you need to create your free account. You can install the plugin now and create your account later afterwards or sign up right away.
Create WP Live Chat Admin Account
The order doesn't matter but both steps are necessary.
How to Add WordPress Live Chat Plugin to Your Website
You can install and configure your live chat plugin for WordPress in 5 quick steps. Easy chat box customizations can increase the overall effectiveness of your live chat.
Step 1: Open WordPress dashboard
The easiest way to install the app is to log into your WordPress dashboard and add the app from there. Choose Plugins from the menu on the left, select Add New and type in "tidio."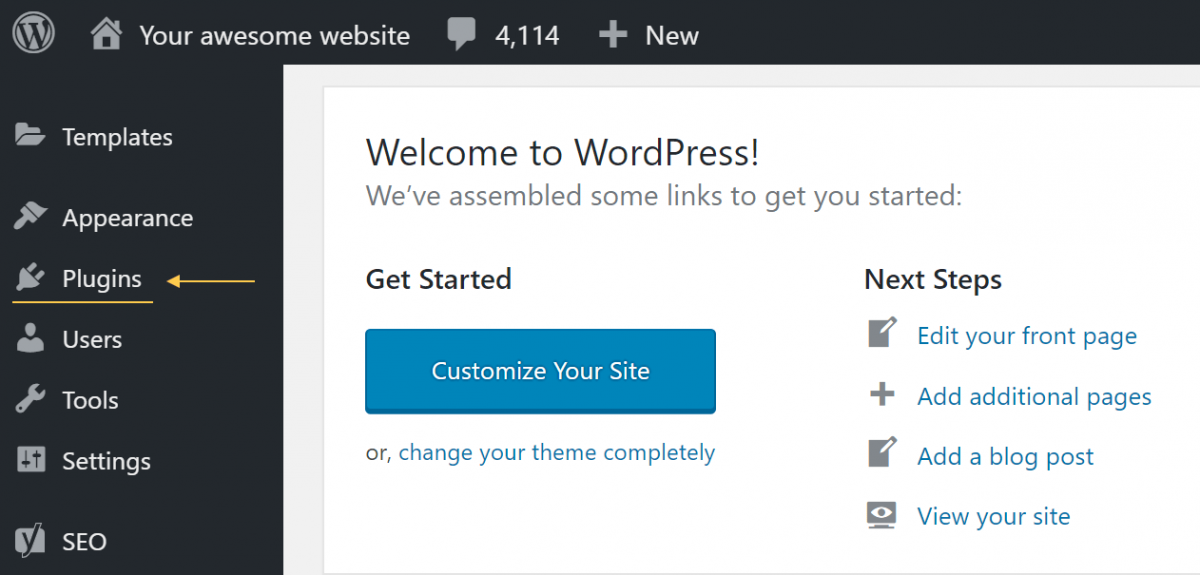 For all that matters, you can type "live chat" and Tidio will pop up among the top results as well.
Step 2: Install live chat plugin for WordPress by selecting it the list
All you have to do is click Install Now. Tidio Chat will appear on the WordPress Dashboard panel. When you open Tidio Chat, create a free account.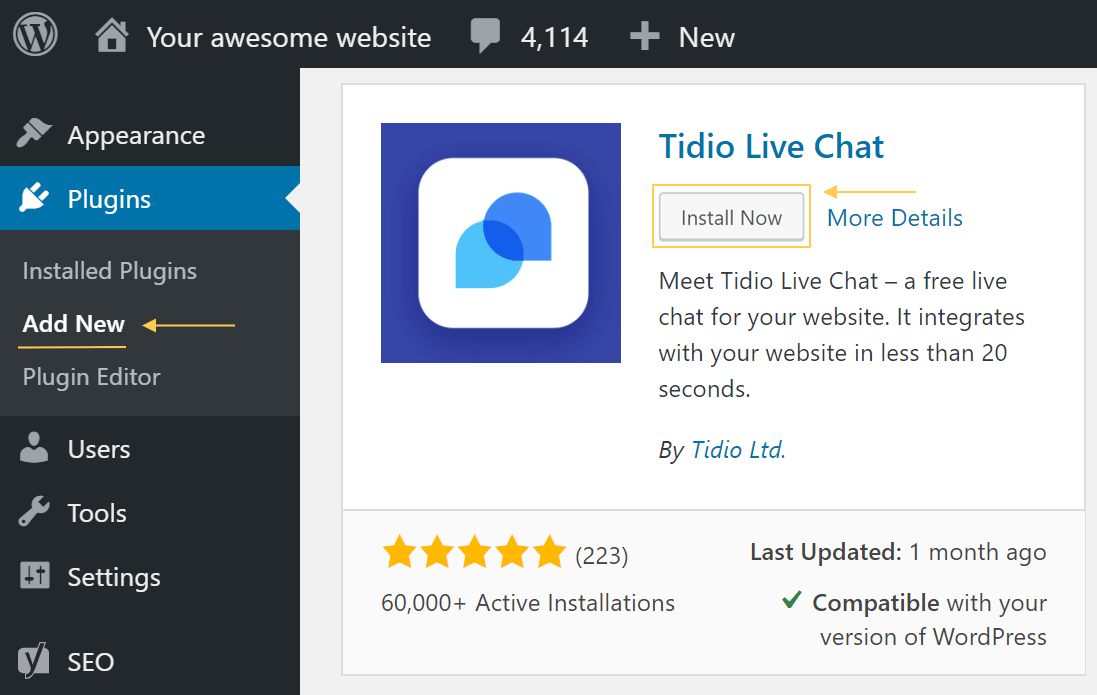 Step 3: Personalize the live chat box
Now you are ready to go and to use the Tidio panel to customize the plugin.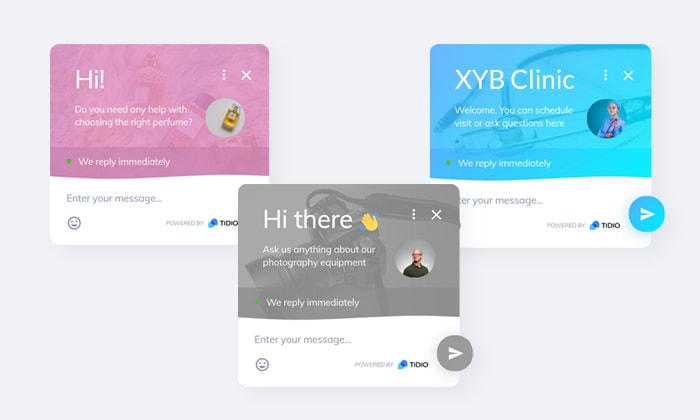 First of all, you can select the color of the live chat interface. You can use a color picker tool or choose from several color options. If you need the chat box to be displayed in use a specific color, you can also type in precise Hex or RGB values. It's useful when you want to make colors match your visual brand identity.
You can change the behavior and appearance of the chat widget. These settings are available in the Channels section of Tidio Chat panel.
Additionally, you can change the background image of the Getting Started view. You may upload your own image or, but you are also free to choose one of the available themes.
Step 4: Add an avatar to your WordPress live chat widget
You can also upload your own avatar – a photo or your business logo, which will make the chat box unique.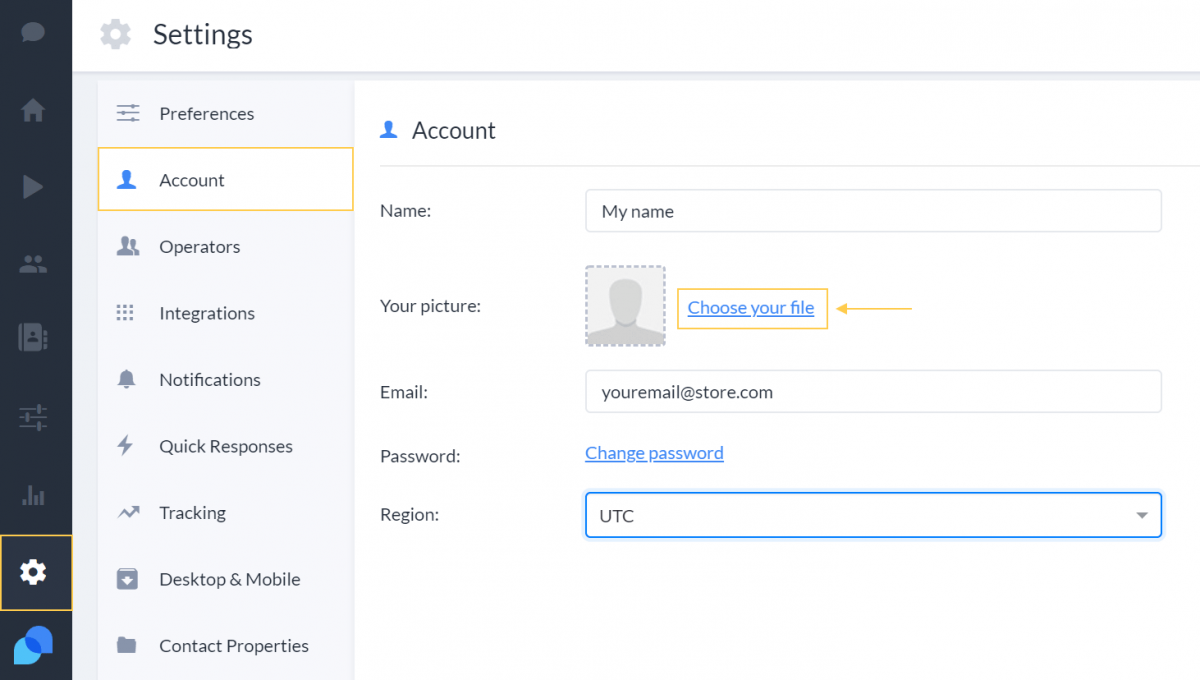 Go to Settings > Account > Your picture and add a picture of your liking. A brand-related avatar makes it clear to the visitors that the chat window is the part of your website. A photo, on the other hand, may sometimes appear more friendly.
Step 5: Customize WordPress live chat messages
The chat box editing panel gives you the possibility to change various text fields. They are all part of the live chat interface. You can change Online Status, Offline Status, Offline Message, or Label Text.
Additionally, you can create custom automatic messages which begin conversations. Be creative and write with personality. However, don't forget about the core principles of conversational design.
You can also try to create bot automations.
Try out the chatbot right here:
Choose one of the answers
Tidio WordPress chatbots are very easy to create and they grab the attention of your visitors.
The Alternative Method to Install WordPress Live Chat
If you want, you can integrate the WordPress live chat plugin with your website manually. Open Channels > Live Chat > Integrations. You'll navigate to the window with your unique JavaScript code snippet. Select the installation method that matches your platform (WordPress and WooCommerce) to see the instructions.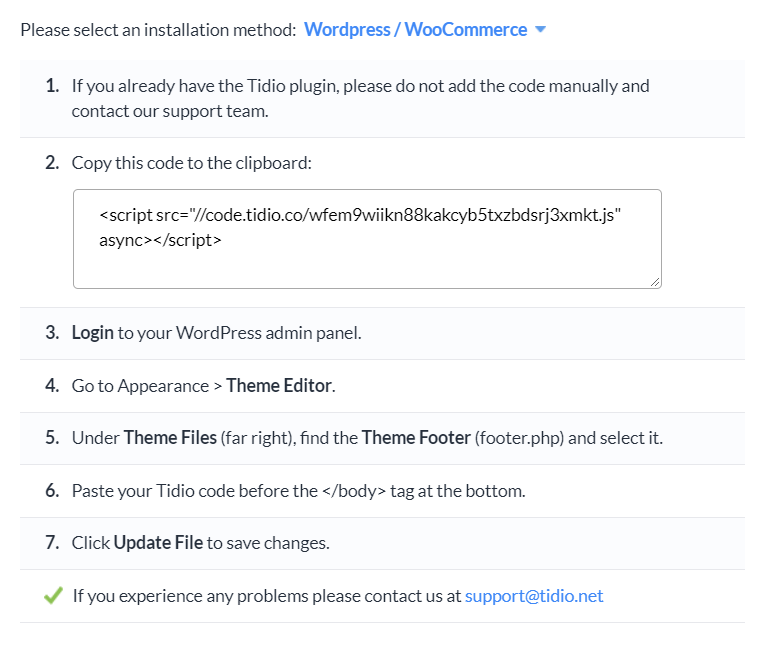 Visit the WordPress Installation Guide to read more details.
Why is Tidio Live Chat WordPress-Friendly?
A customer-first approach always works best. You know it, and we know it. As it happens, most of our users have WordPress-based websites. Their needs and suggestions are among our top priorities. It is the platform our support team and developers know like the back of their hands.

WordPress live chat installations make approximately ⅓ of all Tidio installations.
As one of the reviewers on the WordPress plugins website points out:
This plugin does it all, intuitive bot automation, useful free version, and excellent customer support. It also integrates seamlessly into WordPress and the installation process is simple, and immediate.

@convergesolve
Tidio plugin review at WordPress.org
The opinions of WordPress users are crucial essential. Their feedback can shape the direction in which the live chat feature evolves.
What Are the Benefits of Live Chat?
Currently, there are about 55 000 official WordPress plugins which you can install. Tidio has been one of them for a long time. It managed to become one of the most popular WordPress live chat solutions.
Why should you use live chat on your WordPress site?
WordPress websites frequently lack some essential features. No matter how good the theme looks, your website will lack many functionalities. Some of the most important of them are not available out of the box. After all, that is what plugins are for.
With a WordPress live chat plugin you can:
Let your visitors ask questions and talk with you
Stay in constant contact with your visitors in a mobile and desktop environment
Engage potential customers and get more leads
Collect email addresses and contact details of your visitors
Create a more personal connection and close sales
Turn window shoppers into customers
Drive your business through your website
Create a quick and easy connection between you and your visitors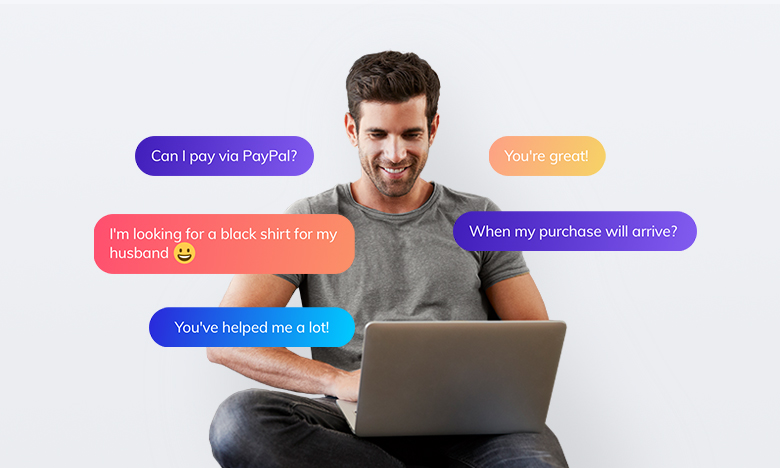 There are many benefits of using a live chat WordPress plugin. You can hear people saying "my live chat increased my conversion rates" and "my live chat generates 40% more leads", but it all brings us to one conclusion. What every website really needs is forming a strong connection with the visitors.
The computer screen is a barrier – an LCD wall, so to say. You can display attractive visuals and useful information on your site. Still, it may feel like a closed gate with some nice advertisements stuck to it.
Wouldn't it be better to invite the users inside? It is possible – thanks to WordPress live chat plugins. Live chat is an emerging communication channel – it helps to engage users, generate leads, and provide a great customer experience.
A live chat plugin adds a chat box to your website. You can use it as a messaging platform to talk with your visitors and customers. You can prompt them to provide contact info, answer their questions, provide help, or convince them to buy specific products. Passive browsing turns into a conversation – an act of mutual engagement.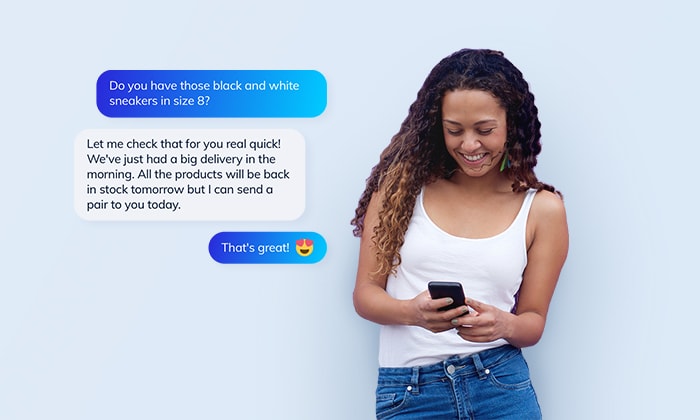 Is there anything better to make somebody feel welcome and comfortable than having a friendly chat?
How Does Live Chat Work?
Live chat widgets are chat boxes you can add on your WordPress website (or any other website) to send direct messages to your visitors. In essence, They work like regular messaging apps such as Facebook Messenger. There are many free WordPress live chat platforms to choose from.
Why is live chat so powerful? It is immediate, direct, and exciting. People are obsessed with messaging apps. It is easy to make fun of teenagers glued to their smartphones and texting, isn't it? It is also easy to overlook one important thing – there is always someone on the other end. The technology is just a tool for making people connect.
You can now harness the power of this type of connection by adding a live chat box on your WordPress website.
Last but not least, your WordPress live chat can also use chatbots! With chatbots (conversational bots) you can automate some of the most repetitive parts of your customer service.
Add WordPress Chatbot to Improve Customer Service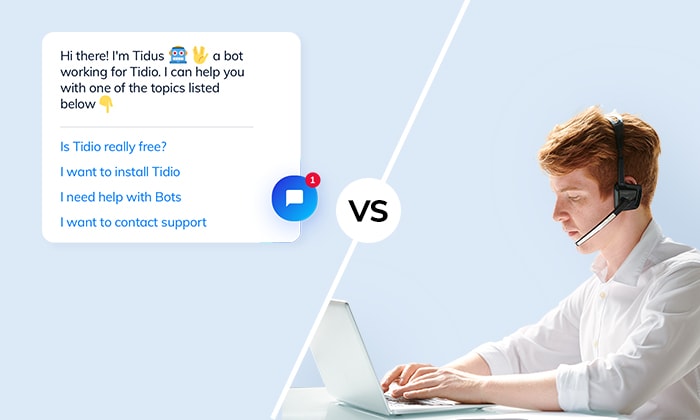 Chatbots are a great addition to your customer support workflow. The mixed solution of live chat and chatbots is the most powerful combination. Currently, it's the optimal way of dealing with all possible customer service scenarios. Let's break it down:
What Are the Pros of Live Chat?
One support agent can handle multiple tasks
Support agents know how to carry a conversation
A live chat operator can give personalized assistance
What Are the Cons of Live Chat?
Sometimes writing back can take some time and customers need to wait
Handling more than 3 customers at the same time can be tricky
Your support agents won't work for free and they can't answer around the clock
Now, let's take a closer look chatbots' pros and cons.
What Are the Pros of Chatbots?
A chatbot can handle an unlimited number of customers
They don't need payment or sleep
No waiting time
What Are the Cons of Chatbots?
They can personalize their answers only to a limited extent
They don't know how to carry a conversation
You need several chatbots to handle different types of requests
Let's combine the results.
Live chat can take some time and customers need to wait BUT chatbots send messages right away. Check.
Live chat operators can't handle a dozen customers at once BUT chatbots can. Check.
Live chat operators are costly and they need to rest BUT chatbots don't. Check.
Conversely:
Chatbots don't really understand customers' queries BUT live chat operators can.
Chatbots can't personalize their answers and improvise BUT live chat agents can.
It turns out that the pros and cons of chatbots and live chat (operated by a human agent) complete each other perfectly. That's why the mixed approach is preferable for modern customer service.
People and chatbots can work alongside each other. Together, they provide a unique experience for every visitor. It can be your e-commerce store, business website, or professional blog. And it is really easy to create a custom chatbot decision tree that will engage your customers.
There are more types of customer service, and each of them has its advantages. However, if you are a small or medium business owner who uses WordPress, you can use one tool. With Tidio Live Chat you can single-handedly take care of your customers.
Try the best WordPress chatbot and live chat all-in-one solution available.
Try Live Chat For Free