Chatbots
How Can I Use Live Chat on My WordPress Website?
Have you ever thought "I should add live chat to my website"? Meet one of the best live chat plugins for WordPress. Learn how to use Tidio as the ultimate WP chat plugin.
WordPress websites, no matter how good the theme looks, frequently lack some essential features out of the box. After all, that is what plugins are for. And there are many of them! Currently, there are about 55 thousand official plugins which you can install on sites powered by WordPress. Tidio has been one of them for a long time.
Do I Need a Live Chat Box on My WordPress Website?
What every website really needs is forming a strong connection with the visitors. The computer screen is a barrier – an LCD wall, so to say. You can display attractive visuals and useful information on your site, but it may still feel like a closed gate with some nice advertisements stuck to it.
Wouldn't it be better to invite the users inside? It is possible – thanks to live chat. It is an emerging communication channel which helps to engage users, generate leads, and provide a great customer experience. Is there anything better to make somebody feel welcome and comfortable than having a friendly chat?
A live chat plugin adds a chat box to your website. It can be used as a messaging platform to talk with visitors and customers. You can prompt them to provide contact info, answer their questions, provide assistance, or convince them to buy specific products. Passive browsing turns into a conversation – an act of mutual engagement.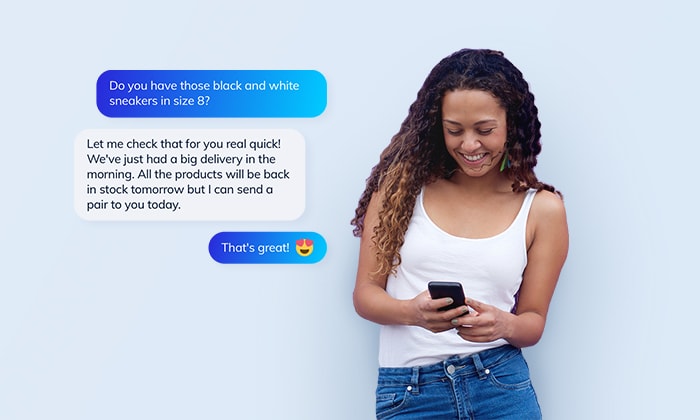 Why is it so powerful? It is immediate, direct, and exciting. People are obsessed with messaging apps. It is easy to make fun of teenagers glued to their smartphones and texting, but don't overlook one important thing – there is always someone on the other end. The technology is just a tool for making people connect. You can now harness the power of this type of connection by adding a live chat box on your WordPress website.
How to Install Tidio for WordPress
As of July 2019, Tidio is the highest rated (★4.85) WordPress live chat plugin with more than 50,000+ active installations. Tidio is popular among WP community because it is very WordPress-friendly.
The easiest way to install the app is to log into your WordPress Dashboard, choose Plugins from the menu on the left, select Add New and type in "tidio." For all that matters, you can simply type "live chat" and Tidio will pop up among the top results as well. All you have to do is click Install Now.
Tidio Chat will appear on the WordPress Dashboard panel. When you open Tidio Chat, create a free account. Now you are ready to go and can use the Tidio panel to customize the plugin.
Pro Tip:

If you want to integrate Tidio with your website manually, you can visit the WordPress Installation Guide and read more details. You can also visit the official WordPress plugins website and find Tidio Live Chat there.

The official WordPress plugins website
Personalize the Live Chat Box
You can modify the behavior and appearance of the chat widget in the Channels section of Tidio Chat panel.
First of all, you can select the color of the live chat interface. There are several options to choose from and a color picker tool. If you need the chat box to use a specific color to match your visual brand identity, you can also type in precise Hex or RGB values. Additionally, you can change the background image of the Getting Started view. You may upload your own image, but you are also free to choose one of the available themes.
The chat box/widget editing panel gives you the possibility to change various text fields which are part of the live chat interface. You can modify Online Status, Offline Status, Offline Message, Label Text or create custom automatic messages which initiate conversation. Be creative and write with personality, but remember about the core principles of conversational design.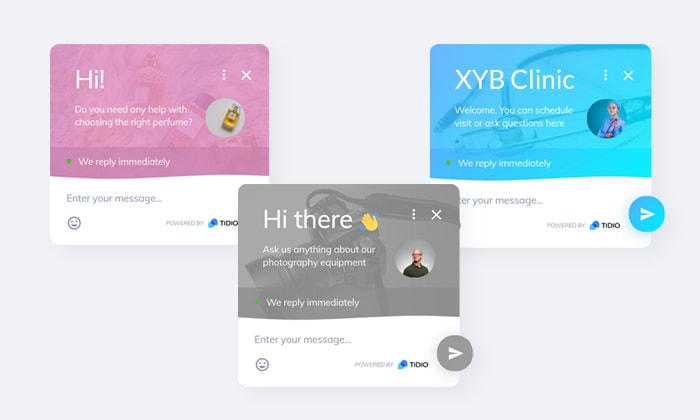 You can also upload your own avatar – a photo or your business logo, which will make the chat box really unique. Just go to Settings/Account/Your picture and add a picture of your liking. A brand-related avatar makes it clear to the visitors that the chat window is the part of your website. A photo, on the other hand, may sometimes appear more friendly.
Add Chatbots to Tidio WordPress Chat Plugin and Improve Customer Service
Chatbots – if we want to sound fancy, conversational bots – are a great addition to your customer support workflow. The combined solution of live chat and chatbots is currently the optimal way of dealing with all possible customer service scenarios. Let's break it down: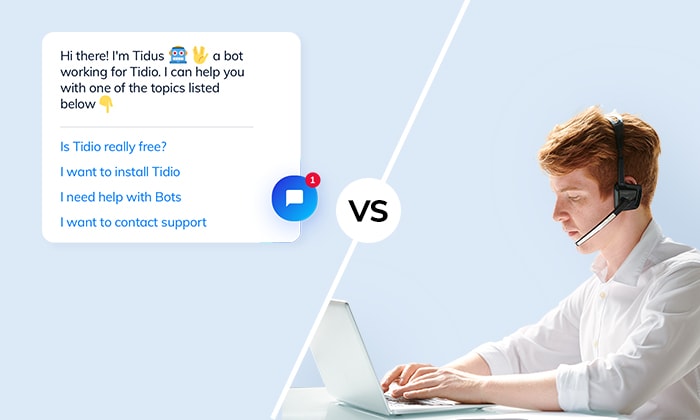 Live Chat Pros & Cons
| | |
| --- | --- |
| Pros | Cons |
| One support agent can handle multiple tasks | Handling more than 3 customers at the same time can be tricky |
| A live chat operator can give personalized assistance | Sometimes writing back can take some time and customers need to wait |
| Support agents know how to carry a conversation | Your support agents won't work for free and they can't answer around the clock |
Chatbots Pros & Cons
| | |
| --- | --- |
| Pros | Cons |
| A chatbot can handle an unlimited number of customers | They don't know how to carry a conversation |
| No waiting time | They can personalize their answers only to a limited extent |
| They don't need payment or sleep | You need several chatbots to handle different types of requests |
If we were to combine the two tables above, it would turn out that the pros and cons of chatbots and live chat (operated by a human agent) complete each other perfectly. That's why the mixed approach is preferable for modern customer service.
People and chatbots can work alongside each other and provide a unique experience for every visitor of your e-commerce store, business website, or professional blog. And it is really easy to create a custom chatbot decision tree that will engage your customers.
There are more types of customer service, and each of them has its advantages. However, if you are a small or medium business owner who uses WordPress, you can single-handedly take care of your customers with one live chat/chatbot plugin.
Install Tidio and try the best WordPress chatbot and live chat all-in-one solution available.
Try Live Chat For Free
Other Useful Plugins for WordPress [Infographic]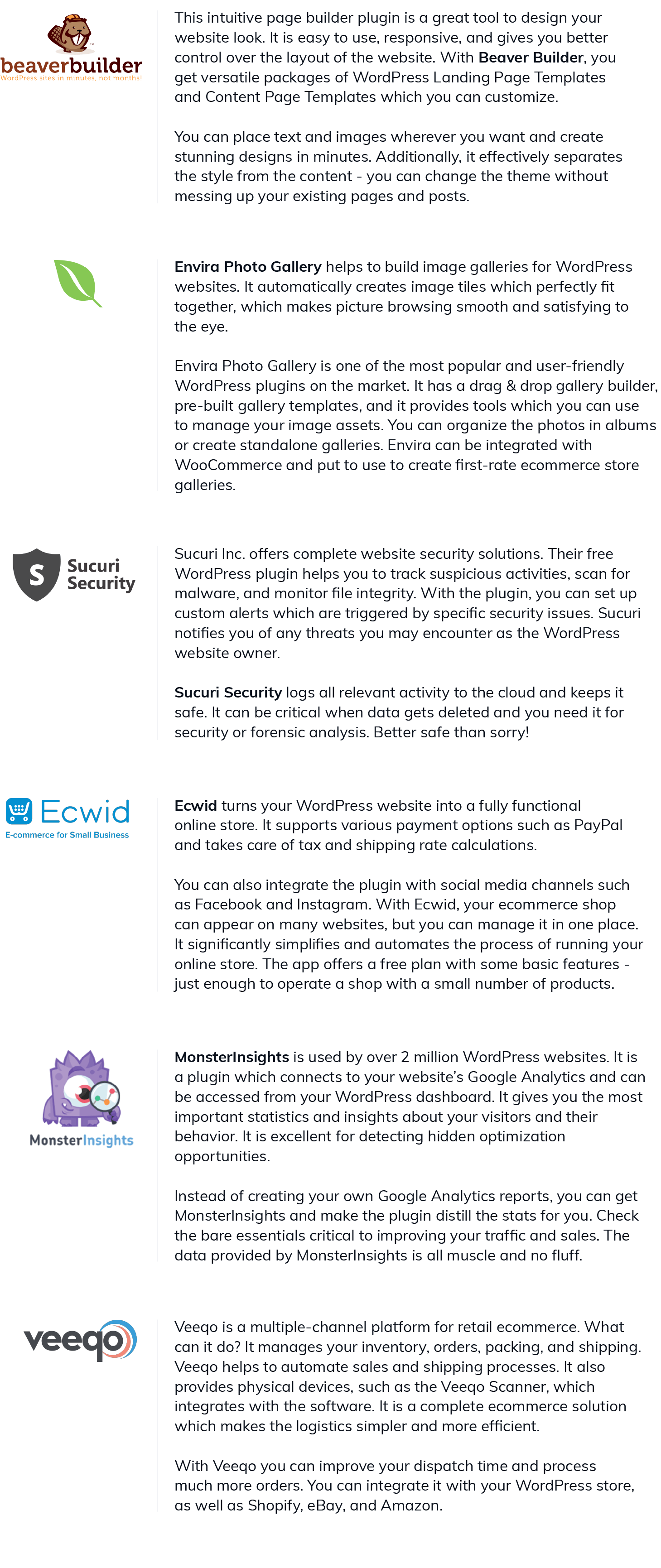 Beaver Builder
This intuitive page builder plugin is a great tool to design your website look. It is easy to use, responsive, and gives you better control over the layout of the website. With Beaver Builder, you get versatile packages of WordPress Landing Page Templates and Content Page Templates which you can customize.
You can place text and images wherever you want and create stunning designs in minutes. Additionally, it effectively separates the style from the content – you can change the theme without messing up your existing pages and posts.
Envira Photo Gallery
Envira helps to build image galleries for WordPress websites. It automatically creates image tiles which perfectly fit together, which makes picture browsing smooth and satisfying to the eye.
Envira Photo Gallery is one of the most popular and user-friendly WordPress plugins on the market. It has a drag & drop gallery builder, pre-built gallery templates, and it provides tools which you can use to manage your image assets. You can organize the photos in albums or create standalone galleries. Envira can be integrated with WooCommerce and put to use to create first-rate ecommerce store galleries.
Sucuri Security
Sucuri Inc. offers complete website security solutions. Their free WordPress plugin helps you to track suspicious activities, scan for malware, and monitor file integrity. With the plugin, you can set up custom alerts which are triggered by specific security issues. Sucuri notifies you of any threats you may encounter as the WordPress website owner.
Sucuri Security logs all relevant activity to the cloud and keeps it safe. It can be critical when data gets deleted and you need it for security or forensic analysis. Better safe than sorry!
Ecwid Ecommerce Shopping Cart
Ecwid turns your WordPress website into a fully functional online store. It supports various payment options such as PayPal and takes care of tax and shipping rate calculations.
You can also integrate the plugin with social media channels such as Facebook and Instagram. With Ecwid, your ecommerce shop can appear on many websites, but you can manage it in one place. It significantly simplifies and automates the process of running your online store. The app offers a free plan with some basic features – just enough to operate a shop with a small number of products.
MonsterInsights
MonsterInsights is used by over 2 million WordPress websites. It is a plugin which connects to your website's Google Analytics and can be accessed from your WordPress dashboard. It gives you the most important statistics and insights about your visitors and their behavior. It is excellent for detecting hidden optimization opportunities.
Instead of creating your own Google Analytics reports, you can get MonsterInsights and make the plugin distill the stats for you. Check the bare essentials critical to improving your traffic and sales. The data provided by MonsterInsights is all muscle and no fluff.
Veeqo
Veeqo is a multiple-channel platform for retail ecommerce. What can it do? It manages your inventory, orders, packing, and shipping. Veeqo helps to automate sales and shipping processes. It also provides physical devices, such as the Veeqo Scanner, which integrates with the software. It is a complete ecommerce solution which makes the logistics simpler and more efficient.
With Veeqo you can improve your dispatch time and process much more orders. You can integrate it with your WordPress store, as well as Shopify, eBay, and Amazon.
Try Live Chat For Free