To make your website successful you need to connect with customers faster and better.
Umm. You know this already, don't you?
You also know that adding a chat plugin to your WordPress website is the way to go.
But—
Did you know there are 439 WordPress chat plugins to choose from?
Who has the time to test them all? We do!
In this article:
10 WordPress chat plugins handpicked for your website
Reviews of each one of them, and lists of top features
Pricing information and previews of WP chat plugins
A quick guide to installing a live chat plugin on your website
Turn your website visitors into delighted customers.
Set up the Tidio live chat app in 5 minutes and watch your sales grow.
Learn About Live Chat
If you are looking for non-WordPress solutions (that you can still integrate with WP websites manually), go to the 17 Best Live Chat Apps ranking.
Also, have a look at our selection of the best WordPress eCommerce plugins to grow your sales.
List of Top 10 Live Chat Plugins for WordPress
Here's a handy list of WP chat plugins we've reviewed. To see the in-depth reviews of specific plugins, scroll down.
Tidio
WP-Live Chat by 3CX
Crisp
Tawk.to
LiveChat
Formilla
JivoChat
Zendesk Chat
Pure Chat
Intercom
Benefits of Adding a WordPress Live Chat Plugin
Before we move on to the reviews, consider this—
According to a w3techs survey, 18.9% of WordPress websites use WooCommerce. That makes over 5 million stores. If we added other eCommerce platforms, it would turn out that every fourth WP site is an online store.
Despite the fact that 44% of online shoppers consider live chat a must-have feature, the adoption of chat technology is rather slow.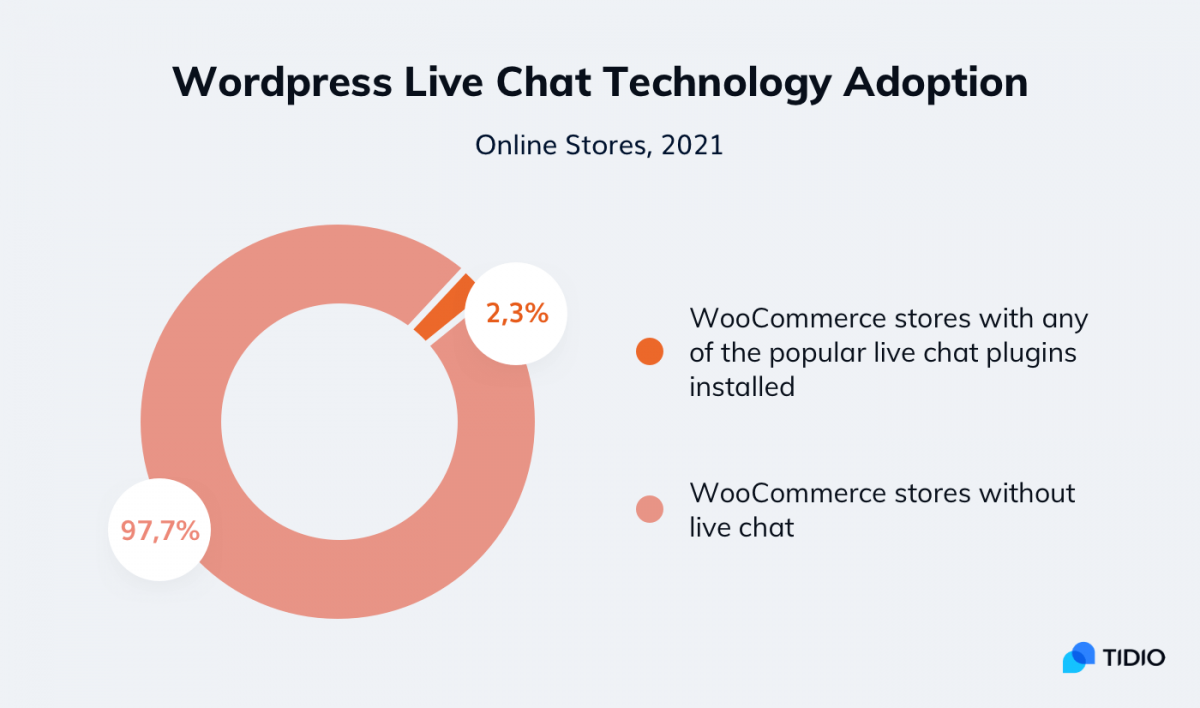 According to our estimations, less than 3% of WooCommerce stores use chat plugins as of 2021. The calculation is based on market share reports, the number of installations of different WP chat plugins, and our own data.
What does this low figure mean? That if you install a chat plugin now, you are joining the club of the most customer-friendly websites.
Ok. So—
What is the best live chat plugin for WordPress?
Let's find out!
You can find all the plugins in the official WordPress plugin repository. However, they come as downloadable packages that require extra work. There is a simpler way to integrate WordPress live chat apps with your website. Use the Plugins section in your WP admin panel.
1. Tidio

Active WordPress installations: 90,000+
Rating from WordPress users: 96/100
Free chats: Unlimited
Pricing: Free or $18/month for premium features
We'd love to tell you how easy it is to communicate with your website visitors with our app. But we won't.
That would be blatant self-promotion in an article like this. It's best if you try Tidio yourself free of charge.
We could elaborate more on features such as:
Unlimited chat conversations, contacts, and chat history in the free plan
Customizable chat box
Mobile and desktop notifications
iOS/Android mobile apps and integration with Facebook Messenger
Canned responses and chatbot templates for specific businesses
HubSpot, Salesforce, and Mailchimp integrations
Real-time visitor tracking
But rather than write how these features make our WP chat plugin stand out, we'll limit ourselves to giving you some dry facts and figures. Tidio's live chat is used by 141,953 websites in the US alone. It also has 94% of five-star reviews among WordPress users.
If you want to see if these numbers are well-deserved and do justice to our product, have a go—it's free. Oh, and if you should run into any difficulties, our fantastic customer service will help you out.
Create your account and get free Tidio live chat plugin for WordPress.
Tidio WordPress chat plugin preview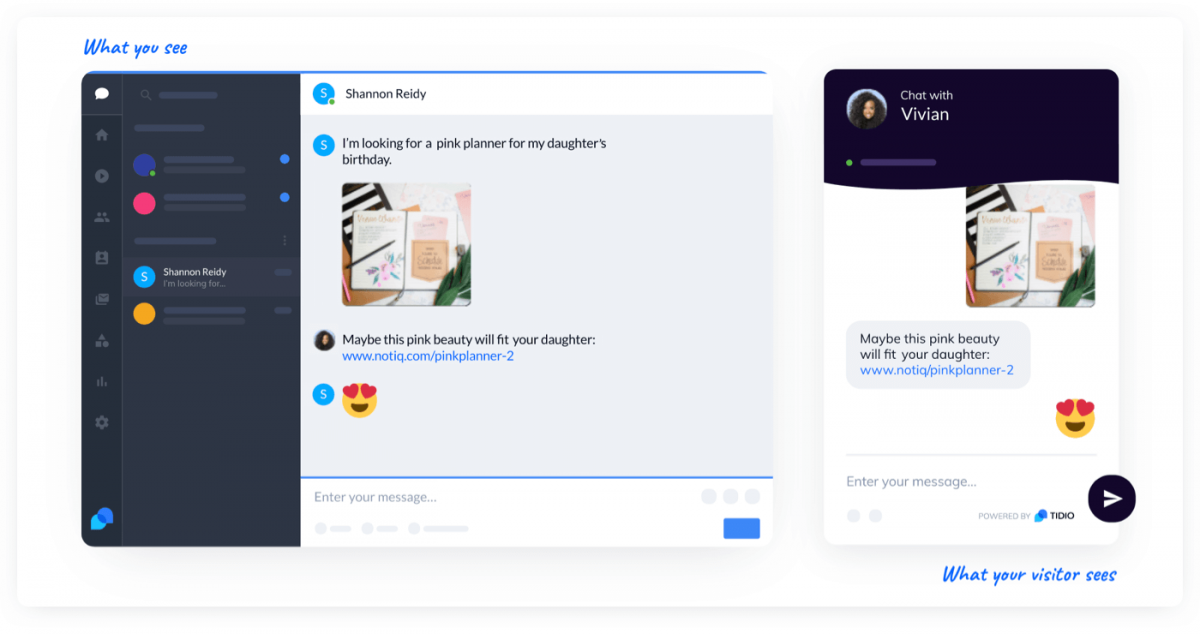 Quick installation guide
2. 3CX Live Chat

Active WordPress installations: 40,000+
Rating from WordPress users: 92/100
Free chats: Unlimited (You can also get 3CX system for one year for free)
Pricing: Free or custom pricing for 3CX Communications System
This plugin used to go by the name WP-Live Chat. It was very popular but a little bit dated. After receiving a major update several months ago, it looks more modern. But the redesigned UI received a mixed reception from users.
Still, it can be a good choice. As WordPress chat plugins go, it is a cool option for geeks. It may not be as user-friendly as other apps but there are some nice customization options available for the tech-savvy. Check out the reviews of this WP chat plugin here.
The most interesting features of 3CX Live Chat are:
Video and audio chats if you decide on the 3CX system integration
Assigning chats to other agents and organizing them into teams
Translations in English, Italian, Hebrew, and Korean
Integration with Gravatar for globally recognized avatars
Customizable chat plugin appearance
3CX is a company that provides VoIP services. Their WP live chat service is a semi-complete solution you can use for free because it is a lure. They are selling something else—the 3CX multichannel communication system.
3CX chat plugin preview

Download 3CX WordPress chat plugin here: Get This Plugin
Does WordPress have a live chat?
WordPress does not have an official first-party live chat plugin. WP live chat by 3CX used to be considered the native app that you could manage from your WP admin dashboard. Today there are many options that are more popular and advanced.
3. Crisp

Active WordPress installations: 20,000+
Rating from WordPress users: 96/100
Free chats: Unlimited (but in the freemium version conversations disappear after 30 days)
Pricing: Free or $25/month for extra features
As the name suggests, this WordPress live chat plugin is very crisp and good-looking. Apart from the looks, it offers plenty of features that you can test during the 14-day free trial. There aren't too many reviews of this WordPress chat plugin but they are mostly positive.
In theory, you can use Crisp for free but most of the essential features are available only in the premium plans. They include:
Slack, Messenger, and Telegram integration
Internal search engine for users and conversations
Canned responses and triggers
Plugin customization
User banning
Crisp offers chatbots, automated marketing campaigns, and Zapier integration. However, you need to pay $95/month to unlock them.
Crisp has its own app marketplace. Individual features come as separate plugins that you can add or remove. It means that you also need to install extra plugins within the main Crisp live chat software. And there are over 40 to choose from.
Crisp chat window preview
Download Crisp Live Chat plugin for WordPress here: Get This Plugin
4. Tawk.to

Active WordPress installations: 200,000+
Rating from WordPress users: 94/100
Free chats: Unlimited
Pricing: Free or $15.00/month to remove the branding
This one has the highest number of installations among all WordPress chat plugins. And it has all features unlocked from the beginning. The plugin has some nice reviews too.
What's the catch?
There are no premium features. The basic version is as advanced as it gets. If you pay $15.00 per month you can use a no-branding variant of the chat, and that's it. But there is nothing to worry about. The freemium version still has some great features like:
Email and desktop notifications
Transferring files through the plugin
Unlimited conversations and chat history
Message filtering and sneak-peek previews
Group messaging
Tawk.to is quite like 3CX with regard to their non-standard business model. The main function of the 3CX free WordPress live chat plugin is to attract customers interested in the 3CX Phone System. In a similar manner, Tawk.to does not sell their live chat but allows you to hire assistants and live chat agents. That's the company's primary source of income. And that's why they don't have chatbots as a feature.

The design of the WP chat plugin is very "friendly"—in the same way as Comic Sans is a "friendly" font. People love it but it may not be a suitable choice for some businesses.
Watch out!
If you want to install Tawk.to, download the right version. Choose the official WordPress chat plugin provided by Tawkto.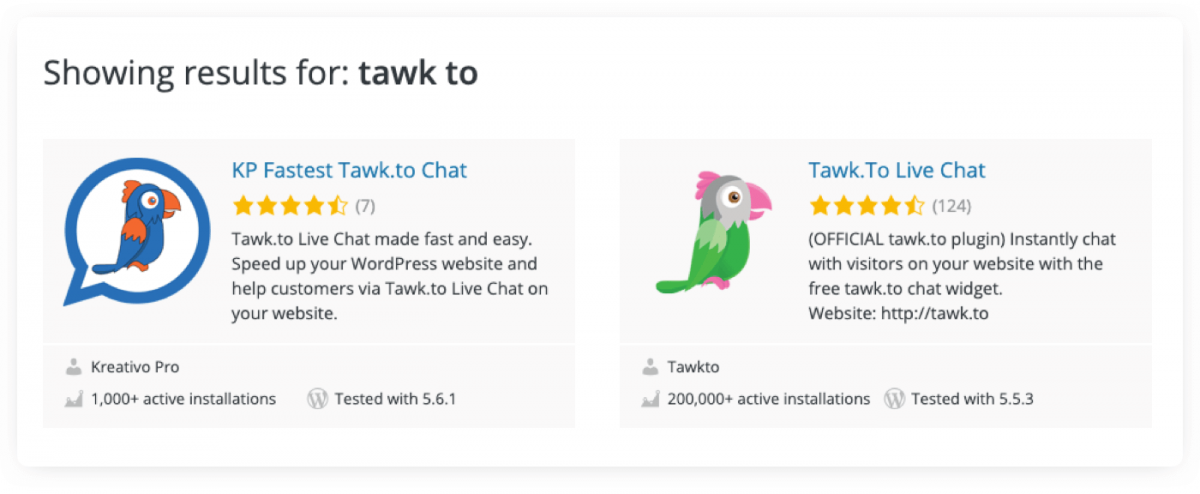 Find the official plugin here: Get This Plugin
5. LiveChat

Active WordPress installations: 30,000+
Rating from WordPress users: 96/100
Free chats: No
Pricing: $19.00/month for the cheapest of LiveChat paid plans
LiveChat is a good and powerful website chat plugin for WordPress. But there is no freemium option and the cheapest plan is very limited.
Still, if you keep upgrading, you can unlock some great enterprise-level solutions. LiveChat is great for big companies who need features like:
Work scheduler, agent groups, and chat takeover
Creating own customer segments
Advanced reporting about agent activities and response times
HIPAA-compliant security standards
Ticketing system
LiveChat is modular and uses the "plugins within plugins" approach. It even has an additional panel for its own extensions. You can add extra features by connecting LiveChat with other apps powered by the company. Some of them are billed separately and come with their own dashboards.You can check out WordPress LiveChat plugin reviews here.
Chat plugin preview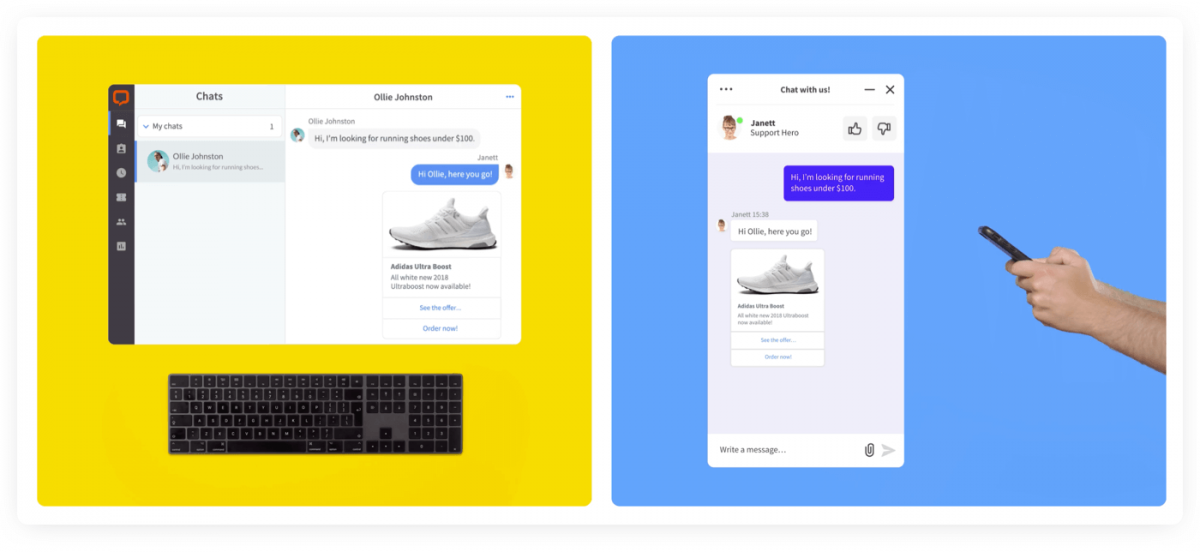 Download the official LiveChat WordPress plugin here: Get This Plugin
6. Formilla

Active WordPress installations: 5,000+
Rating from WordPress users: 96/100
Free chats: 30 conversations/month
Pricing: Free or $29.99/month for the Premium plan
Formilla is not the most popular WordPress chat solution but it has many good reviews. It also offers some original ways of customizing its appearance on your website. Advanced users can customize the look of the WordPress live chat plugin by directly editing the CSS code.
This WordPress chat support plugin has:
Smart messages and AI chatbots
Real-time visitor monitoring tools
File sharing features
Custom branding and themes
Exportable chat transcripts
Canned responses
The downside is that most of these features are available only to paying customers. The free version has a max cap of conversations of 30. It won't get you too far.
AI chatbots look very promising, but the process of training one takes time. You also need to already have a corpus of messages sent by your customers. This can be a problem for new users.
If you're planning on using bots, start with rule-based ones. Here is a guide that will help you make a chatbot.
Formilla live chat box preview

Get the official Formilla WordPress chat plugin here: Get This Plugin
7. JivoChat

Active WordPress installations: 40,000+
Rating from WordPress users: 100/100
Free chats: Unlimited
Pricing: Free or $19/month for the Professional version
JivoChat is one of the most popular and cheapest live chat solutions in the world. WordPress site owners seem to really like it. But the number of WordPress users alone does not tell the whole story. JivoChat is extremely popular in Russia, Brazil, and Ukraine.
The panel of this live chat for WordPress looks trendy and elegant. It has lots of white space and pleasant vector graphics.
Top features offered by this WordPress chat option include:
Pre-chat or in-chat contact info collection
Service quality ratings by customers
Canned responses with an automatic helper
Chat transfer between agents
Real-time visitors monitoring
If you plan to automate your conversations, keep in mind that JivoChat does not have chatbots. But, to some extent, it makes up for it with its phone support tools. Instead of automatic messages, you can use its Callback feature to have voice chats.
Chat plugin preview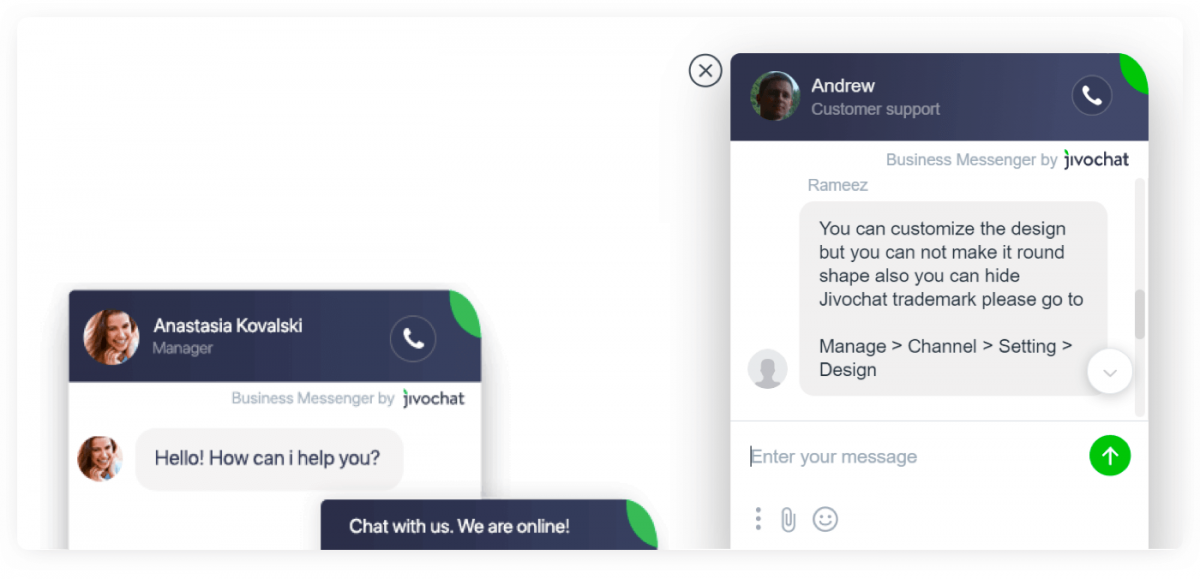 Get the official JivoChat WordPress plugin here: Get This Plugin
8. Zendesk Chat
Active WordPress installations: 50,000+
Rating from WordPress users: 80/100
Free chats: 1 concurrent chat
Pricing: The Lite version available in other Zendesk plans. Premium features and multiple chat sessions starting from $14/month.
Zendesk Chat (formerly known as Zopim) is a very elegant, minimalistic, and user-friendly WP chat plugin. Several key features such as pre-chat surveys are available out of the box. You won't be able to customize your chat plugin for WordPress too much but the default version looks nice already.
The premium plan has:
Chat and agent reports
Unlimited chats and triggers
Operating hours manager
Transferring chats between agents and departments
The automatic pairing of customers with agents based (skill-based)
To use the Lite version for free you need to pay for other Zendesk services. Zendesk provides integrated customer support solutions, help desk, and CRM products. The WordPress chat plugin is only one of the modules. This seems to confuse some WordPress site owners.
Chat plugin preview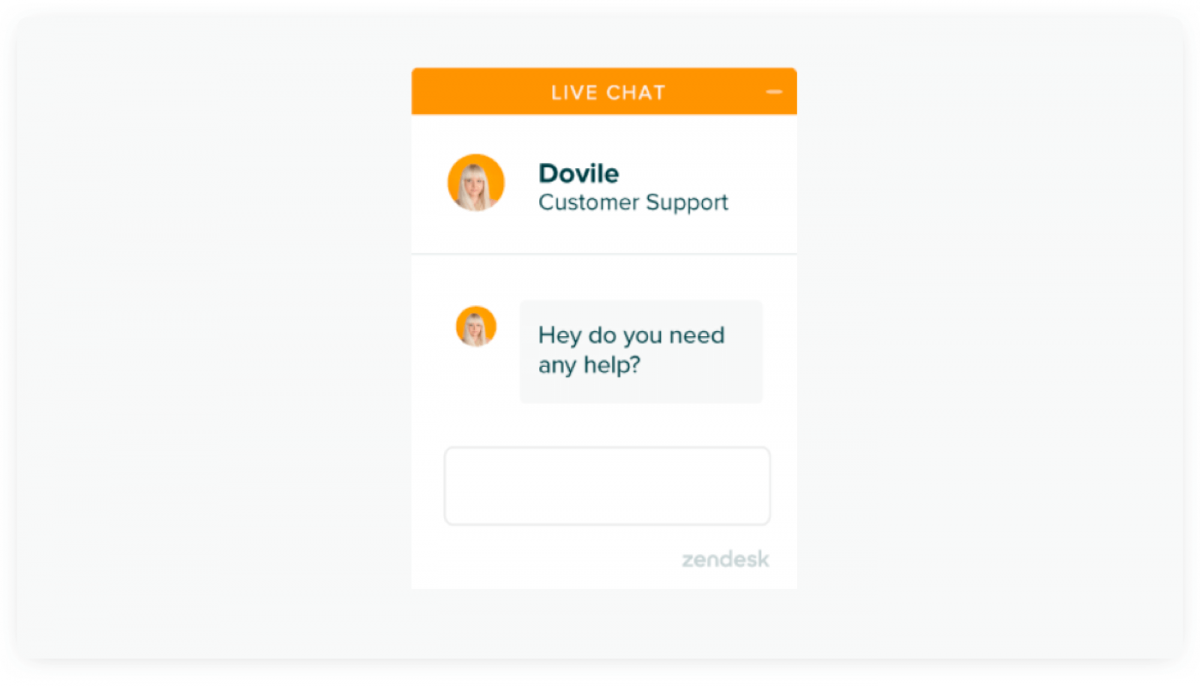 Download the official Zendesk Chat WordPress plugin here: Get This Plugin
9. Pure Chat

Active WordPress installations: 10,000+
Rating from WordPress users: 82/100
Free chats: Only for 30 days
Pricing: $39/month for the Growth plan
Pure Chat used to be one of the most popular free WordPress chat plugins available on the market. However, last year it was acquired by Ruby, and the freemium version was ditched.
Still, if you don't mind paying, Pure Chat by Ruby has everything that you may want from a live chat app. You can even integrate it with ArtiBotl—a dedicated chatbot solution.
This WordPress live chat has:
SMS notifications
Chat history transcripts
Mobile apps for iOS and Android
Trigger-based alerts
Canned responses
Back in the day, Pure Chat had some cool ads with a Saul Goodman-ish lawyer using live chat for his daily operations. Right now they seem to be much more conservative and sparse when it comes to their communication as a brand. Still, the WordPress community seems to mostly like it.
Pure Chat WordPress plugin preview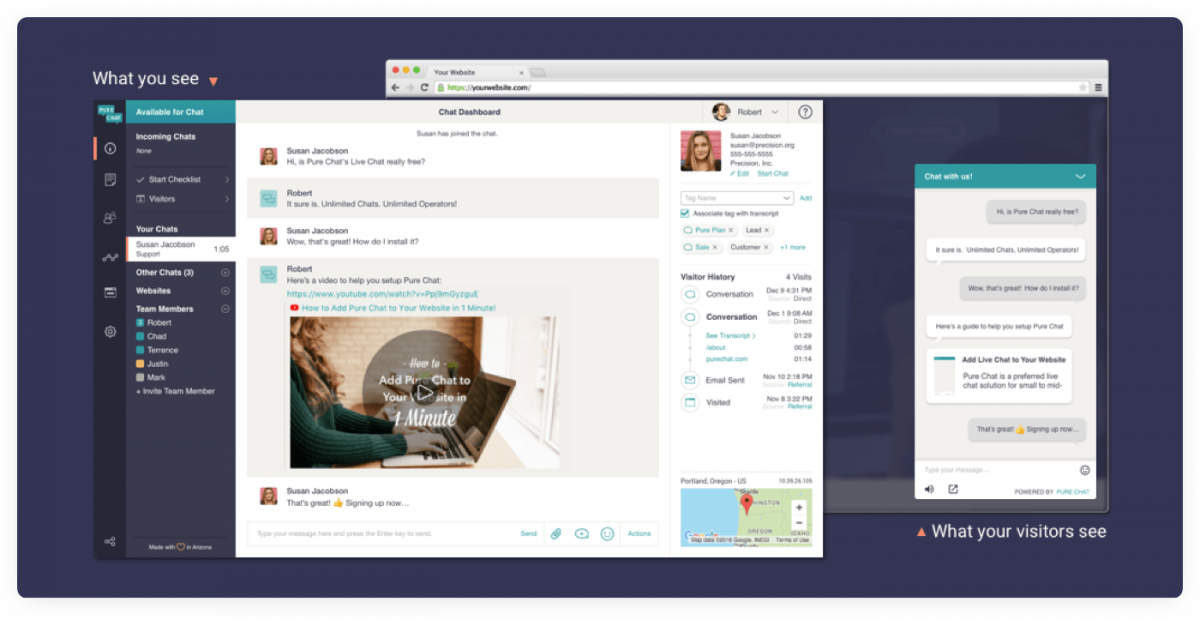 10. Intercom

Active WordPress installations: 10,000+
Rating from WordPress users: 66/100
Free chats: No
Pricing: Basic live chat starts from $39/month
Intercom is like Zendesk. It is less of a WordPress live chat plugin and more of an advanced customer support solution. Chat functionality is only one of the features. It also doesn't come cheap. They target eCommerce A-players and big businesses that need state-of-the-art tools.
Some of the top features available in Intercom WordPress live chat plugin include:
Customizable chat workflows and automations
Facebook integration
Auto-route conversations to available teammates
Automated lead qualification
Message triggers and scheduling
Team performance dashboards
Intercom is a very robust platform that can do a lot for your business—if you can afford it. To get the full live chat experience, you will need to buy several add-ons (sold separately). For instance, to use an Answer Bot, you will need to pay an extra $99/month on top of the chosen plan.
Intercom is a popular software but their WP plugin doesn't have too many reviews. Most of their customers are elsewhere and have custom websites.
You can't afford Intercom? Check out our detailed comparison of other advanced live chat plugins: Cheap Intercom Alternatives
Intercom WordPress chat box preview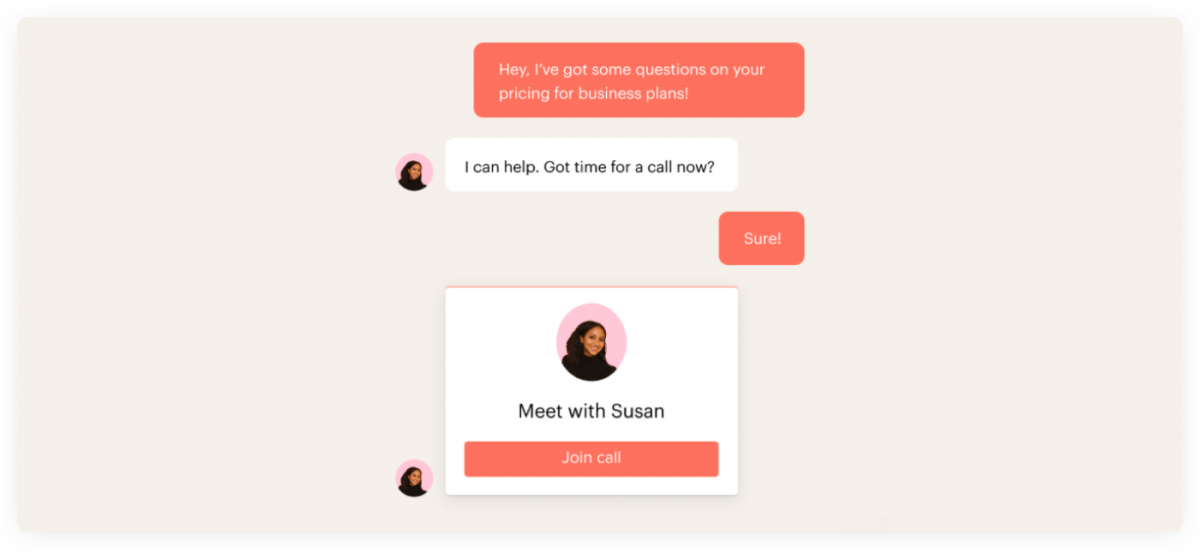 Download the official Intercom Live Chat WordPress plugin: Get This Plugin
WordPress Live Chat Feature Comparison
As you can see, the WordPress live chat app market is quite diverse. If you still feel lost, take a look at this table to see the comparison of features available in selected apps.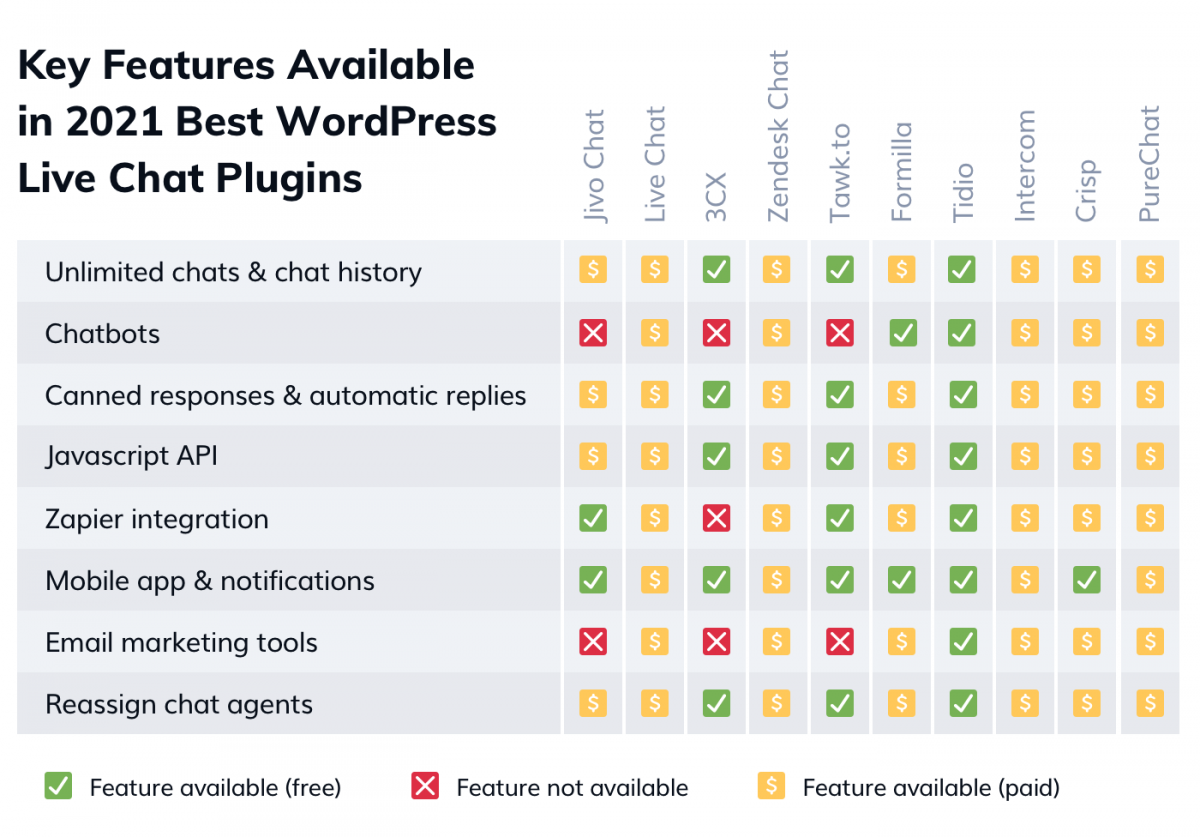 All the plugins presented above offer many exciting tools. There are a few brands that offer them in their free plans (Tidio, JivoChat). Some of them do not offer free plans at all (Intercom, LiveChat). Others have free plans with limitations (Zendesk Chat, Crisp, Formilla).
At the end of the day, it's your company's business needs and budget that should help you make the decision. Do you need all the bells and whistles? Are you ready to spend time learning advanced tools? Or maybe you prefer easy solutions that get the job done?
If you still can't decide, the best free WordPress live chat apps:
Tidio
JivoChat
Tawk.to
3CX Live Chat
Big companies that need advanced automation and custom workflows can choose:
Zendesk
LiveChat
Tidio
Intercom
The best WordPress chat plugins for small businesses and online stores:
Tidio
JivoChat
Crisp
Formilla
If you are interested in solutions that have chatbots, read: Best WordPress Chatbots
How to Add Live Chat on WordPress
You are probably wondering right now: How do I live chat on WordPress?
To add live chat to a WordPress website, choose an app you want to install from the WordPress plugins list.
This is How to Add Live Chat to WordPress
Open your WP admin panel.
Go to "Plugins" > "Add New" page inside your WordPress admin area.
Search for the Tidio Live Chat plugin and click Install Now.
After the plugin is installed, click Activate.
Set up a free account.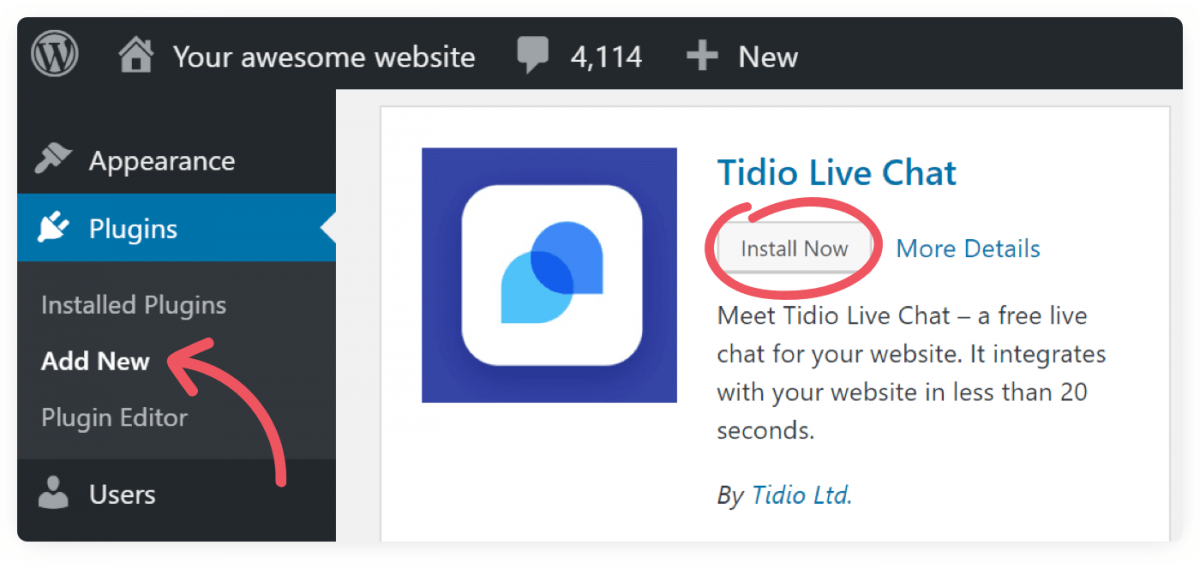 That's it! WordPress live chat plugin installation is a piece of cake.
You have successfully added a customizable live chat plugin to your WordPress website. Now, all you need to do is to configure the Tidio live chat settings to your liking.
Where to put a live chat script in WordPress page?
You don't need to worry about the script when you install one of the official WordPress live chat plugins. However, you can also add code snippets manually. In that case, you need to place the code right before the closing </body> tag. The manual method allows you to add live chat on any website.
Best WordPress Live Chat Plugins: Summary
Today, installing a live chat support plugin is extremely easy. Choosing the right one is the hard part. You'll need to consider many factors such as its usefulness, design, or learning curve.
A good live chat plugin for a WordPress site should:
Be easy to install and use
Have reasonable pricing plans
Provide visitor info
Integrate with social media pages
Use canned messages, triggered auto-replies, and chatbots
Allow sending unlimited messages
Work as a complete customer communication platform
Turn your website visitors into delighted customers.
Set up the Tidio live chat app in 5 minutes and watch your sales grow.
Learn About Live Chat