Customers are impatient these days.
If they want something from you, they expect you to respond to them fast. Preferably in real time.
That's why a Shopify live chat app is no longer a nice-to-have. It's a must-have. All the more so, as it only takes three minutes to install it.
The problem is which one to choose.
No longer, though. We'll help you make a decision.
In this article:
Ranking of popular live chat software for Shopify
Key features and pricing comparison
How to add live chat on Shopify
If you want to learn more about live chat, you can also read:
Does Shopify have live chat?
If instead of looking for the best Shopify live chat apps you are trying to reach the Shopify customer support team, try visiting Shopify Help.
Now, let's get down to business.
The most installed Shopify live chat apps are:
All live chat apps from the list above can improve customer experience, increase sales, and customer satisfaction. But each one is slightly different and offers features that may be a better match for your ecommerce store.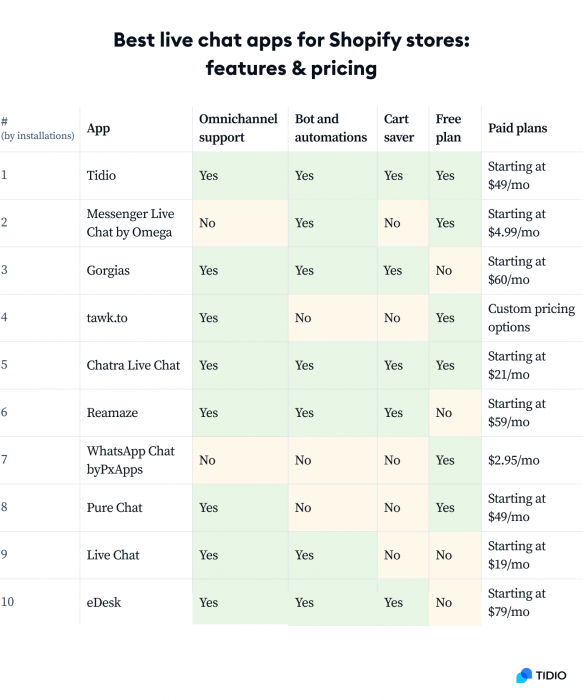 According to some studies, 50% of online shoppers will abandon their purchase if they cannot find a quick answer to their question. But which of the live chat options will help them get answers quickly and easily?
It all depends.
Are you a small business or an enterprise? Do you need omnichannel support? Do you want to boost sales with proactive customer service and chatbots? Do you intend to collect customer information and integrate your tools with Google Analytics?
Let's learn more about the apps. See for yourself which one should work for you best.
1. Tidio: Shopify Live Chat Plugin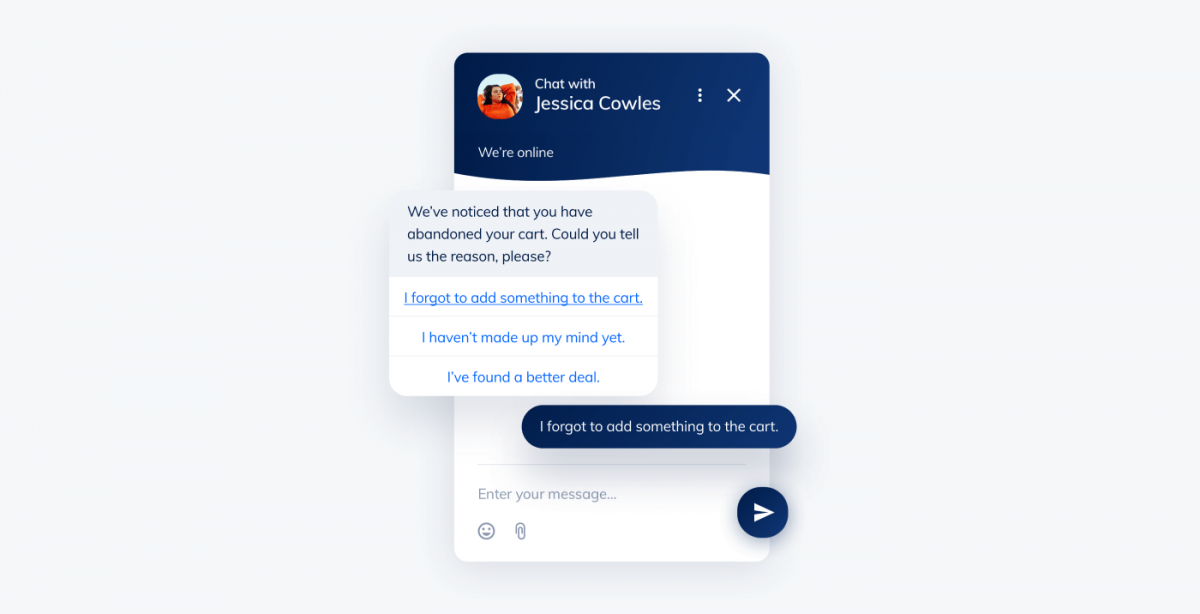 Rating: ⭐ 4.8 out of 5 stars (1,336 reviews on Shopify app store)
We know that it is super weird to review Tidio on our own blog. If you were looking for Shopify live chat app, our Shopify App Store page must have already shown up in your search results. You must probably think—what the heck? Is this a conspiracy? Why do I keep seeing Tidio?
It is no coincidence. Tidio is the most-installed and most reviewed Shopify live chat solution. To tell you the truth, we do have a bent for Shopify stores. We have some extra features available only for websites powered by Shopify.
Main features:
Unlimited free live chat conversations and chat history
Customizable chat icon and welcome messages
Real-time visitor list with customer data and visited pages
Pre-chat surveys and customer segmentation
AI message intent recognition features and canned responses
Integrated order tracking and delivery information
Deep integration with Shopify sales analytics and product pages
Chatbots for abandoned shopping cart recovery and lead generation
Facebook, Instagram, and WhatsApp integrations
Ecommerce marketing automation and FAQs
Free JavaScript API for unlimited widget behavior control
Fast and helpful customer support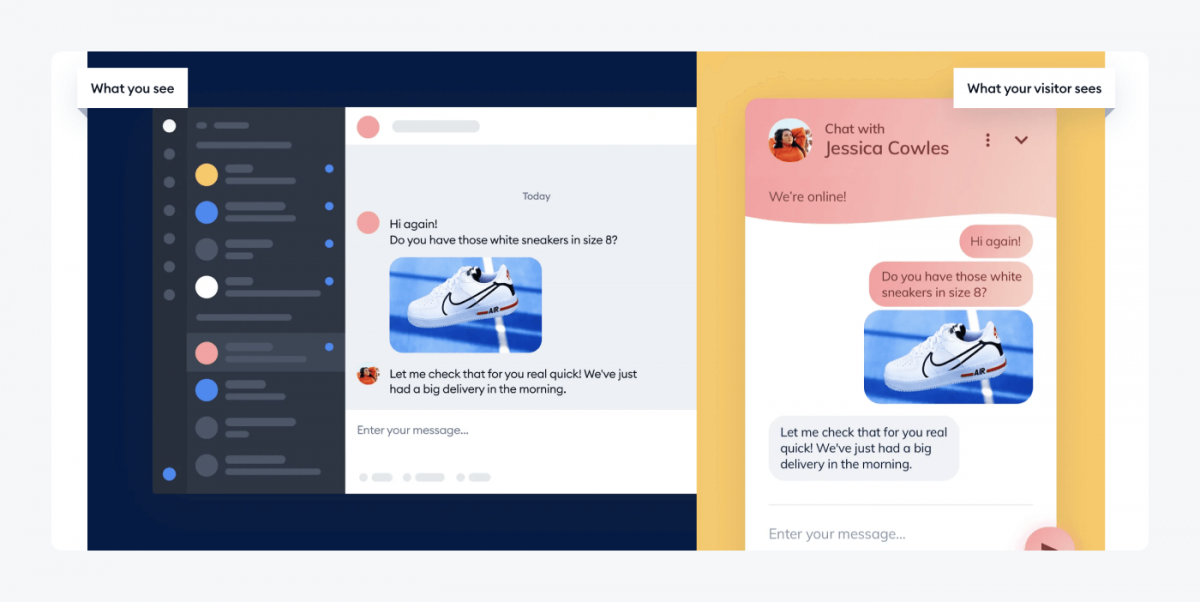 Pricing plans:
Free: Unlimited conversations and core features (no credit card required)
Paid plans: Starting from $19 per month. For details, check Tidio pricing
How to add live chat to Shopify
You can install the live chat plugin for Shopify stores with the official Shopify Apps repository.
You can also navigate to the app by using your store panel. Just follow these steps:
Go to your Shopify admin panel
Click Apps and Shop for apps
Type live chat in the search bar
Choose Tidio Live Chat and click Add App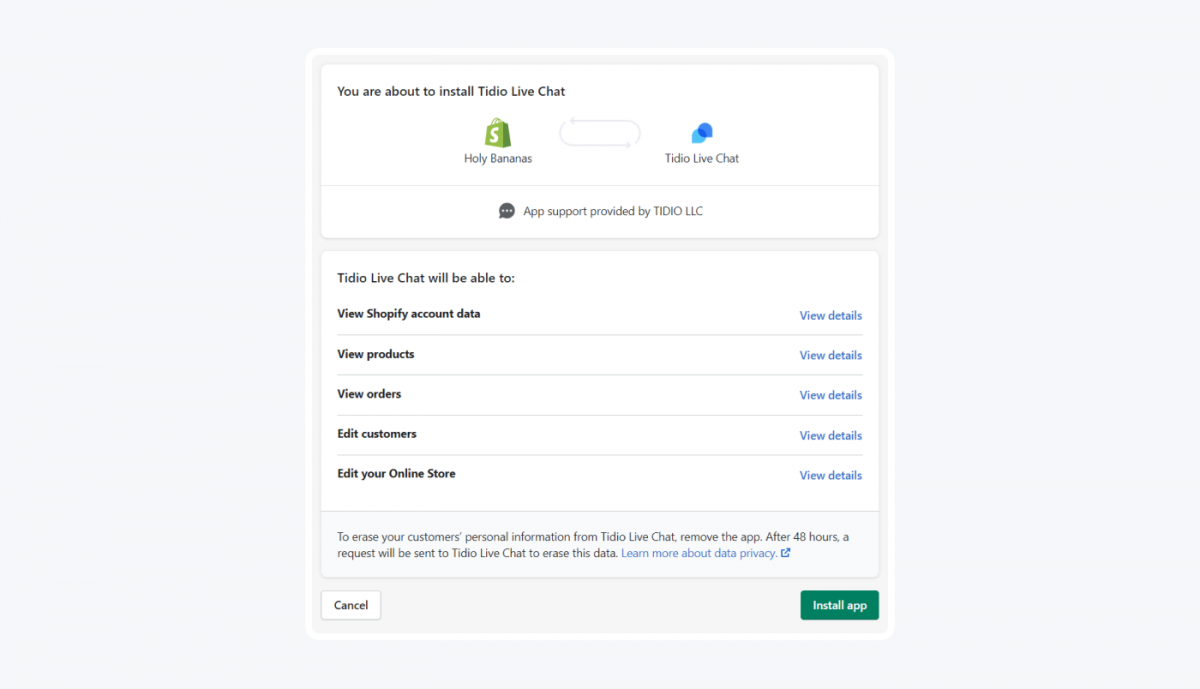 Tidio Live Chat for Shopify is just one example of popular tools used by store owners. If you are looking for additional ways to increase your sales, check the ranking of the best Shopify apps for 2022.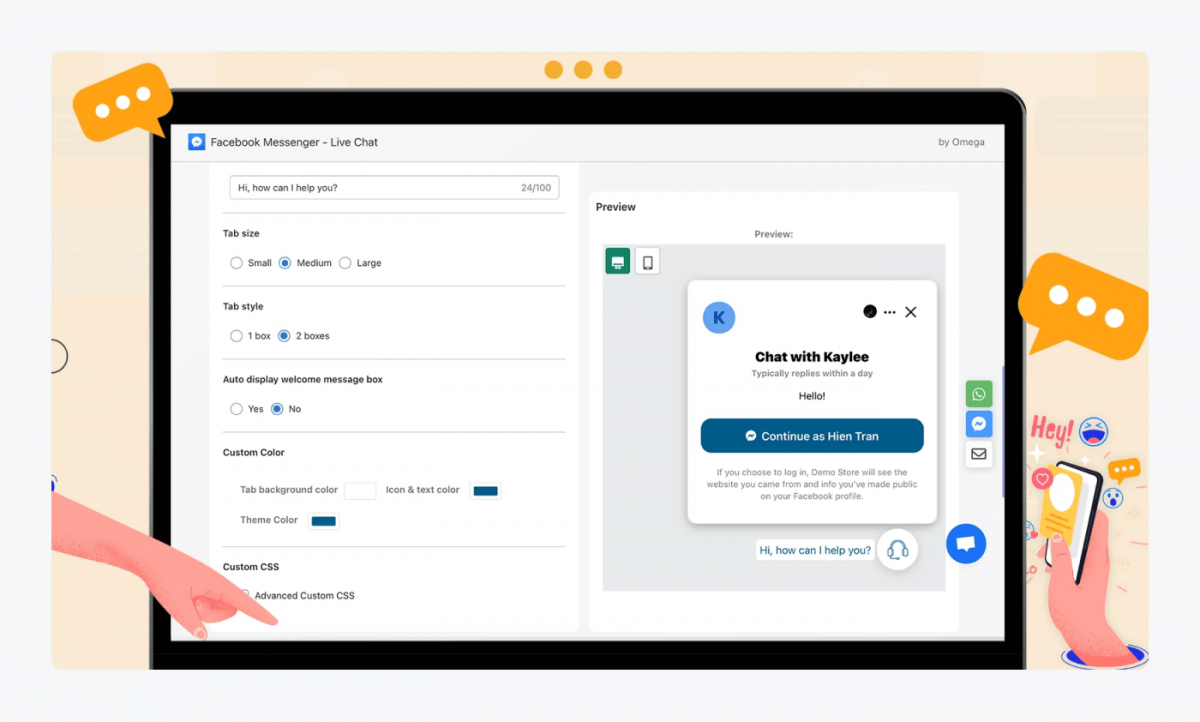 Rating: ⭐ 4.9 out of 5 stars (270 reviews on Shopify app store)
This solution offers a slightly different service. Instead of a fully standalone Shopify live chat app, you get a widget that supports conversations via Facebook Messenger chat. You can add a chat icon to your site on Shopify—but to write a message, customers have to log in to their Messenger account.
This approach has its advantages and disadvantages. Integrating your Facebook page and live chat can allow you to take advantage of some additional Facebook business features. More than 20 billion messages are exchanged between businesses and users on Facebook Messenger every month. On the other hand, it can be a shot in the foot if your website visitors are not Messenger users.
Main features:
Integration with Facebook actions such as "buy now" buttons
Setting up your chat availability schedule and target pages
24h customer sessions that allow you to stay in contact
Chat history and Facebook Messenger chatbots
Custom widget positions, colors, and chat icons
Pricing plans:
Basic (Free): Unlimited conversations and basic widget customization
Premium: $4.99 per month for additional customization options and scheduling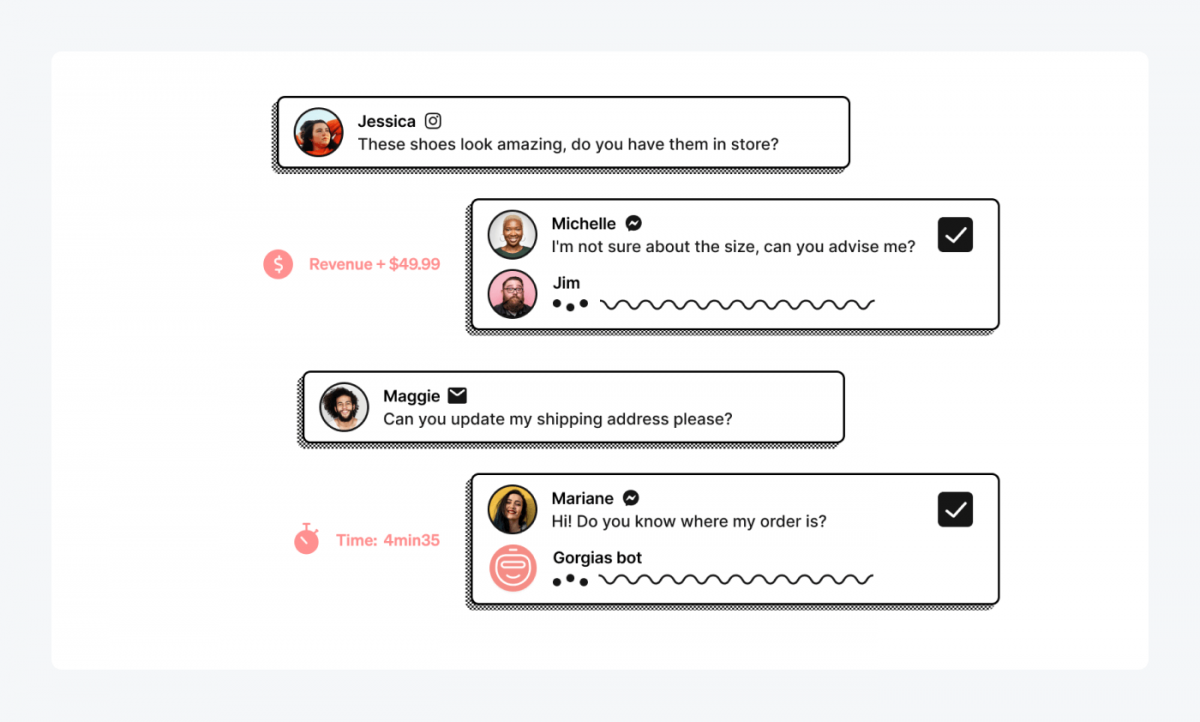 Rating: ⭐ 4.6 out of 5 stars (492 reviews on Shopify app store)
Gorgias is more than a simple chat for Shopify. It is a complete help desk solution that fully covers your customer care processes. It has a ticketing system, pre-made templates, and automated messages. In a way, Gorgias is like the ultimate Zendesk alternative for handling Shopify store customers.
So, what's the catch? It is a somewhat expensive solution. The paid plans are not exactly on the cheapest side and, additionally, you pay around $0.25-$0.21 per customer once your plan limit is exceeded. It may be worth it—but if your business is just starting out, you might want to consider other options.
Main features:
Unlimited customer support agents
Custom contact forms on important pages
Automated responses and order tracking
Macros and tags for managing conversations
See pages and browsing history of a customer
Multi-channel messages and multi-store inbox
Integrates with ReCharge, Shipstation, and other apps
Pricing plans:
Basic plan: 350 tickets per month for $60/month
Pro plan: 2,000 tickets for $300/month
Advanced plan: 5,000 tickets for $750/month
If you need advanced CRM features, read our guide to best customer database software.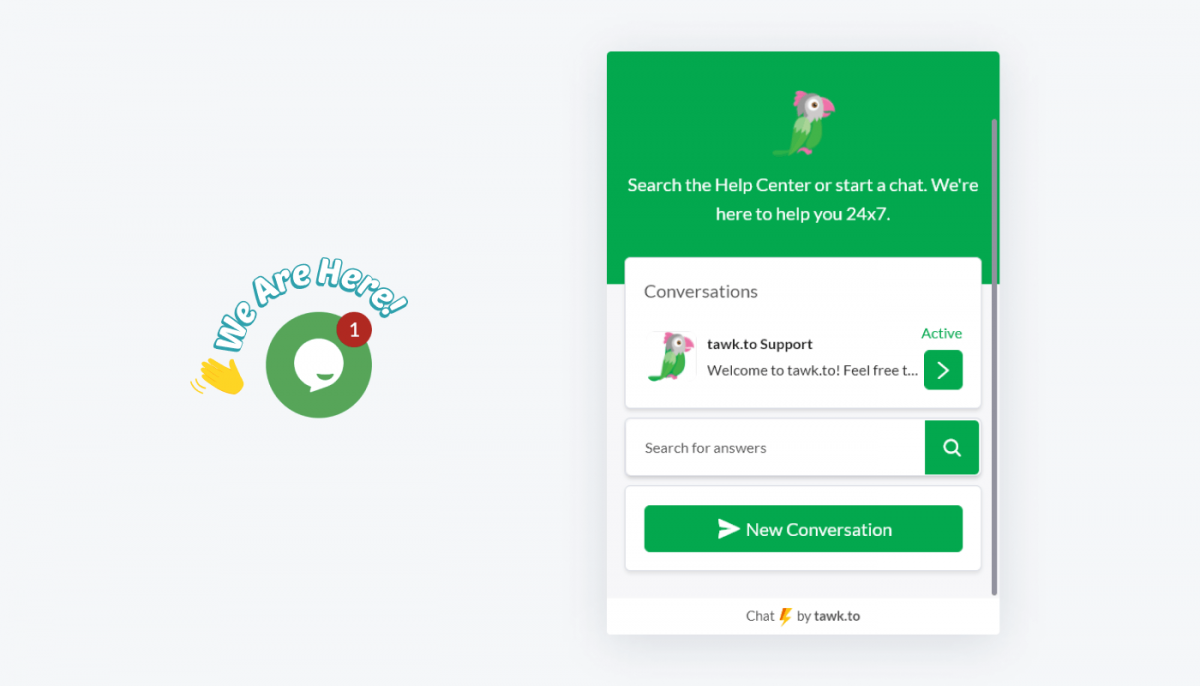 Rating: ⭐ 4.2 out of 5 stars (222 reviews on Shopify app store)
Tawk.to is a 100% free live chat app for Shopify. It has unlimited conversations and mobile apps (iOS & Android) that allow you to stay connected with your customers wherever you are. Tawk.to offers some advanced features such as visitor tracking and chat service analytics.
Tawk.to Live Chat has a very original business model. They generate their revenue by providing chat answering services. You get the Shopify live chat app for free but if you want you can also hire live chat agents. This seems like a nice option, but it also has its downside. Since Tawk.to wants you to hire people to take care of your customers, there are no chatbots or other customer service automations.
Main features:
Live visitor list and geolocation details
iOS, Android, Windows, and Mac OS apps
Dashboards with detailed live chat analytics
Ticket management and knowledge base
Pricing plans:
Many solutions listed here, e.g. tawk.to or Tidio, aren't exclusive live chat apps for Shopify. They're also available as WordPress plugins. Adding a chat function to WooCommerce stores makes them more user-friendly. If you are interested, you can find what the best WordPress live chat plugin is.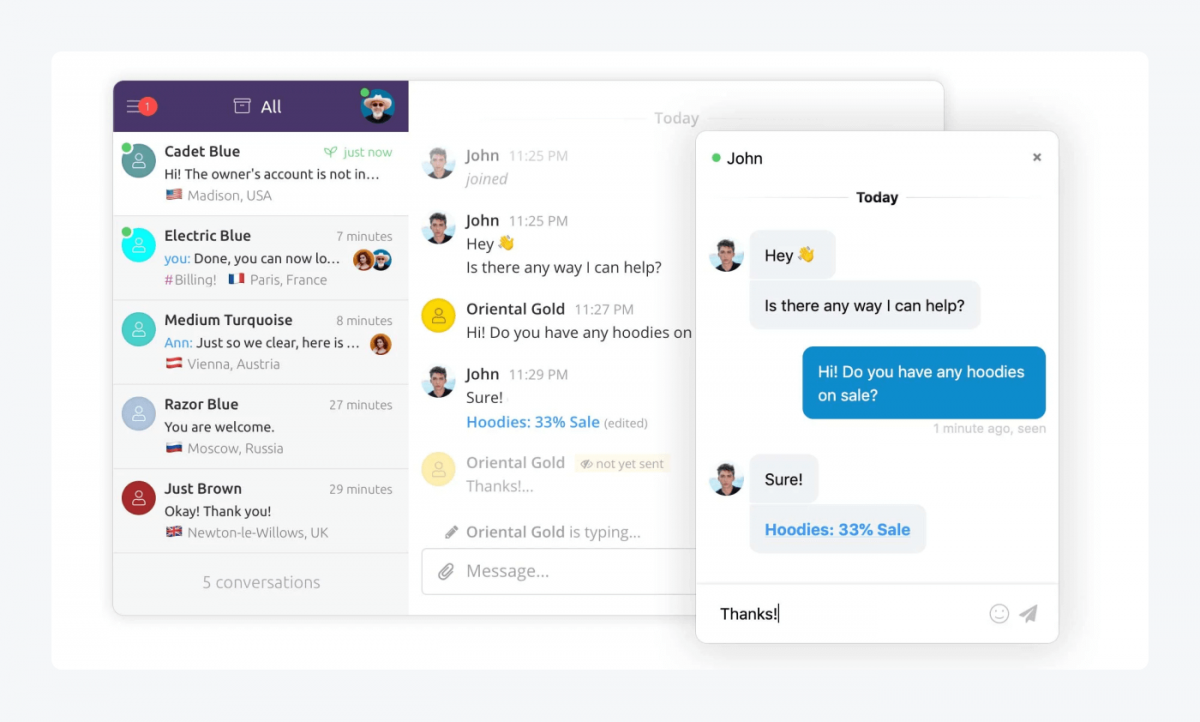 Rating: ⭐ 4.9 out of 5 stars (608 reviews on Shopify app store)
This Shopify live chat app is also known as Chatra Live Chat. However, since the live chat feature is not the only trick up this platform's sleeve, the lengthy name in the Shopify app store (Live Chat, ChatBot & Cart Saver) is somewhat justified. It has a very good rating and can definitely be used for top-quality omnichannel customer service.
As the "full name" suggests, Chatra also offers advanced Shopify cart abandonment features. And since the abandoned cart rate on mobiles is over 80%, using a mobile-friendly live chat solution sounds like a great idea, doesn't it?
Main features:
Abandoned cart recovery
Facebook Messenger integration
Chatbots for discount codes and FAQ
Ready-to-use live chat scripts
Group chats with multiple agents
Intelligent contact form chatbots
Mobile chat apps for Windows, Mac, Android & iOS
Typing insights for faster live chat support
Pricing plans:
Free: Live chat and basic features
Essential: Additional features such as chatbots, typing preview, and Facebook/Instagram integration for $21 per month
Pro: Operating hours, data export, API, and webhooks for $29 a month
Read more:
Find out how Mometrix used one of the Shopify live chat apps from our ranking to reduce cart abandonment by 25%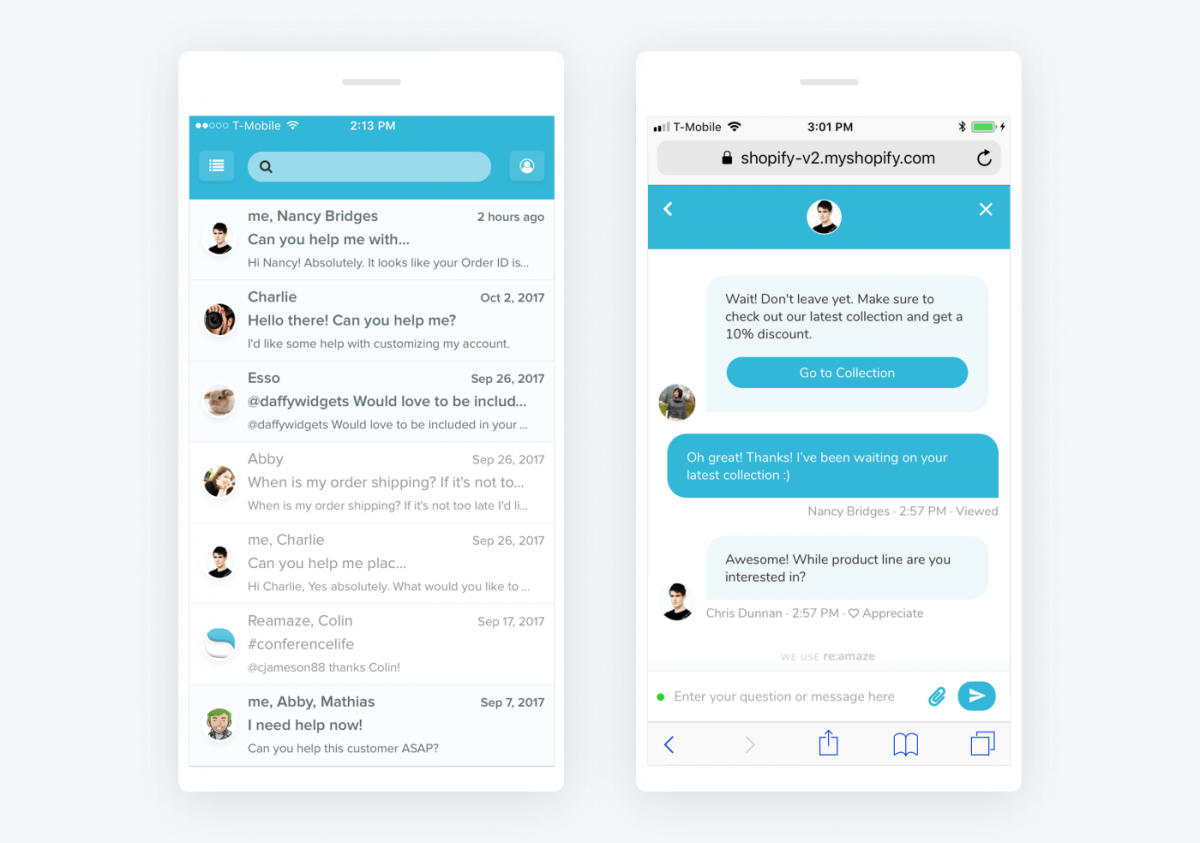 Rating: ⭐ 4.8 out of 5 stars (192 reviews on apps.shopify.com)
Reamaze puts the "omni" in omnichannel customer support. It covers pretty much all types of customer service communication. You can use it to manage your email, live chat, social media (Instagram, Facebook, Twitter), WhatsApp, SMS, or even VOIP.
One of the most interesting things about Reamaze Shopify chat app is that it integrates with many other apps for ecommerce platforms. This means that you can tackle other things without leaving your main ticketing dashboard. You can use Klaviyo or Smile from within the desktop app developed by Reamaze. It can become your command center and the core hub of your customer-oriented activities.
Main features:
Integrates with Shopify macros
Popup tools for increasing conversion rates
Access to demos, training tutorials, and other resources
Automations triggered by checkout actions or requests about refunds
Send products to customers in chats
SMS and push notifications
Pricing plans:
No free plan available but there is a 14-day free trial
Starter plan: Unlimited operators (500 conversations for $59 monthly)
Basic/Pro/Plus plans: Various features and unlimited chats billed per operator (from $29 monthly)
Some apps have built-in contact management features. For example, you can learn how to import Shopify contacts in Tidio in our knowledge base.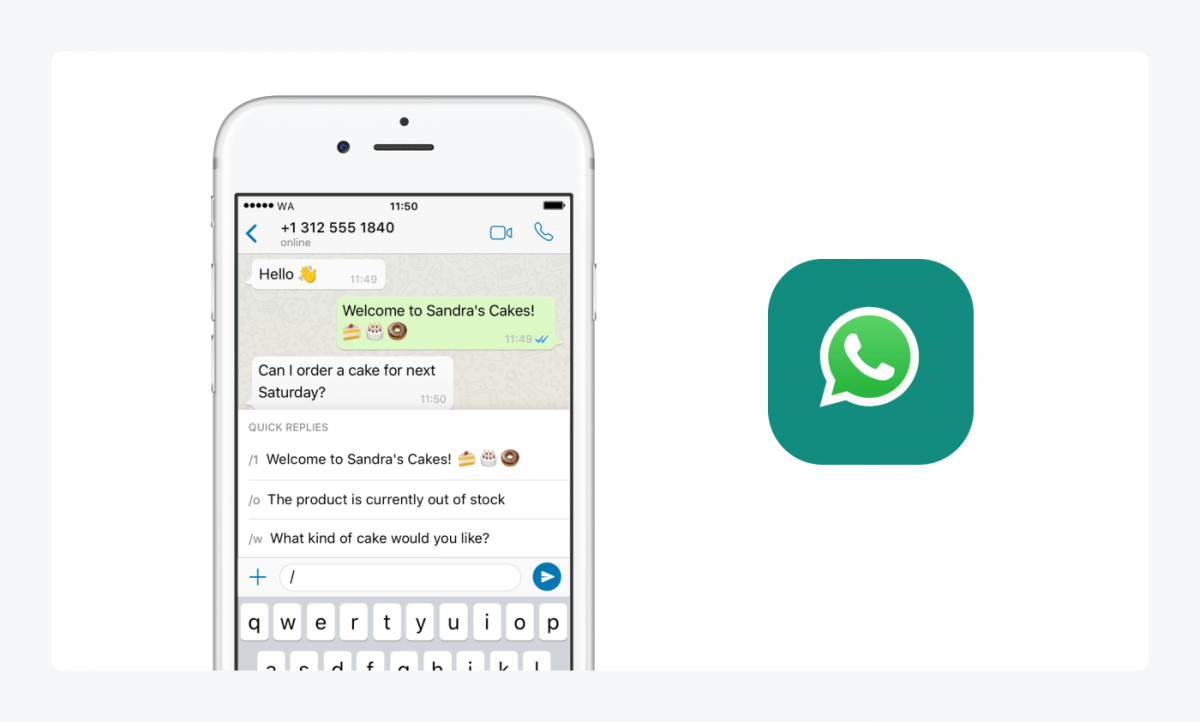 Rating: ⭐3.2 out of 5 starts (11 reviews on Shopify app store)
This third-party app only adds a button to your page and all the "heavy lifting" is on the WhatsApp side (developed by Facebook/Meta). It may not be the best rated or extremely powerful Shopify live chat app. But, the large number of installations suggests it is quite popular. WhatsApp is becoming one of the most popular and convenient emerging sales channels.
The idea is simple—you install a plugin and, with its help, you can add a live chat button to your website. Then, you can handle incoming conversations through your WhatsApp integration. You can use WhatsApp to upsell more products, send coupons, or collect phone numbers for later remarketing campaigns.
Main features:
Customizable chat icon
Chat window greeting message
Pre-configured CTA buttons
Message templates for store visitors
Pricing plans:
Forever free plan: Basic features and unlimited chats
Unlimited plan: Additional widget customization options for $2.95 per month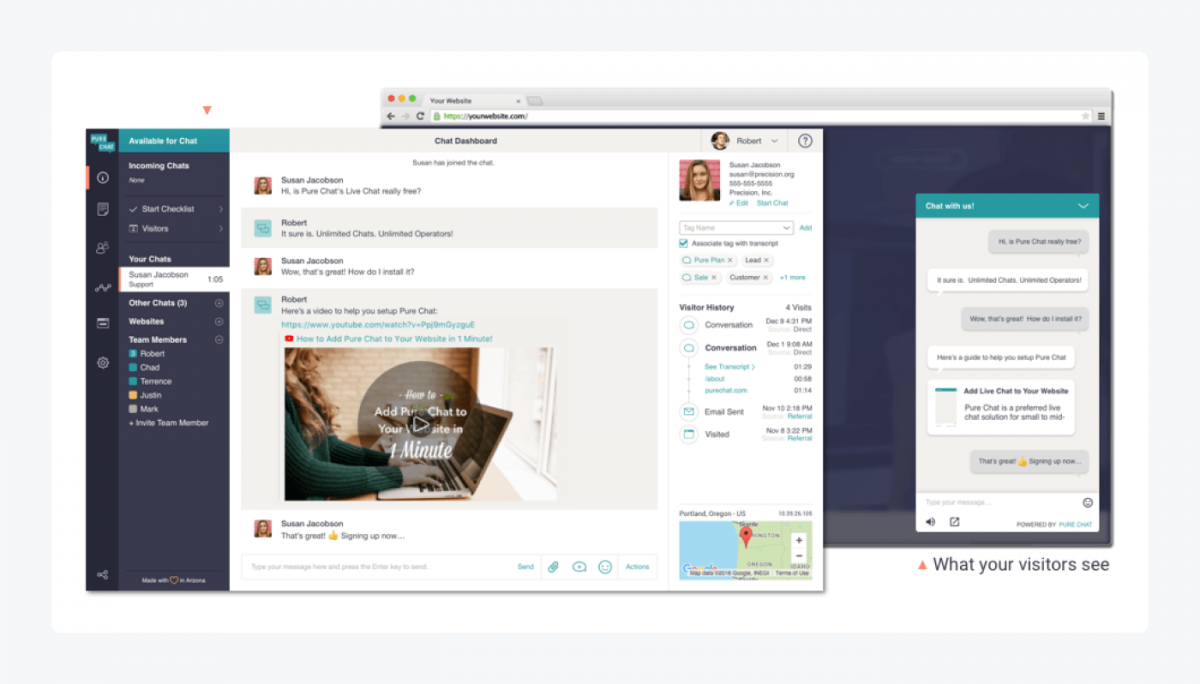 Rating: ⭐ 3.5 out of 5 stars / (44 reviews on Shopify app store)
Pure Chat is one of the most popular Shopify live chat apps. It was a great alternative to expensive solutions and advertised itself as a free, simple solution for small businesses. It was later purchased by Ruby and suddenly things went quiet. Indeed, the software itself works OK—just don't expect any dramatic updates or game-changing features.
Main features:
Visitor tracking in real time
Unlimited conversations
Multiple user seats and websites
iOS and Android mobile apps
CSV exports for contacts and reports
Pricing plans:
No free plan but there is a 30-day free trial
Growth plan: Up to 4 users and 1 website for $49/month
Pro plan: Additional user seats and unlimited websites for $99/month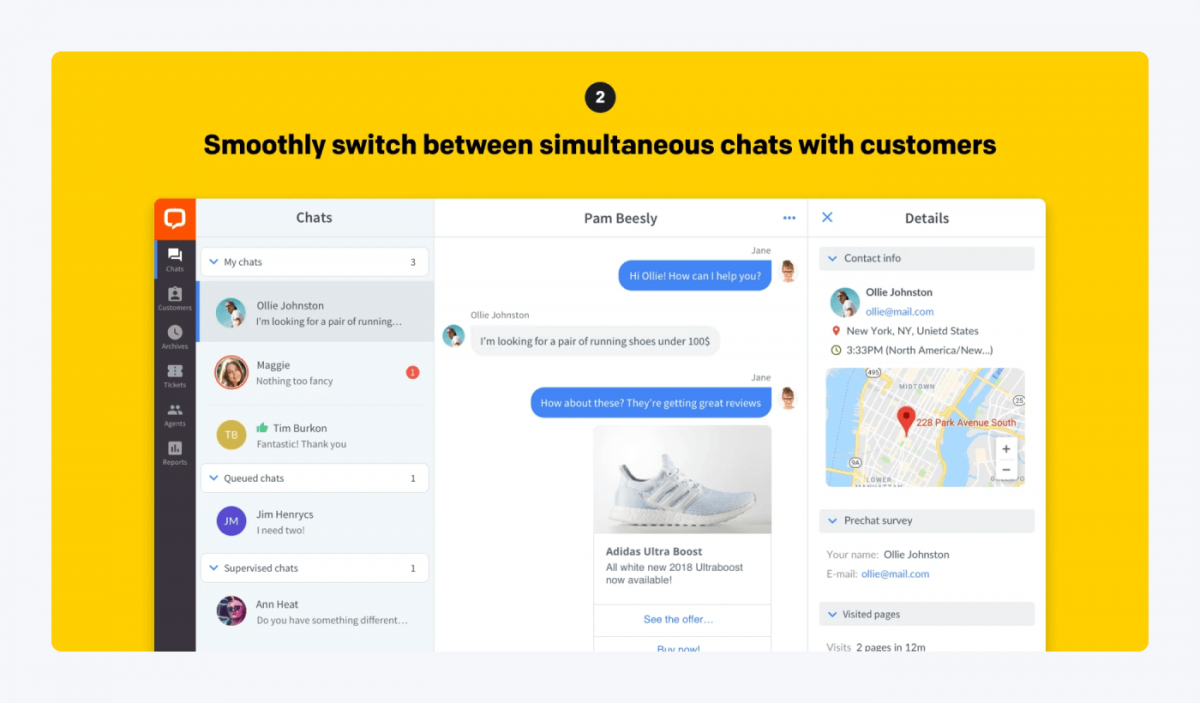 Rating: ⭐ 3.9 (37 reviews on Shopify app store)
LiveChat for Shopify is a great tool for gathering feedback and conversation routing if you are a SaaS company. It works well with ecommerce stores and Shopify too. However, it is a rather complicated tool and suitable primarily for companies selling expensive products and services. Additionally, this app is so advanced that it even has its own app store with additional modules such as chatbots.
Main features:
170+ integrations and additional modules
Detailed customer information and customer insights
A real-time view of a customer's cart
Sending product cards/recommendations via live chat
Ticketing system and automated support workflows
Pricing plans:
14-day free trial (but no forever free plan)
Starter plan: Basic customization and ticketing system for $19/month
Team plan: Unlimited chat history and chat box customization for $39/month
Business plan: Advanced reporting, work scheduling, and more for $59/month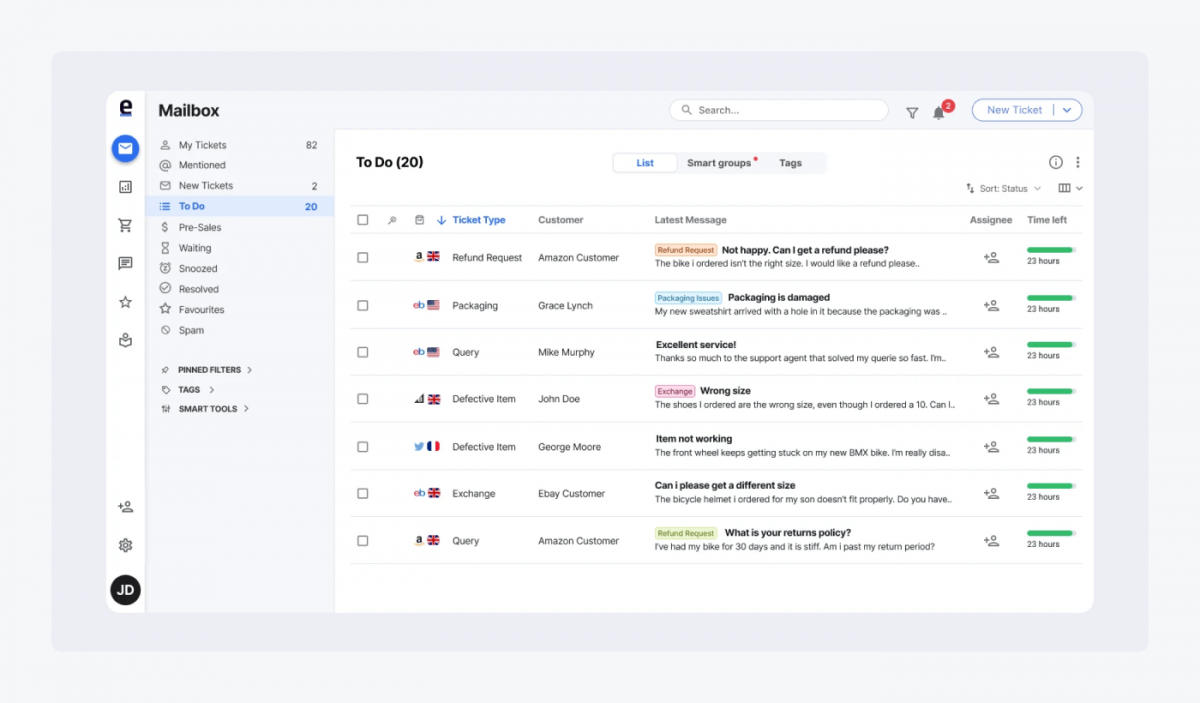 Rating: ⭐ 4.8 out of 5 stars (25 reviews on Shopify app store)
eDesk, just like Reamaze (and to some extent Tidio), is supposed to become your ultimate, centralized customer support management tool. You can use this Shopify live chat app to handle your support tickets, emails, and chats. It offers AI and advanced auto-responses for creating faster and more automated workflows for your customers.
Main features:
Automatic invoice generator
Customer service team performance reporting
Auto-translation and AI responses
Custom service-level agreements
CSAT measurement and API access
Integrates with eBay, Amazon, and Facebook
Pricing plans:
14-day free trial only—no free plan available
Team plan: Including autoresponder and custom fields for $79/month
Professional plan: AI-powered responses and management reports for $105/month
Enterprise plan: Additional reporting and premium features for $169/month
Conclusion
Customers prefer websites and Shopify stores that offer online support in real time. A live chat for Shopify can help you suggest products, answer questions about orders, and improve your marketing with auto-messages.
Once again—
The best Shopify customer service chat tools for ecommerce stores are:
Care to give it a go and install the best shopify live chat app right away?