It's no secret that we learn about businesses through the word-of-mouth.
We ask for restaurant and hotel recommendations through social referrals. We get referrals on shops and online businesses from our friends and family because they're the ones we trust the most.
You may have even discovered Tidio through review sites like Capterra and G2. The product has a 92% rating which makes it the highest-rated WordPress live chat plugin thanks to in-depth reviews and referrals from past customers.

Word-of-mouth usually happens by chance, but there's one way you can boost the referrals to your eCommerce store.
What is it?
Here's what you need to know.
Word-of-mouth Marketing vs Referral Marketing
Let's start by defining word-of-mouth and referral marketing.
Word-of-mouth marketing is an unpaid promotion. Your brand advocates tell their friends how much they like your business or product. They don't expect anything back. They are just genuinely happy to share info about your company with their social circle.
For instance, a customer may share their experience with your eCommerce business. They may talk about their positive experience when they hang out with others.
People love to get recommendations from those they know because they trust their assessment.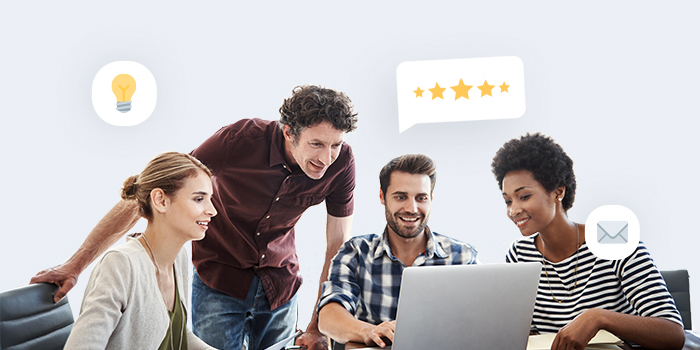 While word-of-mouth happens spontaneously, some businesses have leveraged referral marketing to boost their word-of-mouth recommendations.
Like word-of-mouth marketing, referral marketing also involves talking to your friends and family about a product that you love. However, brand advocates may receive incentives such as freebies and discounts so they will promote the business within their network.
For example, the Saje referral program encourages current customers to refer a friend so both of them will get 10% off their next purchase.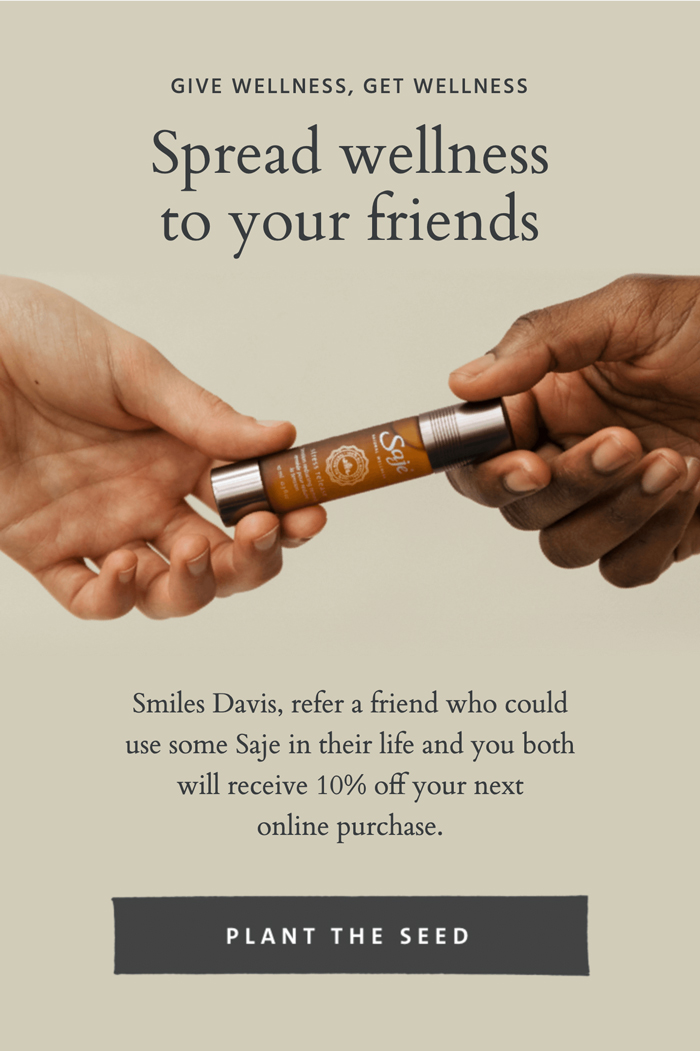 Why Is a Referral Program so Important?
Referral programs ensure that customers actually spread the word about your business. And you can easily measure that. Brand advocates are likely to promote a business when they get something in return.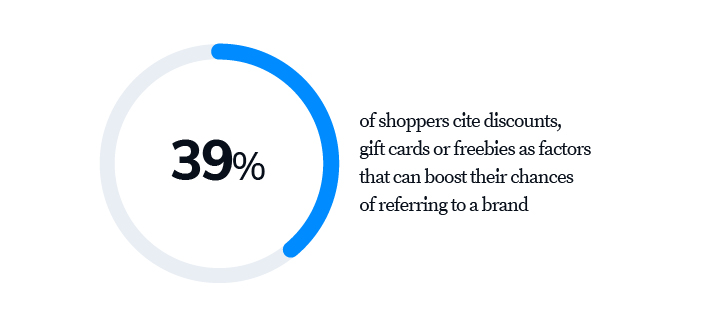 People love rewards, either big or small, so reward loyalty to make current customers more loyal and to increase your chances of expanding your customer base.
Referral Program Statistics
Here are some statistics that prove the importance of referral programs:
49% of shoppers said that their friends and family are their top sources of brand awareness.
70% of shoppers said that they trusted product recommendations from friends and family. Meanwhile, only 15% of consumers said that they trusted posts created and shared by brands or companies on their social accounts.
People trusted recommendations from friends 7 times more than traditional advertising.
39% of shoppers cite discounts, gift cards or freebies as factors that can boost their chances of referring to a brand.
Not surprisingly, people form relationships to enjoy tangible benefits. We want to ask for product recommendations from those we trust. In exchange, we might give sincere referrals to make their lives better (or hope to, at least!).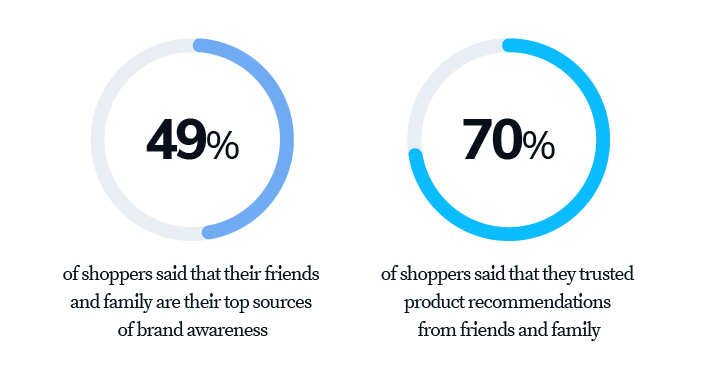 Therefore, referral programs could help you retain your current customers, get new prospects and increase customer lifetime value. 
Read more: Learn how you can benefit from partner referrals.
Referral Marketing as Part of a Customer-Centric Strategy
A customer-centric strategy involves delivering experiences that customers want on every stage of the customer journey. It involves prioritizing customers and placing their needs as the core of your business strategy.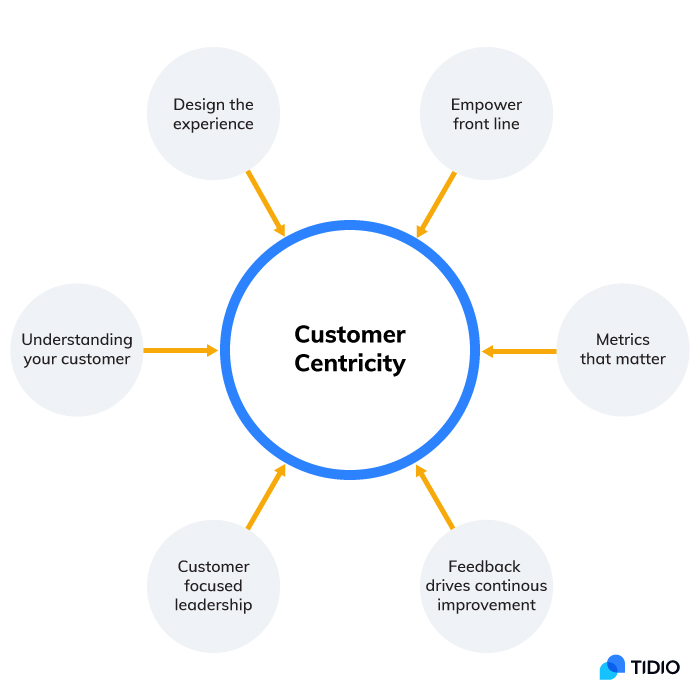 Examples of customer-centric strategies that businesses can follow:
Building chatbots and using live chat like Tidio to deliver personalized customer service
Asking for customer feedback and incorporating their suggestions in your Shopify store.
Rewarding customers for referring their friends and family to your store.
Creating a loyalty program to provide premium experiences for customers that continue to patronize your business.
Having said that, referral marketing is a part of a customer-centric marketing strategy. People are encouraged to continue their relationship and patronize your business when their efforts get rewarded.
For example, Greats – an eCommerce store for shoes – lets brand advocates give their friends $30 off for their first order. In exchange, they get $25 off their next order.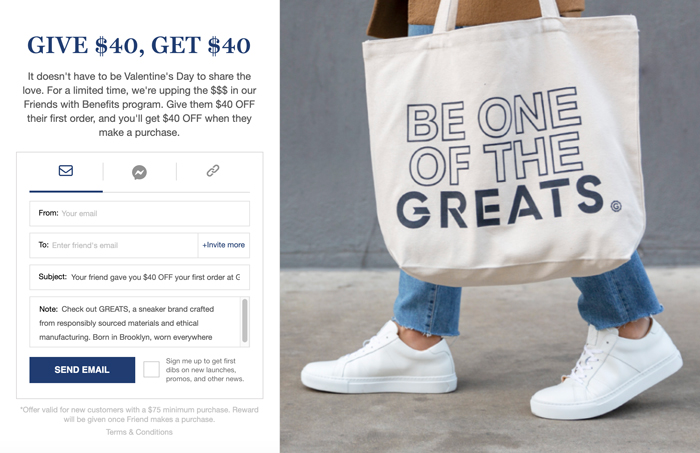 Get Tidio
This type of referral program can boost customers' experience and relationships. Both referrers and their friends mutually benefit from their relationship for trying out a service. Nothing beats scoring a good deal and cash because you've made the right connections.
Dive deeper:
Step by Step Guide to Create a Successful Referral Program
Launching a referral program is easy for Shopify, WooCommerce, and BigCommerce business owners. Essentially, what you gotta do is to integrate the right tools for your store and market your referral program.
If you need a helping hand, we'll show you how it's done.
Step 1: Set Goals
Think about what you want to get from your referral program.
What is the lifetime value of your customers? How many referrals do you need to break even after investing in a referral program? What is the referral rate in your industry? How many customers are expected to join your program?
Referral rates refer to the volume of referred purchases as a % of your total purchases.
Did you know?
The global average referral rate is at 2.3%.
According to a study, there are higher referral rates in the tech industry than in the beauty industry.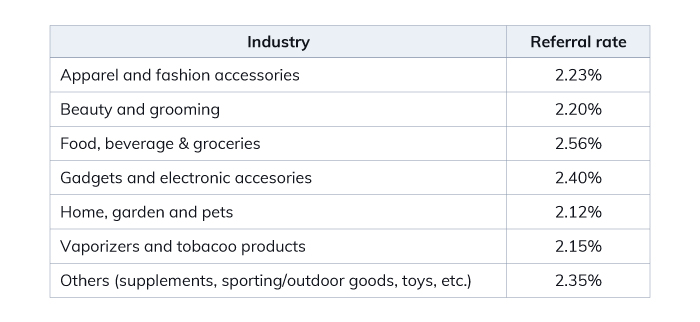 Talk to your marketing and sales team to understand how you can integrate referral marketing into your sales funnel. Identify the amount of revenue and new customers that you expect.
You can look at the referral programs in your industry to determine how you can integrate it into your sales funnel.
Step 2: Understand What Motivates Your Customers
Choose rewards that will motivate customers to promote your business.
To find out what makes your customers tick, you can run a survey, send a questionnaire or use chatbots to gather this data for you.
Have a look at these customer service chatbot examples to see how you can use Tidio to your advantage (and make your customers smile at the same time!)
The incentives will significantly impact the success of your referral program. If your rewards aren't valuable, then don't expect a high sharing rate. However, if you have a very valuable incentive, then it may be costly for your business.
Once your business grows, you may have to change your incentives based on the profits foregone or the amount of money required to maintain the program. As a result, some merchants spend a long time finding the perfect reward for their customers.
Examples of Rewards That You Can Consider for Your Referral Program
Here are great examples of rewards that you can consider for your referral program:
Cash
Cash is a sweet and simple referral program reward. You don't need to give a large amount because a $5 cash payout can encourage many to refer to 5 friends, 25 friends or even 1000 friends.
Those who have a huge social media following may be encouraged to share it with their followers too. Think of it as paying your brand advocates for a new customer.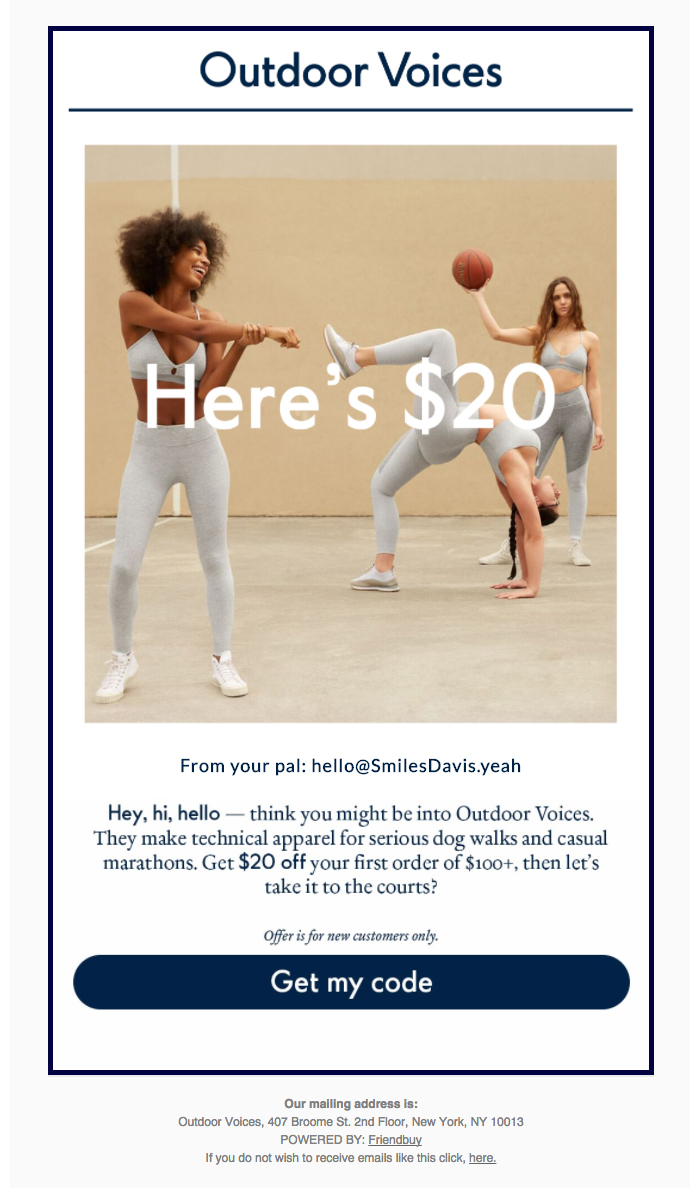 Offer Free Month
Businesses offering a subscription model may offer a free month for a successful referral.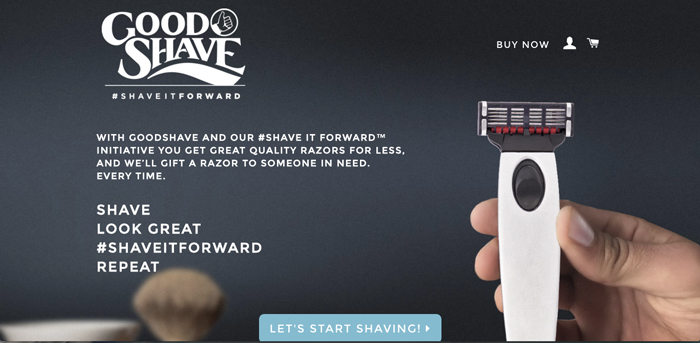 GoodShave provides referred friends with $10 off and advocates with a free month in exchange for a successful referral.
Discount
Repeat purchases are one of the biggest perks of giving discounts. This is ideal for fashion and food brands where customers are likely to return regularly.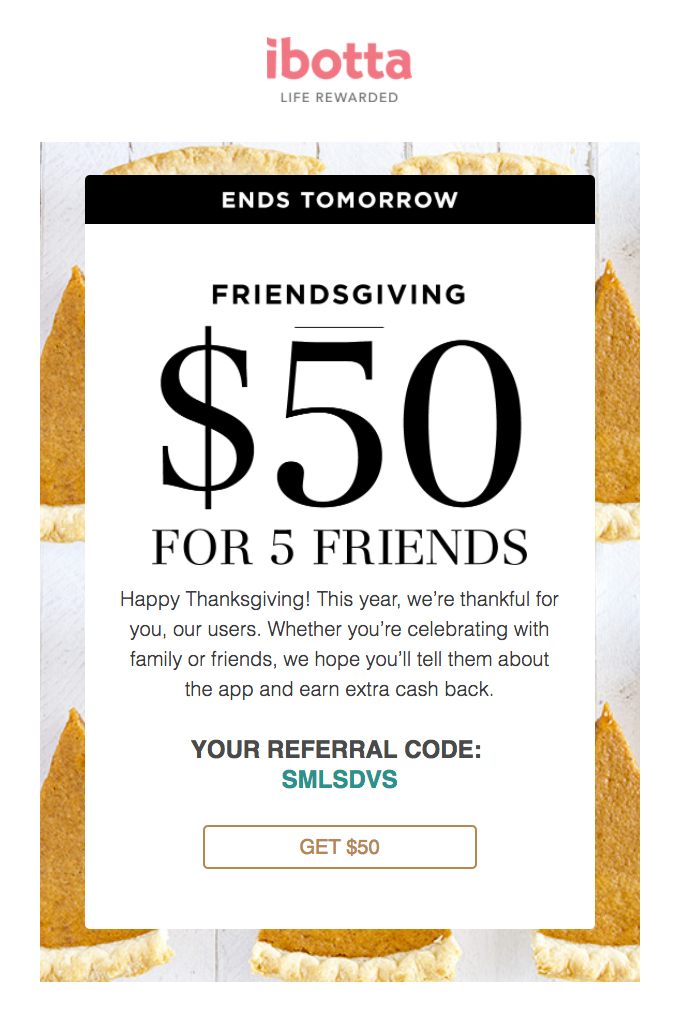 You can offer the discount in terms of percent like a "50% off your next purchase" or in terms of cash "Get $50 off your next purchase". And once again, you might want to create a chatbot to automate the process for you and make it as easy for yourself and your customers as possible.
Discounts are also effective friend offers and referral offers. They encourage the referred friend to make their first purchase, especially because it was backed by a personal recommendation. Consequently, referrers are encouraged to return to your online store and make a purchase.
Step 3: Use Tools to Create Your Referral Program
Creating a referral program may seem complicated, but you don't have to create one from scratch.
Tools like ReferralCandy, Talon, Friendbuy or InviteBox allow you to easily set up and use a referral program. Plus, you can integrate them with your eCommerce store and include various app integrations such as Magento, Bigcommerce, Shopify or a custom store.
Additionally, ReferralCandy allows users to create pop-ups, emails, and pages with referral offers. You may also customize these marketing materials to fit your brand's look and feel. Take a look below: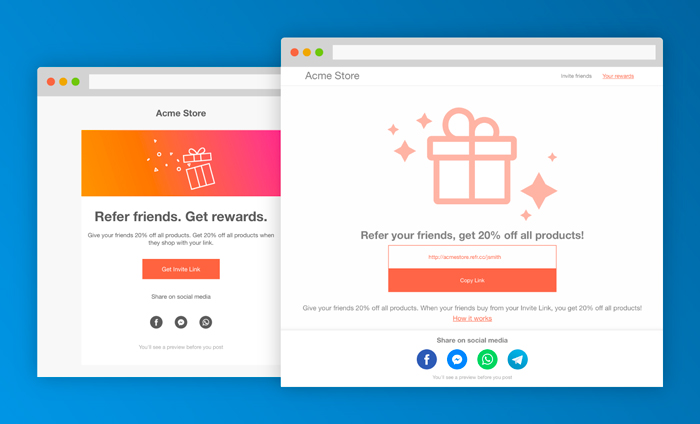 You can track the performance of your referral program and sales through an easy-to-use dashboard.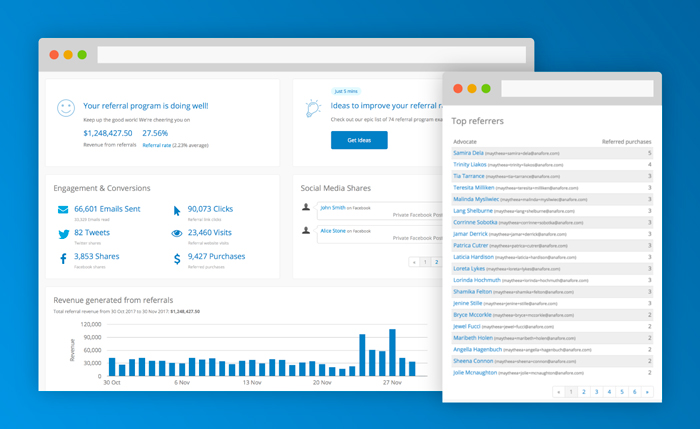 The best part?
ReferralCandy can help you distribute rewards like cash payouts, custom rewards, and discounts. They handle the code and fulfill the rewards for you. This is a fast and easy way to launch a referral program for your online store.
Step 4: Infuse Referral Programs in Your Marketing Campaigns
After you've got yourself familiar with the tools and your kickass referral program is ready to go, it is time to let your customers know about it. How can you do it?
Start with launching marketing campaigns and keep promoting it to raise awareness.
Here are channels through which you can announce your referral programs:
Transactional emails: Promote referral programs in transactional emails such as shipping confirmation emails and order confirmation emails.
Landing page: Place a banner announcing your referral program at the bottom of product pages or the homepage.
Blogs: Publish blog posts to announce the existence of your referral program.
Chatbots: As mentioned above, you can use free chatbot software like Tidio to inform customers about existing referral programs once they enter your online store's website.
You may need to create email templates to explain your referral program to current customers.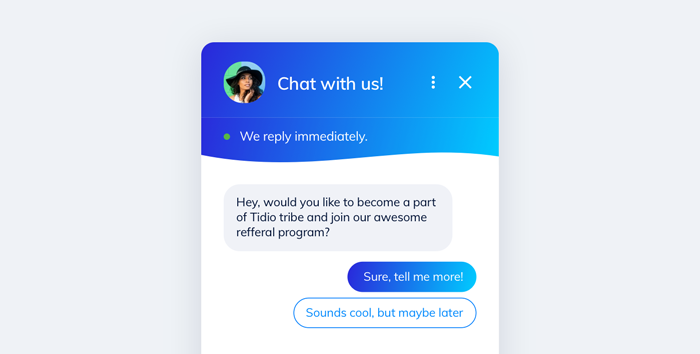 Install Tidio Chatbots
You may also need to create a workflow that helps customer support and sales teams explain your referral program and guide referred customers along the sales funnel. The referrers may also need resources like testimonials, blog posts, and videos to effectively encourage their friends to make a purchase.
Determine the Best Time to Ask for a Referral Program
Instead of sending emails at random, identify the best times to reach out to your customers.
Some companies are picky with their brand advocates. They want to get in touch with brand ambassadors that have made several repeat purchases over time. Some referral programs primarily target influencers with hundreds and thousands of followers. Other companies get in touch once customers buy their first product.
Once you've identified your target brand advocate, then study your customer's behavior. This way you can determine the best time to notify them about your referral program.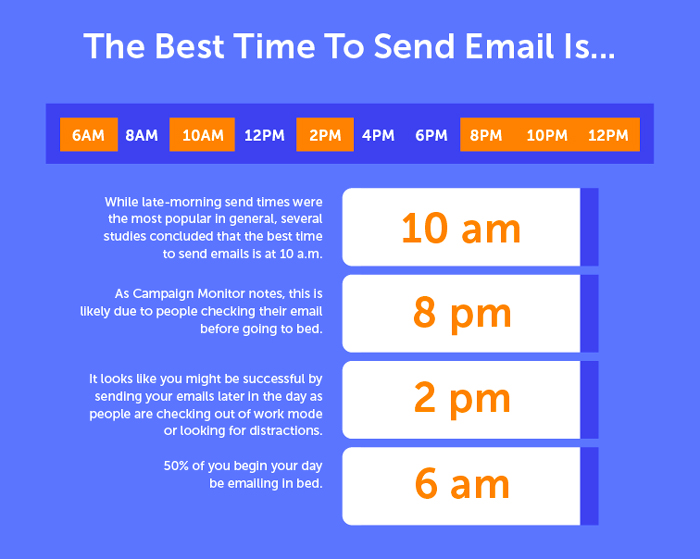 Also, note the best time to get in touch with your customers. According to Coschedule, the best time to send an email is during the day when customers are likely to check their inbox. They may also check emails and surf the Internet from 8 pm to 12 pm after a long day.
How To Track Your Referral Program?
Every business that has a referral program should set up tracking and analytics to ensure that they're reaping the benefits. While you can get a lot of new customers, you must ensure that the amount you invest will be worth it.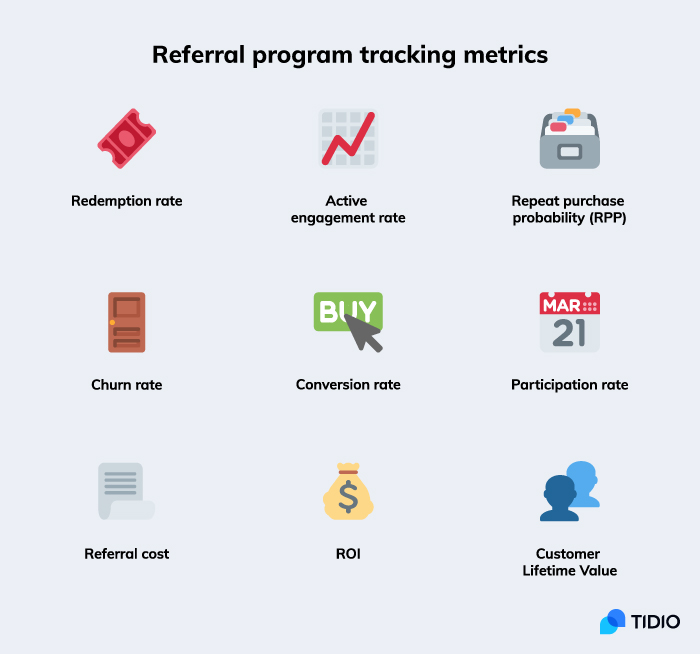 To track a referral program you should watch the following nine metrics:
Redemption rate – the number of coupons or percentage of points redeemed.
Active engagement rate – the percentage of customers that actively participate in your referral program.
Repeat purchase probability (RPP) – refers to the likelihood that a consumer will make another purchase. This lets you know how your customer base is growing.
Churn rate – the percentage of subscribers or customers who have not returned to the online store after a period of time.
Conversion rate – the percentage of visitors who engaged in the desired action such as sharing a post on social media, creating an account, signing up for a newsletter or buying a product.
Participation rate – the average number of monthly customers that take part in your referral program.
Referral cost – refers to the cost of maintaining the referral program. This includes the referral reward for advocates and their friends, as well as the program administration cost.
ROI – refers to the return of investment of the referral program. How much did you spend to manage the program and how much revenue did you generate?
Customer Lifetime Value – the value generated from a particular consumer. Use this to identify if referred customers make a repeat purchase or spend more from your store.
Invest in a CRM (customer relationship management) tool to keep track of the analytics of your online store. This way, you can watch how your referral program helps you achieve your businesses' goals.
Examples From Successful eCommerce Stores and Key Learnings
How can you kickstart your referral program?
We've compiled a list of successful eCommerce businesses that you can derive inspiration from.
Glossier
The Glossier referral program lets customers earn reward credits that they can use on the online store. The referrer discount is equivalent to $10 while the referred customer discount is equivalent to 10% off after their first purchase on the website.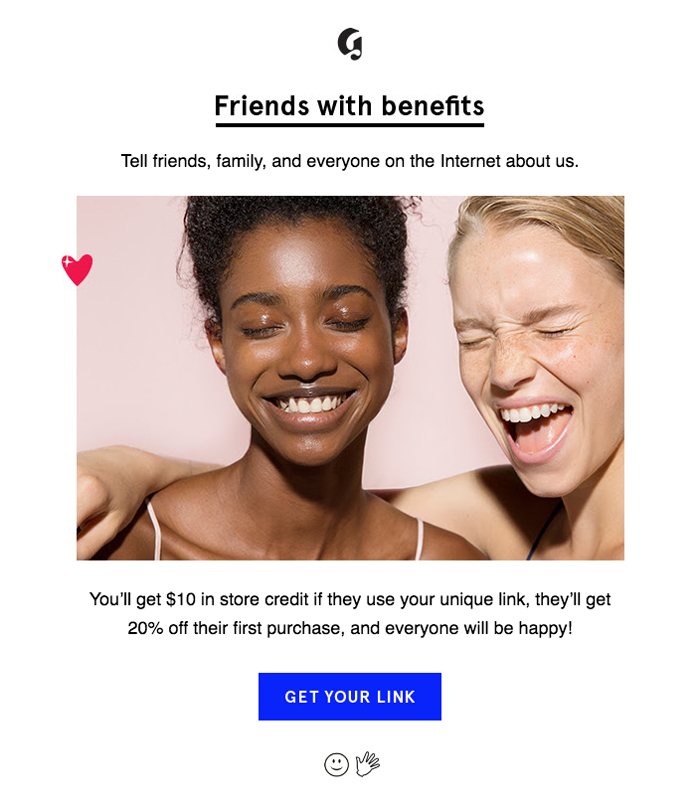 The store's referral program rewards both the referrer and their friends. By providing them with a small discount, they have an incentive to shop in the online store. Current customers will make repeat purchases while their referred customers will enter the sales funnel.
Ztylus
Ztylus is an eCommerce store that offers phone cases. Instead of letting every customer join their referral program, they target influencers with a huge following.
They ask big influencers on YouTube to review their product. A referral link is usually placed in the video description so customers can check out or buy the product after they've seen the review.
For example, this iPhone 6 Photography case review received more than 13,000 clicks on the referral link.
Targeting big influencers is also one way you can promote your referral program. Most influencers are trusted by their followers so you can generate publicity for your brand. The cost of collaborating with an influencer is based on the number of followers they have.
So, select influencers that will fit your budget and effectively promote your business.
Riff Raff & Co
Riff Raff & Co sells comfortable sleeping dolls for babies and toddlers.
The million-dollar company has a community of 50,000 happy parents. They used their referral program to generate buzz for their eCommerce website in tight-knit social media communities of mothers.
Riff Raff & Co's referral program rewards customers with one free toy for every five referrals. This gives mums an incentive to share more with fellow moms on social media.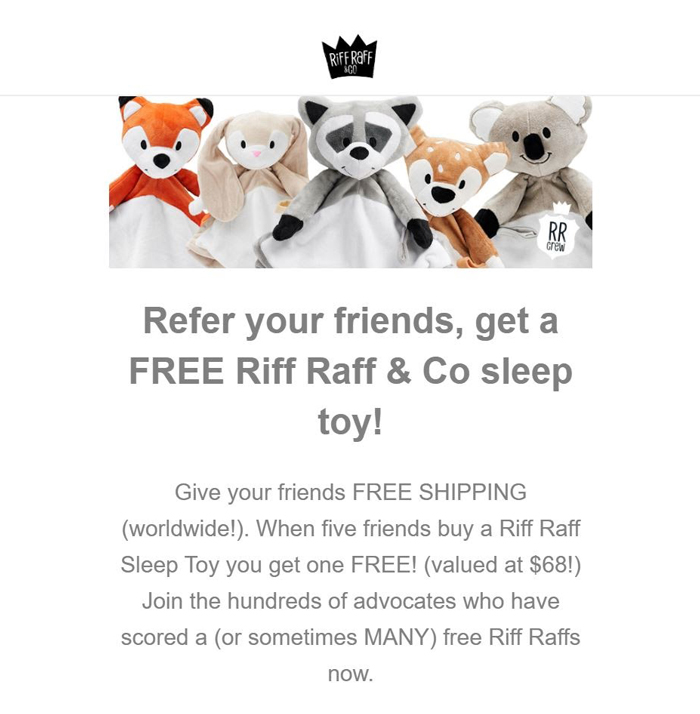 This strategy works because moms are more likely to trust recommendations from their peers. They want to buy products that are safe and fun for their baby or toddler so referral marketing is an effective tactic for this business. After all, we would seek advice from experienced moms rather than an advertisement.
It's also interesting that Riff Raff & Co provides toys after five successful referrals. This ensures that interested customers will keep sharing their business on various social media accounts and online communities so they can get the reward.
Conclusion
A referral program is important for eCommerce stores that want to grow their customer base and reward brand advocates.
To get started, decide on the incentives that you will provide to participants. You can give discounts, freebies, a limited free subscription, and exclusive items.
Promote your referral program through emails or blog posts so your target advocates will know about the program. As your referral program continues to grow, don't forget to check out analytics.
Identify your customer lifetime value, revenue from referred customers and cost of setting up the program to make sure that your investment is worth it.